军人,医生,警察职业的客人可以在我的所有房源享受额外优惠。 房间是房东自己买的房子,位置就在花果园购物中心旁边,俯瞰公园及双子塔。下电梯即永辉超市、电梯直达停车场(按4元/小时收取停车费,晚22点~7点10元过夜)。 TOTO智能马桶,恒温花洒,洗手间干湿分离,24小时热水。 厨房配烤箱和厨具。洗衣机、干衣机、空气净化机,独立衣柜、电动窗帘、遥控灯光。密码指纹锁。 100寸投影仪、200MB宽带及WIFI,可以玩各种主流游戏的电脑。 属于商务小区,走廊电梯停车场均有24小时监控及安保。 让各位在旅途中有家的感觉是我荣幸,也希望各位像对待自己家一样对待我这里。 常见问题Q&A Q1:房间多大,床多大,有空调吗,厨房有用具吗? A1:房间28平左右,床1.65米x2.0米,有空调,厨房有各种用具。 Q2:怎么预定,有优惠吗? A2:只支持在爱彼迎预定和付款,优惠满足时间条件自动结算,私人住宅不议价。 Q3:可以提供发票吗? A3:正规合法民宿,有营业执照有发票,需要发票报销的客人请沟通时就告知。 我一直坚守爱彼迎说过的这句话,如果你是一间农舍,就不要让别人期待一座城堡,祝各位旅途愉快。
What guests are saying:
"The host is very nice, great stay experience. The geographical location is also quite superior. The downstairs convenience store has everything. The facilities in the room are also very complete. It is a smart toilet, washing machine, dryer, projector, etc. can be used. The disadvantage is that some small places are a bit dusty (for example, on the projector, they touched the gray when adjusting), I hope the homeowner can clean up. Overall it is pretty good, recommend staying!"
Close to the Flower Orchard Wetland Park, clean and natural. The elevator is directly connected to the parking lot (the parking lot is charged at 4 yuan/hour during the day, and it can be parked overnight at 22:00 to 7:10 am the next day). Constant temperature water heater, dry and wet separation in the bathroom, 24 hours hot water. Kitchen with microwave and kitchenware. Air conditioning, washing machine and aromatherapy machine. Password fingerprint smart lock. 100MB broadband and wireless WIFI. Belonging to the business building, the corridor elevator parking lot has 24-hour monitoring and security. common problem Q1: How big is the room, how big is the bed, is there air conditioning, is there a kitchen? A1: Room 28 is flat and the bed is 1.5 meters x 2.0 meters. There is air conditioning. The kitchen has various utensils, but no seasoning is provided. Q2: How to book, is there a discount? A2: Only support in the Airbnb reservation and payment, the offer meets the time conditions for automatic settlement, and the private house does not bargain. Q3: If you need to contact the landlord in case of emergency? A3: The house can generally be checked by smart lock password. If there are any problems during the stay, you can communicate at any time. If necessary, you will also be given some travel advice and route planning, as well as professional customer service to serve you.
What guests are saying:
"The location is easy to find, the place is clean, the response speed is fast, I like it very much, there is a halal beef nearby, and the boss is still very good."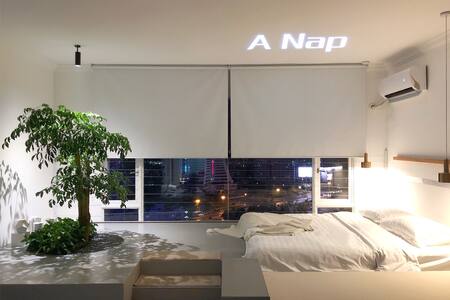 SUPERHOST
Entire apartment · 4 guests · 1 bed · 1 bath
「 A Nap 眠谷 」1号线/市中心/巨幕投影哈曼音响/博爱路/筑城广场/文昌阁/甲秀楼/黔灵公园
Hey,很高兴与你在「 A Nap 眠谷 」相遇,这是我们在贵阳推出的「 A Nap 」房源计划的第一间。 点击房东头像查看其他房源~ 窗外,高楼林立车流密集,人群熙熙攘攘。 屋内,绿意盎然静默惬意,独享一方天地。 让我们为现代城市生活中劳碌的你,创造一个洗去疲惫的闲暇假日吧。
What guests are saying:
"Very very good, as described! The location is excellent. The bean curd noodles and glutinous rice downstairs are delicious. I will definitely choose this bed and breakfast next time. The communication with the younger sister is also very smooth."