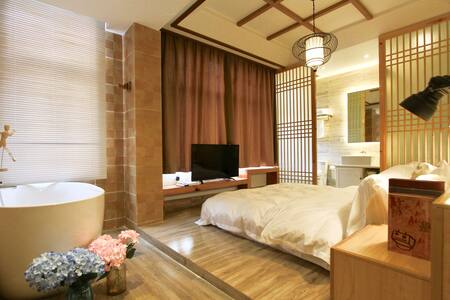 SUPERHOST
Private Kezhan room · 2 guests · 1 bed · 1 private bath
Near Xizha Scenic Area, The Capricorn
(For other 11 exquisite houses, please click on the avatar, drop down to view) Building area: 25 square meters Floor: 2nd Bed type: double bed 1.5 meters tatami, 1
What guests are saying:
"When I came to Wuzhen, I liked everything here, including this homestay. It was low-key and exquisite. The sanitary cleaning was spotless and extremely clean. The owner was kind and easy-going. Just like a long-lost old friend, I can provide any help I need. Although the Capricorn room is not very large, the facilities are all available. It is not too comfortable to take a beautiful bath when you come back from the scenic spot. The attentive boss also gave away a disposable bathtub cover and a milk bubble bath! The mattress is soft and comfortable, so that I recognized the bed and fell asleep until dawn, recovering my vitality. Haha, I highly recommend this homestay!"
Outside the area! Each room is equipped with independent bathroom, air conditioning, water heater, wifi, accommodation during the provision of Wuzhen within the free shuttle, people really feel the feeling of home. Location in the south of the town of Wuzhen bus station (traffic lights crossroads south of the third row of the second building), k350 bus direct scenic area, there are yellow public bike WeChat registered account within one hour is free of charge for more than one hour a dollar. Bicycle lock can be locked. There is a need to be able to pick up. Close to the East Gate and South Gate, outside the scenic area.
What guests are saying:
"Overall it is great, the price-to-price ratio is extremely high, the car picks up the car, it is very responsible, that is, there is no light in the closet in the room where I live, because it is a bit dark, it is recommended to put a lamp or something there, and then air conditioning Some are small, the winter is cold and humid in the south, the heating effect is not obvious, and others are great. Still highly recommended"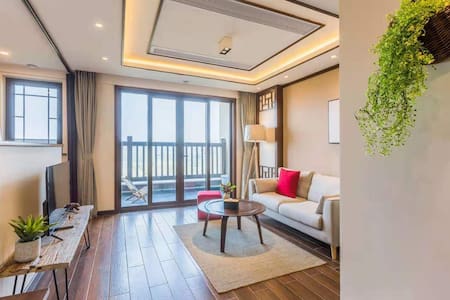 SUPERHOST
Entire loft · 2 guests · 1 bed · 1.5 baths
【盛夏】大胆睡/勇敢爱/旅行/撒欢趁年轻/可住2人/自驾5分钟/直达东栅景区/免费车位/Loft/
免费车位/免费提前和延迟寄存行李 乌镇所有景区已正常开放!欢迎大家来玩儿! 你心里,有没有那么一个地方,来过,便不曾离开。曾经,她走进乌镇,以:英小姐的角色,演绎了一场似水年华的爱恋。十年前,刘若英再次与乌镇结缘,代言这座文艺的江南小镇。今天,更加成熟睿智的奶茶再次回归,她说就像回来看她的老朋友。十年时间,弹指一挥。时间,让人成长,也让乌镇逐渐成长为一个国际化的小镇。来到乌镇,你也许也会爱上这里。
What guests are saying:
"I like it very much! The house is very beautiful. If you don't want to visit the scenic area on a rainy day, you can also take pictures in the house. I originally booked a bed and breakfast in the Xizha Scenic Spot in Wuzhen, but the environment there was so bad that I couldn't accept it. After checking in, as soon as I saw the room, I immediately went to Airbnb to find a house and found this one. More than 200 people can live in loft apartments beyond imagination! The next morning, we also warmed up the meals we had packed the night before for breakfast. Also drank the red date ginger tea prepared by the landlord. Originally because of the rain, the booked B&B in the scenic spot was very bad and I was in a bad mood. The soul was relieved to live here."