(注;如果房源当天日期满房,可点击房东头像下滑看更多房源总有一款适合你。)位置;200米到古城主干道 五一街,十分钟到中心四方街, 户型;独立花园纳西庭院。 装修;纳西风情与热带雨林风格相结合,房东亲自设计,家具由房东亲自挑选。 设施;家具家电齐全,无线网络。 服务;机场火车站收费接送,赠送旅行地图,代购车票,附近100米有收费停车场(URL HIDDEN) 附;家有萌宠两条,金毛与小泰迪。
What guests are saying:
"The homestay is located in the ancient town, it is easy to find, the location is relatively secluded, and the rest is quiet and comfortable at night. The room is also very special, the door lock is different from the ordinary room ~ listen to the boss tell me that it is a Naxi special house door lock? (If you remember correctly) Very strange! It was eleven o'clock in the evening on the day of Lijiang, and the owner of the bed and breakfast had been waiting for a special trip to pick us up. The temperature difference between day and night in Yunnan was very high. I accidentally contracted the wind and cold. I communicated with the boss and wanted to make more bed quilts. The boss also patiently helped us to add a bed blanket. In addition, the room had air-conditioning and electric blankets, and even fell asleep at night! hh The next day we were going to Yulong Snow Mountain without masks. The boss was very enthusiastic and provided us with several masks! !! Real drops are great and heartwarming! !! I heard that the boss said that it was a guesthouse that was run by a partnership with friends just after graduation. There was no problem in communication. Very enthusiastic and very good! ps: Dogs are really good and sticky! !!"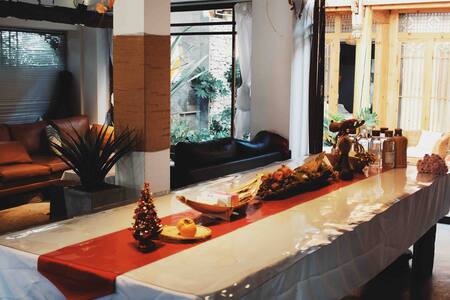 SUPERHOST
Room in boutique hotel · 2 guests · 1 bed · 1.5 baths
【丽江古城】【网红民宿二小姐客栈】【一楼超舒适飘窗大床房】从前的日色慢,车、马都慢。一生只够爱一个人
亲爱哒您好!咱们这个房源在丽江古城里,但是没有在特别中心的位置,这也让您的休息会安静很多。咱们家主店一共八个房间,您看的这个房间在一楼,面积大约有二十五个平方左右。独立卫浴,高档电视,独立Wi-Fi,空调,电热毯一应俱全。请您放心入住哦
What guests are saying:
"Write a review for the first time! ! It's really the best homestay I've ever stayed in. The owner and the wife are very warm and welcoming. They are very kind and kind people. Playing cards together at night! I will definitely come next time. When I leave, the lady boss will show us at the door."
Experience the pastoral life, communication, sentiment, and happiness. This room is 17 square meters, with a double bed, electric blankets, 24-hour hot water, wireless wifi, and a desktop computer with internet access. Kitchen and kitchen supplies, seasonings are free to use, you can buy food and cook yourself. Toilet washing machine washing powder is free to use, please contact the owner for other needs, thank you. The yard where I live, is not an inn, free to cook laundry, sincerely treat others, the standard of slippers cleaning is that the bottom of the shoe is no problem. So if you have any questions, please communicate in time, too care, health habits are very dirty, or even a good review are reluctant to give, please bypass, thank you. Please respect the work of others and respect yourself. If you like to swim, you can bring a swimming cap and a swimming cap. I have a swimming card for Yulong's third country and can go with me. The swimming pool environment is the last one in the photo of the property. It is 25 meters long and 1.4 meters deep. It has an indoor heated swimming pool and a hot spring pool massage pool. It's a bit expensive to go without a card, it's double the card. Use my card to swim for 50 yuan per person from Monday to Thursday, and 90 yuan per person from Friday to Sunday. This includes the 10 yuan/time card fee I charge. After all, the card is not cheap, and the 10 yuan is also nearly half cheaper than my own.
What guests are saying:
"Li sister is good, eat and chat together to see lightning *^_^* hahahaha, because I can talk, so Li sister can talk more hahahahahahahahahaha, live comfortably, physically and mentally comfortable. Get up at noon every day, eat something to sway and buy some food, or go to the ancient town, or pick the fungus ^O^, play slowly, the yard now many plants are very beautiful, much more than the picture above, is the sister too lazy to change The map on the website, the real yard is very beautiful and beautiful. Also, the house is very strong! ! ! Not going to participate in the deformation meter. Li Jie also cleaned very clean, my favorite toilet, hahahaha, do not like to sit on the toilet."