近期楼上大规模装修基本完毕,剩下噪声小的工期,比如贴砖刷墙等,如有人在楼上走嫌声音大,可以带上房间配备的耳塞呢 1.全宁波最佳位置,没有第二,双地铁线口,鼓楼站,直达高铁站机场,月湖和天一广场步行3分钟 2.房间配备有投影仪 3.高层,安静舒适,视野好 五套房特点如下: 【Rita's House】鼓楼双地铁口,适合长期居住,高层湖景房,毫无槽点,要做饭倒也可以,房型方正舒适30平。软床。 【Rita's Loft】鼓楼双地铁口,阁楼,经典美式MCM,90度高层无敌城景,不可做饭,有投影,扇形40平。硬床。 【Rita's Gallery】鼓楼双地铁口,艺术硬照胜地,不可做饭,5楼落地窗,家庭影院贼棒,30平。硬床。 【Metrópole】老外滩无敌江景房,独立厨房(推荐给想做饭的朋友),超棒家庭影院,舒适懒人沙发,轻奢都市风,7楼50平,大过四星级酒店房间标准,性价比极高。软床。 【Midsummer's night】老外滩无敌江景房,独立厨房(推荐给想做饭的朋友),摩洛哥浪漫主义,白纱床幔,榻榻米,家庭影院,6楼66平,堪比五星级房间大小,美到哭泣。硬床
What guests are saying:
"Very satisfied with the experience of a single stay, the location of the listing is worth the price, it is absolutely good value for money"
Loft is well-located. The gate is the Chenghuangmiao subway entrance. It is only 1 stop to Ningbo Station. It is close to the Chenghuangmiao and Tianyi Square. It can be reached on foot in 10 minutes. The apartment is a smart door lock for self check-in. The house is compact in design, with large windows facing south + home theater, which is warm and comfortable.
What guests are saying:
"The house is near the subway entrance, there are more buses nearby, and the transportation is convenient. Check-in is super convenient ~ the host is very good communication ❤️ LOFT-style room for the first time, I feel good. The whole house is very clean and the projector is very nice!"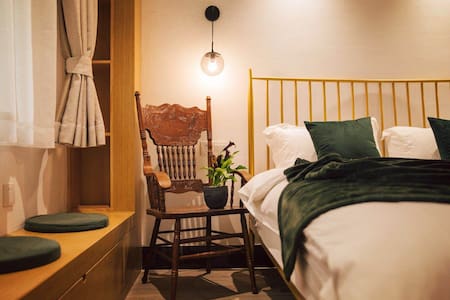 SUPERHOST
Entire apartment · 4 guests · 2 beds · 1.5 baths
「陋室」 已开放 有折扣 新中式舒适小屋带院儿 火车站地铁口旁 步行五分钟至南塘老街 月湖 天一阁
This room is called "Room" "Room" is actually the name of our own photography studio. At first, the decoration was to give ourselves a more comfortable Office environment. It is located on the first floor with a small yard, which is my favorite place. Before I started working, I had already imagined sitting in the yard and working in the sun. Then one day, I suddenly thought of a two-room, one-hall room, one for office work, and the other one can be used as a bed and breakfast. Let's make various friends and listen to everyone's differences. Interesting facts may inspire more creative inspiration. Second, I think of the nature of our work. In the future, it is likely that we will not work indoors for a long time. It's a pity how much space is left. It's a house. If you live more, you will have a breath. So, you are welcome to live in the "Room" and make friends with us. (Ps. has changed the studio into a living room with a sofa bed and projector, and can instantly transform into a second bedroom when needed.) Excellent location: Located next to Ningbo Railway Station, within a five-minute walk. Close to Yuehu Scenic Area, Yuehu Shengyuan, City God Temple, Drum Tower, Tianyi Square and other central business districts, the transportation is convenient. To arrive by car, there is a toll parking lot across the road. Complete equipment: Smart toilets, bathtubs, Internet TV, hair dryers, clothes dryers, kitchen supplies, coffee machines, refrigerators are provided in our houses. Safe, etc. I can think of the most practical and comfortable equipment for tenants, hoping to have a better housing experience.
What guests are saying:
"The place is nice and cozy. Location is perfect, train station is just 5min walk, everything else is either walkable or easily accessible by Subway or cab. The host is superb. She helps me find my water bottle after my scatterbrained check out. Love it! Highly recommend this place!"