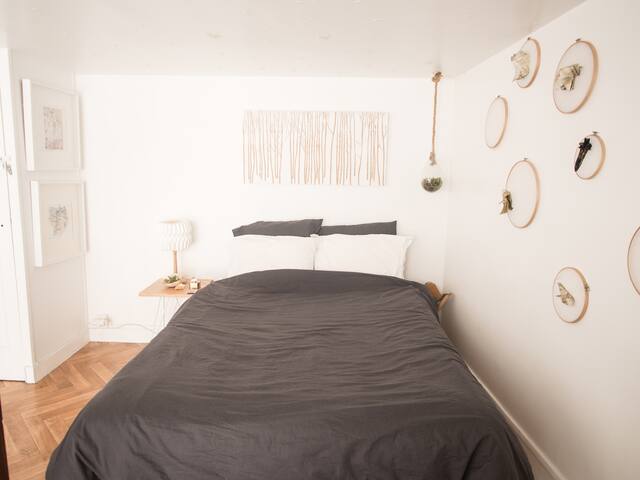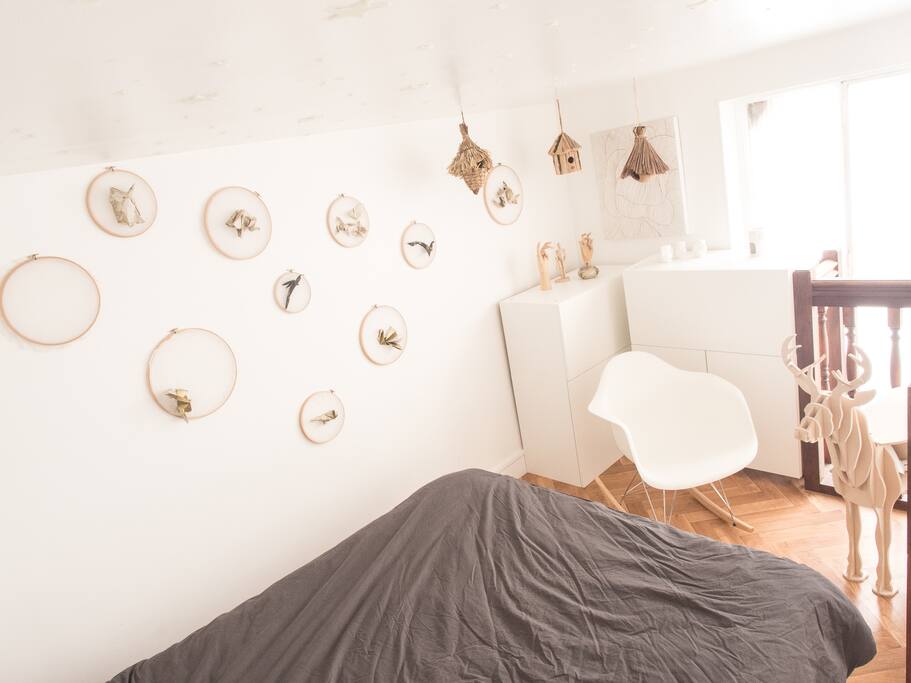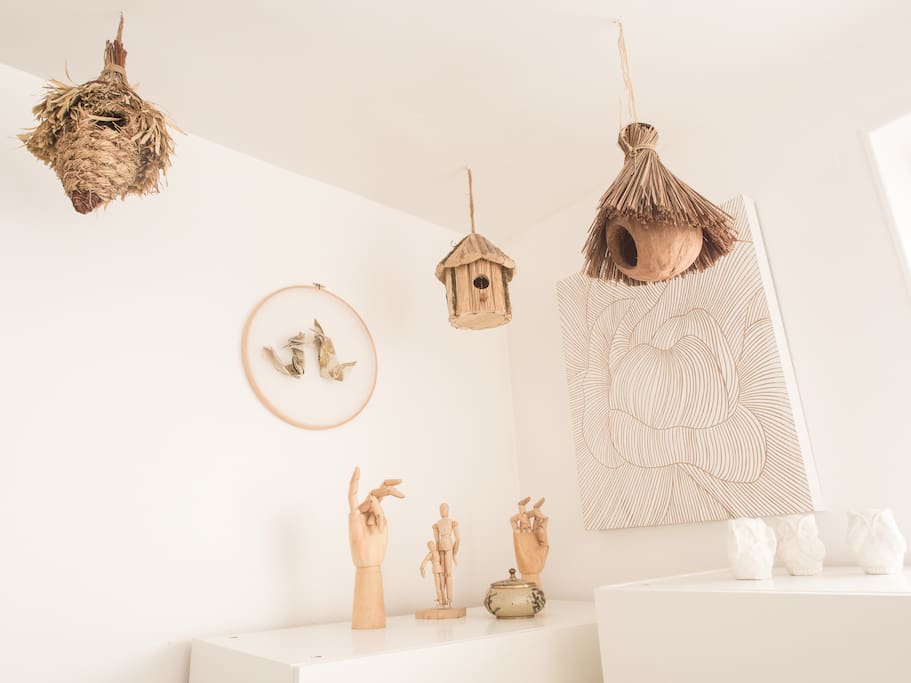 Woods&Origami Luminous Design Place Sorbonne38m²!
Centre Paris,close to Saint Germain-Notre Dame,typical French stylish arty duplex loft access by digicode. Very close to all monuments:Notre Dame,La Sorbonne and Luxembourg Park,Louvre,Orsay,Seine,Cafe flora,Panthéon etc all at walking distance.
STUDIO PHOTO:
(Demander avant reservation)
JOURNÉE ENTIÈRE / FULL DAY
Disponibile 9:00 – 18:00 (soit 9 heures de privatisation)
295 euros
DEMI-JOURNÉE / HALF DAY
Disponible 9:00 – 13:00 ou 14:00 – 18:00 (soit 4 heures)
195 euros
The space
The Space
Just like any other of the world's major cities,it' all about location!location!location!And this loft has one of the best location in town!The area has an amazing history, and it is also the oldest part of the city. Romans settled down their agora on top of this hill called "Montagne Sainte Geneviève" Welcome to the stylish and elegant home of Parisian bourgeoisie!What better place to live during your Paris stay?It's right in the heart of the Latin district,the most historical quartier of Paris,filled with the culture wealth and the national heritage.Here you will find us,just perched in front of Sorbonne University where the bustle of cafe life and academia of the Sorbonne has thrived for centuries.Did I mention the apartment is located in the very heart of the Parisian arts district?It's where many famous writers and artists - including Picasso,Matisse and Hemingway - called home.And now,during your next trip to Paris trip,so can you.On Place de la Sorbonne ,downstair just facing the University Sorbonn.Join the Parisian world - improving,smell,have a cup of cafe and croissant from the bistrot downstair in the morning;Enjoy the rich fruit market of Maubert only 2 minutes from the door;Find antique,witness history in the hidden alleys of Quartier Latin;Make the date at the fountain Saint Michel;Go to indie,odd or blockbuster movies within the quartier;Take a river cruise,lock your love forever in the Pont Archevêché;Enjoy a dinner like none before of any cuisine in the world,visiting Woody Allen's film taken places…etc
Cafe society:
Step outside,and you'll be standing in one of the Paris historical lane ways.A whiff away is boulevard Saint-Germain and its cafe lifestyle,made famous in the 40s and 50s by Jean-Paul Sartre,Hemingway,Orwell,Victor Hugo, Émile Zola also favorite spot of Voltaire and Rousseau.The neighborhood has preserved the cafe where philosophized and added plenty of new ones that now overflow with trendy,upscale young professionals who toast each other with glasses of divine French wine.
Shopping & Night life-ooh-la-la!
If you're shopping for answers, you have the right address!Luxury designer stores and smaller boutiques are literally just around the corner,not to mention the variety of French specialty shops with the old fashioned painted glass storefronts that have become historic treasures to be preserved.
.And the stylish denizens of Saint-Germain take great care to look fashionable both day and night,which makes for some great (website hidden) excellent selection of lively pubs,swanky bars and lounges provides a nighttime vibe that ranges from casual chic to upscale.
And,of cause,Paris:
you personally might also enjoy walking:
- The Sorbonne University(20 seconds away)
- The Pantheon(2 mins away)
- The Luxembourg garden(with the Senate and Luxembourg Museum inside 3 mins)
- The Mouffetard Street (4 mins)
- Saint-Michel & Seine river(5 minutes)
- Notre-Dame-de-Paris (7 minutes).
-Musée Louvre(10 mins)
-Musée d'Orsay(13 mins)
-Centre Pompidou(15 mins)
Nearby essential services include:
supermarket(monoprix,Mark & Spencer),fitness centre/gym,butcher,bakery,drugstore etc
Traditional bakeries, cheese, fish and butcher's shops, wine cellars, shops and brasseries are all located in a perimeter of 200 m (650 ft),remarkable restaurants and coffees are very close by (see the map underneath).
The apartment is in the more than 200 years old historical building.The building does not have any elevator (as many ancient Haussmann buildings in the Latin Quarter). The staircase is in perfect condition. The whole apartment is bright and was fully renovated recently,designed by an architect.Thanks to te windows facing to the courtyard,it's ABSOLUTE SILENCE (and it's really not a catch word) ,all furniture (mattress included) is new and of very good (URL HIDDEN) guests will have access to the whole apartment and all the included equipments. The accommodation is fully equipped.High speed wireless Internet access,and free international phone calls to US,Canada,HK,China both cell phones and fix phones,and other 90 other countries fix number including the EU.
Downstair
- Kitchen: microwave,kettle (without digital screen and temperature control), fridge and all the ustensils you may need;
- Living room: a huge Japanese traditional tatami which can be used as a 4 people bed 254*201cm
Upstair
- bureau:telephone;
- Bathroom:hair-dryer, iron, ironing table,bath towels and numerous cosmetic you may need;
- the bedroom (All linens,a bed - 140*200cm).
Guest access
The entire loft except personal cupboards.
Interaction with guests
HOW WE WILL INTERACT WITH YOU
The entire space including kitchen, mezzanine and bathroom will be Our apartment is not a Hotel! As a living space that we sometimes share with guests, we hope to share a part of our life and environment with you and make new friends with mutual respect! We are very happy to help you with your restaurant or places of interest reservations (Moulin Rouge, Louvre or Orsay museums, Versailles castle, Bateau Mouche boat trips, taxis or airport transfers) and also happy to take you for a walk in the neighborhood if we have the time!
Other things to note
*The 2 floor size vast size windows has no curtains.
*The second bed is a huge Japanese traditional tatami which can be used as a 4 people bed 254*201cm(please be aware that the traditional tatami bed is not soft as the normal western bed!),prepare from the 3rd person.
*Can we leave our bags with you if we arrive a bit early?
Yes. If you know that you're arriving between 10:30-17:00, tell us and you can choose to use our free bag drop service. The process is the same: we meet you at the home, so you can then get the keys, drop your bags and then leave the home whilst we continue to prepare it. You can then return any time after 17:00. It's a great chance to start exploring the local neighbourhood where you'll be staying.
*Do you offer an early arrival?
Of course. We know that not all flights land at sociable hours. If you're arriving between 11:00–17:00 / leaving between 10:00 - 16:30, we can offer you an early arrival. In these cases we block the home off to all other bookings the day before your arrival, so we have enough time to clean and prepare it the night before your arrival. This is subject to home availability and charged at 50% of the cost of the nightly rate of your booking.
*And if we need to, can we leave the home late?
Yes, up until 16:00. This is subject to the home's availability and will cost 50% of the nightly rate of your booking.
*Do you have places where we can store our luggage?
If you are arriving between 10:30–17:00, you can opt for the bag drop option (see "Can we leave our bags with you if we arrive a bit early?" above), which will enable you to leave your bags at the home. For any other times, we recommend using a luggage storing facility at one of Paris's main railway stations.
---
---
Check in is anytime after 5PM
Self check-in with lockbox
ATTENTION WHEN YOU MAKING A BOOKING:
*No parties allowed, no noise after midnight(12 o'clock),please respect the neighbours;
*We may not accept any changement after the reservation is confirmed,if you have any doubts please ask us before;
*Be aware all the beds or any detail,all the situation shows well in abundance photos,if you are not clear please ask me before book it,after you book means all the condition been accepted;
*We lived here too when days we don't rent,so please don't touch any personal belongings in private cupboards or closets,and don't take away any stuffs in the flat when you leave;
*Please turn off all the electricals when you are not in the flat;
*If you have any special request like different check-in or check-out time please demand us before to check whether it's available;
*The apartment will be thoroughly clean when you arrive and should be left in an acceptable state when you depart.Our cleaners will do a normal cleaning job which doesn't include washing dishes or handling overly dirty apartments, stained cushions, hotplates with burnt in food, messed up bookshelves etc.
*Additional guest unauthorized.
*As a living space that we sometimes share with guests sometimes(of cause we won't be here at the same when you are:p), we hope to share a part of our life and environment with you and make new friends with mutual respect!Indecorum people may not be welcome;
*In case you arrive after 9pm we'll charge a 40euro late check-in fee,after midnight 00:00 will be 80euro,please prepare the cash when you check-in.
All these rules must be fully respected otherwise according to Airbnb policies we have rights to cancel the reservation immediately without refunding.
---
!!!STAY AWAY FROM THIS LISTING!!! From the moment I instant booked the apartment until the moment SHE CANCELED THE DAY OF MY ARRIVAL, 2 hours before my flight, Lu never ever communicated with me. I never got a message from her. Not even an apology. I am actually wondering if there is a real human behind this add or if it's just a scam. I had the most stressful experience ever and hope she gets removed from Airbnb. It should be no place here for people like this !!!RESTEZ ÉLOIGNÉ DE CE LISTING!!! Du moment où j'ai réserver l' apartment en instant booking jusqu'au moment où ELLE A ANNULÉ MA RÉSERVATION LE JOUR MÊME DE MON ARRIVÉE, 2h avant mon vol pour Paris, Lu n'a pas une seule fois communiqué avec moi. Je me demande même si il y a une vraie personne derrière ce listing ou ça n'est pas juste une arnaque. Cela a été la journee la plus stressante de ma vie et j'espère que Lu se fera retirée d'airbnb. Il ne devrait pas y avoir de place ici pour des gens comme ça.
---
This apartment is beautifully decorated, very clean, and so central. In 5 minutes you will reach the Notre Dame Cathedral! We found it very easy to get to other central Paris hotspots including the Eiffel Tower, the Louvre, and many others. Amazing restaurants are all around, as well as book shops, clothes shops, and a handy supermarket. I could not more highly recommend this apartment, it was perfect for us during our trip to Paris.
---
Our friends of five stayed for a week in here and it was perfect. We loved coming back after a long day of exploring Paris to the comforts of home. The location is great - 10 minute walk to Notre Dame, 15 minute walk to the Louvre and the metro is right outside the door. It is a very lively area with lots of shops, places to eat and a grocery store a block away. Mo was at the apartment to welcome us after a long day of traveling and was extremely helpful. My friend hurt his hand and needed to go to the emergency room during our stay and Mo brought us where to go (the oldest hospital in the world is a 10 minute walk away!) and followed up with us to make sure he was okay. We could not have asked for better host!!
---
An outstanding stay! The apartment was exactly as advertised: clean, very well decorated & designed. The hostess could not have been more accommodating, responding instantaneously & having her close friends on site manage a key exchange or any little issue that came up. I cannot not recommend this apartment more! It was lovely, charming and comfortable.
---
Très bon séjour...une semaine de vacances inoubliables...très pratique pour visiter Paris ...appartement très propres et conforme aux photos et à la description. Une adresse à garder pour des futurs passages sur Paris. Lu très souriant et très serviable nous a bien accueilli très gentillement. Un grand merci!
---
Nice to meet you, this is Irene. I live in Paris for several years. I do love this city so I know very well about this lovely city. and I love travel,I like to discover new peoples, new culture, that's why I love Airbnb. Hope I can get a lovely moment in your city,and you can get…
Languages:
English, Español, Français, Italiano, 中文, 日本語
Response rate:
100%
Response time:
within an hour
Explore other options in and around Paris
More places to stay in Paris: