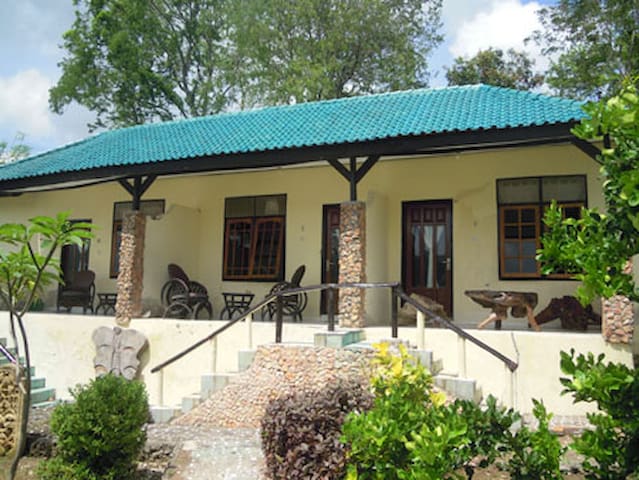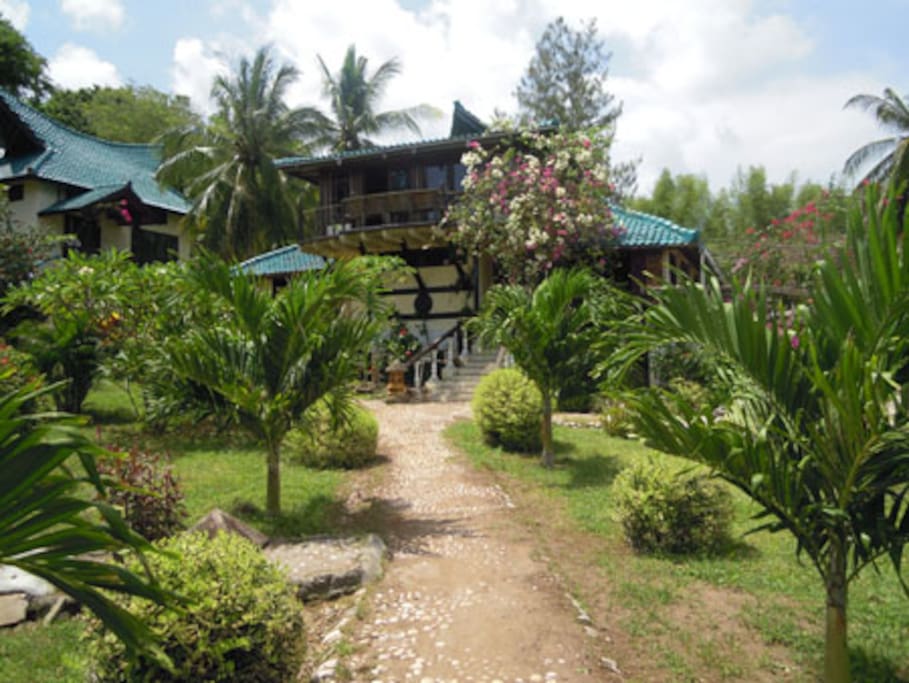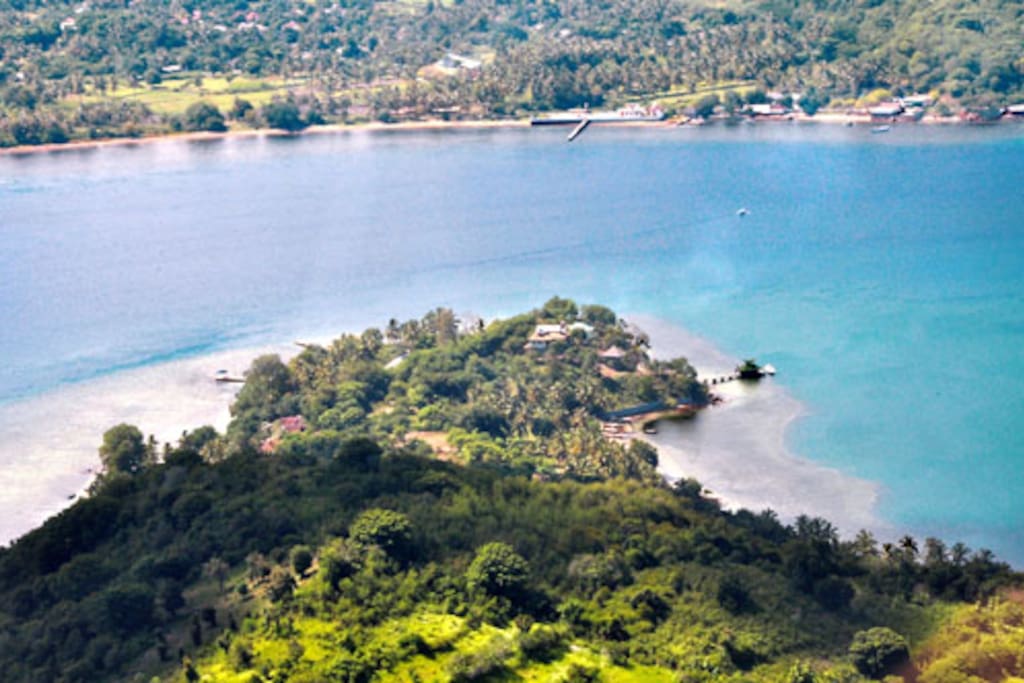 Secret Island has just completed renovating the bathrooms on these three original now considered deluxe rooms. We are planning on eventually air conditioning them. We have added some nice throw Persian style carpets and Lombok tapestries . Getting better all the time. New photos coming soon.
The space
DELUXE ROOM WITH COLD WATER BATHROOMS
Easy and quick access to the Ocean and Resort facilities.
The rate is for 2 person including 2 breakfast

The Eco friendly Secret Island Resort hotel is located by a small beach on the friendly island of Gili Gede, south west Lombok. This listing is for our four budget garden rooms with cold water bathrooms. There is a excellent small and semi private beach terrace in front of our beach that of course all can enjoy. Plus the Gazebos in the garden area.
There are also deluxe rooms with solar hot water bathrooms shown in other listing.
And there is a more upscale two bedroom Villa and Bungalow on hill side not yet listed with airbnb.com
There are actually two bungalows over the reef with solar hot water, one is listed with airbnb.
And for all guests there is a very good restaurant with Indonesia and western food; a billard table and DVD's. The snorkeling is really good nearby. We have special boat trips that we call 'Snorkel Mania'. Actually the Snorkeling is probably the best in Bali or Lombok. World class you could say.

The beautiful surroundings and undisturbed nature of Gili Gede provides the perfect location to experience the 12 Unspoiled South West Gilis. It is located just 5 minutes from the mainland of Lombok Island and features a really good for the kids swimming beach right in front of the Resort.
Guest access
Garden gazebos and the beach and restaurant are close by. Lots of hammocks to swing in the breeze.
Interaction with guests
We interact with our guests as often as possible, and we often lucky to have really interesting people. A little Indonesian language goes a long way. And our staff are getting better and better speaking English .
Other things to note
Electric via a generator from 5:30pm until 5 am. Plus a hour or two during daytime when we pump water up to the tanks that gravity feed your rooms and bungalows. We provide a 5 gallon bucket of fresh water daily as shower water is brackish from our wells. August, sept, Oct, and November the fresh water is limited because of dry season.
---
---
Always communicate through Airbnb
To protect your payment, never transfer money or communicate outside of the Airbnb website or app.
Learn more
---
See INFO Sheet posted in all rooms and Bungalows.
* MOST IMPORTANT IS - PLEASE TALK TO US about any problems you may have and we may give you a Fair discount if we have not lived up to our promises.
* And Please keep any Food you have in our 'Sealed Plastic Boxes' provided.There are sometimes hungry critters around. If you keep it clean it is easier for us to keep it clean.
---
---
My girlfriend and I were torn about Secret Cove and Gili Gede. While the staff was unbelievably friendly, the property seems to be a bit past its prime. With beautiful views out on to the bay and nice flowers and landscaping, you can tell that this place was probably very nice at one point. Now, the buildings look dilapidated. The deck on the main house/restaurant, as well as the two reef bungalows were all rotted out. This wasn't a total deal breaker because we knew we weren't going to a 5 Star resort, but it was just a bit odd because Secret Cove Resort's (not affiliated with with Airbnb) website says that it is for sale on every page, leading me to believe that maybe Titin and Peter have stopped maintaining the property to their full extent with hopes of just getting it off their hands sometime soon. Otherwise, we did find Gili Gede to be charming. We snorkeled Gili Layar and it was incredible. So many beautiful fish and we saw a sea turtle. The local people were very friendly and the children loved playing with us. The island was gorgeous in the mornings at high tide, but low tide gave way to an unbelievable amount of trash (I realize this is not one person's fault here, just a sad truth of the world we live in today). Also, do not expect long stretches of white sand beaches anywhere here as the resorts and guest houses Lastly, right now I am dealing with a severe case of food poisoning. We found all of the food to be delicious, but somewhere on the island I got extremely sick. We ate only one meal out of six at Secret Cove so probably had nothing to do with them, it would just be wise for future travelers to Gili Gede to know. All in all I am happy we got to check out Gede, but we've found much nicer places to stay on this trip for half the price.
---
Titin and Peter are very warm people, good hosts and have a very special place, good food, Each day we ate delicious dishes from titin kitchen, all healthy and Well doing. All acompanien with music and candels. The sunset views are lovely, amazing from the top of the garden. We hope come back next Summer!!!! They are a lovely couple, I feel like I have my House there, amazing snorkeling and sunbaths at hammon!!!! What else!!!! Try to Get holidays and go there!
---
Gili Gede is a very quiet island, with just a few fisher villages and only about two or three resorts and one home stay. We really liked the laid-back atmosphere, the super friendly locals, not being hassled by street vendors and encountering very little other tourists. When you walk around the island you will find many empty beaches, not all are very well suited for swimming though. Since we stayed a few days at Secret Island, we got to borrow a kayak, which we took to paddle around the island. This was really fun, although also pretty exhausting! Peter also arranged a snorkelling trip to three spots close around the island. Here we had an almost private snorkelling session and saw some of the best coral and fish we've encountered on our trip. We even saw a shark. Our room at Secret Island resort was basic but had a nice little balcony with a great view. If you don't expect too much, and are looking for a quiet quirky spot to just relax and wander around a bit this is a nice place.
---
Peter and Tintin have a cute place on a gorgeous island where the locals are so friendly and it is so peaceful. However we were there during Ramadan and so often heard singing through the night, but of course this was no fault of Peter or Tintin, but simply the culture of the island itself. The room was clean with a mosquito net around the bed. Peter was a great host and highly entertaining. The staff were also very friendly.
---
Mr. Peter was a very nice and good host. He introduced me to driver and boat renter who gave better price than the others. At first, I feel disappointed due to after the long way from the airport to this island, I couldnot swim and snorkle because of the ocean looked so dirty by the heavy rain. Hence, I just only napping and exploring the island. But, I felt it wasn't that bad because the resort was beautiful and I could enjoy the sunset and relax on the hammock. Secret Island Resort was the perfect choice to relax and enjoy your holiday in private due to not many people stay in this island. Once again, I really enjoyed my holiday by napping on hammock accompanied with the sound of waves and good views. The foods here was delicious too. I really like the Fish Garlic Butter. Also the free popcorns from Mr. Peter.... hehe. The next morning, luckily the sky was so clear, I could enjoy the corals and fishes by swimming in the islands (Gili Layar and Gili Ringit) which located near the resorts. Thank you for the boat renter introduced by Mr. Peter who knew the good spot for snorkling. Finally, If you like the peace and quite place to relax on, this place is very recommended!!
---
This place was perfect for budget travelers to escape from the city and unwind. Very peaceful and secluded. We had both of the bungalows over the water. Lovely to hear the fish jumping at night and great viewing for the sunrise and sunset. Not a resort experience with lots of frills so if you're looking for that you might be disappointed.
---
We were disappointed with Secret Island Resort. The place felt very shabby. The photos here make it look nice, but once we arrived we realized we made a mistake. The food is very basic but adequate. There is a pool table and dvd library which was nice. We saw rats in the restaurant and in our room which left you feeling very uneasy, and we had to walk past a lot of garbage on SIR's beach and grounds each day making it seem like they don't care about this place. I would not recommend staying here. The one good point about SIR is Mr. Fandy - a great guy and very helpful.
---
My nik-name is Titin. I like to think of myself as a 'kind and open person' whereby honesty, respect and love may flourish. We especially like to make our guests happy. Happy is as happy does and there are lots of happy good things to do at Secret Island Resort located on Gili Gede; a larger small island in south west of Lombok. Gili means small island in Sasak Lombok language. My husband Peter writes most of our responses, he and I try to protect our environment: If only the world Governments cared a lot more too!
Languages:
Bahasa Indonesia, English
Response rate:
100%
Response time:
within an hour
Explore other options in and around Sekotong
More places to stay in Sekotong: