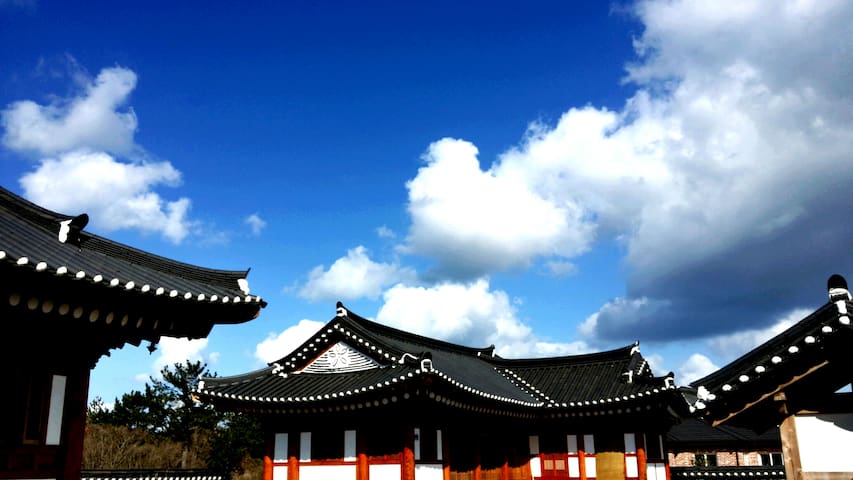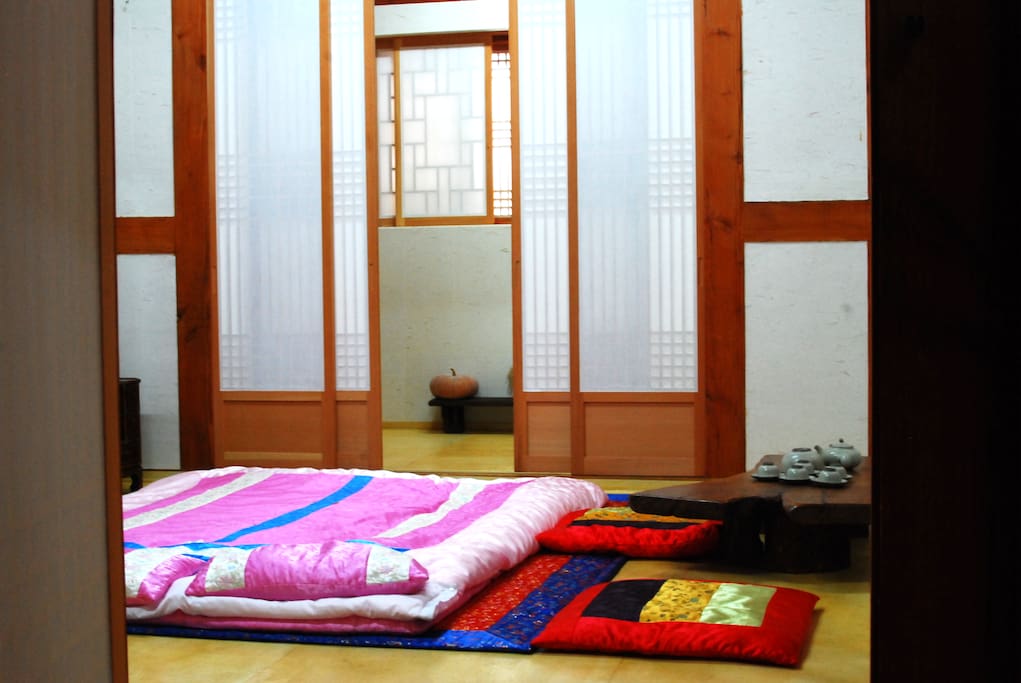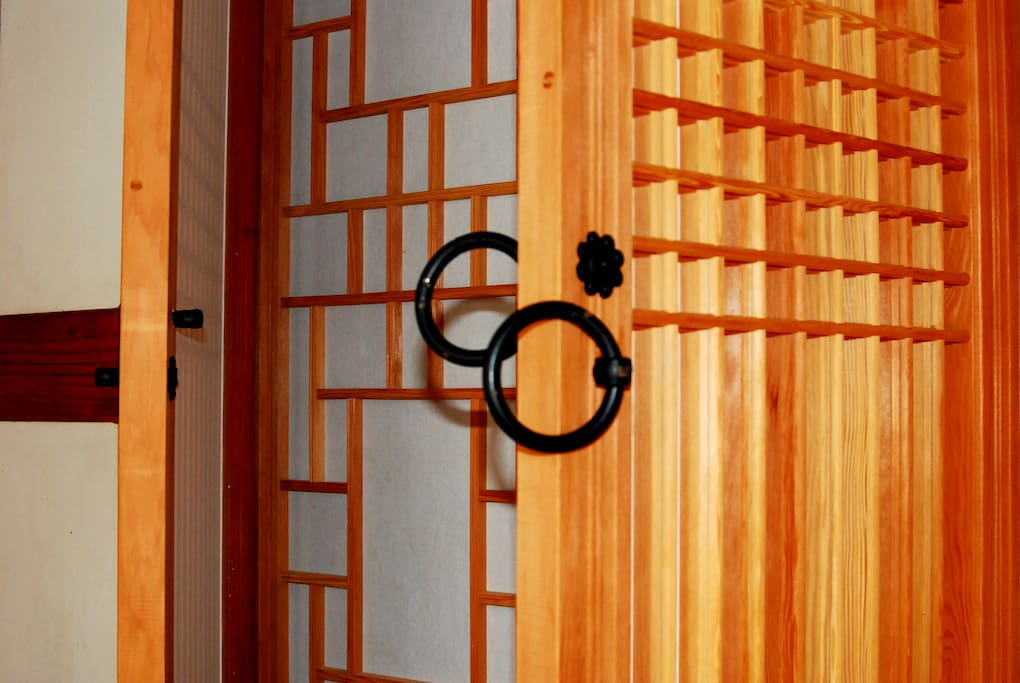 The space
welcome This is a traditional Korean house. Koreans call it Hanok. So I call the name hanok The temple is composed of main building (annex) and attached building (annex) The main building (house) consists of 4 rooms, 2 living rooms, 1 kitchen, 1 shower and 1 toilet. Each room has a traditional Korean duvet, air-conditioner and refrigerator. Attached building (sweetheart) Room for 4 people Room for 1 person Living room with 2 living rooms Korean kitchen 1 toilet and 1 shower room. There are traditional Korean-style futon bed, air conditioner and refrigerator. ※ No meals are served, and a kitchen is available for simple cooking. Traditional Korean house O-Jae is a completely different hotel and hotel. It is a place for experiencing traditional Korean houses and enjoying analogue here. Gamohje owner SEUNG-SEONG PARK
환영합니다
여기는 한국의전통가옥으로 한국사람들은 한옥이라 부릅니다
그래서 저는 한옥이름을 감오재라고 합니다
감오재는 주건물(사랑채),부속건물(사랑채)로 이루어져 있습니다
주건물(안채) 4인실방2개,거실2개,부엌1개,샤워실및화장실1개로 되어있습니다
각방에는 전통한식이불이 있으며,에어컨과냉장고가 있습니다
부속건물(사랑채) 4인실방1개 한옥거실2개 부엌1개 화장실및샤워실1개로 이루어졌습니다.방에는 전통한식이불,에어컨,냉장고가 있습니다.
※식사는 제공하지 않으며 주방이 설치되어 있어 간단한 조리를 할수있습니다.
한국의전통가옥 감오재는 호텔과리조트와는 전혀다른 숙소로써
여기서 한국의전통가옥을 체험하고,아날로그를 즐기실분만을 위한 공간입니다.

Gamohje 주인장 SEUNG-SEONG PARK

Other things to note
It is a traditional Korean wooden house in Korea. It is made of expensive materials and you have to pay damages in case of damage.
한국 목조 전통한옥 건물로써 고가의 자재로 이루어져서 파손시 손해를 배상을 해야되니 조심하면 아무문제가 없습니다
---
---
Extra people $68 NZD / night after 2 guests
Weekend Price $241 NZD / night
Always communicate through Airbnb
To protect your payment, never transfer money or communicate outside of the Airbnb website or app.
Learn more
---
Check in is anytime after 3PM
완전 목조건축물로써 실내는 반드시 금연이며,
절대로 바베큐 요리는 할수없습니다.한국전통한옥으로써 소통의공간이며,
완전 좌식생활을 필료로하는 장소입니다,생각보다 불편한것이 한국전통한옥체험이므로 꼭 체험을 원하는 사람만을 위한공간입니다.일반호텔이 아닙니다!
---
---
---
When my guide told me that it's the first time she sees tourists living around here, I was reassured that I had made a good choice. It is located in the west of the island, quite far from the urban area, Jeju-si or Seoguipo-si. It is a village occupied by artists, local or from big cities of Korea. Even though we did take some time in the traffic everyday, living here has become one of most important part of our visit in Jeju. The house is exactly what we saw in the photos, even way better. Sleeping on the floor, exactly what I wanted, together with well-functionnning floor heating system, made us feel warm and comfortable in the cold winter. As we are a family of 8 adults and a baby, that really is a perfect experience as we feel united and harmonious in this atmosphere. I had some misunderstanding with Mr Park in the very beginning of our contact, but purely due to language problem. He is a very warm-hearted person and was always there when we needed him. He kindly picked us up with his car from a restaurant 2-3 km away as it began to rain after our dinner in the first day. I requested for authentic Korean breakfasts. He said ok if we are over 8 people. We are then served different delicious Korean breakfasts every morning, totally satisfied. When we got out with our guide on the second day, for security reason, he kindly checked every paper of that guide before letting go. There had been some problem with the water heater for the shower in the beginning, but Mr Park came quickly and solved the problem. Hot water comes slowly as it has to go all around the pipes under the floor before getting to the shower room. The shower has been perfect for the rest of the days. There is no change-over plug. The next comers should remember to buy one before arriving. We really appreciate Mr Park's warm reception. 감사합니다!
---
Our host was very welcoming from the moment we arrived. He helped get us sorted out so that we knew how the house operated and the ins and outs of living in a traditional Korea house. Breakfast and coffee were provided which was nice after a long day of travelling and did not have any meals prepared. He even kindly offered us ramen diners from his own supply when arrived late after restaurants had closed. The experience was very much worthwhile if you are looking to experience living in a traditional Korean home on your visit to Jeju. The house is exactly as it looks, beautiful wooden structure with sliding paper doors with a more modern kitchen with stove top and fridge. The bed and bath rooms are the only things i could see that may deter travelers as you will be sleeping on the floor on blankets and there is no separate room for the shower so the entire bathroom can get quite messy after a shower. Personally those issues pale in comparison to spending a few nights at such an incredible house. There is a beautiful garden in the front where our host grows peppers and other vegetables, he even has pumpkin growing on the roof of his private quarters on the land. I would consider the location excellent as well, we rented a car for our travels and almost all of the sights we saw were on the south and west side of the island, save for the lava tunnels.
---
The traditional Korea house was an amazing experience. We enjoy the sleeping on the floor and we total 4 persons in 1 room, we enjoy the special trip in Jeju. The host was there to greet us and made sure we had everything we needed. We also have a special dinner cooker by ourselves . Thank you! High recommended this unique experience .
---
The traditional Korea house was an amazing experience. I was a little bit concerned about the whole sleeping on the floor thing but I actually slept really well on the heated floor . The host was there to greet us and made sure we had everything we needed. He even drove us to a big super market to get grocery. Thank you! High recommended this unique experience .
---
Very interesting and serene experience. The traditional house is away from the hustle and bustle in the middle of farm land and the art village area in Jeju. An hour away from the airport, 40mins to Jungmun. It is a worthwhile stay especially if you are travelling with another family or a group of friends. You definitely need a car to get around. The house is very traditional but is equipped with modern kitchen and bathroom. It is clean and well-maintained with a nice garden. Mr Park the owner lives next door. He speaks little English but is very hospitable. He sent his English speaking friends to receive us at the airport. During our stay, he "escorted us" in his car to Mt Hallasan and the highway leading to Udo island on the far west of Jeju. We had 4 adults and two young kids (4yrs & 2yrs), stayed at the house for 3 nights. Wonderful experience! The traditional house is highly-recommended if you want to live like the Koreans.
---
디지털을 배재하고 아날로그를 지향합니다,식상한 여행을 싫어하며 의도적으로
불편하게 여행을 하면서 살고있고, 집도 한국의 전통한옥으로써 편한것보다 불편하게 생활하고 있습니다.한국의 전통한옥에서 느림의미학을 체험하고 의도적으로 불편하게 여행 하시는 분들을 대환영합니다.편안하게 여행하실려면 호텔,아파트,펜션,전원주택등을 이용하시는것이
좋습니다.

Languages:
한국어
Explore other options in and around Hangyeong-myeon, Jeju-si
More places to stay in Hangyeong-myeon, Jeju-si: