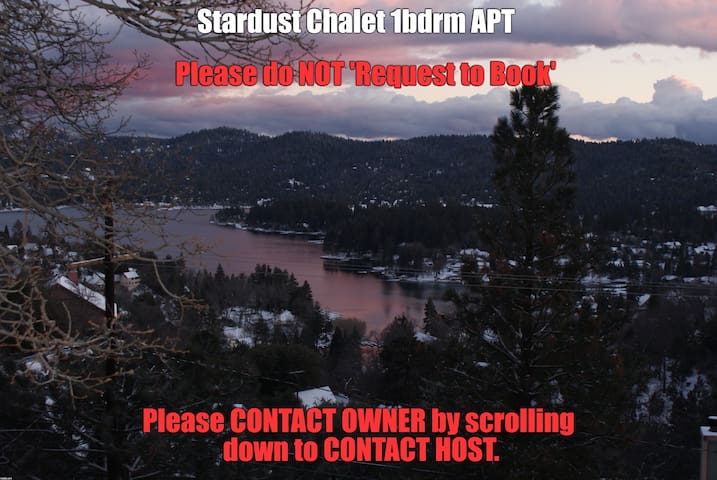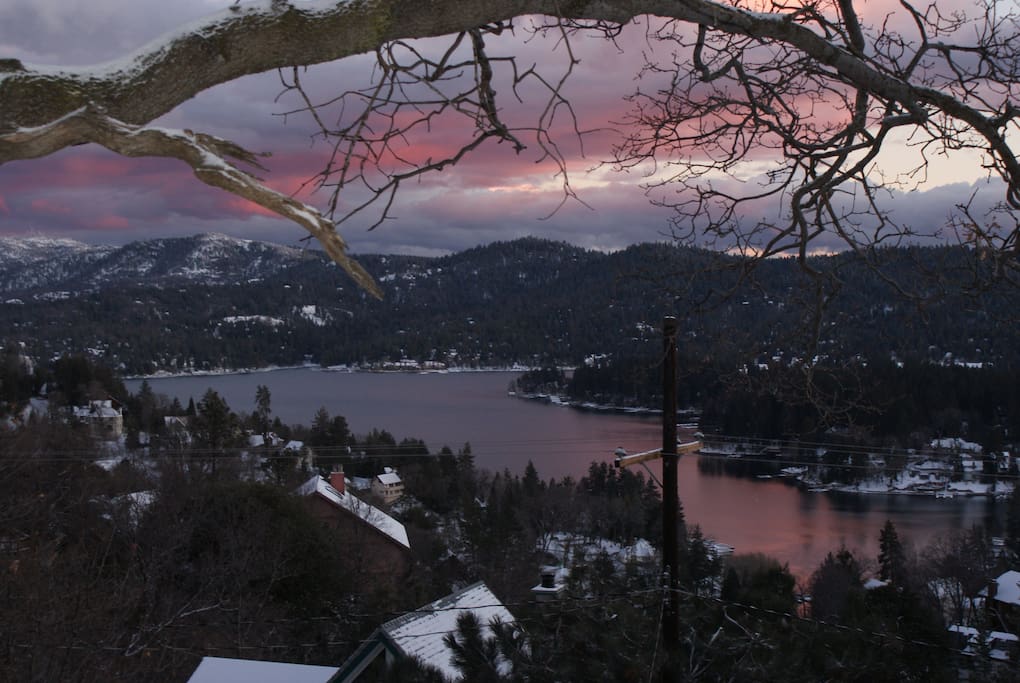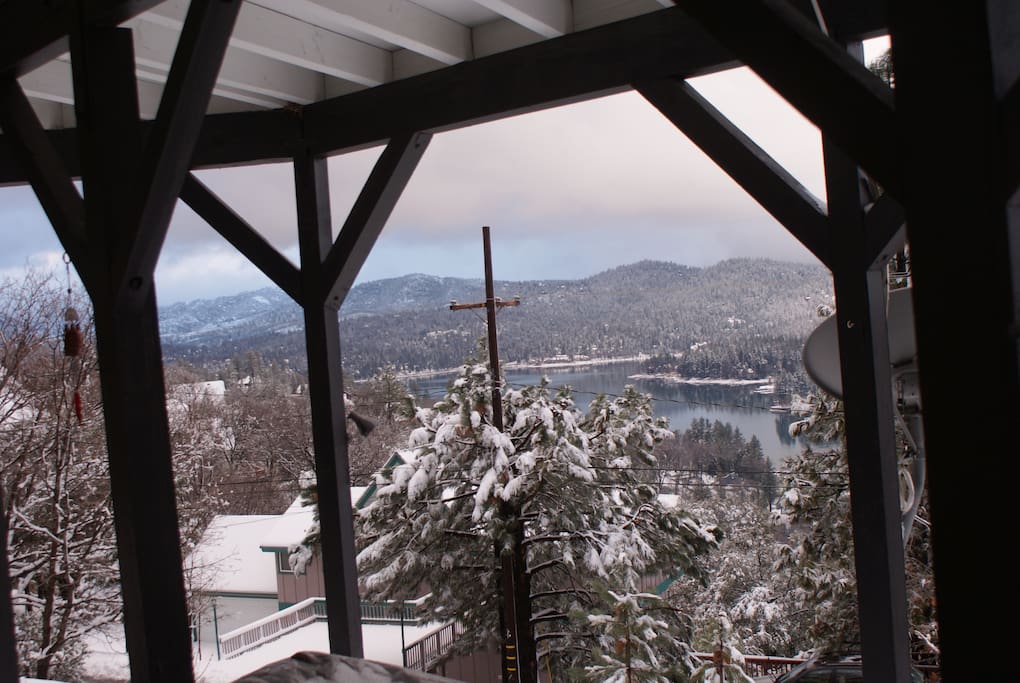 PLEASE-DO NOT REQUEST TO BOOK first--Please CONTACT HOST first to discuss possibilities. HOLIDAYS often have 3-5 night min. $185-210. prices.
Reg. Price-$139-155
HOLIDAYS- 4 night min. @$210base

Luxurious Private APARTMENT w/ Full Lake & Mountain Views in a quiet area of Lake Arrowhead. We aren't like other listings. We're fully stocked w/ high end offerings n many extras.
UPDATES: New Beautiful thick wool rugs n new bedding. 42" flat Hi-Def Flat screen. We are always working to improve.
The space
Need some tranquility? Do you like new & luxurious places to stay? Do you LOVE a serene Lake view? Me too. We have a separate apartment (private entrance) that we remodeled in the lower level (3rd) of our home in beautiful Lake Arrowhead, in the Southern California Mountains.
The APARTMENT: Sleeps 4: It's a One Bedroom, One Bathroom (claw foot tub & shower) plus Living Room and fully stocked awesome Kitchen with serene 180 degree Lake Views. The Apartment was just remodeled in 2013 with added amenities like sound proofing, slate floors, glass & tumbled marble bath, marble in kitchen, crown molding and nice wood moldings throughout. Lots of extras.
***We are not a B&B and are owner operated. So, PLEASE CONTACT US AND TELL US ABOUT YOURSELVES AND YOUR VACATION NEEDS. This place is MAGIC but not for everyone and we only rent to Guests who we can communicate with. We like to know that we are on the same page as our GUESTS and know more about them BEFORE we book to ensure a great vacation experience.
Why we are UNIQUE compared to other Rentals here in Arrowhead???
*LAKE VIEW: We have a full on 180 degree Lake View with additional views of the mountains and forest. Views from inside APT and from Patio and grounds. We now added a BBQ and Dining BAR to the outside private patio. There is also a Dinner Table and Lounge Chairs.
*NEW & SUPER CLEAN & LARGE AREA: Everything is NEW, Super Clean, and high end. You won't see any dirt and rarely any bugs and we offer high end furnishings. It's a big APT, almost 950 sq. feet. Ceiling are 8ft.
*LUXURY: 400-500tc Egyptian Cotton Sheets and Fluffy comfy large Bath Sheets and extra towels (no beach towels provided ) Plus Down comforters and lots of extra pillows and blankets. Aromatherapy is infused into the linens and Apt. No chemicals are used. We even make our own natural Febreze--(fabric freshener) and provide home made natural Anti-Mosquito Spray for the Summer.
*2 COMFY BEDS- Queen Sleigh Bed in Bedroom with featherbed and those super soft high end sheets, blankets and pillows. The Living Room has a Comfortable Sofa bed (no bar) and nice sheets and linens. Our guest have been very pleased.
*PRICE IS KING: We are still under market and competitively priced for what we offer.
*FULLY STOCKED NEW KITCHEN: We provide most of what you need to cook great meals or bake in this kitchen. Also, lots of cupboards and counter space. Custom Fridge holds a lot of food. It also has a sink, 4 burner stove, oven, microwave, fridge, (no dishwasher) Toaster oven, pots, pans, dishes, bakeware, silverware, glass, Coffee Bearn & Tea Leaf premium French Roast coffee, assorted tea bags, Coffee grinder and French Coffee Press, Italian Cafe Maker, sugar & honey, spices, Extra Virgin Olive Oil, etc.
*SPA like BATHROOM: ClawFoot tub for soaking with additional Shower feature with lots of water pressure. Glass & Tumbled Marble. All NEW and super nice. We provide Shampoo & Conditioner, Soaps, Gels, Bath Foam, Lotion,Powder, Q-tips, Razors, Hair Dryer, Washcloths and 1 roll of TP (if you need more-u can bring it)
*PRIVACY: The APT is separate-no sharing of space, privacy barriers and few neighbors-as we live on a private road with only a couple of full time residents.
You also get a PRIVATE PATIO to sit, lounge, eat, read, drink and be merry. You have full lake views. (see pics) We just added a BBQ and a Dining BAR.
*QUIET & GREAT LOCATION: We appeal to Guests who pick our Location for the best view and angle of the lake, the quiet, proximity to lake and that we back up to the National Forest. The Listings that are closer to the village are usually older, louder, more crowded. We are on a private road and not near any major highways- so we are quiet-most of the time. Yet, close to the LAKE (less than 1/2 mile as crow flies and 1/3 miles to walk to lake), 3 miles to Blue Jay & 5 mi. to Lake Arrowhead, Shops & Restaurants. You can even HIKE in the Forest (100yds away) Our Guests have said that it's super quiet and far less noise than any Hotel. We also have Sound Proofing in the APT and in the rest of the house, which goes a long way to reduce noise. Solid core wood doors are throughout the APT.
*FREE HI SPEED WIFI: you can even stream your Netflix Movies (your account) if you are a member (previous Guests have been happy about this). You can access the Wifi from the APT or patio.
*PREMIUM MOVIE CHANNELS: If you want to just relax and watch Hi Def-42" Flat Screen TV, well, we have all the PREMIUM MOVIE CHANNELS. HBO, Cinemax, Starz, Encore, Showtime & TMC. (standard def ) DVD player & MP3, CD & iPod /IPhone Player-recharger. We also have a DVR with all of the latest movies on the pay channels already recorded on the PLAYLIST.
*GREAT TEMP CONTROL: Central Heating PLUS cute Fireplace/Heaters in the Bedroom and Dining Room to stay extra toasty or just to enjoy the flames year round. In the summer that level stays very cool and never needs AC. People rave about those cute Fireplaces and always want to know where we got them.
*FINE DINING for 4: inside or Outside (depending upon weather). Inside a pretty glass round table or the bar or the large game table in the Living room. OUTSIDE there is a large dining table and chairs. Also, Teak Lounge chairs and tables for snacks, reading, cocktails or laptops. (see pics) We just added a BBQ and a Drinking Bar.
*PET FRIENDLY-we welcome responsible Pet Owners. We love our PETS and want other responsible Pet Owners to be able to bring their Pets on vacation. We also have dogs who can play with your dog. We have even been known to Pet sit.
*FAIRY/ANGEL FOUNTAIN & FLOWERS: 3 fountains run year round (weather permitting) to provide a relaxing and tranquil environment. Pretty flowers are all around the grounds in the Spring, Summer & Fall.
*SUN BATHING or STARGAZING: Unusual for the mountains with lake views but we made a LEVEL lower Yard with full lake views in FULL SUN: Do you like stargazing or to get a little sun? Well, there is a level yard area where you can stargaze at night or bring the beach chairs (in small closet) down during the day to take in some Sun rays.
*FIRE PIT--use of our fire pit for trusted guests. (We live in a high risk Fire Area so this is only allowed under certain conditions on the mountains)
*UPGRADES: The property and APT are constantly being upgraded. So, it can improve from one week to the next.
In FUTURE- we will be providing a Pot Belly Stove inside the APT and a Gas Fire Pit to our Guest. There are plans to enlarge the private 4 season porch & patio and screen it in for a LOT of extra space to lounge and sleep and relax. Many MORE features to come.
*SAUNA: We offer the use of our Wet/Dry Outdoor Finnish Sauna to REPEAT Guest. Very relaxing.
We just opened (to the public) in late May 2013 and have been booked most of the time. GUESTS seem to repeat that the place is 'Magical' and that it has a great energy in and out. First, they Love the Lake Views and spend a lot of time on the private patio or inside gazing outside. Then they fall in love with the inside of the APT. which is often described as 'Romantic' and Beautiful with many special details and touches.' Guests are thrilled at the close proximity to the Lake & Village-but far enough away have quiet and solitude. They also exclaim delight with the overall decor and the luxurious bathroom and kitchen. We have even received squeals of delight--which were much appreciated! It's what we strive for!
LAKE ARROWHEAD is located about 90 minutes from Beaches, Desert and downtown Los Angeles or Orange County. It's nearest the Ontario Airport.. Close enough for a quick getaway--far enough away to get away from it all. AREA: Located at 5500 feet above Sea Level. This house is about 1/2 mile as the crow flies to the LAKE. It's 5 miles from Lake Arrowhead Village. 3 miles to Blue Jay & about 15 miles to Snow Valley Snow Ski Resort. 20 mins from Crestline-Lake Gregory.
Check out and LIKE our page (the most popular social network site: f ) for Updated information and weekly upgrades and many improvements. Also, for what's going on locally and what to do. (it won't let me link-type Stardust Chalet)
The Apartment is offered for full time, part time or a little vacation stay for 4. *SPECIAL AMENITIES are given to long term Guests.
ENTRANCE: There are 2 paths down to the apartment. One path is next to the 'Parking Area' and has 40 steps down to the entrance of the Apartment's French doors but has a WOW view that grabs you right away. The 2nd way is a little further from your vehicle's parking -but only has a gradual slope and 9 total steps. No wheelchair access to the apartment. NOTE: You can Temporarily park in a 'Loading Area' a few feet from the entrance for easy loading or unloading and then move your car to the parking area. Ask Peter when you arrive.
ACTIVITIES: You can be as serene or active as you want to be here in the mountains. Local Activities: snow ski in Winter & Water Ski in Summer plus Fish, Hike, or do water sports on one of 3 local bigger lakes. You can hang around Lake Arrowhead Village for shops and restaurants, movie Theatre, and the Water Ski School or take the 'Arrowhead Queen' Tour Boat around the lake.
There are activities & hiking info listed in my RENTAL BOOKLET here or on our website called Stardust Chalet on the popular social networking site that starts with an F.
The local HIKING is only a football field away from your door or you can drive to many other hiking trails. Horseback riding or 4 Wheeling are also possible excursions. Or bring some great books and sit outside and read. Many options.
BRING YOUR OWN:
It's the mountains and weather can be extreme and change on a dime so bring a lightweight coat in the summer months and a heavy one for winter. Weather can go from HOT to cold to Tropical.
Bring Tennis shoes or flats-there are rocks around here.
Slippers and a Robe might be good too, since there are slate and tumbled marble floors.
Bring your own Beach Towels for the lake. We provide Bath Towels only.
Bring your own Paper Plates or Cups-if you want that option.
Bring your IPOD or IPHONE--there is a player for MUSIC and recharger for your Ipod or Iphone.
Bring DVD's (Standard NOT Blue Ray) or you can borrow some or rent in Blue Jay.
Bring a Laptop or Reader for the High Speed Wifi.
Bring Charcoal n Lighter fluid for the BBQ we have on patio.
Check "House Rules" for more information BEFORE booking.
Smoking only allowed OUTSIDE w/ permission (ask me for the Sand bucket)--see "House Rules"
Guest access
Private Patio with BBQ, Dining, Bar Area and lounging area. Private Apartment. NOT shared.
Interaction with guests
As little as possible. We live on the premises. We love privacy and afford it to our Guests. Peter checks our Guests in and we are available to assist by TEXT but we leave our Guests alone unless they need us.
Other things to note
7% County Bed Tax will be added to your invoice or can be paid in cash.
Dog Fee of $25 per day will be added to your invoice or paid in cash upon arrival.
~~~~~~~~~~~~~~~~~~~~~~~~~~~~~~~~~~~~~~~~~~~~~~~~~~~~~~~~
Per insurance, we have all of our Guests sign standard Rental Contracts and provide a copy of their Driver's License.
Most Holidays have 3-4 night minimums so please ASK us first.
~~~~~~~~~~~~~~~~~~~~~~~~~~~~~~~~~~~~~~~~~~~~~~~~~~~~~~~~
LOCATION--if you want next to the Village--we are NOT the place for you. We are on the North side of the lake which means you need to drive 3 miles to to Blue Jay and 5 miles to the Village. We appeal to those who want this amazing view and back up to the Forest. Please don't pick us and the give us a lower ranking on Location.
~~~~~~~~~~~~~~~~~~~~~~~~~~~~~~~~~~~~~~~~~~~~~~~~~~~~~~~~
QUESTION & ANSWER:
QUESTION:--Does the APT smell like smoke since smoking is allowed OUTSIDE with permission (following protocols)--
ANSWER: NO!! Weeeee. As long as people wash their hands and close the doors--no smoke gets back inside. We've only had 1 instance of the place smelling like smoke and my home-made Febreze took care of the smell. I am allergic to smoke and have a great sense of smell so I can assure our Guests they won't smell any smoke.
QUESTION--I'm allergic to Cats and Dogs and I see that you have both. Do they spend time in the APT and have others had allergic reactions.
ANSWER: NO!! Weeeee. The pets are rarely in the APT often and none of our friends have had reactions to the Pets in the main part of our house--let alone the APT or the SUITE. We keep things super-clean there and the home made fabric spray is also helpful. Also, we have a DYSON which is amazing. Love that vacuum.
Extra people $19 NZD / night after 2 guests
Security Deposit $748 NZD
Weekend Price $214 NZD / night
Always communicate through Airbnb
To protect your payment, never transfer money or communicate outside of the Airbnb website or app.
Check-in is anytime after 3PM
HOUSE MANUAL & HOUSE RULES:
Rental/Traveler/Guest REMINDERS for Stardust Chalet
WELCOME to our HOME. We hope you enjoy your stay and get rejuvenated while staying here. This truly is a magical place if you open up to what our home and the area has to offer. We have spent a great deal of effort, time and money to make this Apartment the best it can be for such a low price. At present we our price is under market value--while offering privacy, new Construction, luxury, high end linens and a full Lake View.
We are about Mutual Respect--We will respect your things and your privacy and need for a tranquil place to stay and we expect the same courtesy extended back to us. :-)
~PLEASE CONTACT US (text) IF ANYTHING GOES OUT. Like the Water Heater or Wifi or DirecTv, lights, etc-- so we can get on and solve any issues, as soon as possible. We do NOT guarantee or refund $ if DirecTV or Wifi goes out--those are "Amenities" and are NOT within our control if the service is down in the area.
FYI---If you smell PEPPERMINT? We spray Essential Oils of Peppermint in our Basement (Not this Apt) to deter any rodents or critters once a week. It's usually a good 24 hours or so BEFORE a guest arrives. It will dissipate in 24 hrs.
~If you smell SAGE? We use a 'Sage Smudge Stick' to clear the negative energy between guests. It's not the smell of POT but SAGE. It too will dissipate quickly.
~If you smell LAVENDER? I use a home made Spray of Lavender Essential Oils on all linens and furniture. Lavender calms and assists in slumber among many other positive things. Our Laundry Detergent is from Trader Joe's and also has Lavender Essential Oils in the ingredients. ( if you have issues with Lavender-please let us know ahead of time so we can switch it out—I have made an alternative Fabric Spray)
~If you see Angels, Fairies, Crosses and Buddha's in the APT and on the grounds these do NOT represent any RELIGION. They represent Peace, LOVE, Compassion, Non-Judgement and Protection. Please do NOT be offended.
CHECK IN-----Is After 3pm and Check out is at Noon
7% Bed Tax will be added to every invoice or paid in cash.
PLEASE AND THANK YOU...
~NO SMOKING INDOORS---we live in FIRE COUNTRY. You must be extremely vigilant with your buds and ashes. Ask me for a bucket of sand I keep for smokers.
Smoking only allowed OUTDOORS. If you smoke indoors-you will LOSE your Damage Deposit. (PLS. close the doors to the APT when you are outside smoking and wash hands to lessen the transfer of smoke to the APT and things)
~NO PETS WITHOUT PERMISSION AND addition fee of $25.00 per pet per day. (you are responsible for cleaning up after them: See below)
~BE CONSERVATIVE WITH USE OF UTILITIES: GAS & ELECTRICAL:
Which means don't have all lights and fans and heaters on at once. and TURN OFF when you leave or go to bed.
WINTER: We have 2 Sources of HEAT to the APT. We have central heating to that APT and 2 Fireplace/Heaters. For Safety and Conservation we ask that you turn down the Heater to 62-64 degrees at night when you go to bed. (Most GUESTs confer that this is more Heat than needed) The Heater will regulate the temp and keep you toasty at that level and won't overheat the unit all night. Also, please turn OFF the heat in the Living Room -if you are sleeping in the bedroom. No need to have more heaters running all night- if not being used. There are also lots of fluffy blankets to keep you MORE than warm in winter. I used to live in that APT and it can be VERY warm.
SUMMER: Fans are fine to run in Summer if you need them (they are safe) That floor is the COOLEST and are not often needed.
~PLS. TURN OFF ALL LIGHTS, FANS, HEATER-when you leave apartment for any reason. (Blue Lamp will come automatically on a timer from 7pm-12am-if you leave the apartment. You still will be able to see inside) Feel free to keep the PORCH light ON for your night time return--if you go out.
~NIGHT TIME LIGHTS: We have security lights on both paths leading back UP to the private road and parking. (Please inform us--if there is a problem with the lights-lighting up your path.)
~ PLS. BE CONSERVATIVE ON USE OF WATER: Lake Arrowhead is in a Water Shortage so we have to be VERY conservative on WATER and are monitored by our local Lake Arrowhead Water company. So, please be conservative in your use of showers, baths and water use.
~Be careful of the GLASS TABLE & MARBLE COUNTERTOPS- It needs a tablecloth or placemats when using table to help minimize scratches from use or laptops, etc. If you take off the placemats then use a tablecloth. (2nd drawer of dresser at end of couch) Marble Countertops are very Porous so all spills need to be clean up right away. No citrus or harsh chemicals or cleansers used on countertops. Use TRIVETS on countertops for pans and hot things.
~LOCK UP AT NIGHT AND WHEN YOU GO OUT.
TO LOCK: the French Doors each sidelight has a turn lock and the main door has a deadbolt and a bolt at the TOP of the door. It's best to use this when it's windy for sure. The winds get up past 75.
TO LOCK: The Bedroom Slider--close door. Use Right hand to hold door to left (closed) while your left hand pushes the handle towards the LAKE. This will lock. You can also use the white pipe in the track to LOCK the door OPEN at night for some air while being SECURE.
~We provide STARTER items of Premium Coffees, Condiments, Toilet Paper, Paper Towels, Oils, Amenities, etc.. If you need more, then YOU need to purchase it. Also, if you use a LOT of something-like a spice, oil, coffee, tissue, or item--then please REPLACE it for the next Guest.
~TRASH: We now have Trash Pick up service. You can drop off trash INSIDE shed and inside cans in Shed on street below.
NOTE: CRITTERS--We live in the mountains so NO TRASH or FOOD can be left OUTSIDES at any time. There are bobcats, coyotes, bears, raccoons, squirrels, chipmunks. birds, and dogs and Sasquatch--that will be drawn to the smell.
~DO NOT FLUSH ANY CONDOMS, SANITARY NAPKINS OR TAMPONS OR PAPER TOWELS DOWN THE TOILET. Use a separate small grocery bag to dispose of those. You will be charged the PLUMBING FEE if you violate this rule.
~TOWELS: Do NOT use our expensive Bath Towels outside or at the beach or to pick up spills. We have provided white rags (under the sink) for spills, and dish towels for dishes. (tall pantry )
It's noted on the websites to bring your own towels for BEACH or OUTSIDE. You can often pick up extra beach towels at RiteAid in Blue Jay or Stater Bros Market in the Village or Goodwins Market in Crestline/Lake Gregory.
~Please bring your own extra Towels for "Intimate" moments to protect the expensive sheets from stains that can become permanent.
~DISPOSABLE DINNERWARE/CUPS: As noted on the Rental Sites we don't provide these. This is an environment choice for us, you can make your own choices. Trash is an issue here in the mountains and it's less trash to deal with and less of an impact on the environment.
We live in a FIRE AREA so
~Please don't leave candles un-attended
~Don't leave small Fairy Light or in-Door fountain or Heater or Fireplace ON--- if you are NOT here.
~IF YOU SMOKE--you can only smoke outside but BE CAREFUL. I have seen fires start here from a thrown out cigarette bud. I put out the fire while the person stood around not realizing what was happening. Ask me for a bucket of sand for outside smoking only.
CHECK OUT PROTOCOL-Check out is at Noon
As stated on AirBnb,(SENSITIVE CONTENTS HIDDEN) --If you would please...
CLEAN UP: The cleaning fee is for sanitizing, re-stock, small wear and tear, etc. YOU are responsible for leaving the APARTMENT and YARD--AS YOU FOUND IT.
Put everything back in it's place and clean up. *You don't need to grab cleaning products and CLEAN IT--Just wipe things down and please just leave it in order and follow this fast CHECK OUT PROTOCOL
~Take used SHEETS, TOWELS, and used Kitchen towels and put them in BLACK BASKET. (in large closet) Leave the Mattress Cover ON the bed unless it's stained.
~Put used blankets on Queen Bed in Bedroom so we know which items have been used and might need to be cleaned or refreshed. Put pillows back on bed.
~Clean up any spills to floor or rugs, countertops. (Rug cleaning products under the Kitchen sink)
~If you used it--CLEAN IT---like our BBQ, Tables, etc.
~Wash your own dishes, dry and PUT BACK IN THEIR PLACE.
~Put ALL items and things back where you found them.
~Turn off ALL lights and Heaters, Fans. Indoor Fountain.
~Gather and TAKE ALL TRASH with you when you leave. Leave no trash behind inside or out. You can drop off trash in our Trash Cans inside our Trash Shed located on the street below. $50 for TRASH REMOVAL Fee if not followed.
~Renter Agrees that He/She will be responsible and replace anything he or his party loses, breaks or destroys during their stay.
~Please LOCK up the Apartment and Text us that you have vacated and are checked out.
Disclaimer for all Renters/Guests:
Renters understand that the Homeowners are not responsible for any personal injury caused by slipping on wet pavement or surfaces, and that tenants are responsible for exercising care when surfaces are wet or slippery due to weather or use of hoses to wash down areas, and further, that the homeowners are not responsible for any personal injury or loss or damage to tenants' property caused directly or indirectly from foul, inclement weather conditions, Acts of God or nature, failure of heat, accidents related to fire, heaters, stoves, tenants' failure to take adequate precautions around wet areas, or any unforeseeable circumstances.
PERSONAL PROPERTY: Guest understands that any personal property of and used by Guest is not insured by Owner and Owner shall not be responsible for any lost, stolen or missing property of the Guest or property of Guest left after check out.
Renters understand that Owner strongly encourages Renters to acquire their own Travel Insurance policy to protect their vacation investment against unforeseen events including being evacuated for FIRES or Weather related issues or any issue.
Under no circumstances will Tenants or their guests hold the Owners of the Vacation Rental responsible for any damages or claims of any kind resulting from their stay, except for intentional acts of harm.
This agreement and disclaimer applies to Renters and all guests in the Renters' party.
I, GUEST/Traveler, have read, understand, agree to, and will abide by this rental agreement and all conditions stated herein.
Thank you. Hope your stay is amazing because THAT is our goal.
Drive safely home. :-)
Each day we say, "We live in paradise!" ......because that is how it feels here.
We want you to have an amazing experience and getaway and hope you come back again and again.
----------------------------------------------------------------------------------------

RULES 4 PET OWNERS.
IF YOU PLEASE…
If you bring a Pet--You are also responsible for cleaning up Urine or Poop or Vomit or damage INSIDE the apartment as well as OUTSIDE poop pick up. (grocery bags are provided)
~A carpet cleaning machine can be provided in case your pet marks it's territory. (we have dogs and we know that this happens when most dogs go to new places. It's instinct NOT potty training)
~Bring your own Nature's Miracle type of Pet Enzyme cleaner. There is a new brand that is supposed to be great and super cheap it's FIZZION tablets. You can get 8 tablets. Each 1 makes 24 oz —so that is 8-- 24 oz bottle for $13.99 at Home Depot. Awesome! You can also get it at Amazon or Pet stores. Or any other Pet Enzyme cleaner to remove any urine or markings. Most pets will mark strange territory at least once. Even if they are potty trained at home, etc. There are wild smells here from the mountains!
~ Please inform us if you forgot your Pet Enzyme Cleaner and there has been a marking- so we can eliminate any issues. Failure to inform us of any MARKINGS can cause issues with your Security Deposit. Our dogs will mark OVER your Pet's Urine and show us where it happened so please inform us so we can continue to put Pet Enzyme Cleaner on that spot for an additional 2 weeks. It takes at least that time to eradicate the urine.
~Bring a LINT ROLLER to remove Pet hair when you leave.
~BRING A CLEAN SHEET OR BLANKET: We found while traveling that it was best to bring a large sheet or blanket to put on and protect the Bed or Couch to minimize pet hair on furniture or beds. We can also provide a clean sheet for you so clean up is easier and the furniture and bed are protected from any hair. We get GUESTS who have severe Allergies to PET hair so we find this helpful.
~ No Pet is supposed to be left here un-attended for more than 3 hours. Even if your Pet has travelled or is perfectly potty trained and okay at home-THIS- is a new place with new smells and new sounds and can be scary for a PET. We will assist in Pet Sitting in some situations if you are to be gone for a long period and can't take the pet.
~No Pet is to be left un-attended on a rope.
Please bring your own.
~Bring your own DOG Food and Treats. Some treats will be provided for your sweet pooch.
~Pet Enzyme Cleaner.
~We have some extra water bowls and dog dished here-if you forget yours. We also have clean sheets for the furniture if your Pet likes to cuddle on the furniture.
~Bring your DOG leashes. We are on a private road. However, there are other dogs, cars, and neighbors who share the road.
~Bring TOYS for your pets so they have things to do and chew on and have their own smells.
~If your dog is young or like to chew on furniture then bring BITTER APPLE or something of the kind to deter this chewing on furniture.

This is a great place for Pets. We welcome responsible Pet Owners-traveling with your Pet can be rewarding. :-)
You must also acknowledge
Some pet(s) live in the house
Lake Arrowhead, California, United States
Joined in March 2013
We are Peter & Tink.
We have been together since the late 80's and it was love at first sight--it was magical.

We are originally from Orange County and have lived in a few Beach homes, among other places. We have both traveled in our lives and my husband used to be an Olympic (2 Silver Medals) and Pro Athlete Water Polo player so he has been all over the world-many times. We also lived in Italy, while he played professionally. We LOVE to experience different people, cultures and foods.

We also love nature,design,garden & DIY projects and ANIMALS. We love Animals and have rescued and fostered for the local rescues. We love to travel with our Pets but it's not always easy to do. Some Pet Owners give a bad rap to the rest of us who are super responsible.

We used to rent out this house through a Real Estate Agency back in 2001--before construction. The house got trashed by many Guests who showed little regard and an Agency that was only interested in their commissions. So, now, we have a say as to who comes to our home.

We LOVE our Guests. We work very hard on their behalf to provide a tranquil place that they can relax, unwind and get in touch with nature. We like privacy, so we give it to our Guests-but we are here in case anyone needs us.

We both used to work in TV/Film production and post production. We know what it's like to work TOO much and need some time in nature.

In 2002, we moved here full time and and added on and started re-doing the rest of this now almost 5000 square foot home. We are always working on improvements and are always doing maintenance. We are on the sunny, windy (during storms) side of the lake. The elements are brutal to paint and we have to repaint several things each year. We should be professional paint testers. We have tried so many. ;-)

We truly LOVE living here. It's like being on vacation and every day we give THANKS for this beauty and this view of the mountains and lake. We love all of the visits we get from the forest critters. We have many fun stories of encounters.

So, all of those things led us to offer our Apartment & Suite on Airbnb & and our page: 'Stardust Chalet' on the social network that starts with an F and ends in a K.

We are excited for others to come and enjoy this place. We want you to bring your PET and come and RELAX, Meditate and unwind and commune with nature and yourself. :-) (rainbow friendly)

Response rate:
100%
Response time:
within an hour
Explore other options in and around Lake Arrowhead
More places to stay in Lake Arrowhead: