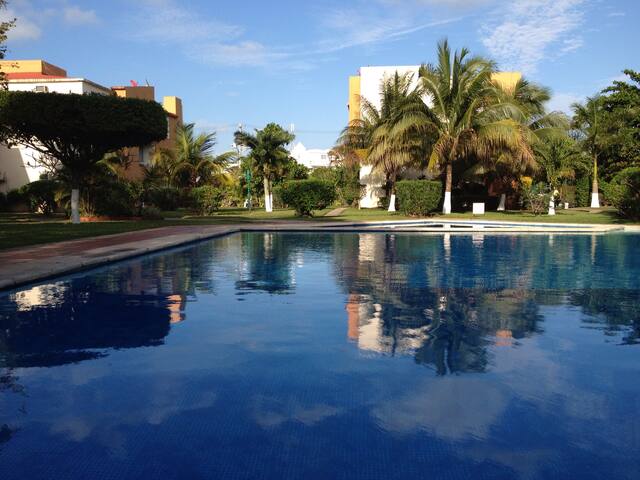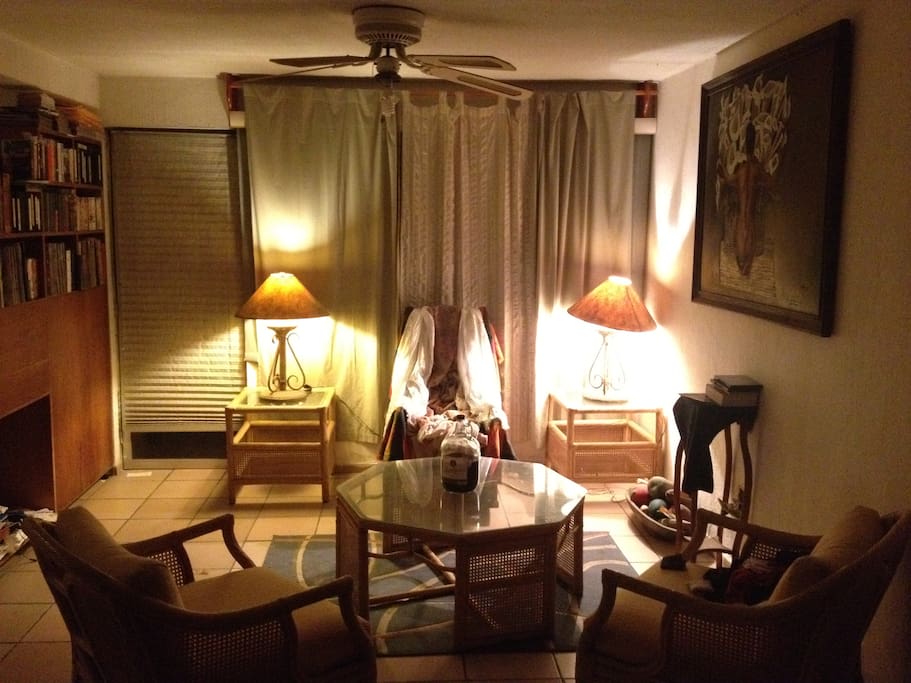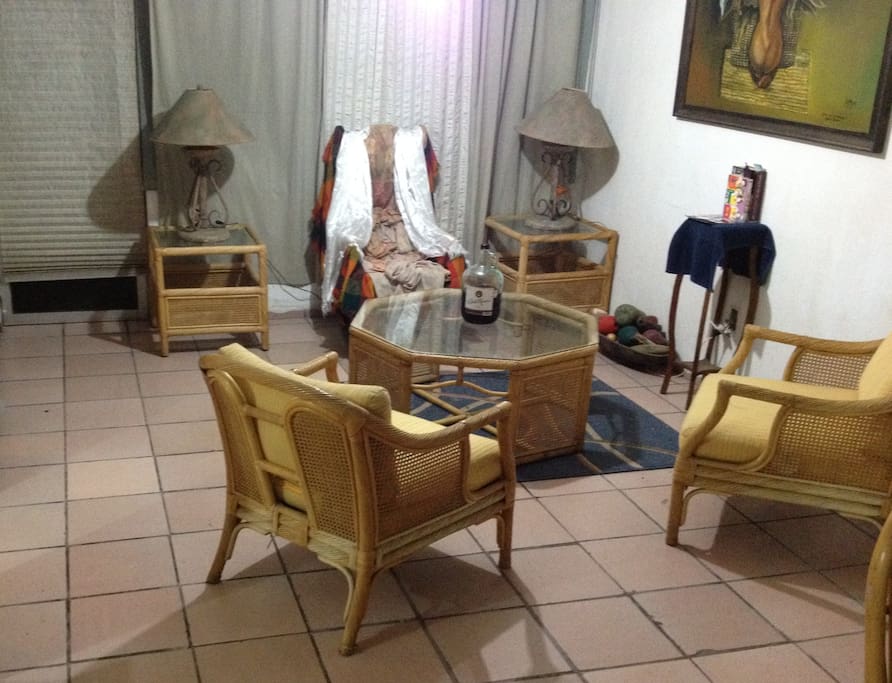 Gymnast's Private room Cancun
My place has an entire entertainment space: videogames, comics, movies in dvds, NETFLIX, some books.
My place is not a hotel BUT YOU WILL HAVE EVERYTHING CLOSE TO THAT (incluiding a swimming pool).
My guests never get a key: BUT THEY GET A PERSONAL BUTLER: which is me: I always know what time Im comming back so I always coordinate with my guest to open the door; you need to go out and Im not at my place?: TRY MY OTHER BUTLERS! : my neightbors. You always have 3 floors of them to choose.
The space
Your room will be my room...yeah (but without me of course)
It has a bunk bed with pillows, blankets, etc, included.
The closet has my personal stuff: clothes!, shoes! and a lot of university texts! But when you are there (before you arrive) I'll take the clothes I need.
What to expect? Expect respect, privacy, WiFi, AC, a bathroom with shower (in front the room, not inside).
There is a kitchen: brand new.
A living room with: a TV, a dvd player, a Nintendo Wii, a playstation 2,a playstation 4, NETFLIX (access to it with nintendo wii or with the ROKKU app for a better and perfect image; a lot of comic books, a lot of animation and movies in dvd.
There is a water pool for the apartments (medium size)
The neighborhood is very quiet and secure. The apartment area has security
The public transportation is available at this shopping mall.
There are two gyms (one two blocks from my place and the other 8 mins walking)
The touristic part (including the beach and the nightclubs) is 7 mins by bus: sometimes 10 or 15, depending how far you want to go.
The place is unique? Who knows it surely has its own characteristics with my personal stuff.
- Lets say it has a perfect strategic position:
>shopping mall with everything on it (movie theater and a supermarket too) in 3 minutes walking (even less)
>Public transportation access (in the shopping mall, less than 3 mins walking)
> Short distance to go to beach and hotel zone (turistic part) by just walking 6 minutes to take the 24 hr bus to Hotel Zone (you will arrive to the main points between 8 and 15 mins, depending where you wanna go...by bus of course)
What else is it unique here???
> Entertainment Area: The Living room is full of hundreds of Comic Books in english, spanish, french.
There is manga and hundreds of DVD's: japanese animation and hollywood movies.
There is a Playstation 2: with 37 videogames, incluiding RPG's, fighting and action games.
Brand new Playstation 4
Nintendo Wii
NETFLIX: with the nintendo wii or with ROKKU tv
ROOM BED: is a bunk bed!
KEYS: There is no extra key for the apartment but we can coordinate about coming back . My guests never get a key: BUT THEY GET A PERSONAL BUTLER: which is me: I always know what time Im comming back so I always coordinate with my guest to open the door; you need to go out and Im not at my place?: TRY MY OTHER BUTLERS! : my neightbors. You always have 3 floors of them to choose.
ARE YOU A SPORTMAN?? Well, it happens that the place has two weights (4 kg each) and a elastic (you can use it for arms, legs, everything). Also, there are some gyms close to the area (5 actually: two expensive, 3 not expensive, like 10 mins walking)
ARE YOU A MODEL???
In that case we could work on a video recording for a personal project and you will me famous when the video becomes famous: Im good in recording and editing (special classes, etc).
ARE YOU A POLITICAL PHILOSOPHER BOOK READER?
The apartment has 6 or 7 books of different political thinking subjects.
ARE YOU YOUNG OR MORE THAN YOUNG BUT LESS THAN A OLDIE?
Your host is young so is better that you are young too. Is not a rule! but probably both of us would feel more comfortable with that.
Guest access
All the areas that you want to be. You are free to cook.
Interaction with guests
I can give you information about cancun, places to go, etc. If we manage to have good chemistry, that will be better, if not, at east there will be always a minimum respect.
Other things to note
KITCHEN: New kitchen. For less than one year the kitchen WAS seriously damaged (half of it). BUT NOT ANYMORE. The new kitchen is avaiblable since January 6 th 2017.
BATHROOM: is always clean. Some guest have confused the tartar that the toilet has with lack of cleaning: that tartar is impossible to make it disappear.
Also, other guest confuse water drops on the floor of the w.c. as another lack of cleaning: is just water that SOME guest cause when they dont close the shower courtain.
---
---
Extra people $14 NZD / night after the first guest
Always communicate through Airbnb
To protect your payment, never transfer money or communicate outside of the Airbnb website or app.
Learn more
---
Not safe or suitable for infants (Under 2 years)
RULES OF THE PLACE
Feel free, my place is not a jail. Most of the time Im busy all day
I don't tell you what time to come back, you decide this but it is important JUST to coordinate a time. (Dont be shy to propose a time. I sleep kind of late). If you arrive before me, there are some safe places where to wait: a shopping mall, a restaurant and the pool area.
There are one moment when you cannot be inside the apartment: when the cleaning lady comes to...clean the apartment ( once by month, typically on saturday, for 4 hrs and a half). Usually, she will clean before your arrival, so this thing is just if it happened.
CLOTHING. There is AC inside the rooms but not inside the apartment (just a fan) so if you want to be shirtless inside, no problem (I'm saying this just to the guys of course, not the the girls). Cancun has a very...difficult weather (is like summer for all year). You smoke? no problem. You drink? no problem (just don't break my stuff).
Clean your dishes, etc.
DOUBTS, QUESTIONS, SUGGESTIONS: Anything that you want to ask about the place, about behavior inside the apartment, feel free to do it: the idea here is that you feel comfortable with...the first step is to ask and talk about it.
AC NEW RULE: you can turn it on for sleeping. During the day, no more than 3 hrs. This is because if for some reason the AC is on 24 hrs, it will break (you would have to pay it).
---
---
---
Alexander was super helpful and a great host. He suggested a lot of places to see and things to do while in Cancun. He was really nice and we even watched Netflix, since we had similar tastes. He was honest about the conditions of his place, but it was close enough to the bus stop and the beaches that the price was good. I spent most of my time outside so I just needed a decent place to stay and shower. I am pretty low maintenance so Alexander's place was enough for me, but probably not the best for someone who is more OCD about cleanliness.
We comunicated on time and I gave her details about some details of my place that were missing or that had some failures, so that she could take a decision about her requests. She was a very nice guest, we did not have any problem. There are some details that she and other guest confuse about the toillet and kitchen -some tartar at the tillet does not mean lack of cleanin: its a very solid amterial impossible to destroy. toillet is always clean, specially when she arrived. Some water drops at the toillet means that the floor is wet, not dirty. Some other guests do not close the shower courtain correctly. We were 4 in my place: the more people use the bathroom, the less clean it may look. All my guest receive a clean toillet: that does not mean I will clean it every 6 hrs. -kitchen was 50% destroyed BUT I WARNED HER about this. But kitchen was clean. now there is anew kitchen that she never had the chance to see. The rest of the appartment (and her room)was totally clean.
---
We comunicated on time and I gave her all the information that she needed to have: including extra details of some apartments failures , so that she could decide by herself about her request. Also, I explained her how to arrive and some extra information about cancun. She and her friend were nice guests
---
Not really suited for americans, or anyone in my opinion. The place is in decay. The kitchen and shower were just unbelievably bad. The bedroom is okay and the only reason I stayed.
He has point! The rest is a matter of opinion. KITCHEN: the kitchen is not what it used to be before, thats absolutely true: the wood and humidity has done some severe damage to some areas of the kitchen. SHOWER: Is not at all accurate. It was clean. But humidity has created some light yellow spots at the walls. There is no mirror but is a question of time. The courtain is old, true. I will have to add some pics of the bathroom. It is important to make those details better that I believe he was referring: -yellow spots on walls - new courtain -a mirror SUITED FOR AMERICANS: A matter of opinion. Nevertheless, I believe that the things he is pointing do need to get fixed: the kitchen and the bathroom, need improvement. The kitchen will take time. The bathroom will be soon better. NEW GUESTS: For now, if you are not spending 24 hrs in the shower and 24 hrs in the kitchen, my place is suited for anyone but you will need to have to be patient with those areas, for now.
---
Xander was a very friendly man. He wanted to do everything to make us feel good. But we left his apartment an half hour after arriving. The reasons have been, at first, that we haven't get an own key, because there is only one. The next reason is, that the kitchen and parts of the apartment have a flavour of gas. There is a leak in the gas line for the oven. So it has to burn a flame everytime. We thought it is to dangerous. If you like the pictures in Xanders ad, you are welcome in his apartment. But it was not, what we thought about it. Sorry.
---
Hello there. I dont like describing myself, is hard and it limits who a persona really is. I don't smoke, do a lot of sport (gym and gymnastics) love to swim (even if I don't do it anymore). I'm quiet, respectful, open minded. Love animation, comic books, video games (even if I don't play them so often), I like music ( rock, pop, indie, classical), like to meet people from other countries.

I speak french and English as perfect as you do! I like political philosophy and know a lot of social conflicts. If there are some characters that could give you an idea of who represent me the best...would be.. uhmm the amazing spiderman's new peter parker (2012): mixture between responsabilities, moral but also love to play a lot.

How is to have me as a guest? Well, probably I'll do my own plan for the day in advance; I'm very independent and quiet. I will respect your place of course and listen to the rules. The ideal here is that we can be friendly but we do not control chemistry so at least we can have a respectful relationship.

How am I as a HOST? who knows where chemistry will take us but I'm very sure about this: I want to my guests to feel free and comfortable:
free to do what ever they want to do in my place (with essential limits of course) , to feel free to drink, smoke, party, go out and to come back what ever the time they want to ( we have to coordinate).

When I have time I will always provide them the right information they need about the city: places to visit, where to get stuff, transportation, etc, etc.

Most of the time I'm very busy but try to make some space to my guests. I rather have young people as guests but you dont lose anything by asking, who knows ;)
Languages:
English, Español, Français
Explore other options in and around Cancún
More places to stay in Cancún: