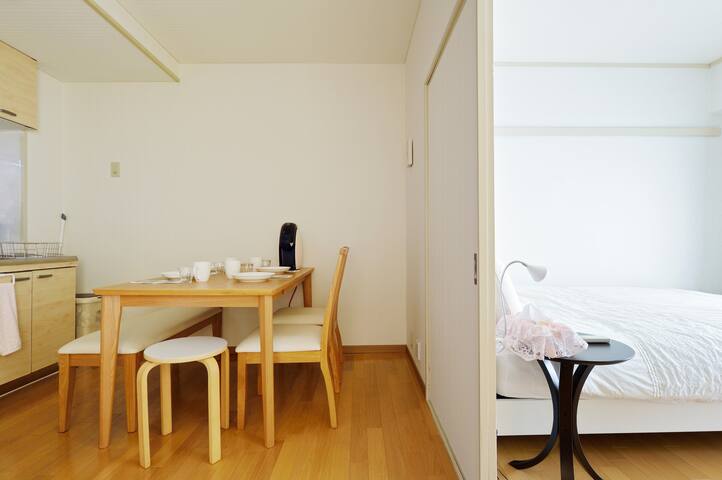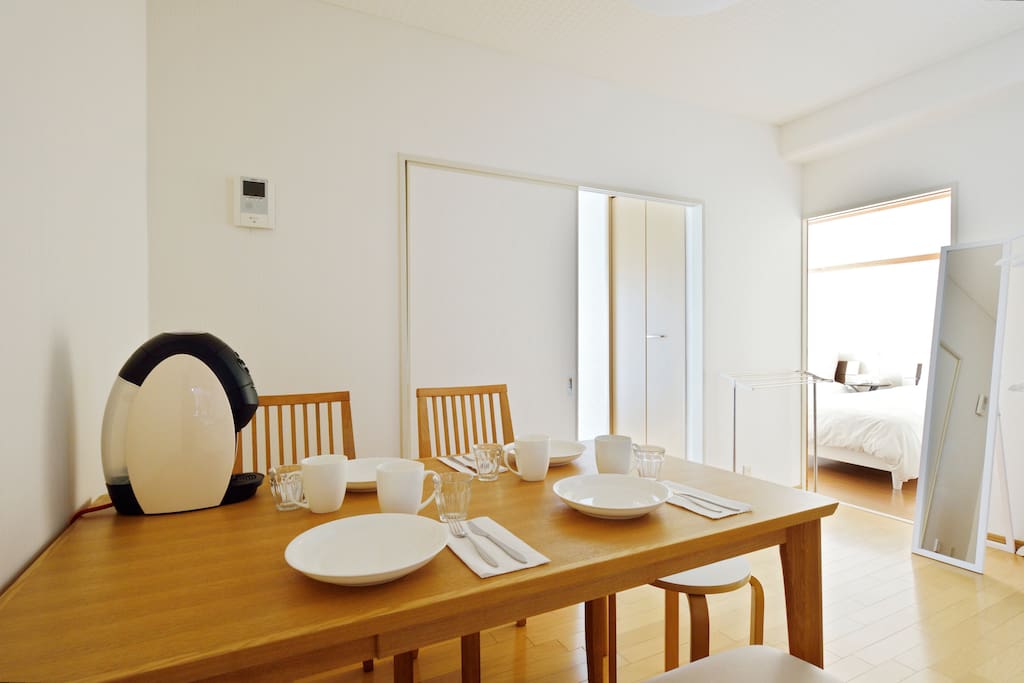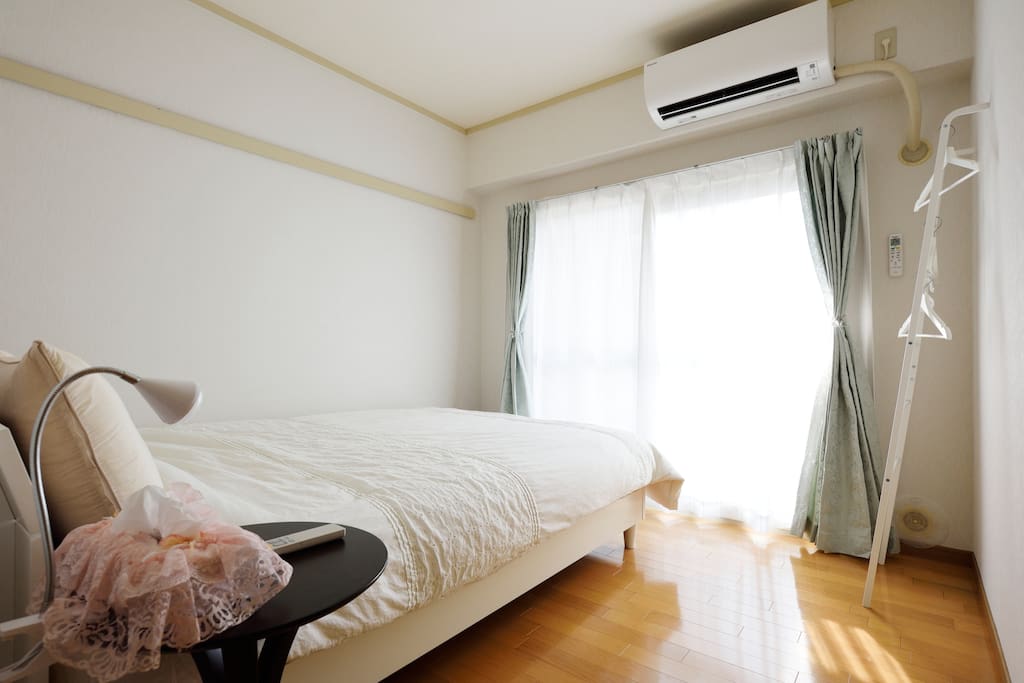 New open 2Bed Room in Osaka(Umeda)
2bed room(9.95m2 and 7.44m2+Living room).10min walk from JR Osaka station,3min walk from subway station.1 double size bed and 2 single beds+1 futon. For only Non-Smokers.Private flat for only guests who have reserved. No unauthorized guests allowed.
The space
☆Please read all information below(including the house rules) carefully before you book and then feel free to contact me for more information.☆
I would like you to stay perfect place for you, so please confirm all condition of the room described in my listing and if everything is acceptable for you, please make your reservation.
If you would like to know your price, please type your check in and check out date, as well as the number of guests through the calendar.
Also, location is important for you, so please feel free to ask me if you have questions.
I will be happy to receive your booking if everything is OK for you.
Sorry,only non-smokers can be accepted.
You will be very welcome if my apartment is suitable for you.
===Here are details about the room===
☆Bed room 1☆
Small wooden floor room.(7.44 ㎡)
One double size bed is provided.
An air conditioner is set in this room.
☆Bed room 2☆
Wooden floor room.(9.95 ㎡)
There are two single beds and one futon can be set for 5th guest.
There is an air conditioner in this room as well.
☆Living room&Kitchen☆
There are a dining table and chairs.
Fridge(+freezer).
Kitchen is connected to the living room.
There are tableware, cooking equipments, an electric kettle, detergent, sponge for washing, trash bins, trash bags, etc.
☆Bath room and toilet☆
Toilet and shower room are separated.
In the shower room, soap(liquid type for body), hair shampoo, hair conditioner are available for guests so you can freely use them during your stay.
The shower room is small, but if you just take a shower, it is no problem. If you like to soak in the bath tub, this room is not suitable for you as the tub is small.
In the toilet, toilet paper is provided.
Also, there are always toilet cleaners including antiseptic solution for the toilet seat so you can freely use them when you need.
☆About the view from windows☆
There are buildings, an old building company near by the apartment, so if you are particular about nice view, the room would not be suitable for you.
☆Other information☆
One pocket wifi(mobile wifi) is available for guests in stead of home wifi.
You can bring the wifi during you are out, but there is limitation so please turn off whenever you don't need.
If you use 3GB within 3days, the speed of wifi connection will be slow next day and it takes for a day to recover. I have understood that mobile wifi is more convenient than home wifi for tourists, so I have provided the pocket wifi so you can have wifi connection when you are out.
If you are all adults(Five adult guests), the room will be narrow especially if you bring many suitcases, so if you want spacious space, this room is not suitable for you. This room is suitable for family or a couple/two couples, or friends. There is no lock at each room's door.
Guest access
Since this is private flat, you can freely use everything in the room.
Interaction with guests
☆Arrival☆
Usually I meet guests to pass the room key.
In case of emergency and it is impossible to meet you when your arrival time, I will tell you how to check in by yourself then and will come over your flat to greet you(just for a few minutes) when you are in the room.
☆Reservation☆
I am sorry that I cannot make any reservation(e.g. Restaurants, tour, transportation, etc.) instead of you before your arrival. I can only help you when your plan is 120% sure after your arrival.
I had helped to make reservation before but understood that travelers' plan could easily change always and it could be difficult to be punctual for guests. In order to avoid any trouble between guests and something you book, I no longer make any reservation in stead of guests, but will help you to get information if you tell me what information you need.
☆During your stay☆
Please feel free to contact me when you need help or have questions.
I will go to your room to help you directly.
For example, if there are lack of daily necessities(such as tissue, toilet paper, trash bags, etc.), I will bring it. Usually they are provided in the room already, but if they run out during your stay, please let me know.
We can keep in touch through airbnb message system basically.
If we both have time and you are interested in talking to Japanese or asking about something in Japan, let's spend some time together.
I know travelers are very busy everyday, so I cannot ask you to hang out from me, but if you ask me, I will be glad to join you if the timing is good for me then.
I would like to meet wonderful people and have friends in the world, so I will be very happy if I can become one of your good friends.
Meeting new people is exciting and sharing different culture is quite interesting, so please let me know about your country if there is time to talk together. I will be very happy to hear that!
☆Check out☆
If the timing is good for me and you would like me to come to your flat when you leave, let me come over your place to greet you.
Otherwise please just message me when you leave.(I will tell you how to check out by yourself then.)
If you have already planed what time you would like to check out, please inform me in advance or during your stay.
☆After check out☆
I am very happy if I could be your good Japanese friend.
I hope to see you again in your country in the future.
Other things to note
☆Cleaning☆
Usually house cleaning is done every check out, so no one enters the room to do daily cleaning during your stay. If you accidentally make something dirty/stain, please let me know ASAP so I can go to your room and try to remove the stain soon. If you inform me ASAP, it could be easier to remove the dirt so I would deeply appreciate if you could contact me soon in that case. This is very important for you as well because if the stain remains after you check out and it is difficult to remove, I may reach out to you for help to cover the cost, so in order to save the cost each other, let me try to remove/clean it ASAP during your stay if it happens.
☆When you are in the apartment☆
The building is just a normal apartment(not a hotel), so keeping quiet anywhere(both in the room and outside of the room) in the building is the most important manner in order to keep your stay. (This manner can be a rule common around the world when you are in the apartment though.)
If someone makes complaint about noise due to your room or yourself, I will come to your flat immediately to confirm the situation and may have to stop providing the service then. When you are outside of the room but still in the building, please talk very quietly or keep silent as possible. Anyway, If you stay quietly, it will be no problem at all.
☆Washing and drying clothes☆
Please use the washing/drying machine in the flat.
Please DO NOT put any hand washed clothes in the machine when you use the drying machine as the machine could be damaged as well as it is dangerous. Also, please DO NOT hang any hand washed clothes in the room as water can spill from the clothes and the floor can be damaged.
If you would like to wash during night hours, please let me know each time.(Washing machine can be used from 7:00am-10:30pm(Last start) and drying function can be used for 24 hours.)
☆If there are children☆
I know it is difficult to train children to be quiet all the time, so if you think being quiet is difficult for your children, I recommend you to stay at a good hotel so you all can feel more comfortable.
I know some kids like dancing, singing, running and jumping, but in the apartment, it is impossible to do it.
If children jump on the floor/tatami/beds, the noise will reach down stairs and next to your flat as well, so if they start doing those activities, please try to stop it ASAP.
Also, if children jump on the beddings, beds, futons, pillows and comforters/quilts can be damaged and if something breaks due to those activities, I may reach out to you for help to cover the cost to buy new one.(Since I have provided good quality goods for beddings, they are expensive.) If you use with care and just normally, it is no problem at all. Just No jump or run on the beddings and in the room please.
☆About the view from windows☆
There are buildings, an old building company near by the apartment, so if you are particular about nice view, the room would not be suitable for you.
☆About TV☆
There is no TV in the room, but wireless TV(only Japanese TV program) can be provided with request. Please let me know if you need the TV at least one week before your arrival so I can provide it for you beforehand.
☆When guests check in☆
When your arrival, I may clean(just wipe with clean wet towels) your suitcases and cover wheels on them in order to keep cleanliness as sometimes it is difficult to remove dirt which is made by suitcases(especially wheels). Sorry, but I will finish cleaning quickly.
☆Any request?☆
If you have any requests or something that you would like me to provide during your stay, please feel free to let me know before you come. I will try to prepare as possible if your request does not exceed my capacity for extra preparation.
☆Regarding towels☆
Usually one bath towel is for one guest, but if you need another one during your stay, feel free to ask me.
---
This listing has essential business travel amenities.
---
---
Not safe or suitable for infants (Under 2 years)
Check in is anytime after 3PM
☆Terms and Conditions(House Rules)☆
1. Please follow the check in and check out time. Basically,check in time is after 3:00PM and check out time is before 10:00AM.(Cleaning will start from 10am, so the host needs to open the room by then.)
2. Please take off your shoes on the shoes space inside the room entrance every time.
3. Your suitcases including wheels will be wiped off dirt with new clean wet towels before you bring them inside the room especially when it rains as sometimes they could leave stains on the floor and wall and it is difficult and hard to remove the stains. (Otherwise I will cover the wheels.)
4. No guests allowed in the building. (Sorry, you cannot bring your friends/guests who are unregistered. The room is ONLY for persons who have reserved.)
5. No pets.
6. Sorry, usually only Non-smokers are accepted. If you(or someone in your group) smoke, please inform me before you make a reservation as I must explain a place where you can smoke. However, if he or she smokes a lot or a chain smoker, I could not approve your reservation as the smell of a cigarette can remain in the room. Basically, I accept only Non-smoker guests.
7. No smoking anywhere in the building.
8. Please DO NOT use too much perfume and aroma oil in the room as the smell can remain in the room after you check out and it is difficult to remove in a short time.
9. Please DO NOT atomize or pour perfume and aroma oil directly on the beddings as it is difficult to remove the smell after you check out.
10. No parties in the apartment.
11. Please be quiet as possible in the room especially after 10pm to 8am. If someone makes a complaint about noise because of your room, I will have to stop providing service to you, so please stick to this condition in order to preserve your stay.
12. Strictly No run, No jump, No loud voice/music in the room and anywhere in the building.If there are children, I would deeply appreciate if you could train them not to jump on the beds and anywhere in the room as the noise can disturb neighbors. If another tenants make a complaint, I will have to stop providing services to you so please stick to this condition in order to preserve your stay.If you walk gently and silently as possible in the room, it will be no problem.
13. Please keep silent as possible when you are in the common area in the building such as hallway, stairs, elevator and public hall(entrance on the grand floor).
14. No waiting in the hall(entrance area on the grand floor).Please either wait in the room or completely outside of the building as the hall is not big and other people including delivery persons often pass the area.
15. Please pack up your things silently as possible especially when you do it during night hours.
16. To prevent fire, please DO NOT use candles, matches, lighters, etc. anywhere in the building.
17. No water mattresses/floor is allowed.
18. Throwing away garbage/trash outside from the window is strictly forbidden.
19. Please use the rubbish bin(for waste separation) in the room to throw away your garbage and trash.
20. Persons living in the room are responsible for the removal of their garbage from the room to the outside receptacle.(Except last day) The host does not enter your room to pick up the garbage during your stay.If you need help to do this during your stay, please feel free to let me know.(Especially during summer time, it is important to bring it to outside as leaving garbage in the room can cause an odor.)
21. Usually, I respect your privacy and do not disturb your stay, but occasionally there is possibility that I do ask for your understanding when I need to enter your room for necessary maintenance. I will inform you in advance by Airbnb message system as soon as possible in that case.
22. During your stay, please preserve our environment and be rational in water and electricity use.Please turn off lights and electric devices(such as air conditioner), as well as the gas range/stove(danger!!) in the kitchen every time before you go out.Also, the Air conditioning in your room is off when windows are open.
23. The washing&dryer machine in the room can be used from 7:00AM to 10:30PM.(Dryer function can be used even later,during night hours) If you would like to wash and dry another time, please ask me each time.
24. When you use the toilet, please sit down on the toilet seat every time in order to keep cleanliness. If you are male, sorry but I would appreciate if you could cooperate on this as possible.
25. A hair dryer must be unplugged/disconnected after use every time as it can cause fire.(e.g. If something hits the switch of a hair dryer when an earthquake occurs, it could be switched on by itself if you keep connecting a plug. If this happens during you are out, it will be very dangerous as no one can stop it.)
26. Please respect our neighbors and we respect each other.
27. Only the locks provided on room door are to be used. No other locks, chains, etc.
28. No illegal activities allowed.(Such as drug including marijuana, the possession of dangerous things, etc.)
29. Your belongings and valuables must be secured by yourself. This apartment is not liable in case of theft or loss.
30. Please never open the door to strangers if someone rings the doorbell or knocks on the door.Most of them are salesmen.(It is common in Japan) Sometimes they might come, but usually only during the daytime on weekdays.If he or she rings the doorbell persistently, please contact me.
31. Please do not cook deep fried food as it can cause fire and burns.If you want to cook such food, please ask me if I can do it instead of you or not,then.
32. Please try to keep clean the kitchen as possible after use in order to avoid attracting flies and cockroaches.(The host does not enter the room for daily cleaning during your stay.)
33. We will not bear full responsibility for sickness,accidents,an injury to the body in the room, as well as trouble with the neighbors,so please take care of yourself well during your stay and if you have a problem,please feel free to contact us for help.
34. Please note that you are responsible for damages that occur by your fault or by fault of the person that you are responsible of and that you are obliged to pay for it. Of course I know that accidents sometimes happen and in case guests cause damage to the apartment, furniture or other things, I will do my best to clean or fix the item and cover the costs as possible. If, however, the damage is permanent and exceeds my capacity to pay the costs for repair, I may reach out to you for help to cover the cost of the repair or replacement.
35. Please handle the key with care. In case of damaging or losing your key during the time of your stay I will charge 20000 JPY as compensation.
36. All room keys are to be returned to the host at termination of the lease.
37. We will have to stop providing services to guests if they are in violation of this house rules or if they disturb our neighbors with their behaviour.
38. Please let me know any issues or when you need help.
We wish you a pleasant stay in our room.
Thank you very much for your kind cooperation and understanding.
---
We stayed at Iku's for four nights in March 2017. Iku is the perfect host and we immediately felt at home. Iku met us at the apartment and gave us a run down on how everything worked. Iku was available if we needed a change of towels or assistance with any of the appliances etc. The apartment is in a great location, close by to subway and train stations, restaurants and shopping. Iku keeps the apartment fantastically clean with everthing you need. There was enough room for four adults. We have no hesitation in recommending Iku's apartment.
Dear Alan and your wonderful family, Sincerely thank you very much for your stay. You are such a thoughtful person! Thank you very much for giving me this very nice review this soon. I hope you safely reached Tokyo and have seen some cherry blossom already. I felt very happy and comfortable during your stay as you all were truly sincere and considerate to me. I already miss you all. Please contact me when you visit Osaka again in the future. I would like to take a photo with you next time(probably in your beautiful city!). Keep in touch!!
---
Iku is a great host with good English communication. Her place is very neat and well organized on manual. The location is in the central of everywhere and close to subway station and many department stores around. Iku had been helpful with everything for needed. Would definitely recommend Iku's place when visiting Osaka.
---
Iku is the most polite, reliable and helpful host I have ever met. Her English is excellent that we communicate very well all the time. She provides a lot of useful information and solves our needs in our trip. She is eager to help and always stands by us whenever we need. I am so thankful for having Iku as our host. She is more like a friend instead of a host! She introduced us to join the local summer festival and wear Yukata which is one of the highlights in our trip. Her smile and warmth makes our trip a perfect one. The apartment is clean, comfortable and well-equipped with electrical appliances. All you need can be found there. It locates in Umeda and accesses traffic network within 8-10 minutues. New Hankyu Department Store and Lucua 1100 is nearby which is good for shopping and dining. There is a construction site recently but doesn't cause big noise at all. I highly recommend Iku's apartment to all. I will absolutely visit her place again very soon. Wish Iku every success in her future!
---
I used Airbnb for the first time, and it was the best time to stay in Iku's room. If I visit Osaka again, I would like to stay here again. I liked the cleaner rooms than the pictures and the close proximity to Osaka, Umeda and Nakazakishima stations. Above all, Iku's friendly, real-time response, hand notes, Surprise gift, etc., leave a warm memory for Osaka. It is highly recommended for Osaka visitors who use Airbnb. Thank you~!
---
lku is the kindest landlord I have ever seen. She responsed instantly for anything you ask for her help even something not related with the apartment. She gave me lots of cares and information especially really useful traffic and local culture things before I arrived which saved me a lot of time. Besides, she always tried to meet your requirement for the rooms. For the apartment, it is so clean and I felt really comfortable during that time. lku will explain anything in very detail about the apartment with kindness. In the room, lku prepared all the things that we need (really sweet). I will defenitely book it again next time and recommend it to all of you.
---
This is our second time staying at Iku's place. For both times, we felt like home. Iku's place is very clean and comfortable. She prepares everything travelers may need in her house including travel guides, band-aid and even makeup remover. The location is perfect, minutes away from the Umeda shopping area and Osaka station, plenty of restaurants with various kinds of food to try. We weren't affected by the on-going construction near Iku's house. Iku is the best host I have met. She picked us from the railway station, gave us detailed information about the surrounding area and quickly responded to anything we need during the stay. She is always considerate and helpful. Airbnb has always promoted itself to be a platform for people to meet more friends and stay at home in a foreign place. I have found home in Osaka with Iku's hospitality. There is no reason for not booking Iku's place. If you are coming to Osaka and found Iku's place still available, BOOK IT!! It will make your trip so much better.
---
Welcome to Japan!!! Thank you for visiting my airbnb website. I have been an Airbnb host since 2015 and have a lot of friends in the world today. One of my previous guests, she often visits Japan and I have met her three times already. We are good friends now. My life has b…
Response rate:
100%
Response time:
within an hour
Explore other options in and around Osaka
More places to stay in Osaka: