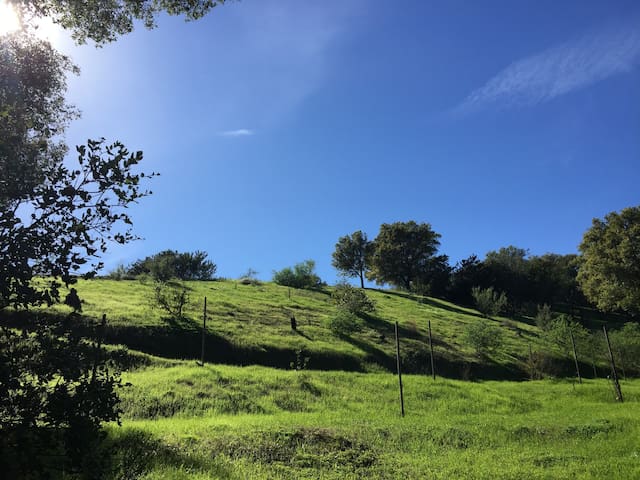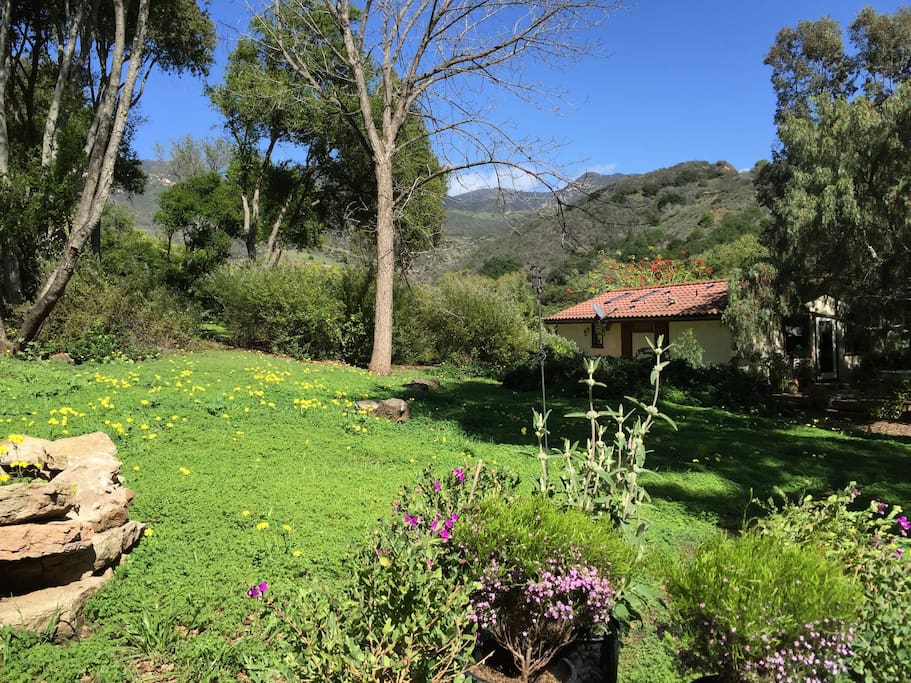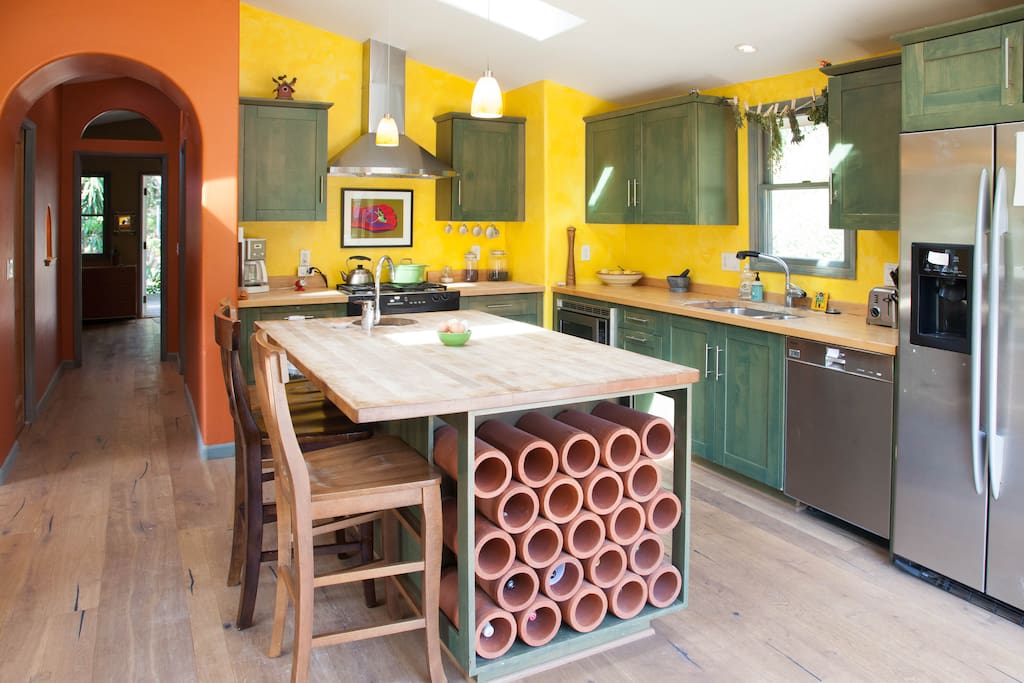 Gorgeous, open, soulful home residing on a beautiful 11 acre property with trees, sunshine, sweet wild life, stunning views, pool, hot tub and divine privacy! A "far away" retreat a mere 12 minutes to downtown Santa Barbara. Rest, recalibrate, renew. Be. Happy!
The space
PURE MAGICAL LAND & WELL LOVED HOME off private drive. Extremely serene, quiet setting with peaceful gorgeous energy, green growing things and fine air. This stunning 11 acre property graced with oak, pepper, sycamore and walnut trees is surrounded by horse trails, more land and national forest. Santa Barbara is stunning ALL year round! The incredible thing about this place is that it's a mere 2 miles to shopping malls, Whole Foods and restaurants (5 minutes) and 10 minutes to just about anywhere downtown Santa Barbara. We're also 30 minutes from the wine country... Santa Ynez, Los Olivos and Solvang. The land is unique because it feels like you're very remote and off the grid out in nature (which you are) but then it's just minutes to get anywhere in Santa Barbara. Very find rare to find such a spot with so much surrounding private serene land!
Bringing people to my home is a total love and passion of mine.. this isn't just some financial exchange.. but something that comes from my heart and it's a great honor to be blessed with this amazing piece of Earth and get to share it with people. I take great pride in my home and making the experience incredible for those who visit! To play a small role in creating the setting for peoples life memories.. eloping or having their first romantic get away after having children etc.makes my heart glad! I think because I truly LOVE, love opening my home and land up to others, it makes for a very different kind of experience energetically. It's been a real honor for me to be hostess!
PLEASE NOTE: If you are interested in staying, I always like to connect by phone for a brief soulful hello, answer questions and make sure it's all feeling in alignment. Love this exchange to feel human and from the heart. And I want people getting just what they need, wherever that may be... so ya, let's talk! In order to do this PLEASE BE SURE TO SELECT 'VOICE CONNECT' when you make your inquiry for a reservation so I can call you directly.
Now, back to why this place is UTTER PARADISE!...
The house has it's own private gated entrance and parking.. it's a beautiful, very open, light 1 bedroom, 1 bath space with a modern living room/kitchen, mountain views and a wood back deck with a wonderful claw footed bath tub under a sweet pepper tree. Modern, bright, soulful and homey with skylights, Bose surround system for phone input or CDs, glass french doors and numerous windows (very open and light) looking out to the Santa Barbara mountain range, beautiful hillsides and open nature... all STUNNINGLY GORGEOUS!
The open door ways expand out to the land which becomes an extension of the living space. The birds that land on the outside fountain are amazing.. birds of every kind.. sparrows, humming birds, blue scrub jays.. there's the sound of hawks, crows, laying chickens (fresh eggs for you!) and horses. The sun is supreme here, the air quality medicinal and the weather has a habit of being a perfectly kind 73 degrees and sunny. Hang out by day or by moon with the countless places to dwell.
There is a true home feeling here... clean, soulful and modern with gorgeous wood floors, a two headed hand tiled shower, organic California king mattress, claw foot bath tub off the back deck outside, a chef's kitchen and other good things you'd want in a dwelling, not to mention an UPRIGHT ACOUSTIC PIANO in the bedroom!
We also happen to have on the top tier of the property a beautiful POOL and an awesome HOT TUB surrounded by a canopy of gorgeous oak trees. Incredible under the stars!! For kids (of all ages), there also a great playground on the property, a little playhouse outside the main house and a large trampoline looking out to an open forest of trees.
Wireless internet yes. Cell phones usually work great though you might need to find the sweet spots. The setting is ideal for two adults + up to 1 maybe 2 little ones which I can provide pads for if needed. ($40 extra per child per night to support setting them up properly!) Totally welcome pets ($30 extra all together + $20 for each puppy after + some kind doggy ground rules. Please let me know if you're wishing to bring your furry friends.
I so love having people visit.. part of the unfolding story of this special dwelling and have appreciated how everyone has treated this place with honor, respect.. all of us taking good care with it so it's here for everyone's enjoyment. Makes my heart very glad!!!
I am present on the land in my 'own neck of the woods'. Love to briefly welcome visitors in person with a hug and a soulful hello and dial you in so your stay goes wonderful.
As beautiful as the images show.. there are aspects of being here.. the beauty that can't be captured in photos.. the stillness, the very open, natural setting but with a feeling of complete safety. It's a very special zone in which to unravel the nervous system, revise and renew. The reviews will give you a deeper sense of peoples amazing experiences here. Hope to share in it with you!
LOve!
Jennifer
P.s. OTHER OFFERINGS:
I have chickens who are fed very well laying all organic epic EGGS! When they are laying (not so much in the winter months. chickens will take a break when it's 'cold')... I will be showering you with them for your breakfast making pleasure. I also provide organic whole bean coffee, teas, usually cream or milk, butter, salt and pepper.. basics like that. Also of course the best natural shampoo, conditioner and soap! Thanks for reading!
Guest access
Pool, hot tub, trampoline and sweet outside places exclusive to hang and unravel. There are 4 offerings I open to guests on my 11 acres.. (11 acres is huge by the way.. you can fit a whole neighborhood in such a realm). Each space is separated by acres, have their own gated entrances. Community overlap possible on the top tier of the land at the pool/ hot tub area, though rare to bump into people. Think of it as a very exclusive nature connection resort for a very small number of humans. Epic!
Other things to note
Be prepared to be lusciously renewed and reorganized!
---
---
Security Deposit $906 NZD
Weekend Price $542 NZD / night
Always communicate through Airbnb
To protect your payment, never transfer money or communicate outside of the Airbnb website or app.
---
Check-in is anytime after 2PM
Hello and welcome to the land!
So pleased to have your beautiful presence here! Please read below for manual/ agreement & DIRECTIONS. And let me know if you have any questions!
This beautiful realm is a retreat offering.. a place to unravel, renew, reorganize. Though community is a lovely thing, this is not the time or place to invite guests or have parties sorry to say. Perfect for people who wish to enjoy the nature Santa Barbara has to offer as well as taking advantage of the cosmopolitan attractions of the city.
Below some information about the space and land here. By agreeing to be a guest at my home through airbnb, you are agreeing to not hold me in any way liable/responsible for accidents, injury etc.. You are a visitor of this magic, sweet home and land and are agreeing to be here at your own risk!
Really pleased to get to share in this remarkable piece of Earth with you and appreciate you taking great care with it. Mutual respect and gratitude is the energy of this exchange and makes for a beautiful experience all around. Hope being here is as inspiring to you as it is to me and my family.
Love,
Jennifer T.
________________
DIRECTIONS:
From 101 (in the city of Santa Barbara) Exit Hwy.154/ State street/ Lake Cachuma (follow signs to hook onto the 154!)
Go 2 miles up the 154 pass
LEFT TURN onto private unnamed drive (you'll see a row of mailboxes/ one says 1705)
Take drive down into the valley 1/2 mile staying to your RIGHT on paved road
When you reach the bottom of the valley, cross bridge and continue straight. Just before you dead end you'll see the driveway of the house (metal gate) which you manually open. Please be SURE to ALWAYS close behind you!
*PLEASE NOTE: Surrounding neighbors may ask who you are, so to let them know you are "friends visiting Jennifer". Thank you!
_____________________________________
HOUSE/ LAND INFO FOR YOU!
Ah, feel free to open all the windows and doors! The front door in the kitchen opens on both sides which is a sweet way to experience the outside while inside. One of the most beautiful things about this place is using the outside as an extension of your living space. Stretch out and feel welcome!
CHECK IN/ CHECK OUT:
You may arrive as early as 2:00pm and checkout is by 11:00am. Please let me know when you will be arriving so I can welcome you and show you around!
KEYS:
There are no keys to the house. If there is something truly valuable to you, please bring along when you go out. For myself, I don't lock my home. Feels very safe here, but do what feels right to you! Locks do work from the inside!
CLEANING:
Ah clean!! Please respectfully leave the space as you found it. Cleaning fee goes towards taking care of surfaces, your sheets/towels, shower... basic stuff like that. Anything beyond normal use, $22/ hour is applied. Thank you so much for helping to make the home beautiful for you and others to share!
IMPORTANT STOVE:
Please be sure not to spill any liquids or clean with lots of moisture near the front panel of the stove. If water gets in, must buy new stove. Very costly. Thank you!
TO LIGHT STOVE & TURN OVEN ON:
In order to get your flame (stove top or oven), please flip the white switch (corner of the coffee maker) in the UP position, turn on the flame and then turn OFF the switch. If you forget to turn switch off, it will beep at you! Nothing bad will happen, so don't fret!! Just simply turn it off until you are ready to light the stove again.
NO, NO!
NO CUTTING ON WOOD COUNTERS. Always use cutting boards please.
SPACES FOR YOUR THINGS and PRIVATE AREAS:
Closets are provided for your things. Private areas including cabinets and such will labeled 'private' OR will have a BROWN STRING attached to make it easier for you to know where to go and not to.
NO SMOKING!!
Even outside NO smoking! We have to be EXTREMELY careful as Santa Barbara is coastal desert and extremely prone to fire especially at the yurt as it is surrounded by dry grass and brush. Thank you!
EGGS, OH YES!
Delicious and organic. Help yourself to fresh eggs from our chickens. They are situated on the counter as truly fresh eggs don't need to be refrigerated! (Note: Chickens do not lay eggs year round. They rest themselves in the fall/winter.)
FRIDGE, FREEZER, FOOD:
I will provide a couple areas for you to place your food in the fridge and freezer. If there is something you're really needing of mine, feel free to use and then replace or leave money to replace.
WHAT IS PROVIDED:
Whole coffee to grind, sugar, salt, pepper, eggs (when available) and our magic lemons! I try to have some kind of cream or milk for your tea and coffee as well.
MY FOOD:
Please weave around and if there's something you need, please go ahead use and enjoy. If it's substantial at all, like wine or almond butter, to please replace. Thank you!
DISHWASHER:
Please REMOVE ALL FOOD from plates, wash pots and pans with stains separately and fill detergent 1/3rd of the way, close shut and press "start" button to the right.
FLASHLIGHTS:
Provided to use while you are here for hot tub or night hiking adventures!
STEREO:
Located in the drawer to right of fridge. Put CD in and press "cd". If you have an ipod or your phone there is also an 1/8 cable you can plug into. For this, please press AUX.
LIGHTS, FANS, FADERS:
The house has little faders to the right of the switches so you can make the house as ambient or as bright as you like. The fan controls are also located by the light switches in both the bedroom and kitchen.
WATER & ICE
All the water in the house is filtered (including the shower!) Deliciously drinkable!
CUTE FROGS:
Occasionally you will encounter 1-2 cute little frogs hanging out in the shower. You can either allow them to co-exist with you or gently place them outside.
TOWELS:
Extra ones in the closet. Please use luxurious large colored pool towels for the pool, house towels for bathing in the house.
TRASH:
If you need to remove your kitchen trash etc... before your stay is over, you may drive it up to where the big dumpster is on our private road situated with the huge piles of dirt and rocks a bit before you get to the highway.
INTERNET:
PASSWORD: PeaceandLove (capitalize the P and L). Please NO big downloads, streaming or uploads due to the limitation of use here in our little valley. HOWEVER, if you need a lot of usage.. you can purchase more from my provider- which is $10 per MB. Let me know if you'll be needing this! Thank you.
MOVIE THEATRE
Awesome movie theatre in the bedroom. I have some movies there. Hope you find something you like! To get it all working...
1. turn on amp under bed (big button) - it's the big unit on the right
2. turn power button on dvd player (to left of amp) also under bed (has it's own remote also for when you're navigating through your movie though it's being cranky.. you might need to turn your movie on from the DVD player itself (middle play button)
3. turn on projector. Point the small silver remote towards projector above and press the upper right corner of the remote. .. there's a moment's delay before the projector opens. IMPORTANT TO NOT TURN ON THEN TURN OFF, THEN TURN ON (like if you think to watch a movie, turn it off, then change your mind and turn it back on... it will burn out the bulb (super expensive)
4. Screen: press down button to have it roll down. For putting back up you MUST PRESS STOP manually when it gets to the top or it will keep rolling in on itself.
Sorry wires are a bit dangly... my electrician was not taking the most elegant approach. But! You have an awesome movie theatre at the bed. Yay for that!!
POISON OAK WARNING!
If you decide to frolic through the fields or up the horse trail (really beautiful and highly recommend, the trail), be on the look out for POISON OAK. It has 3 leaves, sometimes shiny and red... can be a small or grand sized bush. If you get it, you will be sorry! So don't touch any plant that you aren't sure about. Need to be particularly careful around the yurt area. Please stay on clear paths and don't brush up on plants if you can. Wear shoes and remove when you enter the yurt for yours and others' safety. The plant poison is an oil, so if you get it on you, it will transfer to any surface you touch (like shoes to floor etc..) Happy to show you what it looks like and where to look out for it!
BATH HOUSE, OUTSIDE SHOWER, YURT & BARN
Private zones not part of house offering. Thank you!
POOL/ HOT TUB-
Please rinse off before entering the hot tub and pool. If you are in need of a good washing, do that first before the hot tub or pool so we can keep the waters lovely for each other.
The pool has an unusual bowl like shape, so please be sure to jump to the center!
This area is a common space for all on the land.. which is no more than about 4 people at any given time including you. Typically you will have to yourself as everyone seems to magically take turns.
HOT TUB:
PLEASE DO NOT CHANGE THE TEMPERATURE. Thank you!
1. Open from the panel side half way, then flip the 2nd half open once inside so the top is sitting upright on it's frame.
2. Be sure jets are OFF when leaving the hot tub.
3. Always close and lock and have hot tub cover evenly covered.
GARDENER/ HELPING HANDS:
You may encounter the sweet people that help maintain the land. I will always try to give you a heads up on any workers we have here. But typically weekly gardening maintenance happens Friday mornings and pool cleaning sometime on Thursdays.
If you need to reach me, please do so by cell phone or text: (PHONE NUMBER HIDDEN). Thank you so much!
In the soon!
Love and thanks,
Jennifer
---
---
On Fridays and Saturdays the minimum stay is 2 nights.
---
If you're looking for a tranquil escape into country living, yet close enough to enjoy city life - this is your place. Cute and cozy little house surrounded by nature at its best. Accommodations are excellent. Host is extremely hospitable. We'll come back again and recommend it to all our friends!
---
The Magic Retreat is more magical than pictures can convey. My girlfriend and me stayed at the cottage for 4 days and fell in love with the location, and then with each other. The house is adorable, cosy and intimate and nestled in its own beautiful, lush garden with a small, sweet fountain. It's quite far away from other cottages, so the overall effect is that of a sense of being in private and alone. We often had breakfast and lunches on the table and chair by the fountain, just enjoying the lovely garden and weather. A short walk away is a large pool and hot-tub, surrounded by a cathedral of tall trees. We took a night-time swim and saw white moon rays shine through the dark branches and reflect into the silvery waters - it was mesmerizing. There was also a full cast-iron bathtub in the back porch of the house which was hugely inviting but we never got round to trying. The grounds are filled with flowering plants, so wonderful scents perfume the air, while days start with birds chirruping and whistling in the morning, and end with a chorus of crickets at night. Two gardens and a road away, there are chickens, and further down, horses, so occasionally you hear both, breaking you out tasks you do without thinking, like making coffee, and making you stop and appreciate the moment. We had grand plans to really explore Santa Barbara and surrounding hills, but ended up loving how relaxed and at peace we felt in the house, and we unexpectedly spent a lot more time there, just unwinding and taking in the beauty of it all. Having said that, SB is really close, really pretty, and worth seeing. Jennifer is an incredible host. She welcomes you with warmth and love over email, and is responsive and helpful in person. Unbeknownst to us, a nearby road was going to be possibly closed, and she immediately texted us alternative routes, and re-assured us she was on the grounds with if we needed anything. It would be a fantastic place to bring a young child too - so much exploring. We will definitely go back.
---
Had a great time at Jennifer's place. She's an absolute sweet heart with a rad peaceful energy. The place itself is located in an ideal place right off the 154 and minutes from some fun hikes and minutes from the town also. Highly recommend for someone looking for a quiet getaway and unplug. Especially if you're a yogi ;)
---
Jennifer's place is a must see for anyone looking to get away from the hustle and bustle but with the conveniences of still being close. The land is gorgeous and makes you humble. So much nature and wildlife. Jennifer is a fabulous host. She greets you as you arrive and you only see her again if you need anything. Although her presence is pure positivity you won't want her to leave. I would stay forever if I could.
---
Santa Barbara, California, United States
Joined in March 2013
I love being available via text and in person if needed. I take total pleasure in making guests feel welcomed and cared for.
I am a mom of two beautiful girls, a recording artist/musician/singer and songwriter who creates records and tours internationally. I am passionate about nature, local organic food, cooking, clean living, running, biking, hiking, backpacking, mindfulness mediation, yoga and being in the moment. I reside in Santa Barbara on a gorgeous magic land with chickens and wildlife.. bobcats, coyotes, hawks and birds of every kind. It is my total joy and honor to share this beautiful place with those who visit!
Response rate:
100%
Response time:
within an hour
Explore other options in and around Santa Barbara
More places to stay in Santa Barbara: