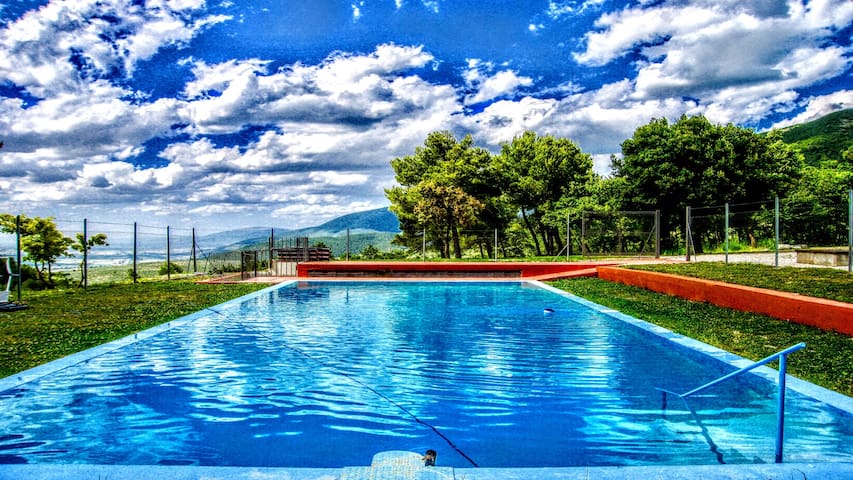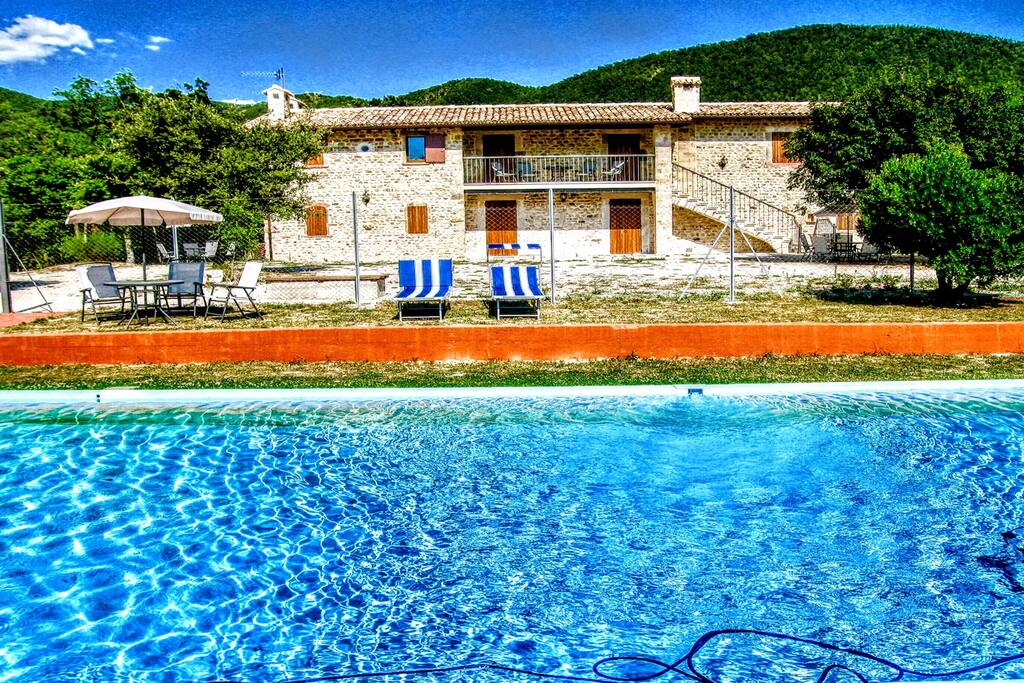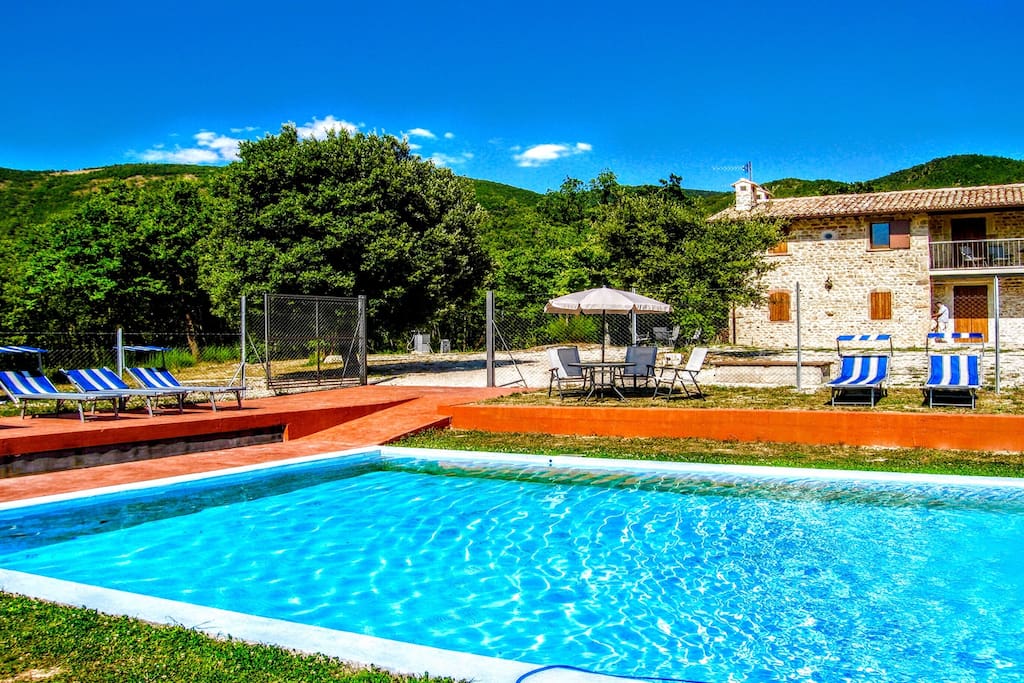 Posto Del Sole/sleeps 12/Rome 1 hr
ONLY RENTED AS WHOLE HOUSE
8 miles/Spoleto central, Posto Del Sole:Country House with WiFi has 5 triple bedrooms, 4 bathrooms, 1 fully fitted kitchen, 1 kitchenette, 1 sitting/dining room + pool for exclusive use of guests at Posto Del Sole.
The space
Included in the rate is a Welcome Pack : pasta, pasta sauce, olive oil, wine, tea, coffee, sugar, milk + toiletries to start you off.
Dishwasher, washing machine, fully fitted kitchen with fridge-freezer etc.
With WiFi throughout the villa, Posto Del Sole sits on its own private hill with acres and acres of private land all around, all owned by our partner. Its nearest neighbour is Villa Marianna, 1 mile away.
Please note that there is nothing so economically based on the market as Posto Del Sole: Country House. We have managed to keep the rate down, at the same time as NOT skimping on quality and services !
Like all large country houses in this area, there is a driveway, at the end of a country track, to the entrance. The track is about 1 mile long. The track has been flattened, is very fine gravel and not stones, and is easily driveable, providing you do not drive like Michael Schumacher ! We have a Peugeot Estate car, which is about 2 inches from the ground and we drive up this lane frequently !
Please note that all 3 of our country houses, Vista Del Mondo, Posto Del Sole and Villa Marianna are on the same private mountain with the same stupendous scenery all around - all just above a place called Bazzano Superiore, 7 miles from central Spoleto, on the side of Spoleto, close to Assisi. And, each of these country houses is concealed from view from each other. So, when you stay in any of these fabulous properties, you do get the impression that the mountain and the vast panoramic landscape all around all belongs to you ! Indeed, the owner of these 3 magnificent properties (with whom Laurie and I are partners) is also the owner of the mountain, so while you are in residence, the land around you is, in effect, private to you and the other guests ! And, there are many rambling trails all over the immediate area, where every so often you will come across a hammock and/or swings. Great territory for kids to explore and all safe.
Posta del Sole-Country House – car necessary (the whole, entire house) with pool – 15 mts by 7mts (car necessary) – (large fabulous 16C stone cottage consisting of 2 self-contained apartments/upper floor and lower floor/exclusive pool/very quiet environment) – (8 miles from central Spoleto, above Bazzano, on the side of Spoleto, close to Assisi, so an excellent location for sight-seeing) –
POSTO DEL SOLE IS ONLY EVER RENTED AS A WHOLE HOUSE TO ONE PARTY.
Ground floor : includes 1 very large, spacious, self-contained apartment (160 sq mts) with 2 triple bedrooms, 2 shower rooms, 1 fully fitted kitchen, 1 sitting/dining room and a utility room ( fire-place in each) inc 1 dishwasher, 1 washing machine and ironing facilities. (The utility room can be easily converted into an extra "bedroom", by request). Sleeps up to 8.
Upper floor with large verandah : includes 1 very large self-contained apartment (160 sq mts) with 3 triple bedrooms with 1 fitted kitchen/for light snacks only, 2 shower rooms, 1 sitting/dining room with fire-place, opening onto a verandah with spectacular views). (The sitting/dining room can be easily converted into an extra bedroom, by request). Sleeps up to 8.
THE VILLA SLEEPS 12 PERSONS VERY COMFORTABLY. BUT CAN SLEEP MORE IF CHILDREN SLEEP SEVERAL TO A ROOM, DORMITORY STYLE.
Sensitively restored.
Private car-parking in grounds.
Our chef can organize a pizza party for you at Posto Del Sole, besides the pool !
Indeed, our chef is for hire at reasonable rates to give a cooking lesson at her Spoleto home, 8 miles away – set rates for a 5 course meal, including unlimited wine. Or, for the children, she can teach pizza and pasta making at a time to suit their bedtimes !
Or, you can indulge in a 5 course feast in the chef's garden/home in Spoleto, 8 miles away, unlimited wine included, for a very modest rate. This is much written about in our 1000s of excellent reviews.
However, there are many great restaurants and pizzarias in the area, all excellent and great value.
Please note that ALL the restaurants we recommend have excellent food at great local rates. They are not "rip-off" places, of the kind that you start to find venturing towards Perugia, Assisi and Todi, which are much more touristy. Spoleto has remained a quintessentially Italian city, much of it pedestrianized.
This whole area is a great walking area and there are many marked paths to a diversity of places, all of which have been trod at one time or another by St Francis and his disciples. From the top of Spoleto, for example, you can cross Il Ponte, the great Roman aquaduct and enter directly into the Sacred Mountains ! And, follow in the footsteps of St Francis of Assisi and Michaelangelo !
There are fabulous private tennis courts, where they permit visitors, 8 miles away, in central Spoleto, down another beautiful and very quiet road, which hosts the famous Giro D'Italia bicycle race. The same distance re the Duomo, the tourist office next the Roman amphitheatre in Piazza Liberta and the famous Roman Aquaduct, which takes you directly into the Secret Mountains.
There is pony trekking, white water rafting, fishing + 10 pin bowling available, if you are the sporty type, in the nearby vicinity.
You can visit the largest waterfalls in Europe, Marmore Falls, and walk up and down them – 15 miles away.
You can also hire bikes from a local shop in central Spoleto – there are some great (and, very easy !) bike-riding trails, on the flat, following the river, all the way to Assisi or along the Valnerina.
There is fresh water fishing locally.
We leave information in the house re Spoleto and the surrounding areas to help you decide where to eat, where to visit, beautiful drives etc., all based on our personal experiences and those of our guests. And, we are continually adding to the activities for our guests eg the latest addition is a picnic, which involves a short ramble up a mountain, with a donkey carrying the picnic, then, at the top, with sensational views, the picnic is laid out – a feast with unlimited wine in a heavenly setting ! And afterwards, the children can have rides on the donkey ! Subject to demand.
Further, a new activity has taken off with a vengeance. It is a truffle hunt. It starts with a beautiful morning walk through outstanding scenery. You arrive at the woods. You are taught how to hunt out the truffle. Then, the chef, Leonardo, who is guiding you, cooks up, alfresco, the most amazing truffle dish. And, you are treated to a slap-up truffle lunch with unlimited wine. Currently, this is No 1 favourite activity ! However, all the activities we recommend are popular.
GENERAL INFORMATION :
Our small partnership group, ourselves included, own all the properties that we advertise, about 60 in all, from villas with pools to smart town houses to central city apartments.
Subsequently, we can organise olive oil tasting, wine tasting, chef at home, eating in chef's house, truffle hunting, picnics with a donkey, cheese making, caving, canyoning, rafting, canoeing, horse you at better rates than you get going through the conventional channels. This is because all the aforementioned activities, except for horse-riding, are offered by our partners to ensure you have the holiday of a lifetime !
For instance, the olive oil of one of our partners (Ciarletti) was blessed by the Pope 2 years ago, after it had won the top prize in Italy. He, amongst other of our partners, offers olive oil tasting, accompanied by a lunch, at his farmhouse.
All our activities are totally authentic, put on by Italians, whose familes go back for centuries and who have been in the truffle, olive oil and wine trade for all of that time.
And, because all the activities we offer are "inhouse" we can undercut all the "professional" businesses, for whom it is their livelihood. Such activities are not our livelihood. Neither are they the livelihood of our partners. We and our partners offer these activities with the aim of enriching your holiday.
Interaction with guests
We are always available, should you have any queues, questions or requirements!
Other things to note
Activities include :
1.A visit to Ciarletti oil mill, including lunch and unlimited wine. This famous Italian olive oil was blessed by the current Pope, in recognition of its status as Italy's No I olive oil.
2.A cookery lesson by a local "celebrity" chef at his restaurant, including lunch and unlimited wine.
3.A meal cooked for you in your home by a local "celebrity" chef, including all the ingredients and unlimited wine.
4.A truffle hunt with a local "celebrity" chef, including a truffle lunch and unlimited wine
State of the Art gym and smart tennis club are 8 miles away in Spoleto. Both permit temporary memberships to suit your needs.
---
---
Check in time is flexible
Arrivals after 10 pm to pay late fee of 50 euros.
Key call out charge of 50 euros, if you leave your key on the inside of the door, in the apt or lose it and, then, you cannot get into the apt.
Only house trained pets that are friendly to humans are permitted. Not allowed to roam free around the pool.
Dogs to be kept on leash - cattle around on acres of unfenced private land.
You must also acknowledge
Must climb stairs - to the upper floor, 1 flight of steps
---
I arrived here 30 odd years ago, fell in love with the place, my 1st spiritual home. Couldn't wait to move here permanently. Did so. With 2nd husband. Ist husband declined. Was persuaded to rent to someone, whose violinist daughter was performing in a Spoleto festival because…
Response rate:
100%
Response time:
within an hour
Explore other options in and around Spoleto
More places to stay in Spoleto: