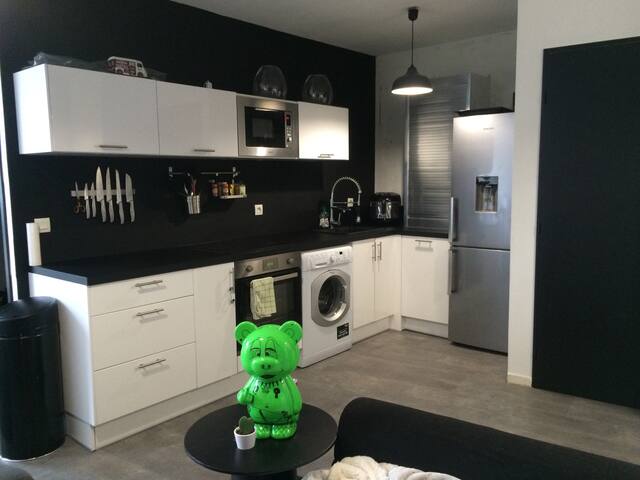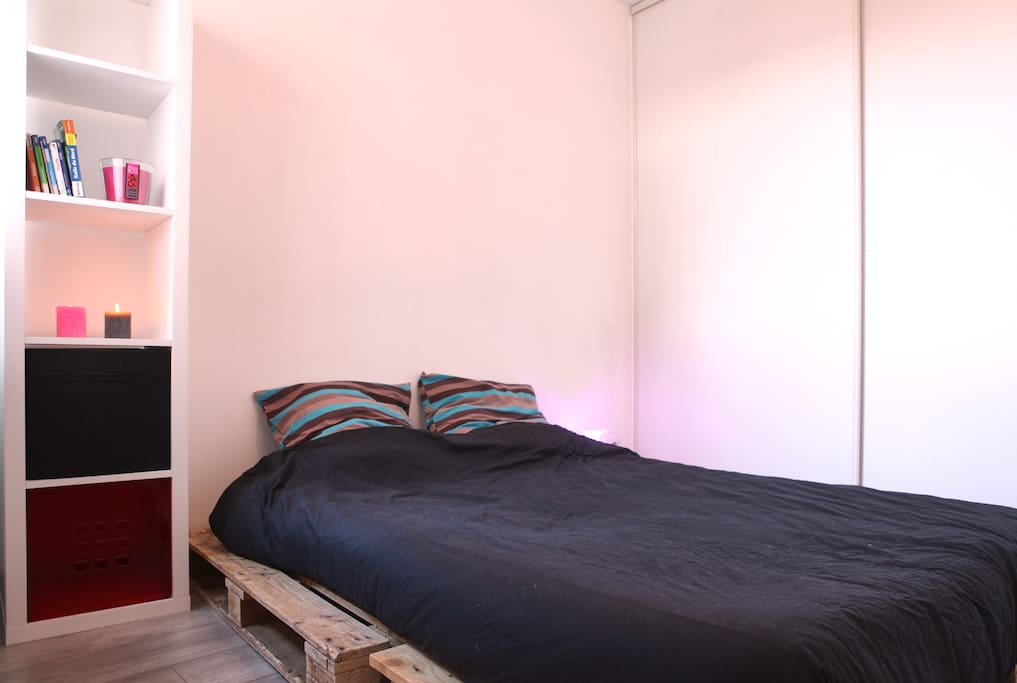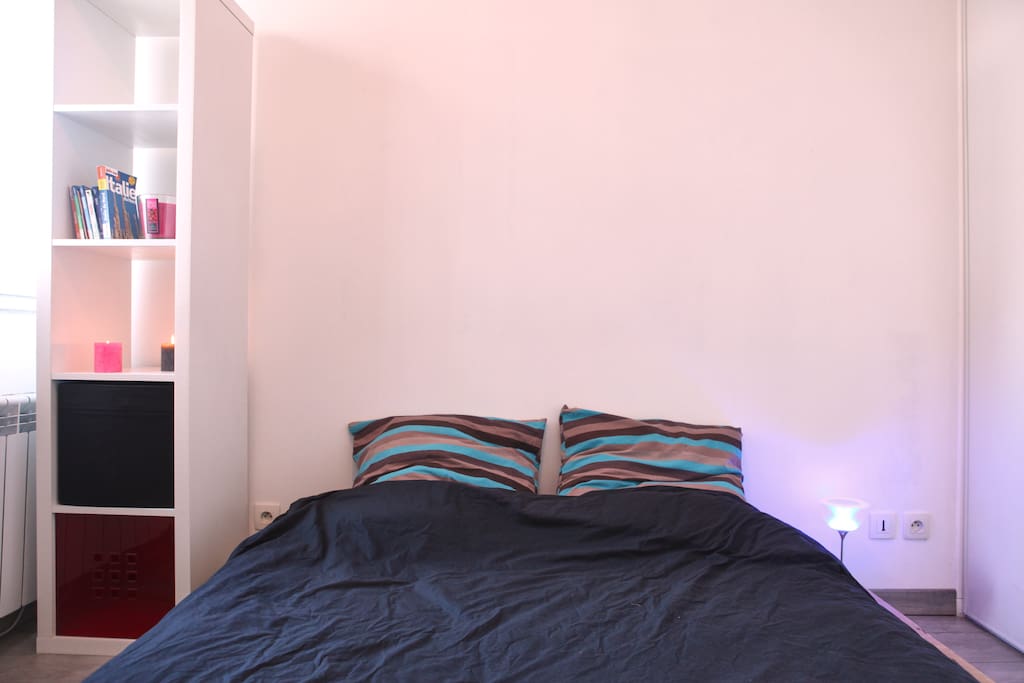 The apartment of 45m2 is remade to nine in November from floor to ceiling to give it a modern and warm! The apartment is well located (about 5 min from the main thing) Metro station at 400 meters. And we're cool :) PS: The room has a microwave and a kettle;) The decor of the room is a little in the industrial style with the pallets, that's how we wanted it, we love the slightly rough side of the wood :) Also, it's very comfortable as a mattress;)!
L'appart de 45m2 est refait à neuf en novembre du sol au plafond pour lui donner un coté moderne et chaleureux!
L'appartement est bien situé (env 5 min de l'essentiel)
Métro à 400 mètres.
Et on est cool :)
PS: La chambre dispose d'un micro ondes et d'une bouilloire;)
La décoration de la chambre est un peu dans le style industriel avec les palettes, c'est comme ça qu'on la voulue, on adore le coté un peu brut du bois :)
De plus, c'est très confortable comme sommier ;)!
The space
Located on the 4th floor, 45m2 approximately done again in nine in November! Great location at 400m from metro Porte d'Arras (3min walk) Match (supermarket) at the bottom of the building (approx 10metres) Kebab UNIK (best of France) down the entrance of the building! The room has a shelf at your disposal so that you can store your belongings. The room is also equipped with a microwave and a kettle. You have at your disposal coffee, cappuccino, all the necessary breakfast (jam, Nutella, Cereals, etc.). You are just asked to clean after use :) We just added a TV in the room but that only works with the hdmi, so bring your computer if you want to enjoy it :) You also have a shelf with several flyers at your disposal, for example the plan of Lille, the plan of the metro, the plan of the Bus, or flyers for leisure (for example Laser Game or simulator of driving F1). The room can accommodate 3 or 4 people: two on a real bed and one (or two) on an inflatable mattress. Concerning the living room, you can create a corner with also an inflatable mattress! We will make the best for your comfort! To be totally transparent, the apartment measures 43,20m2 in law Carrez. The living room and the open kitchen measures 28m2, the room 9,4 m2 and the bathroom 3m2. :) PS: And we're cool too :) (I think lol;))
Situé au 4 éme étage, 45m2 environ refait à neuf en novembre!
Super bien situé à 400m du métro porte d'arras (3min a pied)
Match (supermarché)en bas de l'immeuble (env 10metres)
Kebab UNIK (meilleur de france) en bas de l'entrée de l'immeuble!
La chambre dispose d'une étagère à votre disposition afin de pouvoir ranger vos affaires.
La chambre est également équipée d'un micro ondes et d'une bouilloire.
Vous avez à disposition du café, du cappuccino, tout le nécéssaire à petit déjeuner ( confiture, Nutella, Céréales, etc).
On vous demande juste de nettoyer après utilisation :)
On vient juste de rajouter une TV dans la chambre mais qui ne marche qu'avec le hdmi, donc ramenez votre ordinateur si vous voulez en profitez :)
Vous avez également une étagère avec plusieurs flyers à votre disposition, par exemple le plan de Lille, le plan du métro, le plan des Bus, ou des flyers pour des loisirs ( par exemple Laser Game ou simulateur de conduire F1).
La chambre peut accueillir 3 ou 4 personnes : deux sur un vrai lit et un (ou deux) sur un matelas gonflable.
Concernant le salon, on peut aménager un coin avec également un matelas gonflable! On fera au mieux pour votre confort!
Pour être totalement transparente, l'appartement mesure 43,20m2 en loi Carrez.
Le séjour et la cuisine ouverte mesure 28m2, la chambre 9,4 m2 et la salle de bain 3m2. :)
PS: Et on est cool aussi :) ( je crois lol ;) )
Guest access
You can access the whole apartment if you are nice! Lol not joking but obviously if you want to, to cook, to make a washing machine, to play the guitar, to do the drums, to make the treadmill, abs or the exercise bike, watch TV Or play with the cat, no worries :)
Vous pouvez accéder a tout l'appartement si vous êtes gentils! lol non je plaisante mais évidement si vous avez envie, de faire la cuisine, faire une machine a laver, jouer de la gratte, faire de la batterie, faire du tapis de course, des abdos ou du vélo d'appartement, regarder la télé ou jouer avec le chat, pas de soucis :)
Interaction with guests
We are nice, we want to help you the best we can :) We provide you with some flyers available for leisure, Lille map, map of the metro, and bus map! If you need advice, do not hesitate! :)
On est gentils, on veut bien vous aider du mieux que l'on peut :)
On vous fourni quelques flyers à disposition pour loisirs, plan de Lille, plan du métro, et plan des bus!
si vous avez besoins de conseils, n'hésitez pas! :)
Other things to note
Watch out for the cat, she stings in the lol plates! Attention to light, my house is not Versailles, when you leave a room, turn off the light;) it seems obvious but apparently not for everyone ...;) Rule of cohabitation simple, but also be careful not to take a shower of one hour, the hot water balloon only warms up at night! Thank you for thinking of others and not to empty it, it would be cool for the following;) RULES OF PROCEDURE Dear tenants, We are very pleased to welcome you to our apartment and hope you will have a pleasant stay. We thought and equipped the room and the apartment so that you felt at home. For your comfort and that of your entourage, we ask you to please comply with the information mentioned in these rules of procedure. ARTICLE 1 - DURATION OF RENTAL AND USE OF PLACES This room is rented to you for a defined period at the time of the reservation according to the tariff and duration conditions exposed on the site AirBnB.Le tenant can under no circumstances retain any right to the maintenance in the places at the end of the (URL HIDDEN) rental can not be occupied by more people than the one indicated on the description of the property and on the booking form, except with the prior written permission of the owners. We reserve the right to ask for additional compensation in this case or even to refuse the availability of the room if we can not ensure that the tenant will respect the maximum number of people expected to rent the accommodation. The tenant must ensure the peaceful character of the rental and make use of it in accordance with the destination of the premises. ARTICLE 2 - ARRIVAL / DEPARTURE Cancellation Policy: -Teners are advised to inform their arrival and departure times as soon as possible. -The cancellation conditions are defined as "strict" - see the definition on the AirBnB website. Security Deposit: Any traveler who confirms a reservation in the accommodation will be responsible for the damage caused to the amount of 200 euros. The method of payment of the traveler will not be debited and will not be subject to a debit authorization, except in the event of a complaint within 48 hours of leaving the premises. Cleaning The cleaning package is included in your reservation. You agree to perform the following: - clean kitchen appliances, (microwave, kettle, ..); - washing and storing dishes; - relocating displaced furniture and objects; ARTICLE 3 - KEYS The entrance doors of the house are equipped with key locks. Upon leaving the apartment, you are required to close the entrance door, as well as all the patio doors and windows of the accommodation. In the event of non-compliance with this article, you are responsible for all thefts, damages and other material damage that will be invoiced. For all objects belonging to the residents, you will be required to make your own statement to your insurance and the owners decline all responsibility. Keys are transmitted locally. The return of the keys at the end of the stay is done directly with the owner of the premises or with the reception agent. ARTICLE 4 - SAFETY AND PROPERTY INSTRUCTIONS 1) Respect: A) The tenant agrees to respect the rented room as well as its environment, the tranquility of the neighborhood including sound, and to enjoy the accommodation according to the instructions provided by the host. (B) The lessee undertakes to return the rented premises in their entirety and in the condition in which they are at the time of entry into use, as described in the description provided on the AirBnB website and in the state of Places given by the owners or the reception agent. 2) Miscellaneous Precautions: (A) All facilities shall be made available to the tenant and shall be used to the best of their ability, ensuring normal operation and reasonable consumption. (B) The lessee shall absolutely refrain from throwing into the sinks, sinks, toilets, etc., objects likely to obstruct the pipes, failing which he will be liable for the expenses incurred for the restoration of these appliances . 5) Development: The tenant obliges himself to use the furniture, the bedding and the various objects garnishing the rented property for the use for which they are intended and in the places where they are. 6) Maintenance of leased premises: The tenant is obliged to refrain from any action which Could interfere with the cleanliness, hygiene and appearance of the premises both inside and outside the house (courtyard). 7) Responsibilities: (A) Furniture and articles of furniture shall suffer only from depreciation arising from their normal use. Those who, at the expiration of the tenancy, will be missing or have been taken out of service for any reason other than normal wear and tear, shall be paid or replaced by the lessee with the consent of the owners. (B) The tenant is liable for any damage he or his accompanying persons may cause as a result of their actions. He is responsible for all incidents or accidents that may occur to him or to third parties due to his non-compliance with the present regulation. C) The owners decline all responsibility for the objects that can be lost or stolen during the stay, as well as any fall in the apartment. ARTICLE 6 - WATER, ELECTRICITY AND HEATING The supply of water, electricity and heating is included in the price but it is strongly recommended to use these resources with economy, to turn off the lights when leaving a room and not to let Water unnecessarily. Water - it's life, electricity - a limited resource: let's save them. ARTICLE 7 - ANIMALS: Animals of all kinds are prohibited in the apartment. We wish you a pleasant stay.
Attention au chat, elle pique dans les assiettes lol!
Attention à la lumière, ma maison n'est pas Versailles, quand vous quittez une pièce, éteignez la lumière ;) cela paraît évident mais apparement pas pour tout le monde... ;)
Règle de cohabitation simple, mais faites attention aussi à ne pas prendre une douche d'une heure, le ballon d'eau chaude ne se réchauffe que la nuit! Merci de penser aux autres et de ne pas le vider, ça serait cool pour les suivants ;)
REGLEMENT INTERIEUR
Chers locataires,
Nous sommes très heureux de vous accueillir dans notre appartement et espérons que vous y passerez un agréable séjour. Nous avons pensé et équipé la chambre et l'appartement de façon à ce que vous vous sentiez comme chez vous.
Pour votre confort et celui de votre entourage, nous vous demandons de bien vouloir vous conformer aux informations mentionnées dans ce règlement intérieur.
ARTICLE 1 - DURÉE DE LOCATION ET UTILISATION DES LIEUX
Cette Chambre vous est louée pour une période définie lors de la réservation selon les conditions tarifaires et de durée exposées sur le site AirBnB.Le locataire ne peut en aucune circonstance se prévaloir d'un quelconque droit au maintien dans les lieux à l'issue du (URL HIDDEN) location ne peut en aucun cas être occupée par un plus grand nombre de personnes que celui indiqué sur la description du bien et sur le bulletin de réservation, excepté avec autorisation préalable écrite des propriétaires.
Nous nous réservons le droit de demander une compensation supplémentaire dans ce cas, voire de refuser la mise à disposition de la chambre si nous ne pouvons pas nous assurer que le locataire respectera le nombre maximum de personnes prévu pour la location de l'hébergement.
Le locataire devra assurer le caractère paisible de la location et en faire usage conformément à la destination des lieux.
ARTICLE 2 - ARRIVÉE / DÉPART
Horaires et conditions d'annulation :
-Il est recommandé aux locataires d'informer de leur heure d'arrivée et de départ le plus tôt possible.
-Les conditions d'annulation sont définies comme étant « strictes » - voir la définition sur le site AirBnB.
Dépôt de garantie :
Tout voyageur qui confirme une réservation dans le logement sera responsable des dégâts causés à hauteur de 200 euros. Le mode de paiement du voyageur ne sera pas débité et ne fera pas l'objet d'une autorisation de prélèvement, sauf en cas de réclamation dans les 48 heures suivant la sortie des lieux.
Nettoyage
Le forfait ménage est inclus dans votre réservation.
Vous vous engagez à effectuer les points suivants :
- nettoyer les appareils électroménagers de la cuisine, ( micro-ondes, Bouilloire,..) ;
- laver et ranger la vaisselle ;
- replacer les meubles et objets déplacés ;
ARTICLE 3 - CLÉS
Les portes d'entrée de la maison sont munies de serrures à clés. Lors de toute sortie de l'appartement, vous êtes tenus de fermer la porte d'entrée à clé, ainsi que toutes les portes-fenêtres et fenêtres du logement.
En cas de non-respect de cet article, il vous incombe la responsabilité de tous vols, dégradations et autres dégâts matériels qui feront l'objet d'une facturation. Pour tous objets appartenant aux résidents, vous serez tenus de faire vous-même votre déclaration à votre assurance et les propriétaires déclinent toute responsabilité.
La transmission des clés se fait sur place.
La restitution des clés à la fin du séjour se fait directement avec le propriétaire des lieux ou avec l'agent d'accueil.ARTICLE 4 - CONSIGNES DE SÉCURITÉ ET DE BIENSÉANCE
1)Respect :
a)Le locataire s'engage à respecter la chambre loué ainsi que son environnement, la tranquillité du voisinage y compris sonore, et de jouir du logement selon les instructions fournies par le chargé d'accueil.
b)Le locataire s'engage à restituer les lieux loués dans leur intégrité et dans l'état où ils se trouvent lors de l'entrée en jouissance, tel que décrit dans le descriptif fourni sur le site internet AirBnB et dans l'état des lieux remis par les propriétaires ou l'agent d'accueil.
2)Précautions diverses :
a)Toutes commodités sont mises à disposition du locataire, il lui est demandé de les utiliser au mieux, en veillant à un fonctionnement normal et à une consommation raisonnable.
b)Le locataire devra s'abstenir de façon absolue de jeter dans les lavabos, éviers, WC, etc… des objets de nature à obstruer les canalisations, faute de quoi, il sera redevable des frais occasionnés pour la remise en état de ces appareils.
5)L'aménagement :
Le locataire s'oblige à utiliser les meubles, la literie et les objets divers garnissant le bien loué à l'usage auquel ils sont destinés et dans les lieux où ils se trouvent.
6)Entretien des lieux loués :
Le locataire est tenu de s'abstenir de toute action qui pourrait nuire à la propreté, à l'hygiène et à l'aspect des lieux tant à l'intérieur de la maison qu'à l'extérieur (cour d'entrée).
7)Responsabilités :
a)Les meubles et objets mobiliers ne doivent souffrir que de la dépréciation provenant d'un usage normal auquel ils sont destinés. Ceux qui, à l'expiration de la location seront manquants ou auront été mis hors service, pour une cause autre que l'usure normale, devront être payés ou remplacés par le locataire avec l'assentiment des propriétaires.
b)Le locataire est responsable pécuniairement de toutes les dégradations qu'il – ou que ses accompagnants - pourraient causer par leurs faits et gestes. Il est responsable de tous les incidents ou accidents qui pourraient survenir à lui ou aux tiers du fait de son inobservation du présent règlement.
c)Les propriétaires déclinent toute responsabilité sur les objets pouvant être perdus ou volés lors du séjour, ainsi que sur toute chute survenant dans l'appartement.
ARTICLE 6 - EAU, ÉLECTRICITÉ ET CHAUFFAGE
La fourniture de l'eau, de l'électricité et du chauffage est incluse dans le prix mais il est vivement recommandé d'utiliser ces ressources avec économie, d'éteindre les lumières lorsque vous quittez une pièce, et de ne pas laisser couler l'eau inutilement.
L'eau – c'est la vie, l'électricité – une ressource limitée : économisons-les.
ARTICLE 7 - ANIMAUX :
Les animaux, de toute sorte, sont interdits dans l'appartement.
Nous vous souhaitons un agréable séjour.
---
---
Extra people $35 NZD / night after 2 guests
Security Deposit $697 NZD
Weekend Price $56 NZD / night
Always communicate through Airbnb
To protect your payment, never transfer money or communicate outside of the Airbnb website or app.
Learn more
---
Bedroom 1
1 double bed, 1 air mattress
---
Check in time is 7PM - 12AM (midnight)
Respectueux, laissez l'appartement et la chambre dans l'état de base!
Pour les fumeurs, fumez à la fenêtre svp :)
Éteignez la lumière quand vous n'êtes pas dans la pièce, ne claquez pas les portes ( ça détériore la peinture).
Évitez de vider le ballon d'eau chaude, règle simple de la cohabitation :)
Quand vous rentrez à 3 ou 4h du matin, essayez de ne pas faire trop de bruit ou de lumière pour ne pas nous réveiller :)
Tout est une question de respect, on est plutôt cool dans le respect de chacun! :)
You must also acknowledge
Cat(s) live in the house
---
---
---
Salut!
On est musiciennes (et ça se voit à l'appartement ^^) il y en a même une de nous deux qui a un groupe de rock et qui vient de sortir son premier EP! :D
On aime la musique ( forcément nous direz vous ^^), les voyages ( tellement tellement), rencontrer de nouvelles personnes et de nouvelles cultures!

On est sympas ( je crois lol), cool, et on a un petit chat qui ressemble comme deux gouttes d'eau à un léopard! Attention au petit fauve ;)
Languages:
English, Español, Français
Response rate:
100%
Response time:
within an hour
Explore other options in and around Lille
More places to stay in Lille: