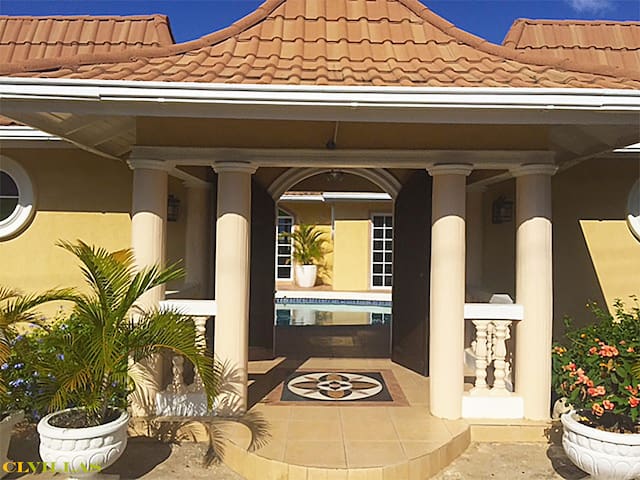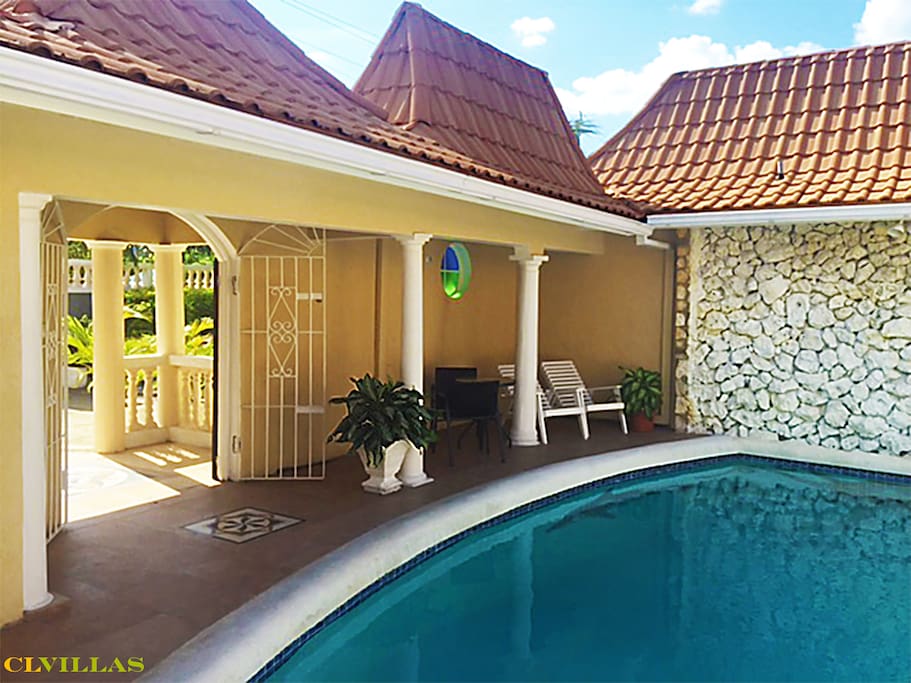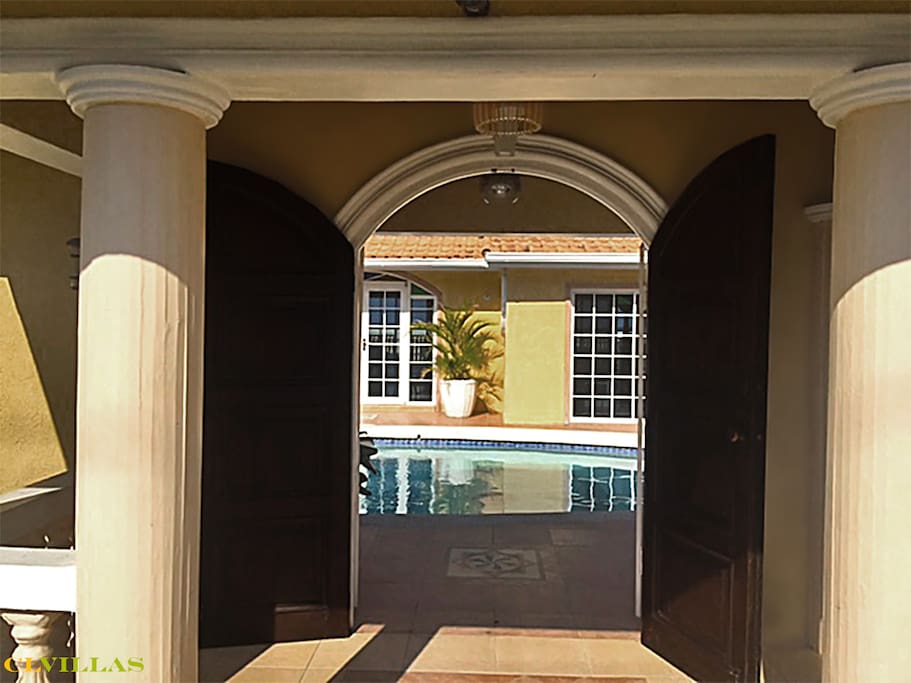 This Ocean View property is a newly refurbished modern villa offered by CLVillas located in St. Mary, Tower Isles. This is an upbeat and vibrant area, with local amenities such as: shops, restaurants and bars all within a short walking distance.. This property is situated near the heart of Ocho Rios town centre, just a few minutes drive.
This a spacious villa with indoor pool, wifi, satellite TV and just about every amenity you could want from a luxury palace.
The space
The Villa has plenty of room givings guests the freedom to stretch out and relax. The villa has undergone a major refurbishment programme which now boosts an open plan layout, including an indoor swimming pool and a new pool view room.
Guest access
Access to the villas is private and secure at all times. There is someone always on site to make sure guests are checked-in. Guests are required to check-out at 11 Noon.
If you have hired a car, off street parking is available for multiple cars.
Interaction with guests
There is always someone on site to make your stay as pleasurable as possible. Maintenance man on hand 24 Hours a day. Pool and other facilities are cleaned daily.
Other things to note
Excursions can be arranged for you on site and guests can be collected from the villa. There are a whole host of fun activities to do, which should fill your day with joy and excitement.
Always communicate through Airbnb
To protect your payment, never transfer money or communicate outside of the Airbnb website or app.
Bedroom 4
1 double bed, 2 single beds
Check-in is anytime after 2PM
This place is a great location. Right on the ocean with a great indoor pool inside the house. The space with 4 bedrooms, 6 bedrooms was plenty for two families that stayed together. 4 adults and 7 small children. They enjoyed the pool. The view from the balcony was great. The issues we ran into was communication. The maid, Julian was only notified on the afternoon that the house was rented. This resulted in the House not being ready when we arrived. The pool needed to be cleaned, electricity needed to be turned on, the WiFi and TV had to be restored. This was propably because the house hadn't been rented in a while and several things were deactivated. Eventually after 24 hrs, all of the amenities were restored. We got electricity within a few hours of checking in. The pool was also cleaned up in a few hours. However, TV and cable wasn't ready until the next day. Gary, the technical guy was very helpful in getting this going and trouble shooting these issues. The maid, Jillian wasn't the most pleasant. I think she could have been a bit nicer and more friendly ( ie, like helping with luggage, or at least even offering, helping with opening or closing gate, or even offering, etc).. Overall, the stay wasn't bad, once everything got working. I think the price at $400 per day is a bit much, when considering all of these issues that came up during our stay. A lower price or more friendlier/accommodating maid who does more , or is more helpful around the home would be better. Also, stay pull have been better has all of these things where working before we arrived.
---
My family and I stayed at Cherry's Villa the first week of July. We had enjoyed our stay for the most part - however, there could be some areas of improvement. PROS: Property - The unit looks exactly like the photos. Nothing misleading about that. It is very spacious, rooms are a great size. The main balcony is absolutely breathe taking. The sound of the ocean at night was amazing! Security - our family felt safe staying in this unit. There is a gate that can be locked nightly, and there is a guard dog that will bark at anyone who is approaching the property, which is great! (he's also the cutest thing) Staff - Julian & Andrew were great. They helped my family with anything they needed. They went above and beyond to even buy/roast bread fruit for my uncle before we left. Flexibility - as there were 12 of us, it was hard to get everyone to check in at the same time. However, the housekeeper was very flexible and worked with everyone's separate arrival times. It was also great that there is no additional cost to having additional people, as we had a lot of family members visit throughout our stay. CONS: Communication - Communication was timely when I first reached out to Cherry. Closer to the booking date, I found her to be less responsive. Although there's a time deference between CAN and the UK, I was hoping for more timely responses seeing as this was a major purchase that I needed to make. My questions were surrounding price, what exactly was included, etc. which is why receiving this information was crucial prior to booking. Unfortunately, I had to book without having the answers (as this was very last minute). Only after the booking was complete, did I receive the response, which were not the answers I had hoped. Amenities - Upon checking in, I was told we had to pay $35 US/day to use the stove. This was a major concern, as my family decided to cook during this trip (as the chef is not included in the price). For whatever reason, the following day, the housekeeper told us not to worry about the charge, which we were thankful for. However, if this is truly the case, I think this should be clearly outlined in the listing to ensure those booking are aware. TV - remote wasn't working when we arrived, so we were unable to use features such as Netflix. When asked when we could get this fixed, we were told the technician wouldn't be able to come until Saturday (day before we checked out). Not overly upset about this, as we didn't travel all the way to Jamaica to watch Netflix! But would've been nice to have the option (especially for the kids). Again, the overall stay was enjoyable. Just thought I'd point out some areas of improvement. Thank you Cherry, for allowing my family to stay in your home.
---
This place was amazing super clean the view the space the staff. They were so helpful and polite. We felt at home. Close to everything in ochio rios. Cherry place was beyond beautiful it was 6 adults and 3 kids and we still had space left. A perfect location if your traveling with multiple people
---
Exactly as displayed on the photographs. Andrew, the groundskeeper/ house manager was very accommodating. We did not get in until midnight and he stayed in contact with us and was at the residence and allowed us to check in without a hitch. Also we had a housekeeper stop by and give clean sheets and towels during the stay. Great people!
---
This villa was the perfect accommodation for our party of seven. It was right off the ocean with an amazing breathtaking view. The place was for most part very clean and spacious. The rooms where all nice, spacious, and clean with Individual AC units. There were bathroom in each room which was just perfect, but could of used little cleaning. The gentleman Andrew was very nice, friendly, and tentative to our needs. Juliana the house keeper prepared a meal for our group that was delicious! The owner Cherry was a pleasure to speak with during the whole process. All in all it was an amazing stay, which I will do again and definitely recommend to anyone!
---
Let me start off my saying our stay here was AMAZING! We woke up to a beautiful view every morning and went to sleep with the lull of the ocean. My family of 8 flew down for my brother's wedding in Ocho Rios. Lisa (the house manager), Natalie (the chef) and Andrew (the groundskeeper) truly helped us to feel at home. The rooms, general areas and pool were cleaned everyday and towels were available. Natalie was a PHENOMENAL cook! Prior to our arrival I worked with Lisa to arrange dinner for us upon arrival. Since we were landing in the evening it was a Godsend to walk into the place having dinner waiting for us (especially since our plane was delayed) after the drive from Mo' Bay. We worked with Natalie on a different menu every day to ensure my group had the full suite of Jamaican food before they left. Ackee and salt fish, bok choy, cállalo, bammie, fried dumplings, fried plantains, boiled banana, boiled yam, jack mackerel. You name it, we had it! On the main level is the pool, half-bathroom, two bedrooms, a living room (with breathtaking murals), dining room, kitchen and balcony. On the lower level is an exercise area, two/three additional bedrooms and another balcony. For these reasons we are eternally grateful. My group would not hesitate to stay again or recommend this place to others as it truly exceeded our expectations.
---
Big spacious villa by the sea! We were a group of 7 that stayed in the house. The house is very big, more than enough space for us all. We were happy to find out that each bedroom had it´s private bathroom. From the house you can easily reach the sea, but as it is almost everywhere in this part of Jamaica there is cliff rocks. When the sea was calm we took our snorkeling gear and went out, really nice, but not suitable for small children. The house is situated 5 minutes by car to Ocho Rios You can easily get there from the mainroad, wich is situated just outside the house, by taking a taxi or if you feel comfortable by local buses. The wifi in the house was perfect, and we felt great hospitality from the host, Lisa and Natalie. Lisa is also very good in giving massage. The big outside terass is a big plus for this house, spent many hours there watching the wiew. We would really like to come back to this wonderful house!
---
I am a fun person who loves properties. Over the years I have built up my vacation leisure company with a properties in America, Caribbean and London. I love seeing people with a smile on their face after they have stayed at one of my properties. Anymore questions feel free to ask:-)

Response rate:
80%
Response time:
within a few hours
Explore other options in and around Ocho Rios, Tower isles
More places to stay in Ocho Rios, Tower isles: