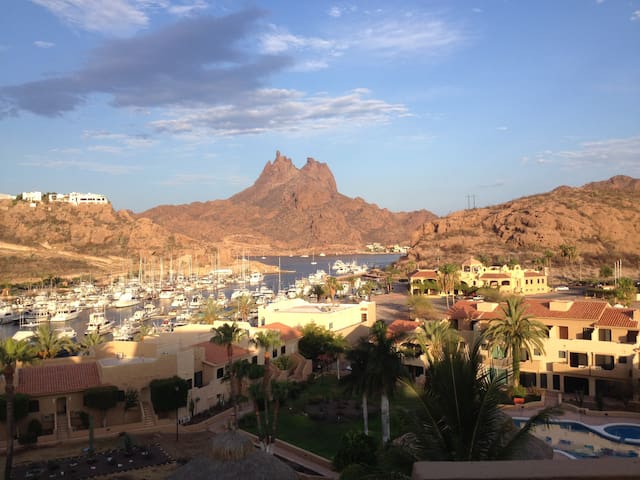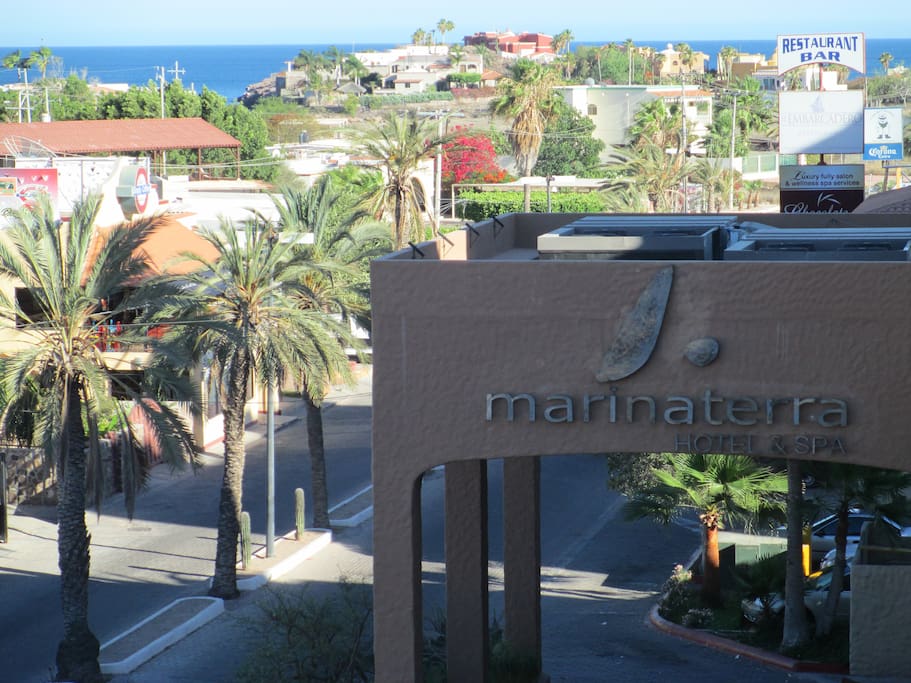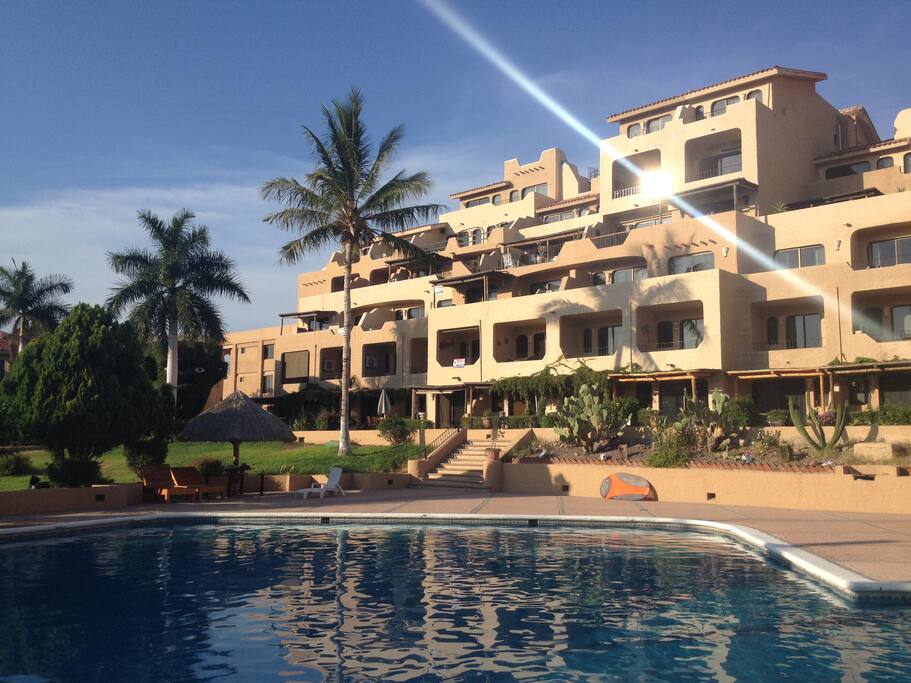 The Most Beautiful View in San Carlos, period.
This is the location to be in San Carlos at the Marinaterra Condos. A fabulous assortment of restaurants, shops, and charter boats, and it's all within walking distance from your super comfortable condominium with a spectacular view of Mt. Tetakawi!
The space
LOCATION...LOCATION...LOCATION!
This perfectly located condo with STUNNING VIEWS is set directly on the beautiful SAN CARLOS MARINA. An assortment of entertainment choices and activities are at your doorstep. Walk to many great restaurants, charter a fishing boat in the teeming Sea of Cortes, or just check out all the action in the Marina. There is even a Chocolate Salon & Spa near the lobby. Enjoy cool ocean breezes and your favorite beverage under the palapas & palms by the EXCLUSIVE SWIMMING POOLS. Three great beaches are also just minutes away.
This roomy condominium is at the apex of the Marina Terra complex. The upper level features TWO spacious suites with marble baths, individual AC, and SPECTAULAR VIEWS. Decorated in a Mexican theme, the entry level consists of the Kitchen, the Laundry, and the Living/Dining Area with a Dining Balcony for 3-4 people.
The decor of the KING SUITE is enhanced with hand-carved Mexican furniture de Guadalajara and amazing balcony views overlooking the San Carlos Marina and the mystical Mount Tetakawi. The King Suite features a 32' flatscreen with satellite TV. The QUEEN SUITE is also adorned with authentic, hand-carved furniture de Guadalajara and great views of San Carlos, the mountains, and the sea. The Queen Suite has a 32" television with cable TV and a DVD player. A smaller, but comfortable GUESTROOM contains twin beds, mini-split AC, and a 28 inch flatscreen TV. It is adjacent to the downstairs guest bathroom and the entry.
The stocked KITCHEN includes hand-painted Mexican tile, a GE Profile Glass Cooktop, and a dual Kohler Sink. Entertain your guests amidst the stunning views and amenities in the LIVING ROOM and adjoining BALCONY, or just enjoy a romantic meal on the balcony with the Most Beautiful View in San Carlos!
Our condominium is SMOKE-FREE.
Choose from 3 distinct San Carlos beaches (see map):
*SWIM WITH DOLPHINS, walk for miles, and kayak at the serene SAN FRANCISCO BEACH and Estuary.
*WALK WHITE DUNES to the friendly Soggy Peso bar & restaurant (as seen on the DEADLIEST CATCH television program), Las Dunes Palapa, La Salsa Palapa, or the Sunset Beach Restaurant of ALGODONES BEACH.
*ENJOY LIVE MUSIC at La Palapas Griego Restaurant on LA POSADA BEACH.
This condo is perfect for families, couples, or a romantic getaway. Check out our great rates and special discounts for the MOST BEAUTIFUL VIEW in SAN CARLOS!!!
You are welcome to stay for a weekend, a week, or perhaps a month. Come and stay. You will never want to go home.
BIENVENIDOS!
Guest access
Make yourself and your family or group of up to 6 people at home in this 1500 square foot condo. You have 2 large suites, a smaller guest room, 4 televisions, 4 AC units, a full kitchen, 2 1/2 bathrooms, washer and dryer, 3 balconies, leather couches, and the most beautiful view in San Carlos! In the King suite, there are two loveseats and DirecTV with about 170 channels (you can also switch to cable if you want). The kitchen has dual Kohler sinks, a GE Profile cooktop, a micowave, refrigerator, larger toaster oven, and a 5 gallon water cooler. The surfaces have handpainted Mexican tiles.
Interaction with guests
If you would like to contact me during your stay, please do so by phone, text, or email. However, if there are questions involving the Condo or services in San Carlos, I recommend you contact Siesta Realty, our property manager, and for more a more immediate response, please ask for Phyllis, the owner of Siesta Realty. All contact information is mentioned on the initial "House Rules" section on the opening page of this website.
Other things to note
If you:
...don't have propane, contact Siesta Realty for a fill-up.
...don't have drinking water, contact "Iceberg water" for a fill-up (next to the Ley's Market in town). A fill-up of one of the empty 5 gallon jugs in the condo is $12 pesos, delivered $15 pesos. They weigh 40 lbs.
...have problems with AC, electricity, appliances, contact Siesta Realty.
...leave the condo, please lock the doors. We are not responsible for your personal items when left in the condo.
...need something to eat, feel free to cook on the grill or in the condo. There are two markets and many restaurants within walking distance.
...want to buy beer, go next door to the "Beer Store". Great prices and free ice.
...want to buy liquor, most markets carry just about everything, except Canadian Whiskey!
...want to buy Sonoran beef, go to Santa Rosa Market. It is by the first stop sign when entering San Carlos. They sell excellent American cuts of beef, and they also have many of the things American tourists can't find elsewhere in town.
...need something from Sam's Club, Walmart, Home Depot, or larger department stores, go to Guaymas, about 20 minutes drive from the condo.
...need to see a doctor, have Xrays, etc., contact Siesta Realty to help make arrangements. Otherwise, there is a clinic a couple hundred yards down the street from Siesta Realty, Paseo Alegre. Be prepared to pay
cash, however, they may take credit.
...want to charter a boat for fishing, etc., go to the marina and simply ask. Almost everyone speaks English. I recommend Brian at Team Margarita.
...want help from the front desk in the lobby, DON"T ASK! They want nothing to do with the condominiums. While the lobby is shared, the Marinaterra Hotel is entirely separate. Contact Siesta Realty for a better experience.
...want extra maid service, contact Siesta Realty, and they will send over experienced personnel for only $30 per day. This will be an additional cost during your stay.
...want to use your cell phone in the condo, and you don't have an international calling plan, put your phone on airplane mode, and use your WiFi. Instructions are in the condo information booklet on how to do this. There is general WiFi out of the condo. Please contact Siesta Realty to get the latest WiFi password.
...want fresh fruit and vegetables, go to Tony's, a family run business, next to Santa Fe Market.
...want to go to the finest beaches in San Carlos, go to Playa Algodones or San Franciso Beach for two different beach experiences. Playa Algodones also has a wide variety of bars and restaurants with beautiful white sand. San Franciso Beach has a resident population of dolphins, and many shells that go for miles. It is also a great place to kayak (with rentals) when not windy.
...want a superb all-you-can-eat buffet on Sunday morning, go to the El Mar Restaurant on Posada Beach for only $100 pesos (about $5 US). They even have fresh squeezed orange juice. The $100 peso charge allows you to also use their pool, too! What a great deal.
...want to sit by the marina for a dinner out, go to the El embarcadero or Shots Bar, Club, and Restaurant.
...want a massage, go to the Chocolate Salon & Spa next to the lobby.
...want to go scuba diving or snorkeling, try Ocean Sports on the far side of the marina offices. You can also go "Swim with the Sea Lions" on certain days. I highly recommend this trip! It includes mask, snorkel, fins, and wetsuit. This is a "Bucket List" trip!
...want to get some cash, go to CI Banco for the best rates in town. Just go into their guarded ATM entry next to the bank (two ATMs), and get thousands of pesos for a $29 peso charge (less than $2), plus whatever your bank charges. You can also use a Debit Card in town, but again, let your bank/credit union know before you leave, so they don't suspect a stolen card being used in a foreign country. The typical US charge is 0-3%.
...want to drive to San Carlos, it is located in the "no hassle" zone, so no papers are needed. You just drive into Mexico. However, make sure you get Mexican Auto Insurance before you leave. It is available on a daily, 6 month, or yearly rate (cheapest). Passports are required to return to the USA. Also, bring a copy of your car registration and title (just in case...).
...want to get gas, pay with cash and make sure the pump is set to zero when the attendant begins pumping. You can't pump your own, and also be ready to give a tip to the attendant of about 5-10 pesos or so.
---
Room type: Entire home/apt
---
---
Weekend Price $224 NZD / night
Always communicate through Airbnb
To protect your payment, never transfer money or communicate outside of the Airbnb website or app.
Learn more
---
Check in time is 3PM - 5PM
IMPORTANT! $60+ Cash Deposit is collected upon arrival (amount varies upon length of stay) for Security, Damages, Lost Items, Key Return, Condo Association Fees of $5/per person (Maximum $30) , and Normal Cleaning ($30+). This mandatory $60+ cash deposit (dollars or equivalent in pesos) will be taken at check-in at Siesta Realty in San Carlos (our property managers). The following charges will be deducted from the deposit:
1) keys and the pool/garden card will be issued at check-in, and must be returned,
2) individual pool bracelets will be issued by Siesta Realty to all guests for $5 each which is required by the condominium association,
3) $30 normal exit cleaning, and if the condo requires more than normal cleaning, additional cleaning charges will be taken from the deposit.
4) there is ABSOLUTELY NO SMOKING AND NO PETS (specific condo rules) in or adjacent to the condominium,
5) While we want you to thoroughly enjoy yourself at the condo, loud and/or disturbing behavior is not allowed in the condominiums. There is a 10 pm to 9 am quiet period at the condos.
6) According to the COA rules, at least one responsible member of the renting party must be at least 30 years of age.
The balance of the deposit, if any, will be returned to you by Siesta Realty at check-out, unless other arrangements have been made. No extra guests are allowed. Garbage is to be taken to the rubbish room, by the elevator. Bring your own pool towels and beach gear. The condo towels are to stay in the condo for our guests. Light pool chairs may be needed (not supplied), as the pool furniture is sometimes already claimed by current guests. Parking is allowed on the street below the condos (if not in front of an active business and to the right of the condos under the shade trees. There is 24 hour security during peak times, monitoring the exterior of the condo and the pool/garden areas. You are responsible for your automobile and any personal items. Any violation of these House Rules will result in immediate termination of this rental agreement, and all renters must leave the property immediately, without reimbursement (the Police station is across the street, so there should not be a problem). It is implied that, by accepting this rental agreement, that all items aforementioned are expressly agreed to by all parties involved.
Siesta Realty Contact Information:
184 Paseo Alegre, Sector Villa Hermosa, San Carlos, Sonora, Mexico
Email: (EMAIL HIDDEN)
Telephone:
(PHONE NUMBER HIDDEN) USA direct
(PHONE NUMBER HIDDEN) Local Office
Phyllis' (owner's) Cell# (PHONE NUMBER HIDDEN)
---
---
---
I would go as far as saying that, if you have a chance to visit beautiful San Carlos, to stay in Johns place is a must. It is better than the pictures! The decorations, the rooms and beds, the views. Outstanding. During our time many restaurants and also the supermarket that is in walking distance were closed. But the Ley- market is just a 70 pesos right away. Snorkeling, waterskiing, hiking, beaches....we did all of it. Highly recommend!
---
Wow, what an amazing condo! Myself and three others stayed for five nights and had a blast. It was warm outside, but with the four a/c units the condo was ice cold! Hammerheads was a great place for food and beverages (very short walk). Gabby's charter service at the Harbor made the trip amazing! We caught quite a few Dorado's on the water. Overall great time! Would love to go again. The view from downstairs and upstairs was amazing! Thumbs up all around, Thanks again John!
---
I enjoy the water, the sun, good food, good people, and nature. Also, I find observing animals in their natural environment to be enlightening. And because of this, I enjoy beaches, mountains, and all that nature has to offer, except snakes. Sorry, but I grew up in FL with 4 types of poisonous snakes, not to mention alligators. In my lifetime, I have traveled to 49 states and 12 foreign countries by plane, auto, bus, taxi, train, and in days of the past, by hitchhiking. Needless to say, I enjoy traveling, but I always am happy to arrive at the comforts of home. And that is why we try to make our condo as comfortable as we can for our guests, so that you don't have to worry about anything except how you are going to spend your precious vacation time. Enjoy!

I also enjoy laughing, comedy, and humor. This allowed me to survive being an elementary teacher for 33 amazing years. I did stand-up comedy in the North Bay Stand-up Comedy Group, although others didn't always think it was so funny.
Languages:
English
Response rate:
100%
Response time:
within a few hours
Explore other options in and around San Carlos
More places to stay in San Carlos: