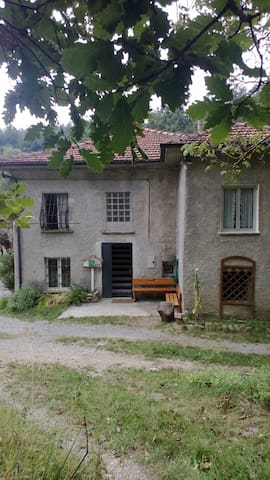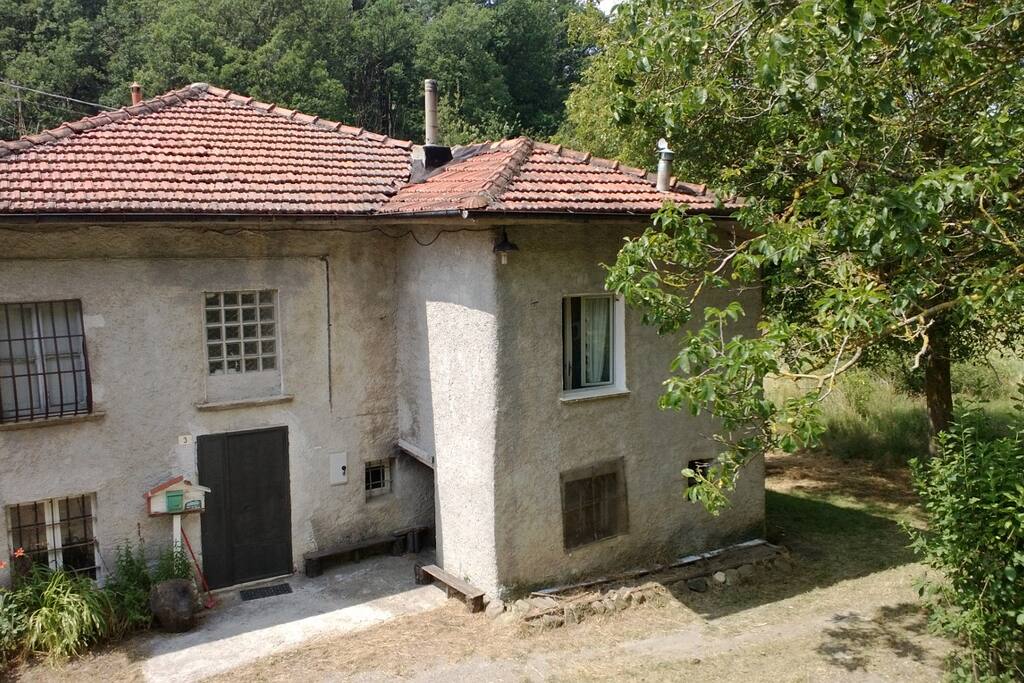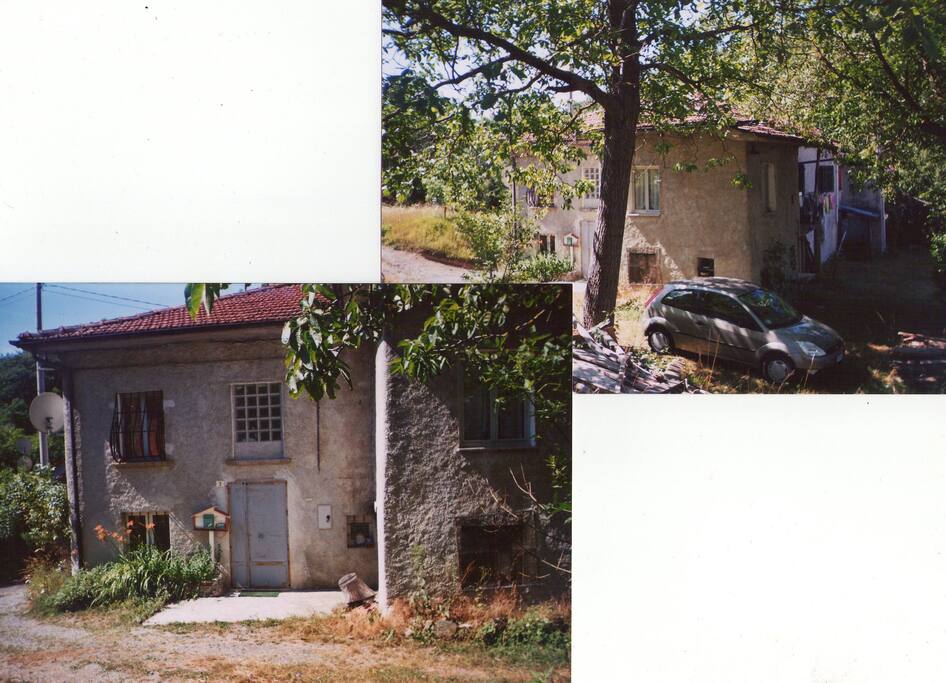 Cottage centenary-Giusvalla-Savona
The space
The cottage is located in the quiet and picturesque Giusvalla , dominated by green hills and lush forests , with mapped routes explored and reported.
And ' situated at 500 mt.dal sea level, in the Ligurian hinterland , above Albisola marina , about 20/25 km. from the seaside resorts of Albisola , Varazze and Celle ( the closest ) .
From Savona ferries to Corsica and the large cruise ships .
It is an old stone farmhouse , built on two levels.

CHESTNUT FESTIVAL Sunday, Octob(PHONE NUMBER HIDDEN)

A floor above :
 4 bedrooms, living room or TV room, kitchen, bathroom, balcony and storage room , which is currently the only furnished and livable. The ground below is still being defined .
The cottage has a wood oven functioning of two large walnut trees that yield of 12 thousand square meters of forest land , of which 1500 plan in front of the house .
The nearby Redwing and the place visited for its famous macaroons Redwing .
Coming from the sea you get to Mioglia , only crossing the Colle del Giovo ( 516mt. ) , which combines the hinterland of Savona and Acqui Terme, a millennium village which takes its name from the river , which is on the side of the Ligurian Apennines Po on the border with Piedmont , in a hollow surrounded by vineyards and chestnut forests.
Following more than 4/5 km. you first meet Pontinvrea ( most populous country in the neighborhood ), then Giusvalla ( rural and picturesque village ) . Giusvalla is a small village nestled in a valley between the valleys of Beigua and Bormida Valley , nestled in a green oasis of meadows, woods full of mushrooms and chestnuts crossed by numerous streams too rich, but of fish.
The country does not have a central nucleus, but it is essentially made up of a collection of houses scattered along the wide open spaces that offer this pristine valley .
In the historical center the locust trees are particularly striking .

The popular legend tells that Napoleon's troops in 1796 planted in the center of the country a double row of locust trees , which now greet visitors with their gnarled and twisted as evidence of past centuries.

Noteworthy is also the parish church of St. Matthew the fourteenth century in Romanesque-Renaissance style .
The interior of the church is decorated with works of the nineteenth century the painter Brusco, the wooden statue of St. Matthew , built in 700 by the sculptor Monteverdi and the chapel a balustrade with marble font of the twelfth century resulting from a Cistercian abbey .
At about fifty yards from the town, along a short path , you arrive on a hill overlooking the creek Giusvalletta , where you can still see the ruins of an old castle built after the Saracen invasion .

Giusvalla is an ideal base for lovers of fishing in the river or at sea, for those who love to go for mushrooms and truffles (the latter only for the lucky ones ) , or chestnuts. Hunting is practiced.
For those who just need to slow down the pace citizens , here are the nearby beaches of the west coast , picnic areas organized and equipped with barbecue , parking areas for campers, ( Giusvalla center ) , riding stables, tennis courts, football field and bowling , taverns and restaurants serving local cuisine, with genuine local produce and spectacular scenery to enjoy. Giusvalla today is a small village of 400 inhabitants composed mostly of farmers and loggers , where every house has at least the chicken coop and vegetable garden . Goats and cows often graze the hills , it is not uncommon to see deer and squirrels. Even in the house, for those who request it is possible to have a breakfast of locally sourced produce with fresh eggs and milk , cakes and homemade jams .

Places to visit:
- The Natural Park Plans Crixia .
Rolling hills and cultivated steep slopes of bare rock
The rolling hills of the Langhe area of cultivated Crixia in the small regional park of the same name , are sometimes rudely interrupted by ravines , picturesque erosive forms common in the nearby Langhe but only in Liguria, almost waves of sand and clay where the pioneer vegetation seems groped for float. The emblem of the park is the spectacular , giant stone mushroom . The natural monument consists of a large boulder ophiolite supported by a column of debris modeled by erosion mainly due to the runoff of surface waters.

- The caves of Toirano that are open all year round.
More than 50 natural caves are the caves of Toirano , the complex salt which opens in gray dolomite limestone massif of the Varatella , open to the public since 1953.
Of great historical interest and natural beauty , the caves are still the subject of research by international scholars and constitute one of the major attractions of the Riviera di Ponente.
The cave of Bàsura ( dialect word meaning witch ) , known since the last century for exploration of the scholar don Nicolo Morelli Canon of Stone, is certainly the most spectacular. In 1950 , some people who are passionate about caving Toirano discovered a series of interior rooms that follow a path of about 450 meters , wonderful for the richness and variety of natural concretions . Found refuge in the cave for thousands of years the cave bear (Ursus spelaeus ) , who went there to spend the lethargy , and its presence is attested by a large number of bones , paw prints from the ground and from the traces of scratches on the walls .
Of particular interest are the proofs from the prehistoric man , recently dated to around 12,000 to 12,500 years ago. These footprints , hands and knees , and in the " hall of mysteries" , numerous clay balls attached to the wall against which they were thrown , probably with ritual significance . These tracks are attributable to men of the Upper Paleolithic , hunter-gatherers who frequented the region , and used this cave as a dwelling but probably not for ritual purposes .
In 1960, the discoverers brought down the last wall limestone and discovered the terminal room of the Cave of Bàsura . From here the route continues digging into a great casting alabaster , inside massive environments rich in concretions mammellonari ( " cave of Cybele ").
The tour is guided and includes the Caves of Saint Lucia Bàsura and lower ( tourist route 1300 meters and visit lasting 70 minutes, temperature 16 ° Grotte ) . The price includes a visit to the Ethnographic Museum of Varatella , located in the historic center of Toirano .
The tours are held from 9.30 to 12.30 and from 14 to 17 (tel. (PHONE NUMBER HIDDEN) ) .

Follow the motorway to Genoa to Savona and exit at Albissola.
Just past the toll booth, turn left and follow for about 200 meters on the right until you come to an uphill road with signs Redwing / Pontinvrea. Follow the road up to Pontinvrea and follow Giusvalla (3 km). The resort Perroni crosses on the right, with a dirt road to access to housing, one kilometer before you reach the center of Giusvalla.


---
---
Extra people $17 NZD / night after 2 guests
Security Deposit $174 NZD
Always communicate through Airbnb
To protect your payment, never transfer money or communicate outside of the Airbnb website or app.
Learn more
---
---
---
My girlfriend and I had a wonderful time in a very authentic and traditional Italian cottage. The house was located directly in the Italian countryside away from the touristic crowds that characterize the coastal villages. The cottage was very cosy and the owner made great efforts to supply everything that we might need during our stay, including personal hygiene products and fresh laundry.
---
Our family of four had a very nice time at the cottage over the easter weekend. A quiet and charming space away from the crowds - just what we had been looking for. House and rooms are very comfortable and offered enough space to have friends over for dinners. Since the weather was rather crappy, we did not get a chance to enjoy the garden, however, were very happy for the wood stove. Thank you, Monica, for welcoming us and for being super friendly and helpful. We would love to come back one day soon! Gunna
---
Ciao sono Maria Pia.
Noi amiamo questi posti, mia figlia adolescente, ci è cresciuta e ha trascorso qui i momenti più belli della sua giovane esistenza.

L'abitazione di Cannigione è piccola, ma funzionale e adatta a trascorrere una vacanza rilassante, ma anche rigenerante o avventurosa.
Quella di Giusvalla è grande e ha il fascino dei luoghi antichi.
Quella al lago di Garda è perfetta per una vacanza relax alla scoperta delle tante bellezze del luogo.
Siamo affezionate a queste tre realtà abitative con i relativi luoghi, anche se appartengono ad altri membri della famiglia.
L'appartamento di Corsico-Milano invece è quello in cui viviamo.

Mi occupo di estetica, lavoro con le persone con passione e per tante ore al giorno, quando riesco a staccare andandoci, solo il pensiero, mi riempie di gioia.
Le abitazioni sono arredate in modo semplice, ma con tutto il necessario per poter soggiornare comodamente e corredate del necessario come biancheria, lavatrice, shampoo, carta igienica, saponi e detersivi.
Non potrei mai rinunciare alla stimolante presenza nella mia vita di mia figlia.
La mia cagnolina Trilly è la mia ombra e la mia compagna più fedele.
Quando mangio un pezzetto di cioccolato fondente alle nocciole la vita mi sorride.
Un'oggetto che porterei sempre con me è la mia bicicletta con il cestino per trasportare Trilly.
Adoro leggere al mattino appena mi sveglio sorseggiando una tazza di te caldo.
Mi piacciono i libri di A. De Carlo e I. Allende, ma anche Victor Hugo e la saggistica.
Adoro gli spettacoli di Circu de Soleil e la musica di Michel Jackson, dei Qeen, dei Pooh, ma anche Adele, Enya e Einaudi.
Mi piace il Sushi e tutta la cucina orientale, apprezzo moltissimo i piatti tipici della straordinaria cucina Italiana, come la parmigiana di melanzane e la pizza di scarola napoletana.
La mia ospitalità è semplice e genuina.



Languages:
English, Italiano
Response rate:
100%
Response time:
within a day
Explore other options in and around Savona
More places to stay in Savona :