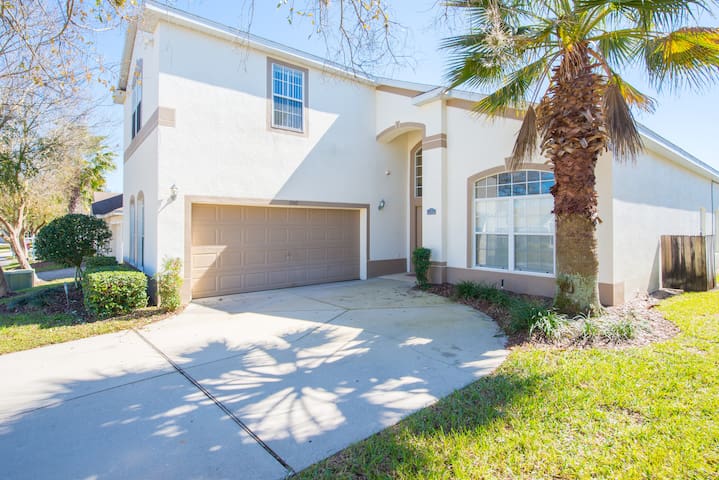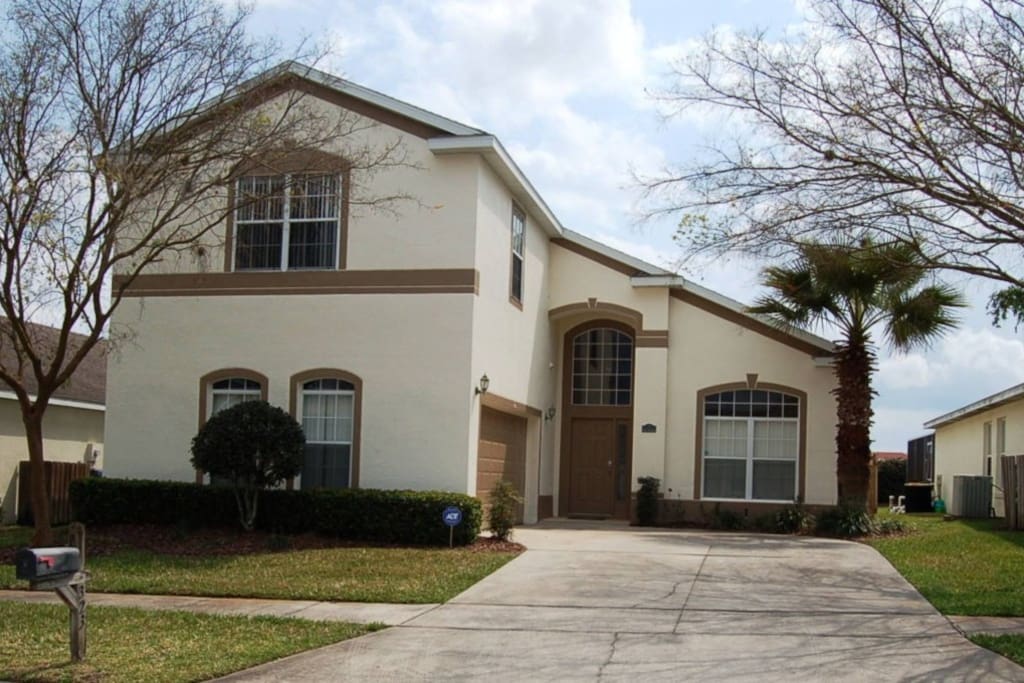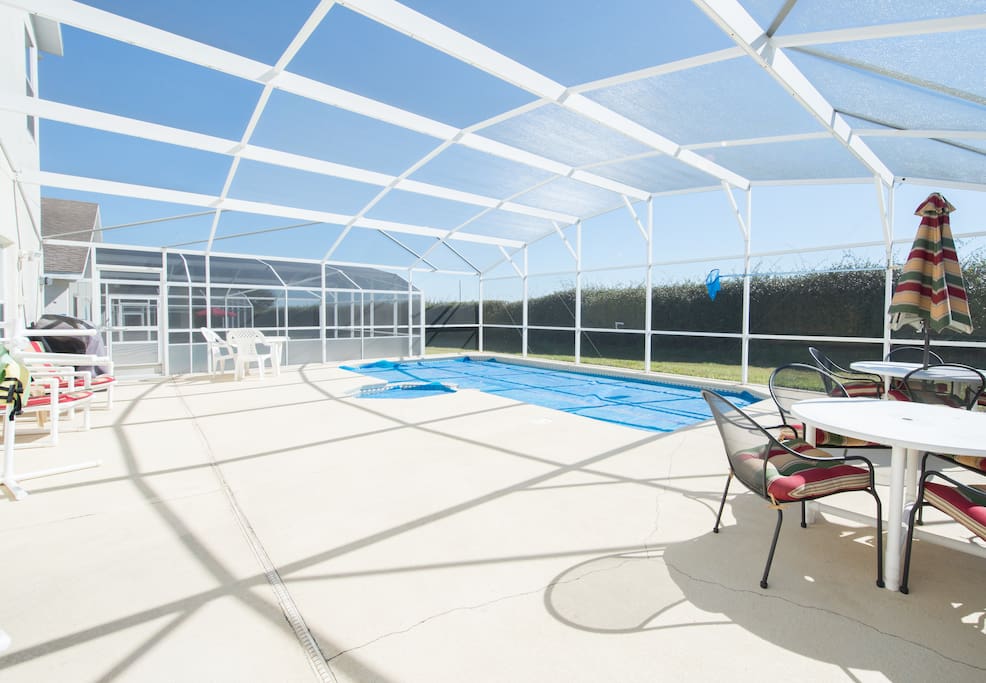 6bed 4bath Hampton Lakes Sleeps 15
Beautiful 6 bedroom property ALL with TV
4 bathrooms
Games room with 70in TV
Private pool AND spa
No rear neighbor
70in flat screen TV in living room
Upgraded furniture
Located in middle of Disney corridor so just a 12-14 minute drive to Disney exits
The space
This beautiful home provides the perfect vacation retreat after an exciting day in sunny Florida. It offers free WI-FI and also free local and national phone calls to anywhere in the US and Canada. This rental home features a lovely Private Pool area with a spa and no rear neighbors. There is plenty of patio furniture ready for guests to unwind and relax. Inside of this gorgeous home is a wonderful open layout with a huge living room with a 70 inch flat screen TV, a large formal dining room, and a games room with a second 70 inch TV, making this home ideal for entertaining. This Florida Vacation Home has a Beautiful Master suite with a huge bath tub and large shower area. The other bedrooms are large and inviting, all with large closets. In a perfect location, this home is close to Disney, restaurants, shopping and all of the Attractions that Central Florida has to offer!
Guest access
You have access to the entire house for you to enjoy at your leisure. The property does have an owners closet which remains locked at all times and we ask guests not to even attempt entry.
Interaction with guests
As the management company looking after the house, we are available to you 24/7 in the event of any issues.
---
---
Security Deposit $359 NZD
Always communicate through Airbnb
To protect your payment, never transfer money or communicate outside of the Airbnb website or app.
Learn more
---
Check in is anytime after 4PM
Terms & Conditions
Property Description
All brochure, internet material and description are made in good faith, every effort is made to ensure their accuracy. However, in view of the detail contained advertised facilities may be restricted, curtailed, changed and cancelled. Such an event will not give rise to any complaint or claim against the property owner or its agent.
Limit of Liability
Exclusive Orlando Villa Rentals and property owners do not accept any responsibility or liability for any accident, injury, illness or damage to any person or their property however caused. Children must be supervised at all times when using the swimming pool.
Force Majeure
Exclusive Orlando Villa Rentals and property owners will not be liable for loss or delay occasioned by weather conditions, transport problems, strikes, riots, political unrest, war or threat of war, terrorist activity, industrial dispute, fire, flood, hurricane or any other event beyond the owner's control. We have built our reputation by providing high standards of accommodation and service to our clients. In the unlikely event that something is not to your satisfaction you must advise the agent immediately. We will do our utmost to resolve any difficulties.
Cleaning Responsibilities
Your cleaning fee is intended for a one time clean upon your departure. It is your responsibility to maintain the home in a neat and clean condition throughout your stay. Laundry facilities are provided for your convenience. You will be charged for leaving excessive dirty laundry. It is also your responsibility to wash all dirty dishes prior to your departure.
PLEASE OBSERVE POSTED GARBAGE PICK UP AND RECYCLE DAYS DURING YOUR STAY.
Noise/Nuisance
Tenants shall not disturb neighbors with loud noise or music, or unlawful unsafe pollution causing behavior. Should any tenant allow or participate in such behavior, tenants will be evicted and forfeit the remainder of the rental fee and the security deposit.
Owner's Storage
Tenants understand that certain areas of the rental unit are reserved for the use of the owner for storage or personal items, and are not for use by the tenant. Tenants may not force entry of such under penalty of trespass.
Pets
Unless expressly stated otherwise, no pets are allowed in the rental home. This includes pets staying in the home as well as pets belonging to day visitors. This is for comfort of future guests including those with allergies. Responsibility for allowing pets to access the home lies with the renter. We do offer several pet friendly homes if you wish to travel with your pets.
Check In/Check Out
Check in time is 4.00pm on your day of arrival. Should you require an earlier check in time this must be requested in advance and will be granted at the discretion of Exclusive Orlando Villa Rentals and the property owner. (Additional fee may apply).
Check out time is 10.00am, in order to allow housekeeping staff to properly prepare the home for the next guests it is important that you vacate the rental home by 10.00am. If you are still in the vacation home when housekeeping arrives you may be charged a late check out fee and will be required to vacate immediately. If you require a late check out this must be requested in advance and will be granted at the discretion of Exclusive Orlando Villa Rentals and the property owner. (Additional fee may apply).
Non-Smoking
All of our properties are non-smoking. Smoking is permitted outside of the home on the pool deck. We ask smokers to be mindful of their surroundings.
Keys
Upon arrival to the vacation rental, there will be a key to the home in the lock box which is located on or near the front door. There is a lock box code on your arrival directions. Enter this code into the lock box to retrieve the key that will unlock the front door. Please leave the key in the lock box at all times. In the unlikely event that you lock yourself out, there will be a $50 service fee during normal business hours and $75 outside of normal business hours. These fees also apply to lost keys. If a locksmith is required to gain access to the property, you will be responsible for their fees in addition to those fees listed above.
BBQ Grills
BBQ grills can be rented out from Exclusive Orlando Villa Rentals. If you chose to rent a grill it will be delivered to your rental home clean and fully gassed on the day of your arrival and collected and cleaned following your departure. If a grill is provided by the homeowner, use of this grill is at the discretion of the owner, in this case you will be responsible for cleaning and refilling of the gas if you choose to use the grill. All BBQ grills are to be used outside of the screened area only, it is not permitted for use on the pool deck.
Air Conditioning, Pool Heaters and Other Appliances
Please remember that you are staying in a privately owned vacation home and unfortunately from time to time appliances can fail. In the event of an appliance or pool heater failure, Exclusive Orlando Villa Rentals will work to repair any and all items as quickly as possible. As homes are individually owned we cannot refund any rental payments or move you to an alternative property.
Pool Heat
If you have ordered pool heat, please understand that should the outside temperature drop below 55 degrees, the pool heater may not work as it cannot heat the pool at that temperature or below. Exclusive Orlando Villa Rentals cannot be held liable for weather conditions and as such there will be no refunds for pool heating due to inclement weather conditions.
Trash
Guests are responsible for placing garbage out for collection on the appropriate day. Excessive trash left at the home on your departure WILL result in a charge for additional trash collection.
Complaints
We work hard here at Exclusive Orlando Villa Rentals to please you, however we are aware that from time to time issues may arise. As with all properties our homes encounter unexpected maintenance problems from time to time. If you are dissatisfied with your vacation rental at any time and for any reason, please contact us immediately, we will be happy to listen. We will do everything we can to ensure that your concerns are addressed and any necessary maintenance is taken care of. In the event that a concern was not raised during your stay, no compensation of any kind can be considered.
Default by Tenant
This agreement imposes an obligation of good faith in its performance and enforcement. Tenants understand that upon violation of any conditions, agreements, restrictions, covenants, and obligations of this rental agreement, owner may terminate this rental agreement and enter the property by force or by statutory proceedings, in which case any and all money paid by the tenant to owner will be forfeited by the tenant as liquidated damages in addition to, but not in lieu of any other right or remedy available under law.
POOL INSTRUCTIONS
The following applies only if pool heating has been booked and paid for.
Pool Basics
The pool filter system is timed to run automatically during the day. Make sure that the pool water is kept at the proper level. The water should be half way up the tiles around the inside of the pool. The pool heat is set approximately to 85 degrees and the spa is set to 102 degrees. The temperatures are locked and are not adjustable. To maintain 85 degrees on the pool during the winter months the pool cover must remain on when the pool is not in use and especially in the evening. The heater will heat either the pool or the spa, not both at the same time. The pool heater will run while the pool filter pump is running.
Spa Use
It will take at least 2 hours to heat the spa to 102 degrees. If you shut the spa off by turning the time to 0, the valves will change position and the hot water in the spa will be dumped back into the pool, leaving the spa with no warm water. The spa will remain on until the timer is back at 0 or the filter pump is shut off. Please make sure you turn the spa off when not in use so that the water can circulate back into the pool.
Troubleshooting
If the pool or spa is not heating, make sure that the filter pump is on and either the pool heater light or spa light is lit, walk to the side of the house and see if the heater is running (it is the large unit behind the pool filter) and the fan should be running and it should be blowing cold air. If it is running leave it for a while as it can take a while for it to heat the water especially if the temperature is below 55 degrees.
When the spa is run by a timer which is located on the wall at the back of the house DO NOT attempt to change any of the valve settings at the pool filter or spa filter. This could cause the spa to drain which will have to be refilled at your expense.
If the outside temperature drops below 55 degrees although the pool heater is still running and electric is being used, the actual water temperature will not reach the desired 85 degrees. We cannot be held responsible for the weather conditions nor give refunds when this happens.
If there is no timer switch to change the spa/pool setting you must use the instructions shown on the valves near the pool controls, as each home is different. If you have pre booked pool heating this will be turned on prior to your arrival, if you decide to have the pool heater switched on after you arrive, there will be a $25 call out charge added to the cost of the heating. If the pool heater fails to work, please report to the Management Company and they will call for an engineer, however, they are absolutely in the hands of the services technicians. They are not responsible as to how long this process may take. If there are parts to be ordered this of course will take longer. We appreciate under these circumstances, this would be an inconvenience to you but is in no way the fault of the Management Company. They will assess the situation and contact the homeowner or booking agent for a refund for any time the pool heater has not been working due to malfunction (this will not apply to the drop in temperature which is due to inclement weather conditions). Sorry, but no extra compensation is paid out for such unforeseen circumstances.
Please read the following as your acceptance below:
I understand that during my stay, and that all of the above persons, I accept full responsibility for our own health and safety whilst at this property and also that damage to the property during this time maybe be charged to my credit card. I further understand that it is a major condition of this reservation that the use of the swimming pool by the above persons is entirely at our own risk. The children in our party will not use the pool without adult supervision and I understand and accept that neither the owner of the property, the Management Company, nor the booking agency are responsible in any way for any accident or illness suffered by any of my party whilst staying at this property. In addition, although it is rare, I understand that from time to time a member of the management team may need to access the property in the routine course of their duties even if we are unable to be contacted. I hereby authorize the Management Company to charge my credit card above for any losses or expenses caused by our party. An itemized statement shall be forwarded to me at my home address within 30 days of my departure.
I CONFIRM THAT I HAVE SUPPLIED THE INFORMATION REQUESTED AND ACCEPT IN FULL THE CONDITIONS OF OCCUPANCY STATED ABOVE.
We expect all of our guests to treat this beautiful home with the respect it deserves. We expect them to leave the home as they found it. We appreciate accidents happen, so if that is the case we ask guests to contact the management company immediately.
We hope you all have a wonderful vacation!
---
---
---
We at Exclusive Orlando Villa Rentals provide an array of fantastic short term vacation rental homes, located in and around the Disney area. Anything from 3 bedroom town homes up to 6 bedroom executive homes complete with private pools and spa.
Languages:
English
Response rate:
100%
Response time:
within an hour
Explore other options in and around Davenport
More places to stay in Davenport: