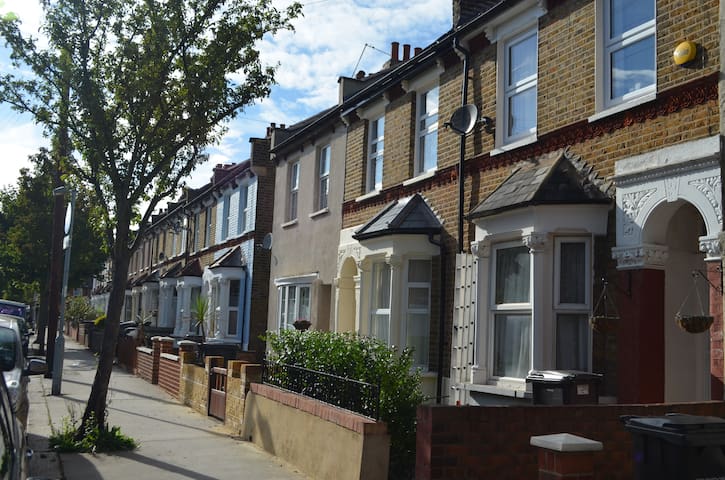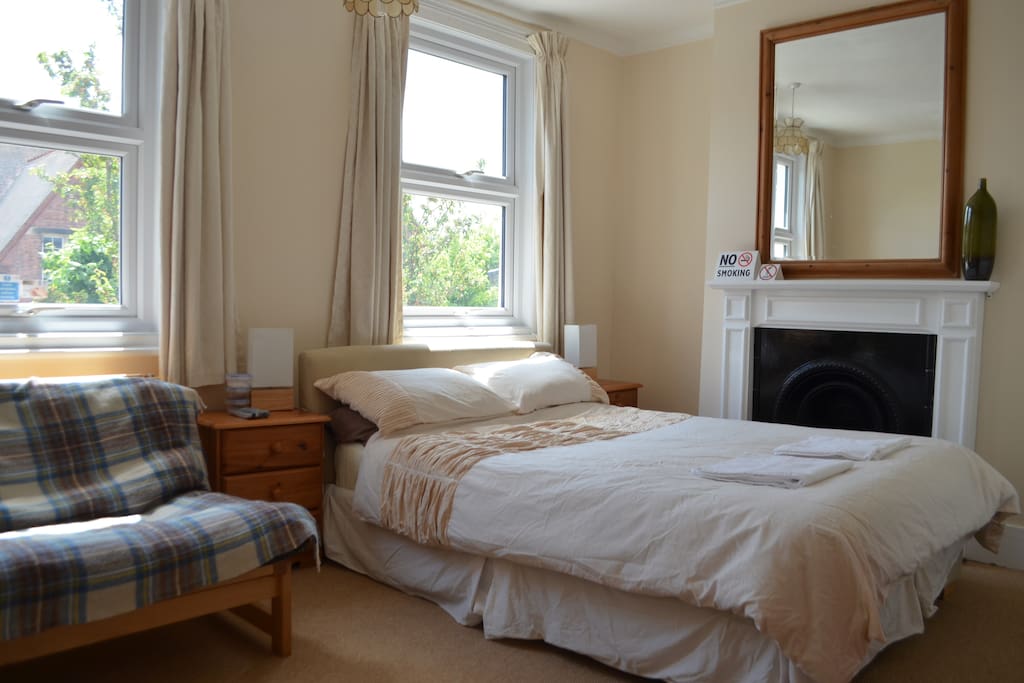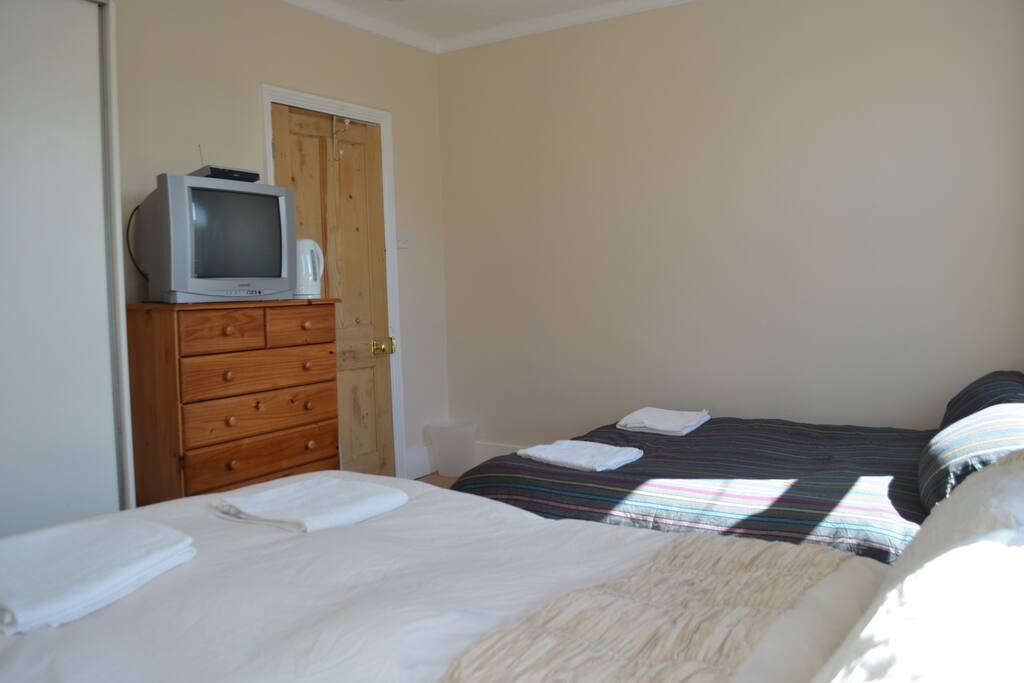 Wow! London Bridge in 12 minutes!
Enjoy excellent transport to London Bridge from Norwood Junction station, railway trains mostly take 12 minutes! Also on the London Overground, on any subway map. Gatwick's our closest airport: 20 min train, 10 min bus and 2 min walk from the bus!
The space
LOCATION
Our house is based in the suburbs of London, in South Norwood, which is in the London Borough of Croydon, 16km / 10 miles by road from London Bridge in the centre. We enjoy excellent day-time transport links to central London from Norwood Junction Station (zone 4), which is 0.8km / 0.5 miles away. Most of the railway trains to London Bridge from here take 12 minutes - you can use them with an Oyster card or Travelcard along with all other kinds of London transport for just £8.90 all day. These are very frequent express trains (5 to 7 trains per hour) from the south of England which make a last stop here before their final destination at London Bridge. Our local station is also on the London Overground network - similar to the tube (4 trains per hour) and appears on all London Underground maps (for more details on transport, see below). Gatwick is our closest airport 22 miles away (c.20 minutes by train from East Croydon, then 10 minutes bus or tram ride here, or 4 minutes on another train). We can also be reached by public transport from all other London airports.
THE HOUSE & BEDROOM
This Edwardian terraced house built in 1910, is designed over 3 floors. It is centrally heated, fully double glazed, newly carpeted and decorated, bright, clean and modernised. Your bedroom is located on the middle floor. This newly refurbished double room has a double bed with a firm, orthopeadic mattress, 2 bedside tables with bedside lamps, a chest of drawers and a wardrobe, large mirror, your own sofa for relaxation, a coffee table and a Freeview TV. The sofa can even be extended into a second double bed to accommodate 2 more people (in the same room). The room is 4.3m x 3.3m in size. In your room, clean sheets and towels, free broadband wi-fi, a kettle, tea, coffee, sugar and a mini fridge are included.
Guest access
PRIVATE BATHROOM
You will have access to your own, large, adjacent bathroom on the first floor, with shower over bath, where a washing machine is also available for use for a small fee. This private bathroom is reserved just for our guests and is on the same floor as your bedroom. We also have our own second bathroom with shower, so you don't need to share with us. We only have a child who needs a bath. We will make sure our child has a bath when you are out, so this will not affect your stay.
BREAKFAST
Breakfast is optional and is charged at only £2 each for adults (£1 for children under 10 year old), which is payable when you check-out. It includes cereals with milk (cornflakes, muesli or coco pops), toast (on brown bread), a selection of spreads including four kinds of jam (strawberry, raspberry, apricot, orange marmalade), lemon curd, butter and margarine, peanut butter and chocolate spread, English breakfast tea, fresh and instant coffee, hot chocolate, orange juice and fruit (usually a choice of bananas, apples, oranges, kiwis) and is served in the dining room.
Please check the house rules for other details on guest access.
Interaction with guests
ABOUT US
We are husband and wife, both professionals; we live in the house and keep the place clean and tidy. We have two children and also a cat, Ronnie, who is confined to the ground floor and is not able to get upstairs. There are no other B&B guests staying in the house to share with, although we may have other members of our family staying with us sometimes (using our bathroom, not yours). This is a friendly and homely household. We're looking for guests that are non-smoking (or smoke outside), equally tidy, easy going and considerate. We are happy to help you on your travels and able to give you lots of advice about visiting London and how to get around. We often help people over breakfast - an ideal time to chat!
Other things to note
FREE PARKING!
Plenty of free, non-restricted street parking is available right outside the house. Parking is therefore free 24 hours a day, 7 days a week! You will not find this in the majority of London. (Please do not park in the disabled bay further down the road, which is for a disabled neighbour).
SECURITY
All areas of the house have smoke / fire detectors and extinguishers. Each one can turn on all the others, making a massive loud noise everywhere, so you will be very safe! The keys use EVVA high security locks which are copy-protected and the house can be alarmed at night. We are fully insured for public liability up to £2 million. Beware of other listings that do not offer the same level of (or any) security and insurance.
---
---
Extra people $21 NZD / night after the first guest
Security Deposit $146 NZD
Always communicate through Airbnb
To protect your payment, never transfer money or communicate outside of the Airbnb website or app.
Learn more
---
• I will need to take a photo (or you can give me a photocopy) of your identification (passport or EU driver's licence), especially if you haven't confirmed your identity on Airbnb and you want a key.
• When a key is provided, there is a key deposit payable upon arrival of £50 GBP (65 Euros; or $85 US Dollars), which will be refunded to you upon return of the key. The keys and lock are an expensive, high security type by EVVA (copy-protected) and my household needs 5 keys. If you lose it, I have to replace it all. This deposit is separate to Airbnb's deposit which is for any damages (e.g. broken cup, ruined towel, etc).
• When a key has been provided, there is no curfew - you may come and go whenever you want. If a key is not provided, we would ask you to be back here by midnight.
• You must lock the front door when arriving late at night or if you are the last to leave in the morning. I will show you how to do this. You must also lock your windows whenever you leave the property. Leaving the house unlocked will invalidate our insurance if this is the cause of any loss.
• The living area door (to kitchen, dining rooms and the back garden) will be locked at night and when we are not there.
If we are at home, it will be opened when you want to have breakfast (I will ask you what time).
• Use of the dining room and kitchen is only during your breakfast and also only if this is convenient to us (it usually is, don't worry!) At other times, this living area is our personal space.
• No cooking in the kitchen - our B&B insurance does not include this.
• Breakfast in the dining room is offered any time from 8:30 am to finish by 10:00 am. One of us will be there to assist you. Breakfast is self-service: plates, bowls, cups, glasses, cutlery, fruit, bread, milk, jams, spreads, butter, cereals and tea / coffee for breakfast will be left on the dining table. When you have finished, you are welcome to help us tidy up. Thanks!
• Due to our working shifts, it is unavoidable that on some days, my wife and I are both out early in the morning and breakfast cannot be offered.
We can always offer breakfast on Friday, Saturday, Sunday and Monday. Tuesdays are impossible. We may not be able to offer you breakfast on Wednesday or Thursday - we can tell you more the day before. However, there are lots of options for breakfast in the local area. For example, many of our guests enjoy experiencing a traditional English Breakfast in a local pub.
• Please leave the kitchen / bathroom / dining room and your bedroom tidy after use and when you leave.
• We are very conveniently located for night-time travel for early morning flights and the Eurostar. If you need to leave or arrive in the middle of the night for travel arrangements, this can be arranged.
• Bags can also be left before and after your stay, but this cannot be guaranteed as it may not be convenient for us when you want to collect them. Please check before your stay.
• No smoking indoors; please smoke outside, on the street.
• No burning of candles.
• No shoes indoors - take them off in the hallway near the front door. If you prefer, you are welcome to wear clean indoor slippers.
• Please be careful with your suitcases - avoid scratching the paint on the walls.
• Please try to avoid staining the towels. Please do not wipe make-up into the towels - use tissues / make-up pads and cold-cream to remove it first. Stains from make-up such as mascara takes hours of soaking to remove. If stains cannot be removed after 12 hours of soaking in Oxy-Clean, you will be charged £3 per towel ruined.
• Respect your neighbours and avoid unnecessary noise. Please try to avoid talking loudly and turn down the volume after 10:30 pm.
• Check-in time: is often very flexible and needs to be arranged with us before your stay. The room is available as soon as it has been cleaned and as soon as we are at home to receive you. It is usually clean from 4 pm (the latest would be 7:30 pm) and you can check in until 12:00 am (midnight). If you need to check in later than midnight, there is a small fee of £10 GBP.
• If a very early check-in has been agreed, often the room is not yet ready, but you can leave your bags here and use the room & bathroom later in the day. If the bedroom and bathroom are ready, you can use them straight away. The readiness of the rooms is dependant upon whether there were any guests the night before.
• Check-out time: on or before 10:30 am. If you need to check out later than this, there is a small fee of £10 GBP and cannot be guaranteed.
• No additional guests or visitors other than those confirmed on the booking.
• Your bedroom and bathroom will be perfectly clean with the beds already made when your stay begins, but they will not be cleaned again by us until you leave. If you have an accident, please clean it yourself (please ask for cleaning products if you need them). If your stay is longer than 1 week, we shall provide clean sheets and towels but you are responsible for changing your own bed sheets as well as cleaning your bedroom and bathroom yourself. We shall wash your dirty sheets and towels at no extra charge. If there is an accident with your towel or sheets, please do ask for a fresh one straight away (extra towels are 50 pence each).
• If you are leaving, have some spare time and are feeling kind, please do strip the beds, pillows and duvets and place the covers / sheets and towels in the bathroom on top of the washing machine for us to wash. We will be very grateful for your assistance in your review and we certainly notice these "small" things that really help :)
• Please email us before your arrival to let us know when you are arriving and to arrange a mutually convenient check-in time; I am always happy to help you with transport information and can book you a taxi (cheaper than trying to catch one yourself).
• If you have any problems during your stay, please let us know immediately while you are here. We always try our best to help and are happy to listen to whatever you have to say. We can't do anything about a problem after you have gone! :)
• When this is convenient to you, please let us know when you would like to check out so we can arrange a time for you to return the key, return your deposit and pay for any breakfasts.
• Please leave a review! :)
You must also acknowledge
Cat(s) live in the house
---
---
---
Philip and Shannon made us feel welcome and gave lots of tips on transportation and happenings in London. (Winter Wonderland was actually a lot of fun.) On our last day, Philip changed his plans to let us check out later than originally agreed, so that we could directly travel to the airport. We enjoyed the stay and recommend location and hosts.
---
It was our first Airbnb experience and Houghton family made sure there are many more to come. Getting to downtown London was easy and convenient and the room was cozy and very clean. Specially we (a couple with two teenage girls) enjoyed the morning breakfast as it was the great opportunity to engage in interesting conversations with the very friendly host.
---
We enjoyed our staying in the house of Philip and Shannon and there lovely baby Clara very much. The room looks exactly the same as in the picture and it was clean and silent. We had a bathroom for our use. Philip and Shannon where very helpful, also our change of the arrival time was no problem. All things considered it was a comfortable accommodation and we will come back to Philip and his family next time we visit London again.
---
We booked for the first time via AirBnB and we have been in the house of Shannon and Philip for one week. My wife and me have been well prepared by Philip: he gave us special tipps, the complete traffic connection (extremly helpful!) and last but not least: Shannon and Philip were very friendly and we felt welcome. The room was clean, nice furnished, there everything we needed for the week (exactly as it was written in the description). The bathroom was also clean and it had enough space. Lovely! In the surrounding area there was a Tesco supermarket and an English pub called Albert (also a tip by Shannon and Philip).
---
I stayed with Philip and his family for a few days with my son, they were all very accommodating and the room was just like the picture! all in all we had a comfortable stay and would not hesitate to recommend them to anyone interested in staying with them!!
---
Philip and Shannon are awesome people and we enjoyed our staying in their house. The room looks exactly the same as in the picture, clean and we also had a bathroom for our use. The directions that Philip wrote are really helpful, we foung the house quite easy. I especially appreciate actual information about traffic under reconstruction which Philip gave us before we diceded to book the appartment. We printed all the materials from here - helped! Even it looks far from city centre it actually is not, we were at Victoria in 20 minutes. You can buy food really close, Tesco is just around the corner. For shoppoholic there is also big Primark on East Croydon (thanks Shannon!) with the same goods as the on Ox.street has, and without crowds. We also enjoyed breakfasts which are served by Shannon for 2 pounds. Great. So thank you guys once again and enjoy your holiday in Prague!
---
The room is spotless, and you have your own bathroom (not in the bedroom). Philip and his family respect your privacy, and would help you whenever you need. He gives the best advice as to transportation and I totally appreciate it - saved me a lot of trouble and money! I had a very pleasant stay in London.
---
I'm Philip, a married man with a teenage son and baby daughter. I play the violin and love to sing with my wife Shannon, in the BBC Symphony Chorus where we met. I also love to watch films and TV shows, especially documentaries and science fiction. My wife is into American soaps, romantic comedies and cooking programmes. We both love to watch Dallas, Game of Thrones, Mad Men and Dragons Den. My wife works in a professional services company; I am a supply teacher and work part-time. We both love to travel, my wife is Australian, so we have been there. Also, New York, Hong Kong, Langkawi and Kuala Lumpur (Malaysia), Paris, Italy, Czech Republic are amongst our favourite places. In New York we saw the show "Chicago", which we loved; we also went to the Met Opera to see Otello. I'm a pleasant, friendly sort of person who will greet you with a smile, as is my wife.

My favourite quotes:
"Life can only be understood backwards; but it must be lived forwards." Johann Wolfgang von Goethe
"Reality is merely an illusion, albeit a very persistent one." Albert Einstein
Languages:
English
Explore other options in and around London
More places to stay in London: