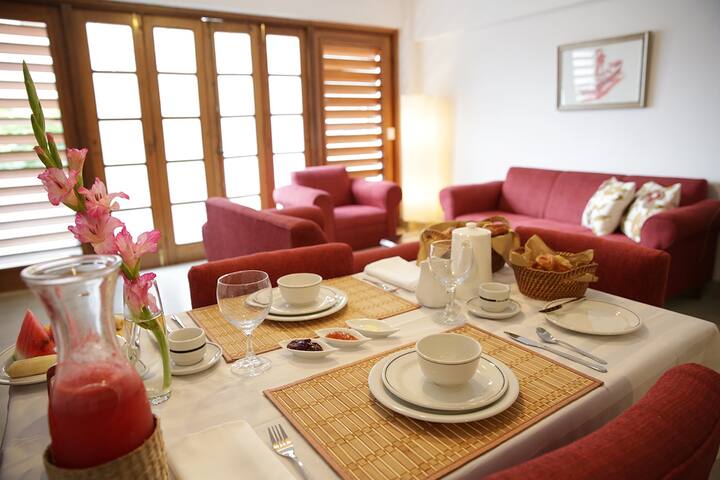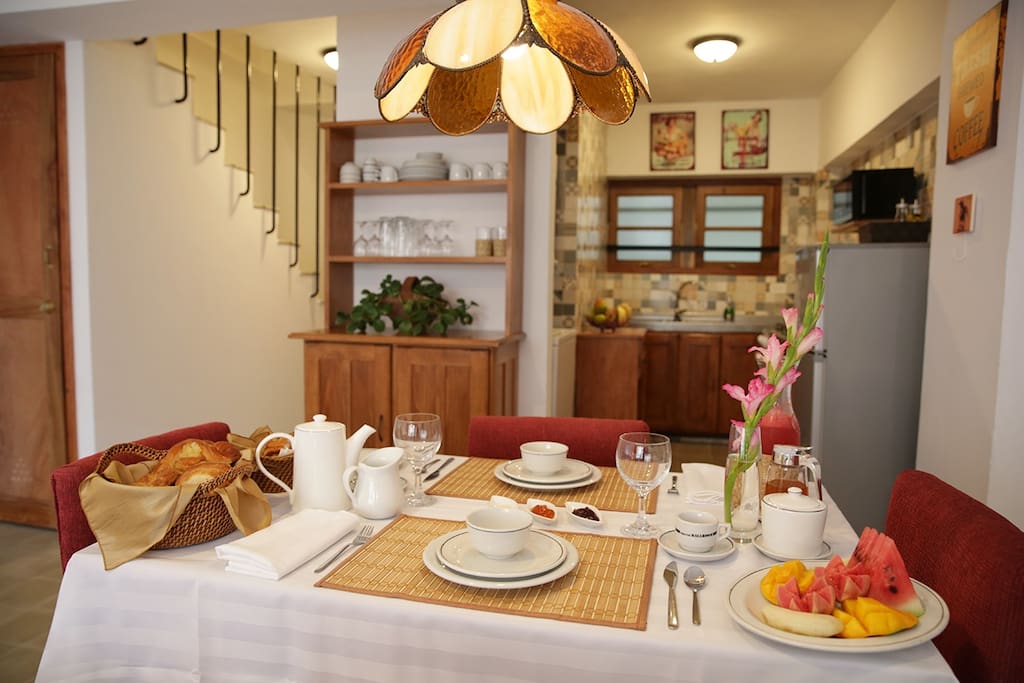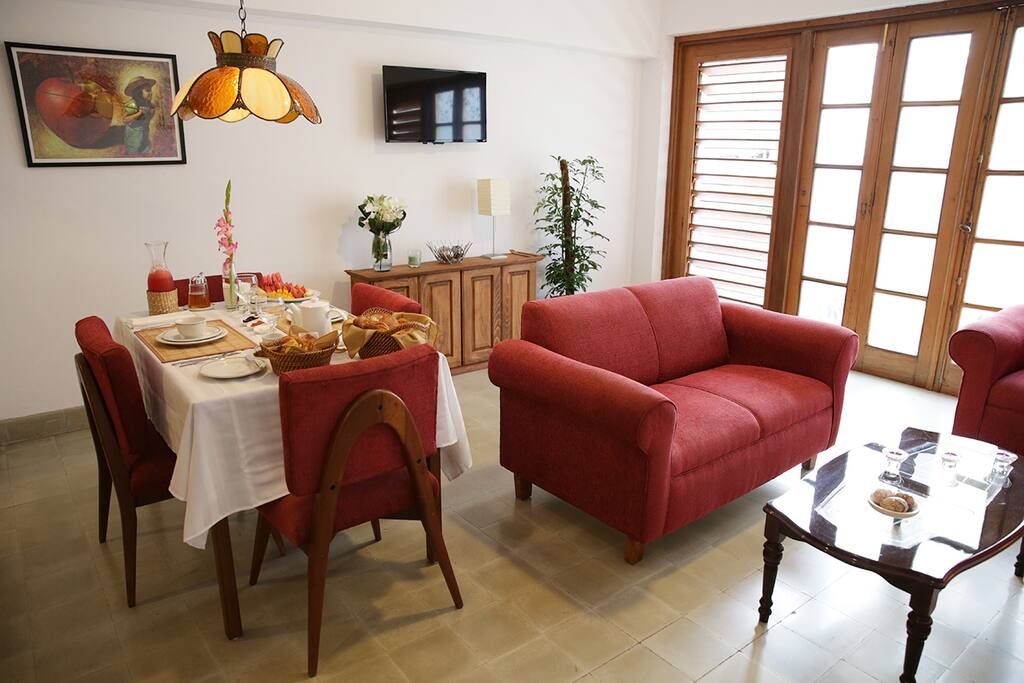 Charming duplex apartment, just a block from the Malecon and La Rampa, 5 min away from Old Havana. Two bedrooms with private bathrooms, air conditioned, fully equipped kitchen, balcony to an interior garden. The perfect spot to wander between Old Havana and Vedado, and a little far away!
The space
This is a perfect place to rest if you are coming for a business trip or want to wander around city while staying just in the center of everything.
Just a 10 min walk from Old Havana, just 2 min from Vedado. Near La Rampa and El Malecón, close to National Hotel and Habana Libre Hotel, easy access to any place in the city.
The building where the apartment is located was designed by the architects Arroyo & Menendez, both prestigious architects of the 50's, authors of emblematic constructions in Cuba as The National Theater, "Ciudad Deportiva" Sports Coliseum and the former Habana-Hilton Hotel, today Habana Libre Hotel.
Guest access
We rent the entire apartment, two bedrooms, each with air conditioning and an en suite bathroom. The apartment has two levels. In the main one there is a living room with a balcony facing an interior garden and with views to the street, a small dining area and a fully equipped kitchen, this level is air conditioned. There is also a guest bathroom just at the entrance, and the stairs to the upper floor. Both bedrooms, each with an en suite bathroom, are upstairs. Bedrooms are air conditioned. There is a safe in one of the bedrooms. Hot and cold water available.
The apartment is located in the first floor of the building.
Interaction with guests
You have free access to the entire apartment, and will not shared it with nobody else.
The housekeepers, Tania and Pepe, live in the ground floor of the building so they will be at reach all the time.
If you prefer to be let alone, just let them know. You are also free to agree with them when you will prefer we do the housekeeping during your stay, or ask them for anything you might need.
Other things to note
Please, let us know your expected arrival and departure times. We have set check-in and checkout times to allow us for complete cleaning and preparation tasks between bookings. But it might be possible for us to receive you earlier or to allow you to leave later than the informed times, just verify in advance with us. We will try to accommodate to your needs as far as possible.
We offer breakfast service at extra charge, and on request. You are free to use the kitchen facilities to store and cook your meals.
We will fill the refrigerator with beverages, bottled water, beers, etc. However these are for extra charge. There is a board fixed to the refrigerator with the price list.
Laundry service is also provided at extra charge.
We can help you to arrange airport transfers, or any other kind of transportation while you are in the house. Just let us know in advance.
Electrical outlets are the same than in US. 110V & 220V outlets, clearly identified.
---
---
Bedroom 1
1 double bed, 1 single bed
---
Check in time is 2PM - 10PM
Common-sense, just be nice, respect the place, do not make a lot of noise (specially after 11pm), let us know if there is something you do not like or you need so we can try to satisfy.
You may bring visitors to the house, but they cannot stay.
Smoking is allowed only in the balcony.
---
Overall it is a very good experience to stay in such a modern and spacious apartment in La Habana. That area feels quite safe, although you need to take a taxi everyday to the old Habana. The kitchen is modern so you can do some simple cooking. They clean your home everyday , which is quite a plus. If you pay 5CUC, you can have a quite nice breakfast provided by a nice lady. Pepe and Tania are very nice and helpful person. They speak a little English but you will have no problem to understand them.
---
If you are an American traveler, read the end of my review. Viena represented Tania and Pepes place on Espada. Viena communicated great, and answered all of my questions before our arrival. Which of course was tricky because we arrived after hurricane Irma and would be staying while storm Maria's course was somewhat unknown. Viena was flexible if we needed it and reassured us as well with reports of local conditions. The unit is nice and what we expected. Viena connected us with Arlex, who picked us up and transported us to the house very late. This streamlined our arrival and was extremely helpful. The next morning Arlex gave us a multitude of options and costs for activities. If you stay, please utilize Maria for breakfasts. She is an outstanding person who makes a phenomenal breakfast and makes you feel welcome. Compared to local fare nearby, you can't go wrong. If you speak English only, you may have some challenges with Tania and Pepe. Luckily, our group was fluent in Spanish, so no issues. They are gracious hosts. For the American Traveler: Please understand this destination is not a deal or cheap. Its not intended to be that way with the convertible currency called the CUC. You will pay more for what you feel you are getting in conditions/etc. That is the way it is. Do your research and be prepared. Be on your toes the moment you arrive. Its not a relax and stroll around type of city. Every single intersection, market, cab, e.t.c is trying to get a tip or get money out of you. Albeit in the nicest passive aggressive manner necessary. Everyone is quite nice. However, they will attempt to re direct your travel to show you things, take you places, e.t.c. Stay your course! Study maps before going, have a destination, and do not linger on an intersection getting your bearings. (SENSITIVE CONTENTS HIDDEN) Maps will not download. I tried in the wifi areas to download offline maps and it will not. So get your screenshots or map data before you arrive. This way you are prepared. The city is easily walked and very navigable. In fact, if you are healthy and able to walk, most areas they recommend a cab its not needed. We would typically opt for one late to expedite the way back. Also, be aware of you party size. Most of the 'yellow' cabs will only seat up to 4 people. Then you need two cabs. The old cars can take 5. Our party had 5 people, and often we would through in another couple bucks to jam into one. We have heard of several people getting scammed on the road to Vinales. The tourist tries to negotiate a lower fare, and cab driver only goes half way or so and extorts more money to finish the trip. So if you are on your own, use a cab a few times before a long trip such as that. After speaking to a few...
---
Hi I will like to said that our experience in Havana couldn't be more espectacular than it was . Viena apt is beautiful close to malecón . Pepe and Tania are espectacular person they make sure we have everything we need and always ready to go above and beyond to make sure we have an great time in Havana. The breakfast service is very good I recommend it we just used 1 time because the rest of the days we wake up to late after a long nigth of having fun lol . If you need a taxi please let Viena know to send you Geomar I just going to put it this way he is awesome , he will make sure you have the time of your life . if you are going to Havana Vienna apt is your place .
---
Great value for the property. Apartment was very clean and in a secure building. Viena ensured we had a point of contact while she was away during our stay. The below tenants were very helpful, providing us with a taxi to the airport our final day. Viena maintained fantastic communication up to and during our stay. The location is near the Malecon but requires a taxi drive to the Plazas and Museums (about $10-$15). Overall, a wonderful property! Highly recommend.
---
This house was beautiful. A comfortable, clean, air conditioned haven in Havana. Tania and Pepe, the housekeepers, were incredibly welcoming, friendly, and helpful. Maria, who makes a GOOD, filling, fresh breakfast for 5 CUC, was lovely and a wonderful cook. The house is cleaned daily. We got our laundry done. There was water in the fridge. The neighborhood was close to the Malecon and everywhere we needed to be. Easy to catch cabs if you walked toward Hotel Nacional. We had family staying there by the way for 5x what we paid and this AirBnB was nicer than their room, and had more space. It's one of the best places I've stayed. Highly recommend. I speak Spanish so talking to Tania and Pepe wasn't an issue, but havee translate downloaded on your phone if you aren't a Spanish speaker. Viena was super communicative and is fluent.
---
Connections and possibilities are my two key words: making connections among people, things, ideas... and dreaming up possibilities of any kind. Professionally I have a 20-years combined experience as a programmer, webmaster, database manager, customer support specialist, oper…
Languages:
English, Español
Response rate:
100%
Response time:
within an hour
Explore other options in and around La Habana
More places to stay in La Habana: