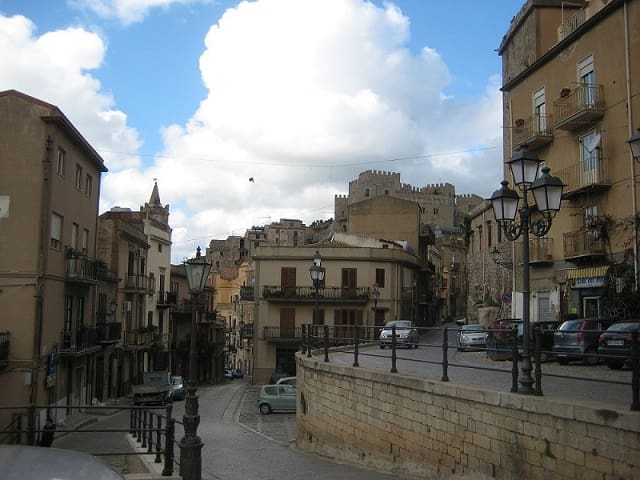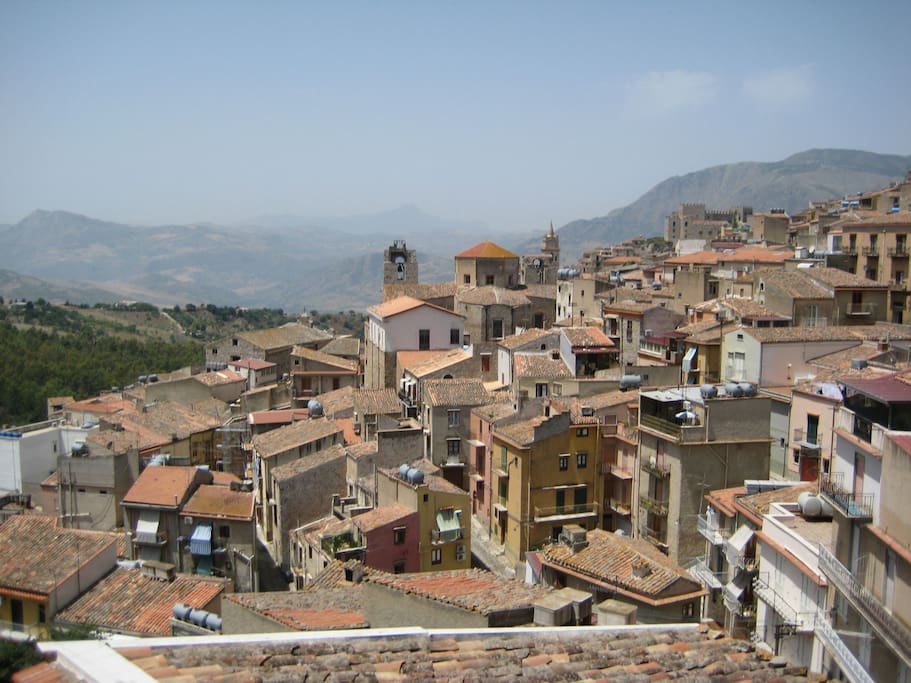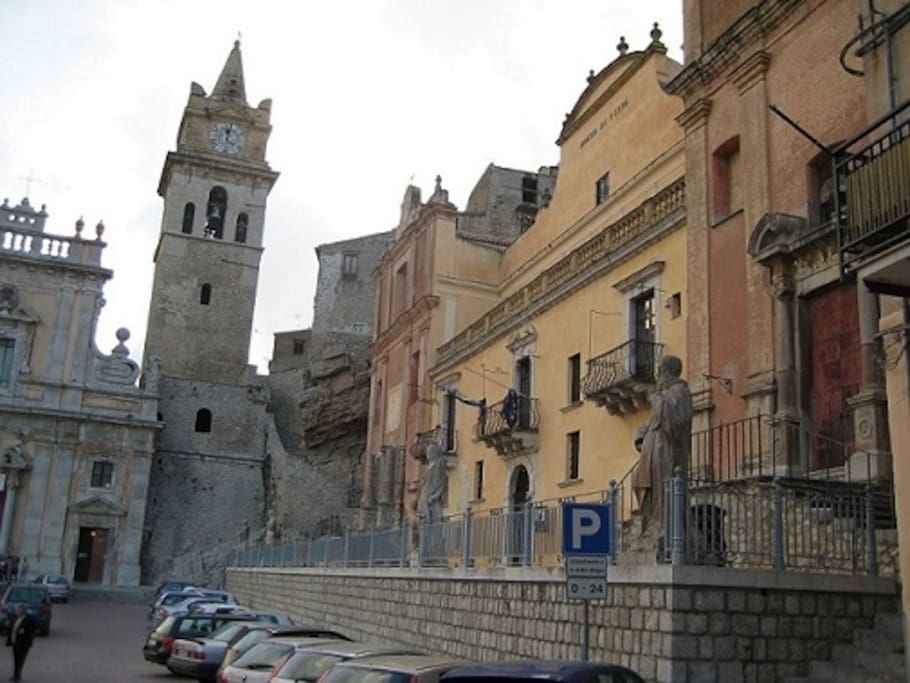 The space
I kindly invite you to spend your holidays in my Sicilian house which is located in a historical part of the unique medieval town Caccamo. Caccamo is located at 520m above sea level between dramatic hills, on the slopes of Monte San Calogero. The town has rich artistic traditions and legends, folkloristic and gastronomic traditions to cherish. The cobbled stone roads lead their way to the majestic Castle of Caccamo, the third largest castle in Italy. There are 33 churches around and many other places to discover, enjoy and remember. Located below the town is Lago Rosamarina. This lake is the largest artificial lake in Sicily. It offers windsurfing, sailing and water skiing. A sport centre is adjacent to the lake, which provides many sports such as boating, horse riding, fishing and various trekking activities. Caccamo itself is ancient and historic, a typical Sicilian town in the way the people welcome all and life is so laid-back that stress is a word unknown. A place you will always want to return to, making Caccamo your dream home.
My house has 4 floors. For my guests I offer a comfort staying in two bedrooms, with double bed, TV, wardrobe and bathroom in each room. My fully equipped kitchen is completely to your disposal. I love to cook and would like to offer you breakfasts and dinners (for additional price), hope to surprise you by the dishes of Russian, Italian and Sicilian cuisine.
Caccamo is located in 75 km from Palermo airport, 45 km from centre of Palermo, 10-20 km from major beach zone (Trabia, Cefalù, Campofelice di Roccella), 9 km from Termini Imerese where you can have treatments with rich thermal water and mud. Mount Etna is easily accessed also by the motorway. You can arrive here by car, train and bus or I can organise a transfer for you.
Caccamo is a peaceful, friendly and trouble-free little town that warmly welcomes visitors, whatever race and colour they might be. Welcome to Caccamo!
---
Our stay in Caccamo at Irina's place was unbelievable. Her apartment was in an excellent location in the secluded town of Caccamo a few minutes from the Castle and Duomo. It was a perfect trip outside of the city which was relaxing. Peppe met us and showed us where to park and was extremely helpful the entire time. I traveled to Caccamo with my dad and brothers and our great grandparents were from Caccamo. Irina went out of her way to contact the Comune of Caccamo and find out details about our family history. She even organized a dinner with over 15 people some of which were distant relatives. We learned a ton and traced our family roots back to the 1700's. I highly recommend her place to everyone looking to visit Caccamo. Grazie Mille, Irina
---
Staying with Irina was great. Irina was very accommodating and helpful, she showed us places to go in Caccamo and made a delicious dinner on our last night. Her kids are young but very smart and a pleasure to talk with. The town is remote and beautiful, it is close enough to bigger tourist areas without any chaos of a big city. We would definitely go back.
---
Замечательный дом, находящийся в спокойном месте и обеспечивающий измождённому от жары гостю приятную и расслабляющую прохладу. Имеется всё, что достаточно для путешественника: удобная двуспальная кровать, вместительный шкаф для одежды, газовая плита, стиральная и посудомоечная машина, отличная ванная комната с душевой кабинкой или ванной, на выбор. Для перемещения по Сицилии из Каккамо в 15 минутах ходьбы от дома находится автобусная остановка. До ближайших продуктовых магазинов примерно 7-10 минут неторопливым шагом. Кроме того, дом расположен не на дороге - автомобили не мешают сну. Отдельно отмечу хозяйку Ирину. Она обеспечивает гостя полной информацией, организовывает трансфер, очень общительна и дружелюбна. Ирина - надёжный человек, у которого стоит отдыхать. Единственное, на что следует обратить внимание - это Wi-Fi. Во время нашего отдыха непосредственно в доме интернет отсутствовал. Проблема решалась походом в кафе в 5 минутах от дома, где нам был предоставлен беслпатный интернет. Но если очень важно именно интернет дома - следует уточнять этот вопрос. Резюме. Очень рекомендую данное место для отдыха. Атмосфера средневекового города незабываема. Очень доброжелательные местные жители, прекрасная погода и вкуснейшие продукты. Советую всем.
---
Welcome to Sicily! This is a Heaven on the Earth! Everybody can find anything special and pleasant for himself, whatever you are looking for: beautiful mountains or warm sea, delicious and always fresh meat, fish and seafood or many different types of vegetables and fruits all ye…
Languages:
English, Italiano, Русский
Response rate:
100%
Response time:
within a day
Explore other options in and around Caccamo
More places to stay in Caccamo: