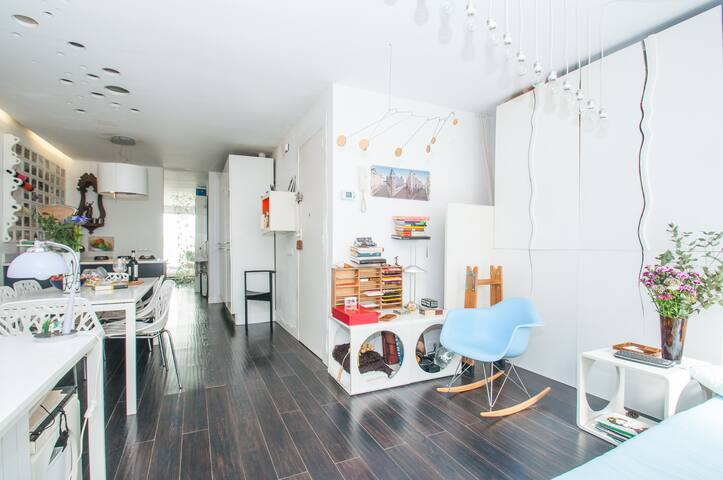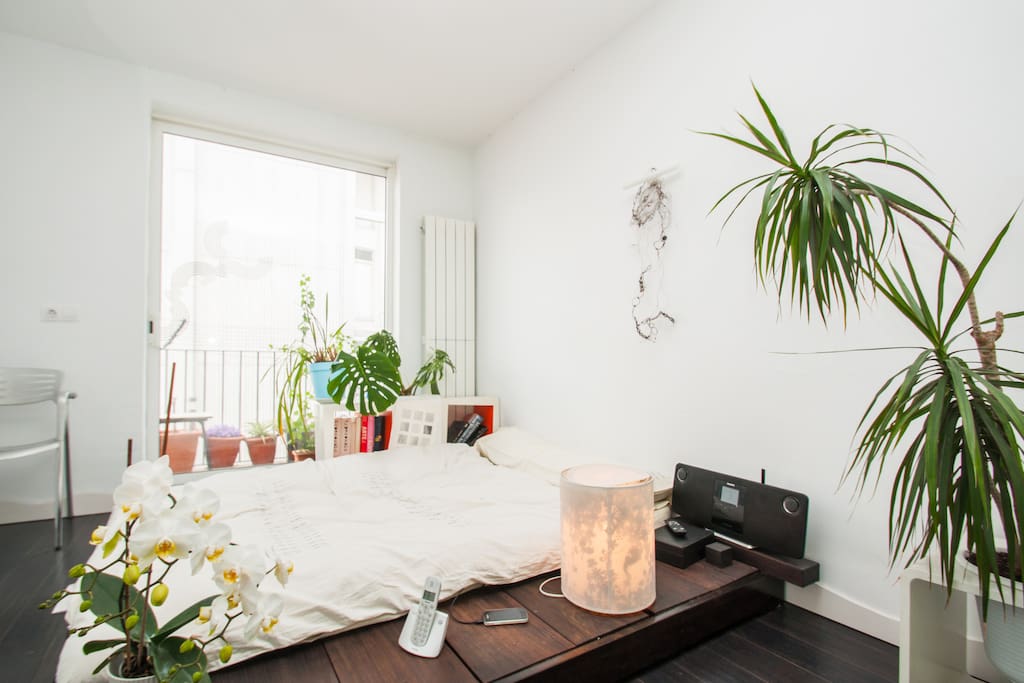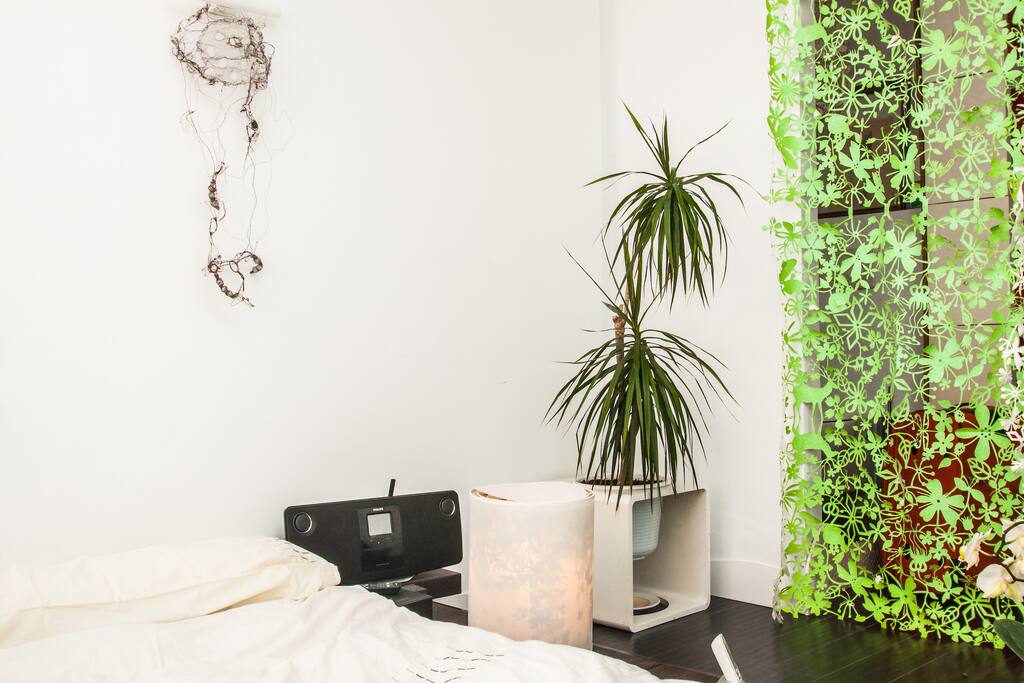 The space
One bedroom apartment by the magic Fountains of Montjuic (Plaza España). Close to CaixaForum and Mies van der Rohe Pavillion. Close to Montjuic International Trade Show.

If you like the style you will find it very cosy and nice, There are no doors.

There is no sofa in the living room. Instead, there is what I call the chillout. My guests usually sleep there but some of them find it too rigid. It's cotton futon.

There is no TV but you are in Barcelona: there's no time for TV, right?

I live here so all my stuff is all arround. I'll make room for yours.

I'd be glad to have a cofee with you and give you some advice about the city in case you want it.

It would be lovely if you feel like leaving your "piece of art" in the little frames above the sink in the kitchen (see pictures of the kitchen)).

I have an smartphone to lend you with an Spanish number and internet connection so you can use maps, (Hidden by Airbnb) ...
Use of internet is free but the calls you make are not included. The phone is not always available.


PHARMAPROCESS
29 oct 2013 - 30 oct 2013

Innovation Forum in Pharmateutical Process
Profesional
(Website hidden by Airbnb)


SALÓN DEL MANGA
31 oct 2013 - 03 nov 2013

Salón del Manga
Público
(Website hidden by Airbnb)
Noviembre


EXPOMINER-COLECCIONA
08 nov 2013 - 10 nov 2013

Salón Internacional de Minerales, Fósiles y Joyería
Público
(Website hidden by Airbnb)


FAMILIAS NUMEROSAS
09 nov 2013 - 10 nov 2013

Salón de Familias Numerosas de Catalunya
Público
(Website hidden by Airbnb)


EVS27
18 nov 2013 - 20 nov 2013

Gran Via
Simposio y Exposición de Vehículo Eléctrico
Profesional
(Website hidden by Airbnb)


SMART CITY EXPO WORLD CONGRESS
19 nov 2013 - 21 nov 2013

Gran Via
Smart Society for Innovative and Sustainable Cities
Profesional
(Website hidden by Airbnb)


BCNRAIL
19 nov 2013 - 21 nov 2013

Gran Via
Salón Internacional de la Industria Ferroviaria
Profesional
(Website hidden by Airbnb)


EIBTM
19 nov 2013 - 21 nov 2013

Gran Via
Salón de la Industria de Viajes de Negocios, Congresos e Incentivos
Profesional
(Website hidden by Airbnb)


OCASIÓN
29 nov 2013 - 08 dic 2013

Salón del Vehiculo Garantizado
Público
(Website hidden by Airbnb)
Diciembre


AUTO RETRO
05 dic 2013 - 08 dic 2013

Exposición de Coches y Motocicletas de Colección
Público
(Website hidden by Airbnb)


INFANCIA
27 dic 2013 - 04 ene 2014

Festival de la Infancia
Público
(Website hidden by Airbnb)


INFANCIA
27 dic 2013 - 04 ene 2014

Festival de la Infancia
Público
(Website hidden by Airbnb)

Enero

EXPOHOGAR PRIMAVERA
17 ene 2014 - 20 ene 2014

Salón Internacional del Regalo y Artículos para el Hogar
Profesional
(Website hidden by Airbnb)
Febrero


MWC
24 feb 2014 - 27 feb 2014

Gran Via
Mobile World Congress
Profesional
(Website hidden by Airbnb)


MPOWERED INDUSTRIES
24 feb 2014 - 27 feb 2014

Mpowered Industries
Profesional
(Website hidden by Airbnb)
Marzo


COSMOBELLEZA
08 mar 2014 - 10 mar 2014

Gran Via
Salón Internacional de la Estética y la Peluquería
Profesional
(Website hidden by Airbnb)


EWEA
10 mar 2014 - 13 mar 2014

Gran Via
European Wind Energy Association Annual Event
Profesional
(Website hidden by Airbnb)


ENSENYAMENT
12 mar 2014 - 16 mar 2014

Salón de la Educación
Público
(Website hidden by Airbnb)


E-SHOW
12 mar 2014 - 13 mar 2014

Congreso & Exposición Internacional de E-Commerce, Publicidad Digital, Hosting & Cloud y Redes Sociales
Profesional
(Website hidden by Airbnb)


FUTURA
14 mar 2014 - 15 mar 2014

Salón de los Masters y Postgrados
Público
(Website hidden by Airbnb)


PASSENGER TERM. EXPO
25 mar 2014 - 27 mar 2014

Gran Via
Feria y Conferencia Internacional de Tecnología, Seguridad, Operaciones, Gestión y Diseño de Terminales de Pasajeros
Profesional
(Website hidden by Airbnb)


ALIMENTARIA
31 mar 2014 - 03 abr 2014

Gran Via
Salón Internacional de la Alimentación y Bebidas
Profesional
(Website hidden by Airbnb)
Abril


TURISME
04 abr 2014 - 06 abr 2014

Salón Internacional del Turismo en Catalunya
Mixto
(Website hidden by Airbnb)


EXPO ECOSALUD
04 abr 2014 - 06 abr 2014

Salón de la Salud y la Calidad de Vida. Productos Naturales, Ecológicos y Dietéticos
Mixto
(Website hidden by Airbnb)
Mayo


FIRA CÓMIC
08 may 2014 - 11 may 2014

Salón Internacional del Cómic de Barcelona
Profesional
(Website hidden by Airbnb)


BEBÉS&MAMÁS
10 may 2014 - 11 may 2014

Feria del Bebé y la Futura y Reciente Mamá
Público
(Website hidden by Airbnb)


ELA
14 may 2014 - 15 may 2014

European Lab Automation
Profesional
(Website hidden by Airbnb)


MIHEALTH
21 may 2014 - 23 may 2014

Health Management & Clinical Innovation Forum
Profesional
(Website hidden by Airbnb)
Junio


SIL
03 jun 2014 - 05 jun 2014

Salón Internacional de la Logística y de la Manutención
Profesional
(Website hidden by Airbnb)


BIZBARCELONA
04 jun 2014 - 05 jun 2014

Soluciones para Empresarios y Emprendedores.
Profesional
(Website hidden by Airbnb)
Agosto


ESC CONGRESS
30 ago 2014 - 03 sep 2014

Gran Via
European Cardiology Congress
Profesional
(Website hidden by Airbnb)
Septiembre


SEAFOOD BARCELONA
22 sep 2014 - 24 sep 2014

Gran Via
Seafood Barcelona
Profesional
(Website hidden by Airbnb)


NÁUTICO
24 sep 2014 - 28 sep 2014

Port Vell
Salón Náutico Internacional de Barcelona
Mixto
(Website hidden by Airbnb)


EXPOHOGAR OTOÑO
26 sep 2014 - 29 sep 2014

Salón Internacional del Regalo y Artículos para el Hogar
Profesional
(Website hidden by Airbnb)


EQUIPLAST
30 sep 2014 - 03 oct 2014

Gran Via
Salón Internacional del Plástico y el Caucho
Profesional
(Website hidden by Airbnb)


EXPOQUIMIA
30 sep 2014 - 03 oct 2014

Gran Via
Salón Internacional de la Química
Profesional
(Website hidden by Airbnb)
Octubre


SEVC
16 oct 2014 - 18 oct 2014

49 Congreso Nacional de AVEPA y 8ª edición de SEVC- Southern European Veterinary Congress 2013
Profesional
(Website hidden by Airbnb)


HOSTELCO
20 oct 2014 - 23 oct 2014

Gran Via
Salón Internacional del Equipamiento para Restauración, Hotelería y Colectividades.
Profesional
(Website hidden by Airbnb)


BMP
22 oct 2014 - 26 oct 2014

Barcelona Meeting Point
Mixto
(Website hidden by Airbnb)


BODY LIFE BARCELONA
23 oct 2014 - 25 oct 2014

Gran Via
La Feria del Fitness Profesional
Profesional
(Website hidden by Airbnb)


SALÓN DEL MANGA
30 oct 2014 - 02 nov 2014

Salón del Manga
Público
(Website hidden by Airbnb)
Noviembre


CARAVANING
01 nov 2014 - 09 nov 2014

Gran Via
Salón Internacional del Caravaning
Público
(Website hidden by Airbnb)


EXPOMINER-COLECCIONA
07 nov 2014 - 09 nov 2014

Salón Internacional de Minerales, Fósiles y Joyería
Público
(Website hidden by Airbnb)


SMART CITY EXPO WORLD CONGRESS
11 nov 2014 - 13 nov 2014

Gran Via
Smart Society for Innovative and Sustainable Cities
Profesional
(Website hidden by Airbnb)


EIBTM
18 nov 2014 - 20 nov 2014

Gran Via
Salón de la Industria de Viajes de Negocios, Congresos e Incentivos
Profesional
(Website hidden by Airbnb)


OCASIÓN
28 nov 2014 - 08 dic 2014

Salón del Vehiculo Garantizado
Público
(Website hidden by Airbnb)
Diciembre


AUTO RETRO
04 dic 2014 - 08 dic 2014

Exposición de Coches y Motocicletas de Colección
Público
(Website hidden by Airbnb)
I'm a graphic designer renting his own flat. My range of interests are wide: from contemporary art to politics. I will be glad to give you some advice about Barcelona for you to enjoy your stay. Enjoy!!!
Languages:
English, Español
Response time:
within a day
Always communicate through Airbnb
To protect your payment, never transfer money or communicate outside of the Airbnb website or app.
Explore other options in and around Barcelona
More places to stay in Barcelona: