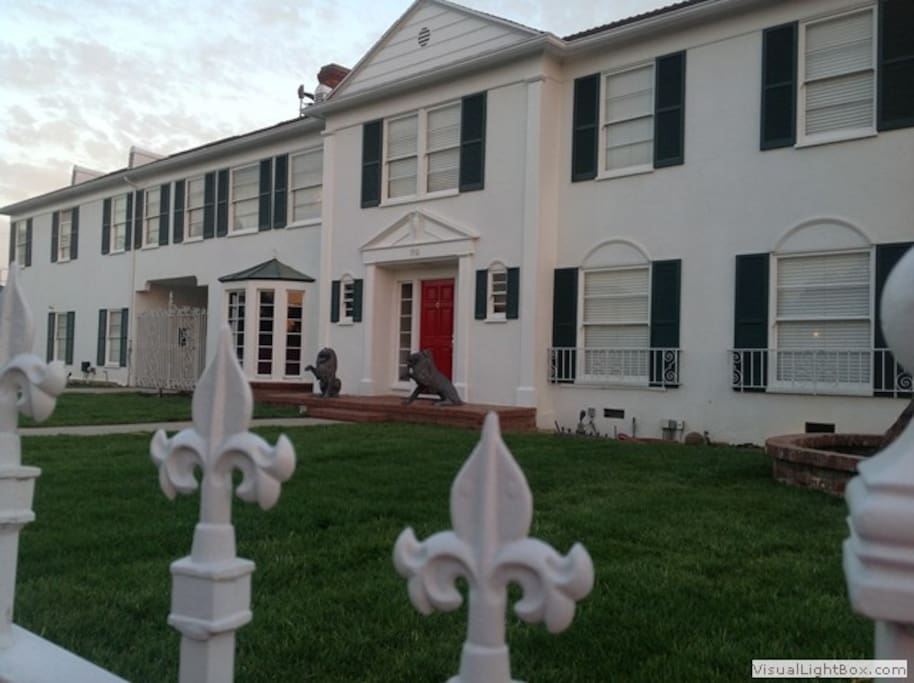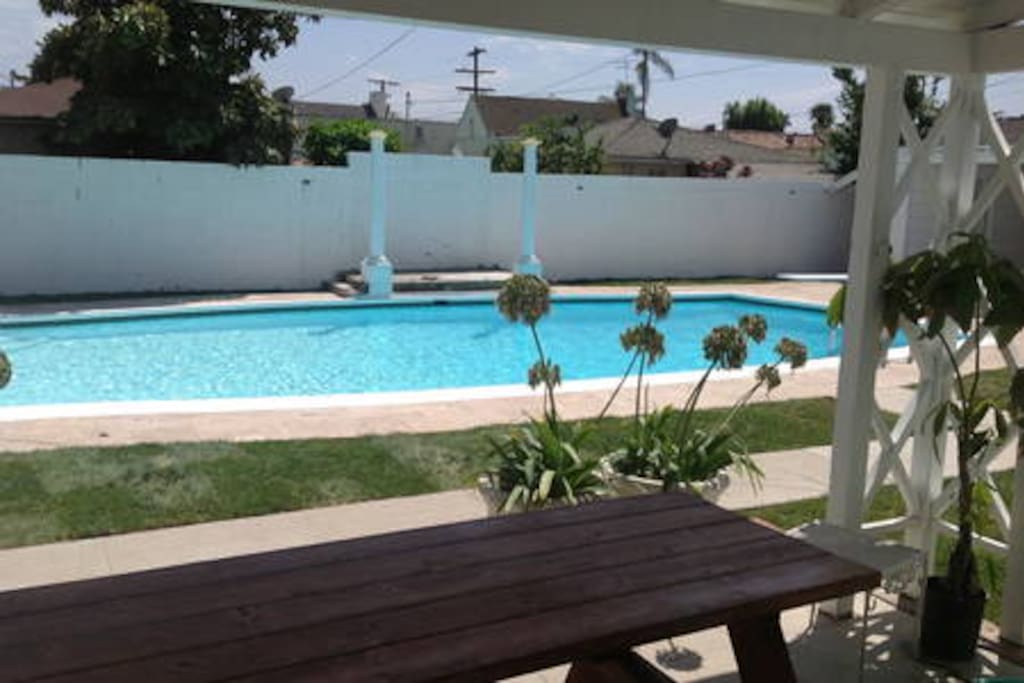 Best L.A. International Hostel For Camp Flog Gnaw!
This space, a clean and comfortable room in a historic Hollywood mansion, is part of Anderson Estates. Amenities include an outdoor swimming pool, free hot breakfast, communal lounge areas, wifi and cable. We are centrally located in mid-city LA, close to public transportation and most main tourist destinations. Free transfer to and from airport or train station is available.
The space
The house is a historic Hollywood mansion, originally built by iconic African-American actor Eddie "Rochester" Anderson. There is a furnished kitchen and dining area, living room, free laundry machines, and a large backyard with swimming pool and outdoor tables. Free wifi is available throughout the house.
Guest access
With this location you will have full access to the mansion's kitchen, bathrooms, all living areas, pool, workout area with equipment, and your room. Complimentary hot breakfast is served in the house's living room and outdoor terrace.
Interaction with guests
When you arrive, you may check in at the poolhouse located behind the main mansion. After that, you are always welcome to check in with the office for local info or assistance. There are always residents and employees on-site available to answer your questions or simply have a chat.
Other things to note
All estate properties are non-smoking.
---
---
Quiet time begins at 10pm.
Smoking is not permitted on the property.
Please do not tamper with other bunks or property.
Be courteous and have a great time.
---
I do like the location and the fact that they offer bedding. There's always toilet paper, so yay. The other guests were nice as well and themansion provides nice lounging area as well. The dogs didn't mind people being there,so they're chill.
---
Great for short stays- don't expect high end living but you will have a great culture surrounding you! If you are a light sleeper I suggest earplugs (they helped me so much to deal with people who snore or who are inconsiderate of others sleeping). Beds are comfortable and they had the best comforters! Breakfast every morning at 8am was perfect on my days off and it gives you a chance to chat with those staying in other rooms. They do have 2 dogs that spend the day on the property and are very chill, not the kind of digs that will cuddle with you but they will be interested if you have food! The best aspect for me was the free laundry (after 3pm). It provided me with some comfort seeing how I was there for over a month and was one less thing I had to worry about doing! Plus I meet very interesting people and will stay connected with a few of them as they are cool people to hang out with.
---
This hostel has so much potential, but falls short in the area of cleanliness. Operationally, the live-in staff is stretched thin. Therefore, I imagine its harder to do what is normally expected in accommodations of this size. If this hostel would hire professional outside cleaning staff and professional exterminators, it would be magnificent. Unfortunately, my fascination and wonderment of staying in the home of an actor who was pivotal in the transformation of how African Americans were portrayed on TV, who appeared in more than 60 films and was a regular on television, was cut short by being bitten by both bed bugs and ants. To their credit, the staff moved me quickly when my bed bug bites were reported (I had more than 20 all over my body). But it was heartbreaking to be moved to a room and wake up at 3 am being bitten by ants and itching so terribly from the bed bug bites I had already sustained. I had to find a 24-hour Walgreens to get relief. Fortunately, the host was more than willing to speak with me about it and refund the money for my stay, which is very honorable. If this place invested in outside cleaning staff and outside extermination, leaving customer service, check in, and breakfast to the staff, this hostel would be absolutely fantastic. The furniture needs a good cleaning and there are many details outside professional staff would not overlook. Its obvious they are working to improve the area surrounding the pool and the property is beautiful. I loved the two pit bull terriers that were on property too. They were both so sweet. The international staff and guests provide a culturally rich experience as well. Although I brought my own bicycle, I was delighted to see bikes for rent for a small daily charge. There was a small weight lifting area and ping pong table as well. A tip on booking: Be sure you know what part of the home you are booking. Not all accommodations are inside the main mansion, the exterior which is picture. I wasn't aware I had booked inside the side house, which seemed more like a servant's quarters next to the mansion. There are many more guests on that portion of the property.
---
Location wise there is nothing much to do in the area, but it was private and safe-if you're looking for entertainment the bus line is close by. I was only there at night to sleep and a bit in the morning to get ready. The community was my favorite part but everyone was friendly and welcoming, answering whatever questions I had. If you're a traveler looking for a good community or looking to not spend a lot of time in the actual place then this place is for you! Next trip to LA I'll definitely be staying here.
---
Hi, I manage The Mansion Bed & Breakfast! Contact me so we can begin the first step to booking a great stay! We look forward to meeting you!
Response rate:
60%
Response time:
within a day
Explore other options in and around Los Angeles
More places to stay in Los Angeles: