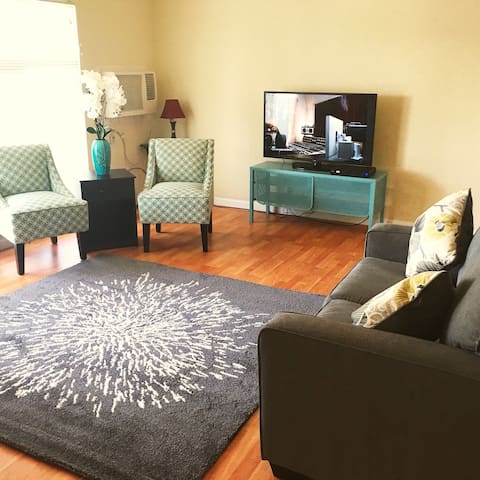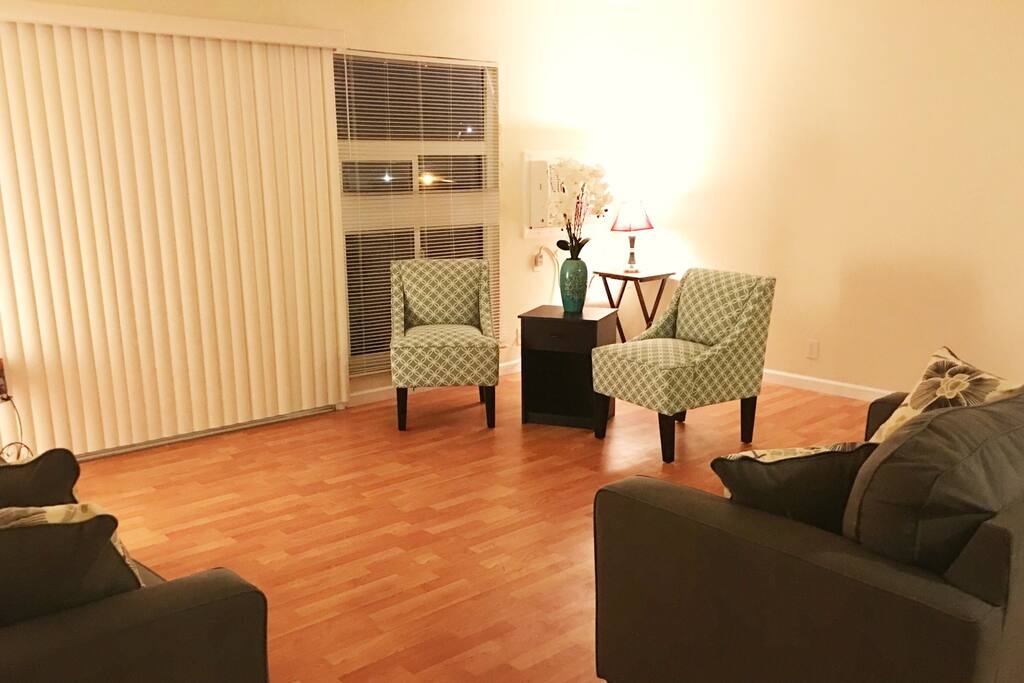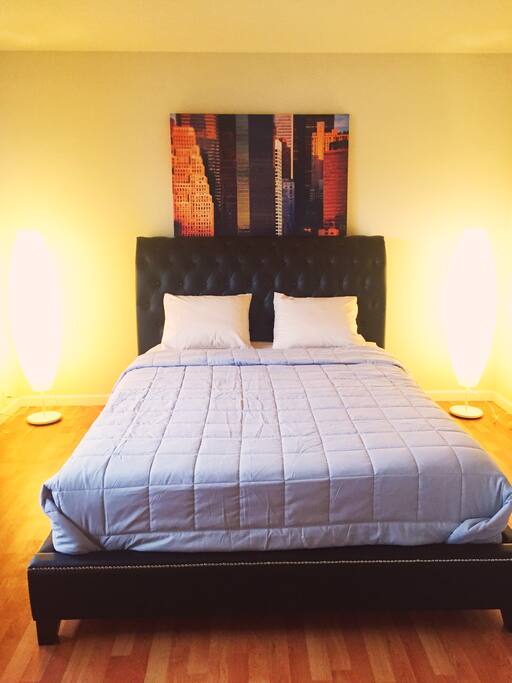 Cozy Aprt/ Stockton Ca Mins to Lodi
This is atrendy newly remodeled, newly furnished apartment. Just min from the malls, restaurants and Lodi wineries.
The space
This is a beautiful 950 sqft apartment in the center of northern Stockton, CA The Apartment is a 2 bedroom/ 1 bath/ a very Large living room , and a dining area off of the kitchen. The property is located in Stockton Ca and just about 15 minutes away from Lodi Wine Country, whether you are in Lodi for business or pleasure, for relaxation or rejuvenation, Lodi will surprise and delight. Pass the afternoon sipping wine with a local winemaker. Shop for that perfect antique or gift in our historic downtown. Stroll barefoot along the beach at Lodi lake. Tour a museum. Catch a concert or play at our performing arts theatre. Dine in casual or upscale surroundings. The apartment is located off of a main shopping street, where you fined malls, shopping, restraunts and supermarkets whether a few blocks away. It is also located very close to I-5 and major freeways.
The Space
This a 2 bedrooms 1 bathroom apartment with a dining area that seats 6 and a large living room with an outdoor balcony off of the living room.
~The kitchen is fully equipped with toaster, coffee maker, toaster oven, microwave and has a seating area for a quick meal.
~The apartment is in a gated community and can take up to two cars per unit that are parked in a gated private area of the property.
~ The balcony has a small table on each corner with two chairs.
~The Bathroom is also fully equipped with towels, toiletries, and soups. If you have a preference bring your own.
~ there are 2 sofa beds in the apartment which can sleep total of 8 people if needed.
Guest access
Guests have access to the full premises, including a gated parking area, and the laundry room located on the first floor, a pool and a seating area around a water fall:))
Interaction with guests
We are available whenever needed but do respect your privacy and expect the neighboring to be treated the same.
Other things to note
California's heartland offers up one of the state's most authentic and sensory-rich experiences, a chance to see—and taste—the state's bounty at every turn. Follow oak-shaded country roads to farm stands overflowing with fresh produce, and meander along wine trails to some of the state's most productive vineyards and low-key tasting rooms.
Peaches, plums, apricots, and tomatoes—just some of the ultra-fresh produce you will find at farm stands throughout the valley.
Throughout the broad valley, stretching for over 400 miles/644 kilometers down the middle of the state, are cities and towns rich with history, international culture, and "everyone's welcome" charm.
The Central Valley is both California's breadbasket and a jumping-off point for excursions to wine country, Gold Country, the Bay Area and Lake Tahoe. With so many recreational opportunities close at hand, there's no reason to wander far.
The Central Valley comprises parts of 11 counties and stretches from Kern County in the south (just north of the Tehachapi Mountains) to Fairfield, Vacaville, and Yolo County just west of Sacramento. It is home to three of the largest counties in California, embracing two national parks and part of a third.
It includes some 200 miles of the Pacific Crest National Scenic Trail and one of the busiest rail corridors in the nation: Amtrak's San Joaquin makes 10 runs a day between Oakland and Bakersfield. The Central Valley is the birthplace of visionary filmmaker George Lucas, the rowdy branch of country music known as "The Bakersfield Sound", and the California oil industry, itself echoed in the West Kern Oil Museum in Taft.
The Central Valley is also home to a number of landmark attractions, from the Bakersfield Speedway to the U.S. Bicycling Hall of Fame, the Minter Field Air Museum for aircraft buffs, and the remarkable Haggin Museum in Stockton, with works by Gauguin to Native American artifacts.
Although it is hugely agricultural – the valley produces, by some estimates, as much as 45 percent of the food served in the United States – this remarkable region is much more than a collection of farms, orchards, vineyards, dairies, and stockyards. If you haven't yet taken time to visit just a few of the dozens of cities, towns, and natural wonders to discover here, you don't know what you've been missing!
Don't get me wrong, you WILL find tens of thousands of acres of land under cultivation, scattered with dozens of tiny old farming towns that seem little changed in more than a century, offering you a welcome sense of small town friendliness.
Food is truly a focus here, from nationally renowned Farmers Markets to unbeatable roadside produce stands. You'll also find one of a kind cafes and diners, with five star dining in the authentic Basque restaurants in Kern County to steakhouses like Harris Ranch near Coalinga.
You'll discover world-class artistic and cultural facilities, symphonies, theater companies, and museums. You'll find virtually unlimited opportunities for outdoor recreation and spectacular scenery – rafting the world-class rapids of the Kern River, hiking the Giant Forest in Sequoia National Park, scrambling through Red Rock Canyon State Park near Ridgecrest, gazing in wonder at the herds of majestic elk protected at the Tule Elk Natural Reserve.
The Central Valley has its fair share of outstanding wineries, rivaling the better known regions upstate. From example, Yolo County is known for its incredibly rich soil, warm days and mild Delta breezes, yielding unforgettable wines of great character and diversity. Yolo County is home to the U.C. Davis Viticulture and Enology Department, and the Mondavi Institute for Food and Wine Science.
Other prominent wine regions include: Suisun Valley – rustic wine country, nestled in gorgeous, uncrowsed Solano County farmland between San Francisco and Sacramento; Fresno – in the heart of the Central Valley, a surprisingly good destination for wine tasting in rambling Madera County; and Lodi – the self-proclaimed Zinfandel Capital of California, offering a relaxed rural atmosphere, perfectly suited to enjoying exquisite wines that are full of flavor yet soft and supple on the palate.
The Central Valley is also home to Interstate 5 and California Highway 99, which, in it's heyday was known as "California's Main Street".

The Central Valley is rich in adventures and experiences as it is in agriculture and history. It truly is the Greatest Garden in the World. So take your time and venture out to explore – you will be glad you did!
PLAN YOUR VACATION
VISIT POINT LOBOS NATIONAL RESERVE
About 1 hr and a1/2 from Gustine Ca
South of Carmel-by-the-Sea, the Point Lobos State Natural Reserve receives praise from almost everyone who visits. The dramatic rock formations rising from the ocean have most visitors gawking, while the cute creatures like pocket gopher and the southern sea otter keep the nature-lovers smiling. The reserve's 13 trails offer hikers both easy and challenging opportunities. The Cypress Grove Trail is especially popular due to its views of the rugged coast and the gnarled Monterey cypress trees that perch precariously on the seaside cliffs.
If you like to dive, you're in luck. Point Lobos has 10 diving spots where you can swim through 70-foot-high kelp forests and various coral reefs. If you're lucky, you may catch site of passing seals and whales.
Parking inside the reserve costs $10, but many travelers park outside of it along Highway 1 and walk in for free (though a $1 donation is recommended). Visitors are welcome from 8 a.m. to 7 p.m. For more information, check out the Point Lobos Foundation's website.
If you like to dive, you're in luck. Point Lobos has 10 diving spots where you can swim through 70-foot-high kelp forests and various coral reefs. If you're lucky, you may catch site of passing seals and whales.
Parking inside the reserve costs $10, but many travelers park outside of it along Highway 1 and walk in for free (though a $1 donation is recommended). Visitors are welcome from 8 a.m. to 7 p.m. For more information, check out the Point Lobos Foundation's website.
VISIT BIG SUR
About 2 hr drive from Gustine Ca
Few would argue against Big Sur as one of the great road trips, not just in America, but the entire world. While the entire length of the California coastline is known for its dramatic landscape, rugged coastline, and sweeping views, Big Sur ups the ante. Today we highlight a few of the best stops on a Big Sur road trip.
Pfeiffer Beach. Keep a keen eye out for Pfeiffer Beach – blink and you might miss it. The sharp turn-off is located just north of Pfeiffer Big Sur State Park, and once you pull in, you'll still have a 5 to 10 minute drive down the narrow, winding road. However, guests are greeted with one of the most unique beaches in California. Of particular note is the unusual, yet colorful purple sand of Pfeiffer Beach. While you'll want to bundle up, stick around for sunset, when the light shines through the famous rock arch, just beyond the crashing waves.
McWay Falls. McWay Falls is an easy stop while traveling through Big Sur, located right on Highway 1. This is where you'll likely see the highest concentration of vehicles pulled off to the side of the road. Located in Julia Pfeiffer Burns State Park, the 80-foot waterfall is unique to the region because it's one of a few that empty into the ocean. While the waterfall isn't exactly accessible, there are several good photo opportunities on the trail above.
Nepenthe. After you climb up the stairs and reach Nepenthe Restaurant, you'll immediately see why it's on this list: Not for the food, but rather the view, sitting atop Big Sur looking over the rocky coastline and Pacific Ocean. While it features a full food menu, I recommend opting for one of the cheese plates, and supplementing it with a glass or bottle of wine. If you arrive during off-peak times, you should be able to snag one of the prime real estate seats on the outdoor patio looking south over Big Sur and the Pacific Ocean.
Henry Miller Memorial Library. A library? Yes, a library, but not just any ordinary library, but more of a bookstore and arts center. Seeing an outdoor concert is the biggest perk of the library. How many times have you been to a concert with redwoods towering over you and the Pacific Ocean mere yards away? Upcoming concerts include The Flaming Lips, Rufus Wainwright, and Alanis Morissette.
Bixby Creek Bridge. You've probably already seen the Bixby Creek Bridge even if you've never been to Big Sur. That's because the bridge is one of the most photographed attractions in California and has been featured in commercials, movies, and television shows. Coming from Monterey, it's one of the first real dramatic views you see upon entering the Big Sur area. While it's only 714-feet long, it's the height, arch, and view of the coastline and Pacific Ocean that make it so photogenic.
DISCOVER MONTEREY
1hr 30 minute Drive from Gustine Ca
The magnificent Monterey Peninsula has been called the greatest meeting of land, sea and sky and is recognized as an ideal vacation and business destination. While it is a given that the natural beauty of the area draws the visitor, it is the great hot deals in lodging provided by Monterey hotels and endless activities including golf, biking, sailing, wine tasting and fine dining that keep one coming back.Monterey's rich history, the saga of California's Mission Trail, historic Fisherman's Wharf and Cannery Row, scenic Carmel-by-the-Sea, 20 world-class golf courses, the world's best aquarium, hotels, unique variety of shops and galleries and a spectacular assortment of parks and natural areas combine to provide a truly unrivaled place for your next getaway.
Visit Yosemite | Madera County
*
* Madera County is known as California's Gateway to (URL HIDDEN) you drive to Yosemite, you'll find that Madera County has much to offer; restaurants with amazing menus featuring fresh locally grown ingredients, award-winning wineries along the Madera Wine Trail and Yosemite Sierra Wine Road, incredible art galleries and inspiring museums throughout the region. It's possible you may spend more time outside Yosemite than you ever imagined. Add in the outdoor fun and beauty of Bass Lake, and you'll see Madera County, combined with Yosemite, makes for a perfect vacation. No matter where you're coming from, Yosemite's southern entrance takes you through some of Yosemite's most iconic spots - The Mariposa Grove of Giant Sequoias, Tunnel View, Glacier Point and more - all accessed via the Southern Entrance. So, come for Yosemite, stay for the wine, the food, the arts & culture and the fun. (URL HIDDEN) (PHONE NUMBER HIDDEN)
VISIT SAN FRANCISCO, CA
About 1 and 35 minute drive
crimson bridge, cable cars, a sparkling bay, and streets lined with elegant Victorian homes—San Francisco is undeniably one of the world's great cities. Located along the Northern California at the state's distinctive bend in the coast, the region has an alluring magic that stretches beyond the bay to diverse cities with nightlife and trend-setting cuisine.
"I left my heart in San Francisco, High on a hill, it calls to me." –singer Tony Bennett
The Bay Area is also home to some of the world's finest wine country, including Napa Valley and Sonoma, plus waterfront towns, dramatic beaches, and the tech-savvy southern end of the bay known as the Silicon Valley, where lunchtime ideas at (SENSITIVE CONTENTS HIDDEN), (SENSITIVE CONTENTS HIDDEN), and Apple, turn into the next brilliant innovation.
VISIT SONORA
1 hr and 30 minute drive

Sonora "Queen of the Southern Mines

Settled in 1848, this "Gold Rush" community still holds onto its Historic Charm. With the areas largest Historic Downtown District, shopping is an enjoyable experience of strolling through unique and charming shops and restaurants nestled into buildings of the 1800's. Visitors are sure to find a one-of-a-kind souvenir to remember your stay here.
Along with Historic buildings the City is home to three museums. These museums give visitors an insight into the way of life in California's mining towns. The California State Park's of Columbia and Railtown 1897, just a short drive from Sonora, are also a must see to get the full "Mother lode" experience. The Historic Downtown is also home to the Central Sierra Arts Council and several art studios featuring the brilliant work of local artists. Being known as the regional center for arts and entertainment visitors can enjoy live theater and year-round events and festivals. Every season brings a natural beauty to Sonora. To enjoy this natural beauty, hike the newly developed Dragoon Gulch Trail. the Trail is an easy walk from City lodging and will allow visitors to experience the beautiful oak woodlands surrounding the City.
Visitors can also partake in the numerous winter and summer outdoor activities located just outside the City and in the nearby Stanislaus National Forest. These include skiing, hiking, boating, swimming and horseback riding. Beautifully located on the western slopes of the Sierra Nevada Mountains there is something for everyone in Sonora making it the perfect destination for your next weekend get-away or family vacation.
Fairfield Conference & Visitors Bureau
* 1hr and 40 minute drive
*
* Fairfield, California...the flavorful, spirited travel destination! Situated between San Francisco and Sacramento ­ Fairfield, California is just minutes from nearby wine country ­ Napa, Sonoma, and Suisun valleys ­ farm stands, hiking, kayaking, and nature outings. Factory tours at Jelly Belly and Anhueser-Busch are a must! Nearby theme parks include Six FlagsDiscovery Kingdom and Scandia Fun Center. Great for family vacations, meetings or romantic getaways. (URL HIDDEN) 877-7WE-RFUN
Fresno County Office of Tourism
*
* Fresno County Office of Tourism's current focus is promotion of the County's signature agritourism attractions – the Fresno County Blossom Trail and the Fresno County Fruit Trail, including related festivals and events. The Trails wind through the countryside of eastern Fresno County, showcasing family farms and small communities where visitors enjoy unique product offerings and experience our agricultural bounty and heritage. (URL HIDDEN) (PHONE NUMBER HIDDEN)
Fresno/Clovis Convention & Visitors Bureau
*
* Fresno, California's 5th largest city is an exciting destination for the any traveler. Located at the base of three National Parks, Yosemite, Kings Canyon, & Sequoia, visitors can touch the largest living thing on the earth, feel the mist of Yosemite Falls, & stand at the base of the famous Half Dome. Fresno is also the number one agricultural county in the United States. (URL HIDDEN) (PHONE NUMBER HIDDEN)
Hilmar Cheese Company Visitor Center
*
* Tour, taste, shop and eat! Hilmar Cheese Company produces more than 1 million pounds of cheese each day! Free tours. See employees package the "big cheese," a 640 lb. block! Explore hands-on exhibits and taste complementary cheese and gourmet food. Browse the beautiful gift shop. Enjoy famous cheese chowder, fresh salads, and gourmet sandwiches in the Deli-Café. Ice cream and espresso counter. Beautiful park. (URL HIDDEN) (PHONE NUMBER HIDDEN)
Kern County Board of Trade
*
* Visit Kern County where you can Play–Your–Way. Experience white water rafting on the mighty Kern River. Enjoy hiking, fly-fishing, off-roading adventures and our world class Black Gold Oil Museum. Visit the world famous Buck Owens' Crystal Palace or dine at a great Basque restaurant. You'll experience great family fun when you visit Kern County and Play–Your–Way. (URL HIDDEN) 800-500-KERN
Madera Wine Trail – Madera Vintners Association
*
* Visit the Madera Wine Trail where you can sample current and newly released vintages with special food pairings, local art and live music. Guests on the Trail will reap the benefits of the region's rich history, knowledgeable staff and experienced winemakers. (URL HIDDEN) (PHONE NUMBER HIDDEN)
Manteca Convention & Visitors Bureau
*
* Manteca is your Basecamp for Adventure! Nestled in heart of California's Central Valley, it's an easy 1 hour drive to San Francisco, the State Capital and Yosemite. Great local farm fresh dining, wine tasting and shopping. (URL HIDDEN) (PHONE NUMBER HIDDEN)
Merced Visitor Services
* 30 minutes
* (URL HIDDEN) (PHONE NUMBER HIDDEN)
Modesto Convention & Visitors Bureau
*
* Modesto offers visitors distinctive hotel accommodations, a variety of restaurants, and a great selection of shopping. Modesto is packed with unique visitor attractions along with a year round schedule of intriguing events and festivals. With a rich mix of Farmers ' Markets, produce stands and tours, we provide numerous ways to enjoy a diverse agricultural experience. We encourage you to come stay in Modesto! (URL HIDDEN) (PHONE NUMBER HIDDEN)
Oakdale Tourism & Visitors Bureau
* 30 minutes
* Oakdale, CA is in the fertile Central Valley in Stanislaus County along Highways 108 and 120 and a gateway to Yosemite National Park, the Sierra Foothills and two hours from San Francisco. At your service are 4 Motels, Restaurants, Specialty Shops, Museums, Cheese Factory, Knights Ferry, Dinner Train, Wine Tasting, Golfing, Water Recreations, Parks and a Casino also within our area. (URL HIDDEN) (PHONE NUMBER HIDDEN)
Sacramento River Train
* 1 hr
* The Sacramento RiverTrain rolls between West Sacramento and Woodland, CA. The train hosts a fun variety of trips throughout the year that usually last about 3 hours and combine food, entertainment and scenery. Evening trips include romantic Sunset Dinners and fun Murder Mystery Dinners . We add live music to many of our dinner trips for listening or dancing in our Club Car. We now also offer Wine- or Beer-tasting trips with about 200 guests enjoying tasting (usually 2 wineries or 4 breweries), live music, and a fun crowd. Our most popular daytime trip is the Great Train Robbery that features western characters, shoot-outs, and a lot of fun interaction. Halfway through the trip we deboard for a barbecue lunch at a park along the Sacramento River. Other daytime trips include Scenic Lunches and Sunday Brunches. sacra(URL HIDDEN) (PHONE NUMBER HIDDEN)ra Railroad Dinner Train
*
* The Sierra is one of the finest dinner trains in the West. Departing from Oakdale in the Central Valley, we offer romantic dinners, fun murder mystery shows, scenic lunches & brunch, and many seasonal trips aboard a moving train. Our 3-hour trips usually cover 32 miles of scenic countryside. si(URL HIDDEN) (PHONE NUMBER HIDDEN)
Turlock Convention & Visitors Bureau
* 30 minutes
* Come Experience Turlock with a dip in Turlock Lake, ride the Ferris Wheel at the Stanislaus County Fair, or shop in our Historic Downtown. Outdoor recreational opportunities ranging from our numerous parks, golf courses and tennis courts, to public swimming pools, safe running and walking courses. Theatrical and musical performances can be found at the Turlock Community Theatre and on the CSU Stanislaus campus. (URL HIDDEN) (PHONE NUMBER HIDDEN)
Visalia Convention & Visitors Bureau
*
* Home to a charming downtown and the nation's most productive agriculture and farming region, Visalia gives visitors the perfect place to meet, relax, or adventure. While you're here, enjoy a trolley ride, baseball game, farmers market, and explore the hundreds of outdoor excursions in our own backyard. Sequoia and King's Canyon National Parks invite you to play in any season! (URL HIDDEN) (PHONE NUMBER HIDDEN)
Visit Bakersfield
*
* The Southern Gateway to the Central Valley, Bakersfield is the birthplace of the country music genre known worldwide as the Bakersfield Sound. Bakersfield is also home to more Basque eateries than any other city in the nation. A short drive from the city puts visitors in the Southern Sierra Nevada where one can experience top-rated whitewater rafting, fly-fishing and hiking. (URL HIDDEN) (PHONE NUMBER HIDDEN)
Visit Lodi!
* 1 hr 15 minutes drive
* Pass the afternoon sipping wine with a local winemaker at one of our 80 wineries. Shop for that perfect antique or gift in our historic downtown. Stroll barefoot along the beach at Lodi lake. Tour a museum. Catch a concert or play at our performing arts theatre. Dine in casual or upscale surroundings. Whether you are in Lodi for business or pleasure, for relaxation or rejuvenation, Lodi will surprise and delight. (URL HIDDEN) (PHONE NUMBER HIDDEN)
Visit Stockton
* 1 hr drive
* Centrally located in northern California's Central Valley, Stockton is the county seat for San Joaquin County. Stockton is currently the 13th largest city in California with a dynamic, multi-ethnic and multi-cultural population of about 300,000. It is situated along the San Joaquin Delta waterway, which connects to the San Francisco Bay and the Sacramento and San Joaquin rivers. Stockton is home to California's most inland seaport and is located just 83 miles east of San Francisco, and 45 miles south of Sacramento, the capital of California.Surrounded by rich agriculture and the award-winning Lodi wine appellation, Stockton is home to year-round farmers' markets, fruit stands and nearby wine tasting. Be sure to request our new San Joaquin County Farm Guide and Map. Stockton is also home to dozens of multi-cultural, family-friendly festivals year-round; pair that with a variety of great dining and shopping, and it's a weekend! (URL HIDDEN) (PHONE NUMBER HIDDEN)
Visit Vacaville
*
* Nestled in the rolling hills just west of Sacramento Valley -- an hour from San Francisco, and within minutes of the Napa and Sonoma wine countries – Vacaville, California is a special place to live, work, play, and visit. Our pastoral setting, charming and vibrant downtown, and world-class shopping make Vacaville a perfect getaway or home base to your Central Valley California vacation experience. (URL HIDDEN) (PHONE NUMBER HIDDEN)
*
Wonder Valley Ranch Resort & Conference Center
*
* Wonder Valley Ranch Resort is nestled in the Sierra foothills east of Fresno and just minutes below Sequoia Kings Canyon National Parks. Our 75 acres of shady grounds, full service conference center and extraordinary on-site recreational activities make Wonder Valley the ideal location for Conferences, Retreats, Weddings, Tour Groups, Reunions, Outdoor Education Programs and Leisure Traveler & Family Vacations. (URL HIDDEN) (PHONE NUMBER HIDDEN)
Yolo County Visitors Bureau
*
*
* Visit Davis, Winters, Woodland in Yolo County off I-80, 10 minutes from Sacramento. Enjoy unique towns and hometown hospitality without traffic! A wealth of natural attractions: farmers markets, wineries, and wildlife parks. Shopping, dining, museums, theater and gaming. One-of-a-kind spots: U.S. Bicycling Hall of Fame, UC Davis and the world's largest collection of antique tractors at Heidrick Ag History Center. (URL HIDDEN) (PHONE NUMBER HIDDEN)
TOPTOPREASONS TO VISIT CALIFORNIA CENTRAL VALLEY
Down under: The handiwork of an Italian immigrant who helped dig New York City's subway, Forestiere Underground Gardens is an oddly inspirational attraction.
Grape escape: In the past two decades, Lodi's wineries have grown sufficiently in
stature for the charming little town to become a must-sip destination.
Utopian spirit: A century ago, a small but resourceful group of citizens established the state's first all–African American town. Colonel Allensworth State Historic Park celebrates their utopian spirit.
Go with the flow: White-water rafting will get your blood pumping, and maybe your clothes wet, on the Kern River near Kernville.
Hee haw!: Kick up your heels and break out your drawl at Buck Owens' Crystal Palace in Bakersfield, a city some believe is the heart of country music.
VISIT THE CENTRAL VALLEY WINERIES
Central Valley Wineries

You will find a variety of Central Valley Wineries located in California's Central Valley, which stretches from Bakersfield all the way north to Redding. This is an enormous agricultural region and a large percentage of California's winegrapes are grown here.
The valley experiences hot, dry summers and cool, damp winters. Along with a rich bounty of other food crops, a large amount of winegrapes are grown in this rich, fertile area. Zinfandel is one of the main grapes grown in this region. Many of the vineyards are old vines, which produce better quality grapes.
The largest region in the Central Valley is the Lodi Wine Country. Lodi is located in a rural area east of San Francisco near the Sacramento River Delta. Enjoy tasting at more than 40 local wineries. Lots of wine is produced in Lodi. Many wineries outside of the area will purchase grapes grown here. If you are a golfer, you'll find a number of great golf courses in the area as well. Think about combining golf and wine tasting for a fun getaway.
Napa Valley Wine Country
About 2hrs and 10 minute driveNapa Valley Wine Tours are very popular with more than 5 million tourists visiting the valley each year. There are many wineries to visit. This is America's premier wine producing region as well as being recognized as one of the major wine regions of the world. Located an hour's drive north of San Francisco, there are more than 300 Napa Valley wineries producing wines amongst the breathtaking scenery. The valley is only 30 miles long and ranges from 1 to 5 miles wide.
Located an hour's drive north of San Francisco, there are more than 300 Napa Valley wineries producing wines amongst the breathtaking scenery. The valley is only 30 miles long and ranges from 1 to 5 miles wide.
A Napa Valley wine trip is fun any time of the year, though summers can be hot. If you like mild weather, spring and fall are the perfect time to plan a tasting visit. However, a winter trip can be a real treat; especially if you pamper yourself with a Calistoga mud bath and massage.
Sonoma County Wine Tasting
About 2 hr drive
Sonoma County is a diverse wine region with more than 400 wineries located north of San Francisco. Here you will find great California wineries along the coastline, the valleys, the riverbed, and the foothills. The varied geography of Sonoma allows every varietal of California grape to be grown here.
Sonoma is less crowded and more laid-back than Napa Valley. It's also more spread out with winding scenic country roads connecting the charming towns. In addition to the many wineries, you will find local produce and cheeses for sell, great restaurants, wonderful bakeries, and charming bed and breakfast inns.
Grapes were first planted in Sonoma during the early 1800s leaving this region with an abundance of old vine vineyards producing unique flavors. This wine region is known for its high quality Chardonnay, Zinfandel, Cabernet Sauvignon, Pinot Noir, and Sparkling Wines.

Helpful links:
(URL HIDDEN)
(URL HIDDEN)
(URL HIDDEN)
(URL HIDDEN)
(URL HIDDEN)
(URL HIDDEN)
(URL HIDDEN)
(URL HIDDEN)
(URL HIDDEN)
Parks & Day Trips
Yosemite National Park - 110 Miles
Established in 1864, Yosemite is a National Park that is famous for its awe inspiring granite cliffs, spectacular waterfalls, groves of giant sequoia trees, and stunning landscapes. The 1,200 square-mile park was one of the first wilderness parks in the United States, and features hiking trails, lakes, streams, camping, biking, fishing, and wildlife. Formed by glaciers about one million years ago, the Yosemite Valley is best known for its impressive Half Dome mountain, El Capitan mountain, Yosemite Falls and Bridalveil Falls.
(URL HIDDEN)
Stanislaus County Fair - 16 Miles
Established in 1911, the Stanislaus County Fair is a ten-day long source of family fun and entertainment held in Turlock, California. The fair features hundreds of exhibits, rodeo events, live music, broadcast horse racing, food concessions, and souvenir vendors. (URL HIDDEN)
Stanislaus River - 48 Miles
The Stanislaus River offers serene landscapes, white-water rafting, fishing, canoeing, hiking, and camping as well as a historic covered bridge and nine beautiful parks dotted along its banks. Stanislaus River Parks
Skiing
California's Central Valley is just a short drive away from a variety of top skiing destinations.
From small, family friendly snow play parks, to large ski resorts, winter sports enthusiasts have a wide variety of winter activities to choose from.
Badger Pass, Dodge Ridge and Mammoth are just a few of the fabulous ski areas that are open for wintertime fun.
(URL HIDDEN)

San Francisco - 100 Miles
San Francisco is a charming city offering visitors a wide range of fun attractions and interesting things to do. From the famous Golden Gate Bridge to Chinatown, Pier 39, Fishermen's Wharf, and Golden Gate Park, San Francisco is a destination that offers something for everyone. San Francisco is also a cultural Mecca, offering a wide range of museums, live theatre, opera and ballet performances, galleries, and more. No matter what you're looking for, San Francisco has it all. (URL HIDDEN)
San Luis Reservoir - 40 Miles
San Luis Reservoir State Recreation Area is a popular multi-use recreation area offering boating, sail boarding, fishing, camping, hiking, horseback riding and picnicking for day and overnight use. (URL HIDDEN)
Central Valley Wineries & Vineyards
Diablo Grande Vineyards - 12 Miles
Covering 36 acres, the Diablo Grande Vineyards grows Chardonnay, Sauvignon Blanc, Pinot Noir, Sangiovese, Barbera, Merlot, Syrah, and Cabernet Sauvignon grapes adjacent to Diablo Grande's Ranch and Legends West Golf Courses, and produces a variety of unique Estate Bottled wines each season. (URL HIDDEN)

Delicato Vineyards - 37 Miles
Delicato has been growing and producing fine wines for more than 75 years, creating distinctive wines and serving them up in their Manteca tasting room. Visitors can taste a variety of wines and purchase a selection of gift and gourmet items in their tasting room, open daily. (URL HIDDEN)
Lodi Appellation - 55 Miles
Located between the San Francisco Bay Area and the foothills of the Sierra Nevada, the Lodi Appellation is a unique wine growing region that has a history of hand crafted, fine family wines since the Gold Rush era. The area features several vineyards and numerous wineries offering wine tasting, winery tours, festivals, and more. (URL HIDDEN)
~McHenry MansionMcHenry Mansion
906 15th Street, (Corner of 15th & I)
Modesto
((PHONE NUMBER HIDDEN)
Built in 1883 by Robert McHenry. Today the Mansion is one of Modesto's favorite tourist sites.
Mansion and gift shop hours Sun. - Thurs., 1-4 p.m.; Fri., noon - 3 p.m. Available for private group functions.
~McHenry Museum
1402 I St., Modesto
((PHONE NUMBER HIDDEN)
Located a block away from the McHenry Mansion, the McHenry Museum building was originally the city library.
Tues. - Sun., noon - 4 p.m. Group tours call - (PHONE NUMBER HIDDEN). Admission is free.
Great Valley Museum of Natural History
1100 Stoddard Ave., Modesto
((PHONE NUMBER HIDDEN)
Learn about the animals and plants that live in California's unique Central Valley.
Hours: Tues. - Fri., noon -4:30 p.m.; Sat., 10 a.m. - 4 p.m., $1 per person, $3 per family, 6 years and under free.
Castle Air Museum
Santa Fe Drive west of Buhach Road, Atwat(PHONE NUMBER HIDDEN)
Currently more than 45 aircraft are on display!
Open daily, 10 a.m. - 4 p.m., Oct. - May and 9 a.m. - 5 p.m., June - Sept. Closed major holidays.
Sierra Railroad
220 S Sierra Ave., Oakdale
((PHONE NUMBER HIDDEN)
Modesto Points of Interest
Modesto Arch
9th & I streets
The Modesto Arch, built in 1912, was inspired by the Modesto Business Men's Association as an Ornamental and Electric Arch across I Street
Modesto Open Air Farmer's MarketSouthern Pacific Depot
9th & J streets
Constructed in 1915 in Mission style, this facility now serves as the city's transportation center.
El Viejo Post Office
1125 I St.
Built during the Great Depression of the 1930s, it contains a series of historic murals in its lobby, depicting Modesto's agricultural life.
Lobby hours: Mon. - Fri., 6 a.m. - 5:45 p.m.; Sat., 6 a.m. - 5 p.m.
American Graffiti Cruising Loop
9th & 10th streets (between G & K streets)
The popular film American Graffiti was based on producer George Lucas' boyhood experiences in Modesto, where cruising was a teenager's way of life in the late '50s and early '60s. The popular cruising loop of the 50's and 60's was 9th and 10th streets in downtown.
Lucas Plaza Statue
Intersection of Downey, 17th Street, McHenry Ave. and J St.. At the five points intersection, this bronze statue features two teenagers from the early '60s leaning against the fender of a '57' Chevrolet.
McClatchy Square
15th & I streets
This quarter-acre park is home to "The Paper Boy," a bronze statue of a young boy delivering copies of "The Bee' with a dog at his side. Also in the park is the Gallo Rose Garden.
---
This listing has essential business travel amenities.
---
---
Check in time is 3PM - 5PM
RENTAL RULES AND REGULATIONS

Pacific Heights Villas
Najla Althaibani
126 E Jamestown St
Stockton, CA
Unit 212
Check-inUnless agreed on otherwise in written form, Check-In is at 3 p.m. on the Check-In Date. Someone will be at the property for check-in and Check-out.Should the premises appear dirty or damaged upon Check-in, the Guest shall inform the Homeowner immediately. 2. Check-outUnless agreed on otherwise in written form, Check-out is at 11:00 am, on the Check-Out Date. Damage done to the Rental Object or its contents or any content missing or lost, including all the keys, have to be reported to the Homeowner immediately, yet at latest upon Check-Out.
3. Maximum OccupancyThe maximum number of guests is limited to (6) persons. Any guests in addition to (6) require a prior written authorization by the Homeowner and additional costs may be charged.4. Advice on Students and Singles under 19 years of age Unless agreed on otherwise in written form, we will not rent to vacationing students or singles under 19 years of age unless accompanied by an adult guardian or (URL HIDDEN). No Daily Maid Service While an initial supply of linens and towels are inclusive, daily maid service is not included in the rental rate.House rules
1. No smoking permitted on the premises.2. People other than those in the Guest party set forth above may not stay overnight in the property. Any other person in the property is the sole responsibility of Guest.3. Access: Guest shall allow Homeowner access to the property for purposes of repair and inspection. Homeowner shall exercise this right of access in a reasonable manner4. Keep the property and all furnishings in good order5. Only use appliances for their intended uses.6. Pets are Considered with a set cleaning fee of $30. Parking: Parking is limited to ___4__ vehicle(s). Vehicles are to be parked in designated parking areas only (visitors) section. Wednesday is garbage pick-up day, therefore cars can only parked in the garage and driveway.8. Small events of no more than 8 people are allowed but must be authorized by the owner. Keep the noise at a minimum courtesy to the neighbors. This is a quite community and there are noise ordinance set in place. 10. This is a residential area and kids are at play, NO SPEEDING and keep an eye on the road please.11. The owners are not responsible for any accidents, injuries or illness that occurs while on the premises or its facilities. The Homeowners are not responsible for the loss of personal belongings or valuables of the guest. By accepting this reservation, it is agreed that all guests are expressly assuming the risk of any harm arising from their use of the premises or others whom they invite to use the premise.Cancellations and Early Departure
If the Guest wishes to cancel the reservation, the remaining amount of the Overall Lease Costs will be refunded as follows: 100 % if cancelled 90 days prior to the Check-in Date 50 % if cancelled 60 days prior to the Check-in Date25 % if cancelled 30 days prior to the Check-in DateEarly departure does not warrant any refund.The Homeowner is not responsible for the loss of personal belongings or valuables of the guest. By accepting this reservation, it is agreed that all guests are expressly assuming the risk of any harm arising from their use of the premises or others whom they invite to the premises. Exceptional Weather and/ or Road ConditionsWe do not refund due to any weather or road conditions. To protect against cancellations or early departure caused by unforeseeable events such as illness or bad weather, as already mentioned above, we recommend that guests purchase trip cancellation insurance from a private carrier. Rate ChangesPrior to a confirmed reservation, rates are subject to change without notice. Falsified ReservationsAny reservation obtained under false pretense will be subject to forfeiture of advance payment, deposit and/ or rental money, and the Guest will not be permitted to check in. Written ExceptionsAny exceptions to the above mentioned policies must be approved in writing in advance. The Guest agrees to all the terms and conditions of the Rental Rules and Regulations, as evidenced by his signature set forth below. Print Guest Name:
___________________________

Signature Guest:____________________________________________________Place, Date:__________________________, __________________________
---
Languages:
English, العربية
Response rate:
100%
Response time:
within an hour
Explore other options in and around Stockton
More places to stay in Stockton: