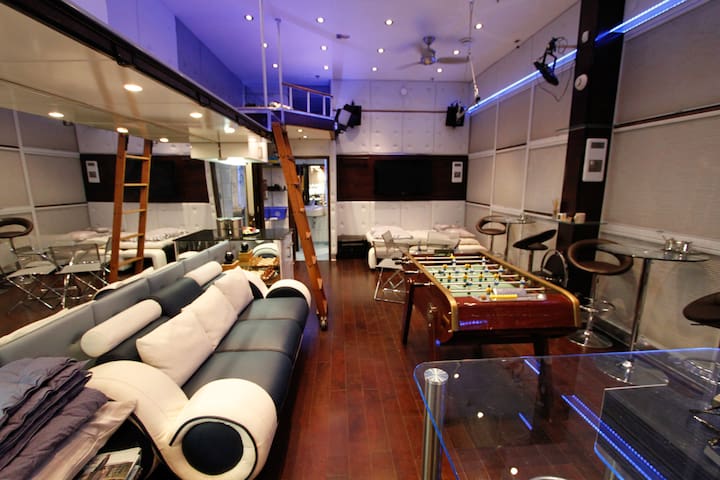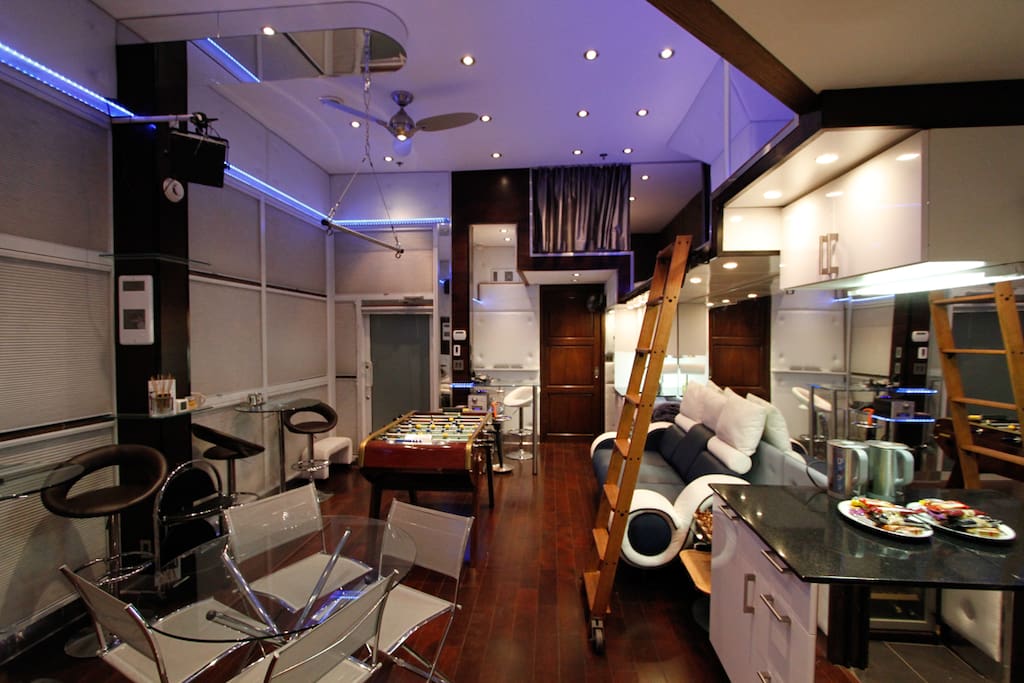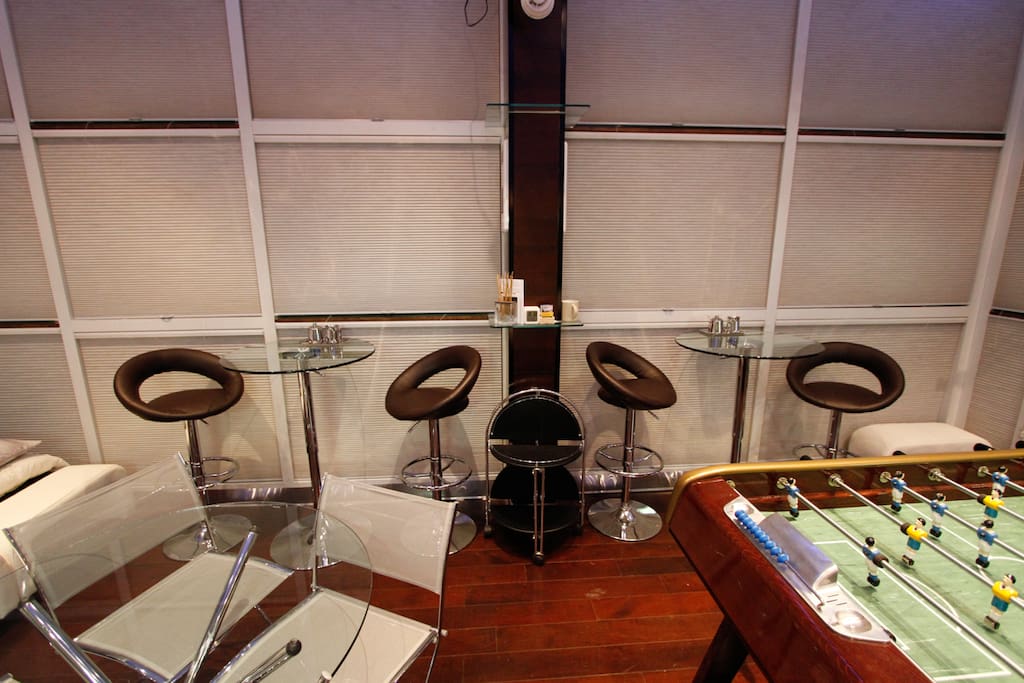 Montreal's Most Unique B&B!
The most unique B&B in Montreal. Should be experienced at least once.
The space
Notice
--------
Between March 1 and October 31, inclusively, weekends must be booked for both Friday and Saturday. If the time between your enquiry and check-in date is less than 4 weeks, I may permit a booking of Friday or Saturday only, but this is at my sole discretion.
Long weekends must generally be booked for Friday, Saturday, and Sunday. If booking only 2 out of the 3 days, a premium will apply for the non-booked day.
You must book a minimum of 8 guests for a weekend booking, even if less will be present.
Bachelor or Bachelorette parties generally require an additional fee (usually by increasing the number of guests by 1) if outside entertainment or guests will be present on at least one evening. This is due to the added amount of cleanup involved on a daily basis.
Location
-----------
It doesn't get any better than Old Montreal. This is the most popular destination for tourists and celebrities alike, and for good reason. It is the most attractive part of the city, rich with history and home to 3 of the top 5 restaurants in Montreal, including Canada's top rated restaurant - Toqué!
The loft is located at the corner of Rue de la Commune & Rue des Soeurs Grises, which is the western edge of Old Montreal near the Square Victoria Metro and across from Bota Bota Spa sur-l'Eau. The street view that is provided by Airbnb is approximate and is only meant to give you a general idea of what the area looks like.
The location is central yet quiet after a certain time. It is close to all the major tourist attractions - museums, art galleries, La Ronde amusement park, Montreal Casino, Formula 1 track (Circuit Gilles Villeneuve), Bota Bota Spa sur-l'Eau, Spa Scandinève, Quays of the Old Port, Montreal World Trade Centre, Palais de Congres, Notre-Dame Basilica, Montreal Science Centre, IMAX Theater, King Edward Quay, Jacques Cartier Pier, Terrace Bonsecours, Bonsecours Market, Suite 701, Montreal City Hall, bike paths, public transit, and many amazing restaurants (Toqué, Gibby's Steakhouse, Verses, Garde Manger, Le Club Chasse et Peche).
You can take public transit (a bus station and a Bixi bike station is 10 meters away), the metro (5 minute walk to nearest metro station), walk, or travel in style with a scooter rental from Montreal Scooter!
Beds
------
The unit is equipped with the following sleeping units:
1. Mezzanine Room
- Medium firm queen size futon bed (60"x80") that sleeps 2 very comfortably - bar fridge and luggage storage "en suite"
2. Curtain Room
- 4 soft individual feather beds (39"x75") that each sleep 1 very comfortably
3. Living Room
- Medium firm sofa bed (50"x75") that sleeps 1 very comfortably, or 2 comfortably
- Identical medium firm sofa bed (50"x75") that sleeps 1 very comfortably, or 2 comfortably
Please note that for groups of 13-14, 1 or both of the above beds must be shared.
- Firm couch with a useable sleeping area of 27"x62" that sleeps 1 who measures 5'2" and under comfortably, or someone up to 6'2" somewhat comfortably. I am 6'2" and I have tested this couch by sleeping on it overnight and it's ok for 1-2 nights, maybe 3-4 in a pinch. I've had a 5'8" guest sleep on it 4 nights in a row and found it very comfortable.
The sleeping units below only come into play for groups of 12-14:
4. Kitchen Mezzanine Room (not pictured)
- Queen size feather bed (60"x80") that sleeps 2 very comfortably. Luggage area "en suite"
- Soft individual feather bed (39"x75") that sleeps 1 very comfortably
Pillows and Linen
----------------------
Pillows supplied are hotel quality Pacific Coast brand with high end anti-allergen protectors, and sham coverings. Blankets provided are also high end Pacific Coast throws that are soft, breathable, and keep your body at just the right temperature for a great night's sleep.
Towels are high end Royal Plush in Hotel White and refreshed upon request. We have a total of 16 bath towels, 12 hand towels, and 4 face towels at your disposal.
The unit is kept smelling fresh with Esteban Paris "Sous les feuilles" potpourri and home fragrance scents from France.
Kitchen
----------
You may use the fridge to keep your fresh or leftover food. If you need to cook something, I am usually more than willing to prepare it for you! Alternatively, if you insist on preparing it yourself, I will demonstrate operation of the stove and other appliances. There are 6 tall and thin champagne glasses, 6 tall and wide champagne glasses, 8 red wine glasses, 8 white wine glasses, 8 short 8oz glasses, 9 short 12oz glasses, 12 tall 12oz glasses, 12 tall 16oz glasses, 8 martini glasses, 15 2oz shot glasses, 12 1.25 oz shot glasses, and 8 coffee/tea cups and saucers. Fine china and cutlery is provided.
Amenities
-------------
The main washroom is equipped with a refreshing rain shower that never runs out of hot water (tankless water heating system), hatbox tankless toilet and 2 sinks (1 for me, and 1 for the exclusive use of guests), and a high end washer/dryer (laundry done for you upon request).
A 2nd washroom with toilet, sink, and changing bench is for the exclusive use of guests. The toilet has its own door so that another guest may use the sink and changing bench simultaneously.
In the living room, there is a 50" Pioneer Elite Plasma screen with Bell FibeTV, Musical Fidelity sound system, B&W SCM1 wall mounted speakers, Bonzini foosball (Babyfoot) table, bar fridge with complimentary soft drinks, complimentary snack bar, dinner table, board games, 2 breakfast/bar tables, 4 bar stools, coat rack, shoe rack, 2 multipurpose white benches, and plenty of luggage storage. You may connect your MP3 player to the sound system to play your choice of music. You may mirror your MacBook to the Plasma screen via a provided Thunderbolt to HDMI adapter.
You may borrow a movie from my DVD collection of every genre.
For those of you who need to do work, we also offer a work station with both wired and wireless internet, and a printer. Secure underground parking is available for $20/day. The unit is air conditioned and able to maintain a constant 22-23C depending on outside ambient conditions. Smoking is permitted on the stairwell just outside the unit.
Shared with Care
--------------------
The place is shared with me. There are curtains and sliding doors to give you visual privacy. A solid 1.75" sliding door is closed after midnight which will give you complete sound privacy from my own personal living quarters.
I currently have a maximum accommodation of 14 people but the place is capable of accommodating 15-20 for short periods of time if necessary. There are some emergency beds, blankets, and pillows that are not pictured that can be provided so everybody sleeps comfortably. Inquire about a custom package if you have a party larger than 14 for a special event or even just a normal stay.
I look forward to being your host!
Interaction with guests
My friendly personality and attention to detail will make your stay an unforgettable one. If you have any special requests, just ask and I'll try to accommodate you. I'm confident you will love your stay in the most unique loft in Montreal, which I painstakingly designed and hand built from scratch over a period of 18 months. You will not find another unit with this attention to detail anywhere in Montreal. Seeing is believing, and I invite you to see for yourself!
I interact with guests as much or as little as the guests feel comfortable with.
---
---
Bedroom 1
1 queen bed, 2 double beds, 4 single beds, 2 sofa beds
---
Not safe or suitable for children (0-12 years)
Check in time is 4PM - 12AM (midnight)
Rule #1 - don't steal anything
Rule #2 - don't break anything
Rule #3 - lock the door when entering and exiting; DOUBLE CHECK the lock when exiting
If you need something, please ask and you will most likely receive. Quiet time is midnight but you may play music at a BACKGROUND level until 3 am on Friday and Saturday night (technically Saturday and Sunday morning). You can always talk and stay up as late as you wish. You may smoke on the stairwell outside, but after midnight, no socializing or loud talking is permitted because the neighbours will be able to hear your conversation and will complain. No smoking indoors. No invitation of outside guests at any time except to meet with you before going out, in which case a 15 minute grace period shall be granted (maximum of 2 guests). Pictures in the loft are permitted but not video without prior authorization. Any special requests must be discussed in advance with me and will be considered on a case by case basis. Thank you for your cooperation. I hope you enjoy your stay.
---
Jerome was a great host, his air bnb is like no other. It is in a great part of town with a lot of great scenery and bars were a short cab ride away - or if you dont mind the walk, theyre about 20mins away! Jerome gave us some great suggestions and was very easy to talk with! I would 100% stay here again!
---
Jerome kept a great place that is perfect to go for a group of friends. He kept the place constantly stocked with beverages and snacks for guests use. There is a foosball table and chess board for entertainment. He was great for giving suggestions on what to do. He also makes a great coffee and croissant for breakfast. Highly recommended.
---
I'm the owner of Montreal Scooter and thought it would be great to offer a unique accommodation experience to guests from all over the world! Come spend a day or week with me for an unforgettable experience! Your comfort and enjoyment are my priority and my attention to detail en…
Languages:
English, Français
Response rate:
100%
Response time:
within an hour
Explore other options in and around Montreal
More places to stay in Montreal: