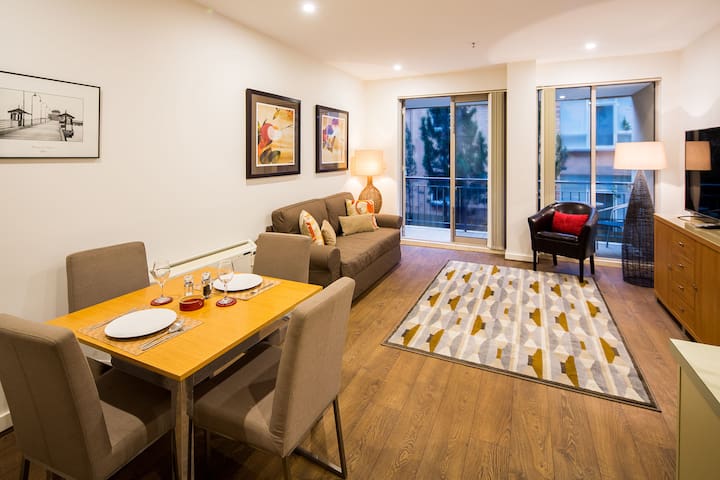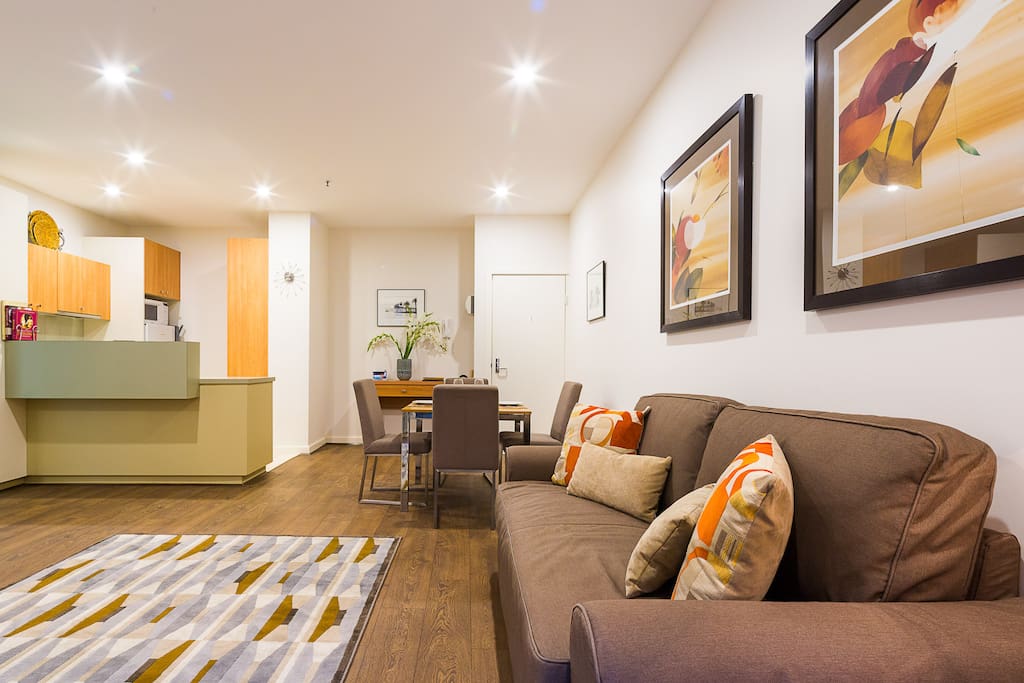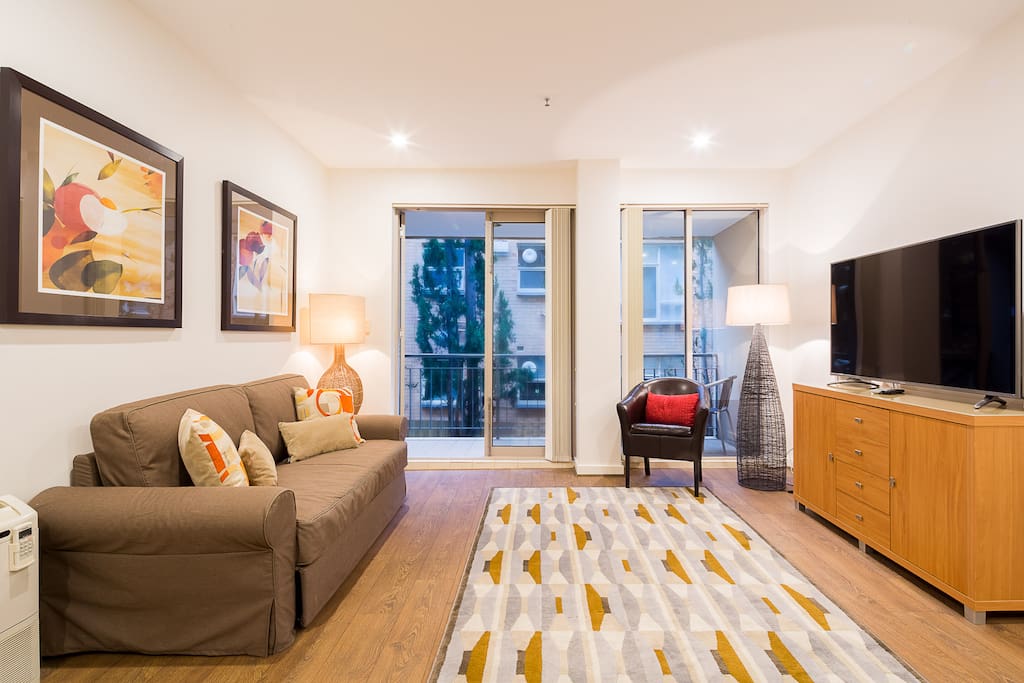 With more than 450 reviews for StayCentral on Tripadvisor, Airbnb & others, at 4.8 Stars, why look elsewhere?
Close to cafes, restaurants, shops, ATMs, bike and walking paths, trams, the CBD, Albert Park, Luna Park, Acland St and St Kilda beach.
We also have other one-bedroom apartments nearby in St Kilda.
Typically have reverse-cycle air-con, laundry and a fully-equipped kitchen, 60" UHD Smart TV, coffee machine, very comfortable pillow-top beds, unlimited Wi-Fi and security parking.
The space
St Kilda corporate apartment, serviced accommodation, close to CBD, Albert Park, Luna Park, Acland St and St Kilda beach.
We also have other one and two-bedroom apartments nearby in St Kilda and Port Melbourne. They typically have reverse-cycle air-con, laundry facilities and a fully-equipped kitchen, 60" UHD Smart TV, coffee machine, very comfortable pillow-top beds, unlimited Wi-Fi and security parking. Free Netflix is available here.
Perfect for two, your modern, corporate, boutique, apartment accommodation is hidden away in a small building in Acland Street near the top of the rise, and close to Fitzroy Street, a quaint, leafy, secluded part of lively St. Kilda.
Behind its double security entrance you'll be delighted with your well-appointed apartment with its sunny, north- facing balcony. In the warmer months, you can enjoy the well-laid out swimming pool, bar-b-que and sun-chair area! (Sorry that we cannot be more specific than that, as we don't decide on the opening dates, and it depends on the weather).
This is a one-bedroom apartment: with a queen bed and double sofa bed. There's also a cot and high chair available if needed. Don't forget to bring linen for the cot.
StayCentral now supplies beach towels with this property.
Wheelchair accessible with assistance only. Electric wheelchairs may be too wide for doorways. Shower chair available.
With more than 450 reviews for StayCentral on Tripadvisor, Airbnb and other global websites, with a guest rating of 4.8 Stars, why look elsewhere?
125% Satisfaction Guarantee. We will refund 125% of your fee if our apartments are not as they appear on our website; or better. Please see our website for full details.
Your Melbourne serviced apartment includes high quality furnishings and appliances, linen, beautiful bath towels, and a fully equipped kitchen and laundry facilities. Opening windows in the bedroom and onto the balcony from the living area allow fresh air through all rooms when you want it.
Extra vehicle parking available.
Tall vehicle parking is available.
Special Comments about Rates
Pay early; Pay less.
The longer you stay; the less you pay per night.
A small fee is charged for the use of the foldaway and/or sofa bed at $25/night or $100/week. A cot and and high chair can mostly be provided for free; BYO linen. No hidden fees or taxes. Surcharges are added to these standard rates for special event periods.
MINIMUM STAYS:
This apartment generally has a minimum stay of 3 nights.
Lower rates are available for longer stays.
Rates allow for up to 2 people in the king or queen bed in our one-bedroom apartments.
SPECIAL EVENT PERIODS
If you book during special event periods, you may expect to pay an extra fee (above the standard rates) in some of our apartments as shown below:
Australian Grand Prix - 30% (Min stay 7 nights)
Christmas - New Year - 30%
Australian Tennis Open - 30%
Main Bedroom
Modern, queen-size bed, four pillows (firm and soft) plus spares, and doona.
Bedside tables, with modern lamps and clock radio.
A wardrobe with hanging space, chest of drawers and lots of hangers.
Electric blanket and extra blankets. Shopping trolley
Bathroom
Beautiful bath towels (and spares) as well as hand towel, face washers and a bath mat.
Hair dryer. Fold-away clothes airer.
Rubbish bin and toilet brush. Sanitary pad bags
Welcome soap, shampoo/conditioner/body lotion.
Living/Dining Area
Very comfortable double sofa bed, and single foldaway if needed. Quality bed linen. Leather occasional chair and high-quality, comfy cushions.
Timber coffee table, buffet entertainment unit, dining table and four very comfortable, modern suede leather chairs to match. Various games,
DVDs and book exchange
Entry console with street directory and restaurant guide book. Decorative lamps.
60" UHD Smart TV with HDMI port, DVD player, CD player, tape player and stereo; all with remotes.
Kitchen
All modern kitchen appliances are fitted here; including fridge, dishwasher, microwave, stainless steel oven, gas cook top and range hood. All the essential utensils are provided.
Welcome tea, coffee, sugar, milk, paper towels, serviettes etc
RATES
Rates include the supply and replacement of all linen & towels.
We strongly recommend that you have travel insurance to cover you in the event of an unforeseeable cancellation.
Very early and late arrivals require the following fees to have someone there at these times:
6am - 9:30am & 6pm - 9:00pm will be charged at $25.00; 9:00pm - 6am will be charged at $60.00
Very early check-in can only be secured well in advance by either booking the night before, or by paying an extra half-day rate; depending on the time of arrival.
Guest access
Guests have access to all facilities in the complex, as described above.
Interaction with guests
We send you instructions on how to collect your keys on site once your booking is confirmed. Our office is remote from the apartment, so we communicate by phone or email. We generally check with you within 24 hours of arrival to make sure that everything is okay, but we are available by phone and email for extended office hours every day.
Other things to note
Guests will be asked to acknowledge acceptance of StayCentral Terms & Conditions and House rules, and may be asked to provide photo ID on arrival.
Pets are allowed in many of our apartments, as long as they are quiet, and do not damage or climb on the furnishings.
MINIMUM STAYS:
This apartment generally has a minimum stay of 3 days.
Lower rates are available for longer bookings.
---
---
Common spaces
1 single bed, 1 sofa bed
---
Check in is anytime after 3PM
Guest Terms and Conditions Of Trade
Payment and Cancellation Policy
•Payment of deposit or total fee for your booking indicates acceptance of these Terms and Conditions.
•Late Arrivals (after 6.30 pm) may incur additional charges. Please contact StayCentral to find out more.
•Invoices are issued, and payment must be made, in Australian dollars.
•By making payment of the total fee, you have an exclusive licence to occupy the property for the days specified when you book (but not possession).
House Rules
•The number of guests staying at the property must not exceed the number agreed to in the booking details. In the event that any additional persons stay at the property, an additional fee may be charged according to our usual rates and/or we reserve the right to terminate the booking without refund.
•If pets are entering the property or staying at the property (only allowable for pet friendly properties), this must be disclosed at the time of booking, or we reserve the right to terminate the booking without refund. In that case we will not be responsible for finding or funding alternative accommodation. If extensive additional cleaning is required at the end of your stay, this cost will be claimed through Airbnb. The general house rules for pet guests are to not allow them on the beds and furniture, not to allow them to damage any property and to clean up after them before leaving the property. Guests will be liable for any necessary cleaning and dry-cleaning if required.
•All StayCentral serviced apartments are non-smoking indoors. This includes smoking on balconies with the balcony doors open. We reserve the right to terminate a guest's stay without refund if we become aware of guests or their friends smoking indoors. There may also be additional cleaning fees to remove any smoke smell from the property.
•You will agree to any other reasonable house rules which may be made available to you at the property.
•In the case of StayCentral properties which are part of a residential apartment complex, guest are required to enter and exit the property quietly.
•For all properties, the noise level must be inaudible from neighbouring properties between 10pm and 8am Sun-Thu nights, and between 11pm and 9am Fri-Sat nights.
•All guests are expected to behave in a manner that does not cause distress to neighbours or interfere in any way with their right to enjoy their properties. We reserve the right to remove guests who do not adhere to this code of behaviour. In these cases, no refund will be due, and we will not be responsible for finding or funding alternate accommodation, nor will we be responsible for any other associated costs.
•StayCentral has a 'No-Party' policy. Automatic $300 fines apply to any guest who disturbs neighbours with parties.
•Guests may not engage in any illegal activity at the property.
Check In and Check Out
•Check In and Check Out procedures will be detailed in the Property Information package forwarded to you following payment of deposit. Whilst we are more than happy to provide early Check In and late Check Out wherever possible, this can only be confirmed at the last minute, as it is dependent on other bookings at the time. Failure to adhere to those procedures could result in the incurring of additional costs.
•Breakages, Losses and Guest Charges
•You are responsible for leaving the property in the state in which you found it on arrival. All breakages or losses must be reported immediately to us. Whilst we will not pursue reimbursement for minor accidental damage or normal wear and tear, the total cost of making good any other damage or loss to the property, garden or contents will be claimed via Airbnb. Please note this includes the removal of consumable items from the property, which are provided for guest use whilst in-house and are not intended as individual use presentations (examples include laundry powder, dishwashing liquid, toiletries provided in dispensers etc).
•It is our policy to have all locks changed if keys are lost or not returned. All associated costs will be claimed through Airbnb if this occurs. Similarly any remote controls will be replaced at your cost if lost or not returned.
•Standard cleaning services costs are charged at the time of booking. Properties may also include interim cleaning services for stays of longer than a week amp these are included in the rate. This will be detailed in your pre-arrival information. Guests are expected to leave the properties in a neat and tidy state without the need for extensive, excessive cleaning. You are responsible for all cleaning charges in the event that the property is left in a state that requires more than standard cleaning. This will be charged via Airbnb.
•Reasonable usage of electricity, gas any other utilities provided at the property are included in your rates. Excessive use (more than a 30% increase compared to similar periods) of any of these utilities may be charged for via Airbnb. If charges are passed onto the Guest, evidence of charges will be provided on request.
•Properties, which provide local telephone calls included in the rate, do so for up to 6 calls per day. Costs for additional calls may be passed onto guests.
•Neither StayCentral nor the owners of the property are liable for loss to you of any personal belongings while you are in the property. We strongly recommend that you have travel insurance to cover you in the event of an unforeseeable loss during your stay. Guest items found by our cleaning staff are kept in the StayCentral office for one month before discarding. It is the guest's responsibility to follow up any items that may have been left behind at the property. We request that guests send a reply paid envelope to StayCentral in order for us to return the items. Alternatively, for large items, we may be able to bill your credit card for postage and handling.
Complaints
•You should not wait until you return home before complaining about any matter as no inspection can be carried out when others are occupying the property. We welcome hearing from you in relation to any complaints or concerns and prefer that you phoned us immediately if important, rather than when you depart, so that matters can be resolved quickly.
•The place of law is Victoria and the courts of Victoria have exclusive jurisdiction.
Termination
•Your occupation of the property may be terminated by StayCentral without notice in the event that you breach any material term or condition or in the event that any amount due is not paid.
Disclaimer
•StayCentral enters into this agreement on behalf of the owner of the property and is not liable to you in relation to the property or any services.
•StayCentral is an accommodation booking service and is not a real estate broker, agent or rental company. Whilst all measures are taken to avoid any property being misrepresented by the property owner, StayCentral is in no way liable for any advertising misrepresentations as property owners are solely responsible for the accuracy of their listings and information.
•Neither StayCentral nor the owner of the property can be held responsible for failure or interruption to power or services to the property for reasons beyond our control.
•To the fullest extent permitted by law, StayCentral and the owner disclaim all warranties in relation to the provision of services and the use of the property, and otherwise our liability is limited at our option to the supply of the relevant services again or the payment of the cost of having services supplied again.
•Neither StayCentral nor the owners are liable for any indirect, incidental, special and/or consequential damage or loss of profits which result from use of the property and services provided to you.
•StayCentral reserves the right to relocate a booking to an alternative property of similar standard and location at any time. In this instance, guests will be offered either a full refund OR asked to confirm their stay at the alternative property.
---
Hi! That apartment looks nice and bright on the pictures that actually is 80% you have to use a light and if they are broken you are in trouble! If you need a use the internet forget about it because there are no internet! We spoked whit host representative every second day and his recommendation was, please do the restart again and again! We give up and left rom that apartment 7 days before when contract was ending and from "HOSTE" we did not received even single phone call!!! I haven't get so bad experience yet and we was a long term renter!!! Good luck to you! A.Saidla
I have to say that there is more to this than it appears. Unfortunately, around the time Aivar arrived, we believe that someone nearby the apartment installed a device with the same frequency as our modem, which caused the internet to intermittently drop out. This is why we asked him to re-start the modem, because we could not find a fault anywhere. We worked over many days onsite ourselves testing the internet and often could not fault it, with our internet supplier, then with an IT consultant to narrow down the cause, before he tried different devices until the connection was restored on the very day that Aivar departed. We told Aivar what we were doing, to keep him informed. He then just departed without saying a word, or checking with us with regard to the progress of the work. He didn't even call us to advise us of his intentions. He just notified us by SMS that he had already departed. Clearly he didn't want to talk to us, and there was nothing we could do if he had left. If he had stayed one more day, he would have had a perfect, free, high-speed internet connection, as we have had there since 2006 without any complaints. Avian may have found the apartment dark for some reason, but we have not had a complaint or even comment about this in nine years. And there are spare light globes in the kitchen by the way. We did try to help, but the IT issues took too long in this case. At least the internet is working very well now! I'm sorry that Aivar didn't enjoy his experience with us. It is very rare that this happens, as can be verified by more than 200 reviews on Tripadvisor and (SENSITIVE CONTENTS HIDDEN) at 4.7 Stars (out of 5). I hope he had more luck at the next location.
---
Jag är glad att du gillade poolen och plats. Jag vet vad som var fel med Wi-Fi inte. Vi kontaktade dig efter att du kom, men du inte berätta det fanns ett problem. Vi hade tre olika Wi-Fi-inställningar som du kan ha försökt. Jag hoppas att du oftast planera din resa ändå. Regards, chris
---
A mining engineer by profession, I have owned other businesses since 1998. I started this business with one apartment in 2005, and now manage multiple properties. I love to travel; both overseas on epic journeys (including remote locations like the Mulu Caves in Borneo, ancien…
Languages:
English
Response rate:
100%
Response time:
within an hour
Explore other options in and around St Kilda
More places to stay in St Kilda: