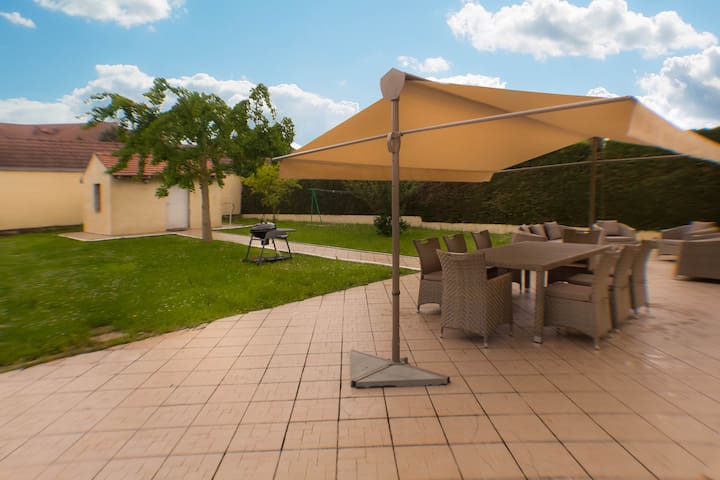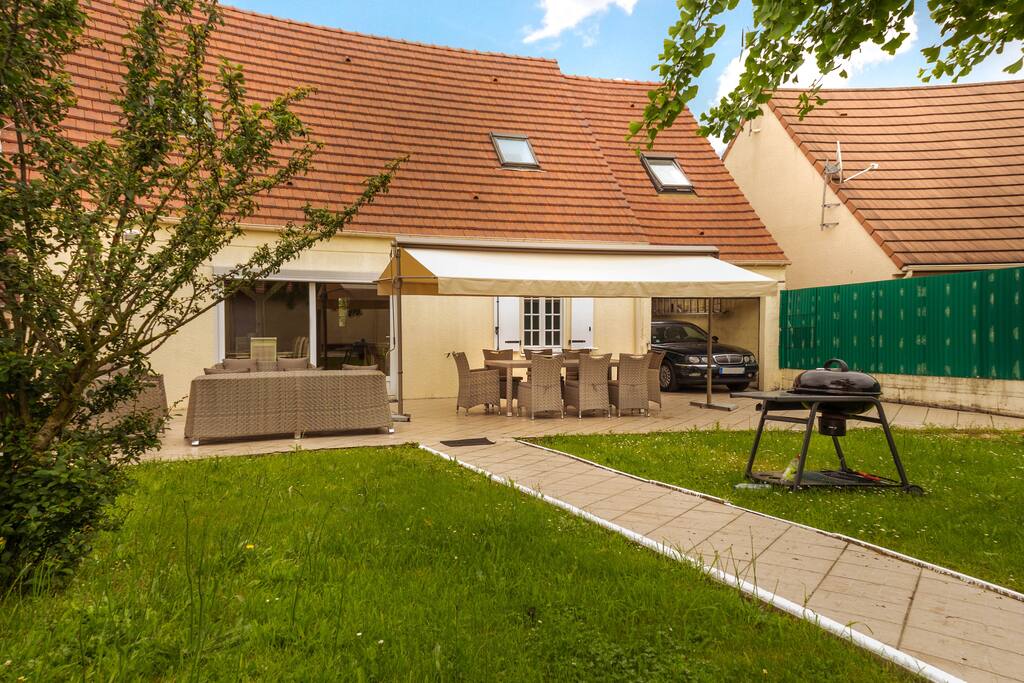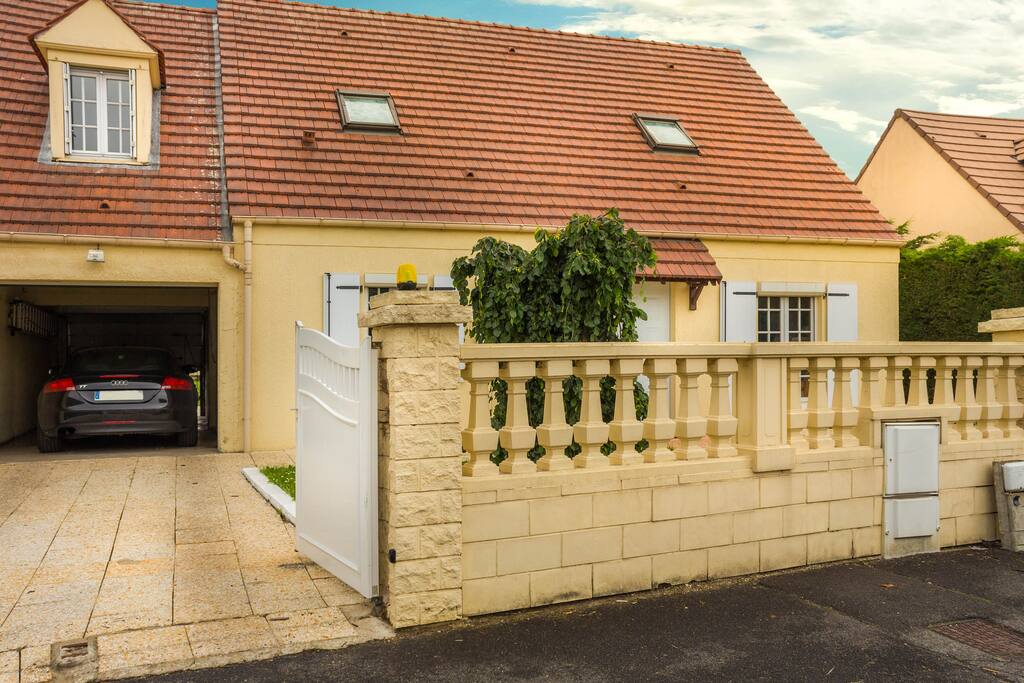 The space
Accommodation well appointed and equipped living area of 270 m2 and garden 230 m2 with terrace and parking.
Connexion WIFI, TV LCD, high connexion, Dvd player and hi-fi system
Fitted kitchen: fridge, freezer, toaster, microwave, owen, hot-plate, teapot and coffee pot.
Welcome until 10 people with double beds, two bathrooms and toilets
The district is quite and the neighbors are very friendly
- Providing access to a vehicle
- Availability of 3 bikes
- Riding bikes
- Ground of Tennis
- Football field
- Field of skate
- Disneyland Paris amusement park
- Centre commercial Val d'Europe
- La Vallée Village
- Shops nearby: bakery, grocery, tobacco, pharmacy, supermarket, banks...
- Restaurants: Pizzeria, Sushi, Chinese, Moroccan and crêperie
- Parks for picnics
- 30 minutes by train from the Parisian capital
Possibility to accommodate up to 10 people with double beds.
Located 8 minutes away from Disneyland Paris and 25 minutes from Roissy Charles de Gaulle.
-No smoking - no pets -
---
---
Check in is anytime after 10AM
---
Joyce was a great host and her house is exactly how It looks in the pictures. I was a bit worried as I've not used Air bnb before but I was pleasantly surprised and am currently looking for our next place to book. The house Is a great location, lovely and quiet, just a 2 min walk to the train station to get into Paris which only cost £14, 2 min walk to the local shops which were surprisingly cheap! Bus stop to Disney 2 min walk again and only cost 4 euros return. The garden area is lovely and perfect for a sunny day! Joyce was there on time and let us check out later than expected which was very kind! The wifi was also broke before we came but Joyce manged to go out of her way to fix this before we arrived. Would definatly recommend Joyce's house and am already looking at booking again for Christmas!! Thanks Joyce xx
---
Me and my family from Brazil had a lovely time at Joyce-Kate's house. We stayed for a couple of nights while visiting Disney. Joyce-Kate replied promptly to my emails with very useful information and helped us to find supermarket, etc, and accommodated all our needs. It was useful having wi fi in the house, she was there to give us the key and made us feel welcome in the house. It's a big house and all 9 of us had plenty of space and rooms. Shame we didn't spend enough time there to enjoy her garden! Would definitely stay there again. Thank you Joyce-Kate!
---
I have book this place for 6 days with an expectation to enjoy time with family but started looking for another hotel as soon as I entered the house. I would not recommend this place for someone who is looking for basic level of comfort. I find this place below par as it does not have any proper bathroom (one of the bathroom don't have a lock or shower curtains) or kitchen set up ( it doesn't have dishwasher) . Also the house had a very bad smell and it requires lot of repair work. Not at all safe for kids. I am a bit surprised that airbnb don't validate the standard of places which they are offering through there website. After my holidays when I spoke to them they mentioned that they don't validate and depend on the feedback/information from guests/host. There is some construction work going on in the surrounding area otherwise its OK. I will think twice before renting any other cottage through airbnb in future as I would expect a company providing me service and charging a service charge should provide a basic service i.e. I should know what I buying and what is the standard of place they are offering.
---
Our host was incredible! She answered tons of emails from me without ever sounding bothered. ;-) she went out of her way, literally, by driving her car and having two family members drive their cars to pick up our family of 7 from the airport at 10:30 at night on a work day, just to avoid us having to take the train to her home. That right there was amazing but then they refused to let is pay for has or parking! I can't believe anyone to be so kind!!!!! Upon arrival she had a basket with wine and cheese (amazing cheese) and snacks as a welcome To us. We see tired and hungry and that hit the spot! Joyce/Kate and her family were very kind and helpful. Now about the house- it's big and comforting and clean and has everything you need! Dishes, extra linens and blankets. Trash bags, toilet paper, and use of a washer and dryer. (We learned in a European dryer u must empty the water tank after each use, something we don't even have in the USA). The house had rolling shutters and an electric gate in front. We felt SAFE and at home. The host loaned us a hair dryer and had an espresso maker and electric water heater pot. The beds were comfy and the living room had enough couches for our whole family. There was a nice big tv too. The grocery store was a 5/ten minute walk. We had a 7 min walk to the bus stop & a $2euro per person ride to Disneyland. It was a 15 min bus drive there and we told the driver when we got on where we wanted to go and he made sure we got off the right stop. We missed the last bus back, so took a taxi home and that cost $30 euro. For a van. Across the street from the bus stop is the train station to Paris. It was a 40 minute journey, with one transfer to another train and then a subway ride into Paris. That was all only one tickets price. We had to ask someone at the station for help in buying the right ticket, but everyone around the station was helpful. Our host always responded to our many questions and made sure we had everything we needed! I would stay here again for sure!!!!
---
Joyeuse, dynamique et toujours enchantée d'accueillir !!
Languages:
English, Français
Response rate:
50%
Response time:
within a day
Explore other options in and around Saint-Germain-sur-Morin
More places to stay in Saint-Germain-sur-Morin: