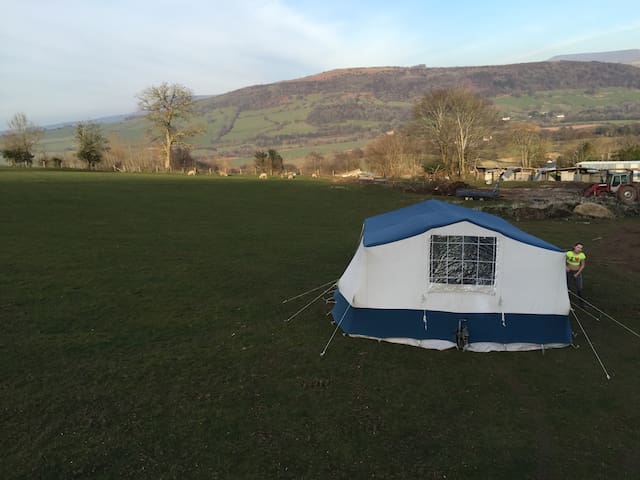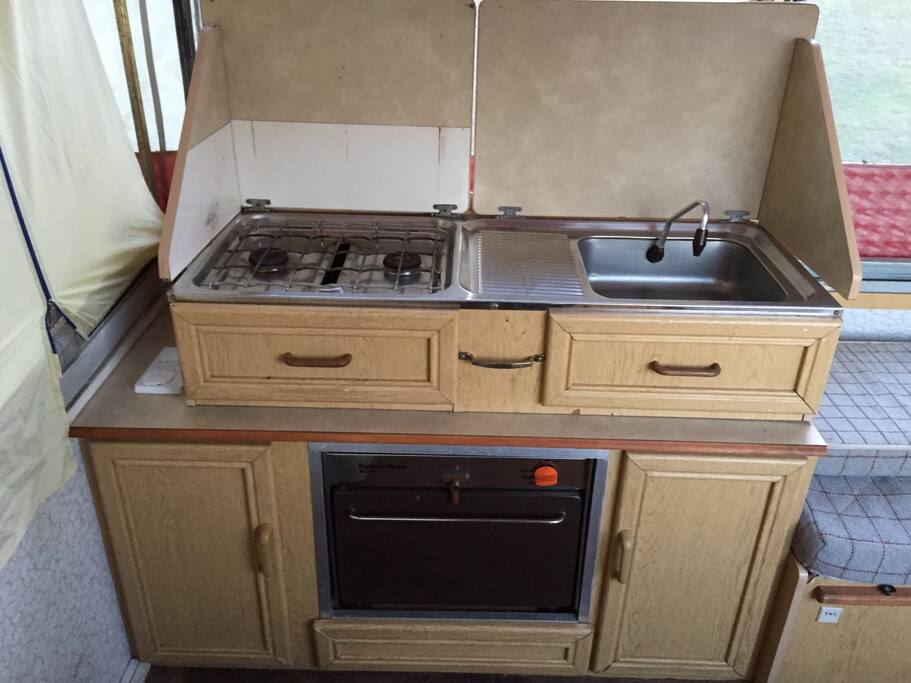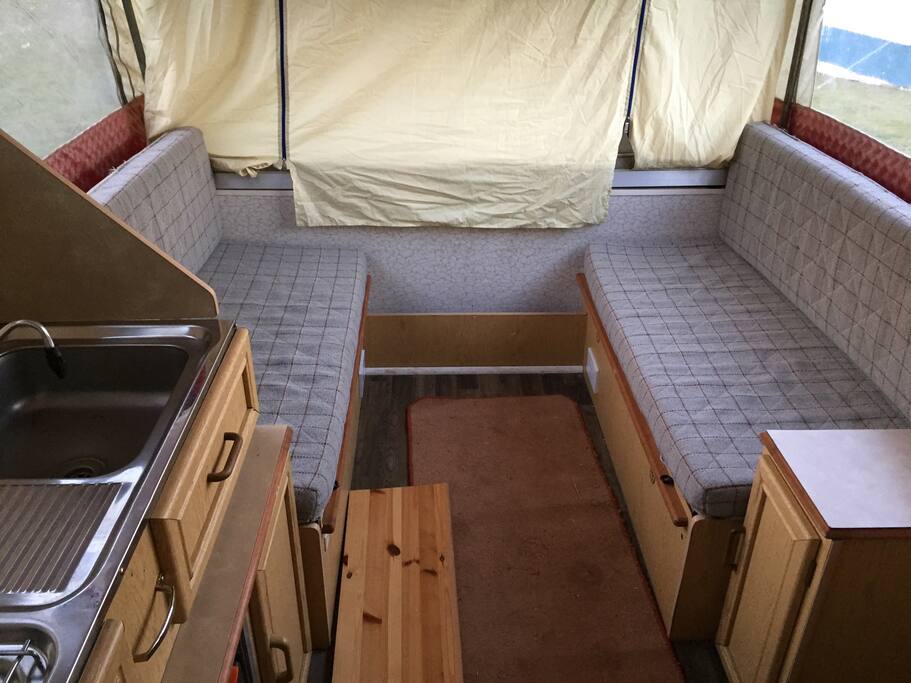 Great little camper with a cooker and fridge and battery lighting
on a farm with lots of animals to enjoy!
In the heart of the Brecon Beacons National park, a dark sight reserve sight. With views of about 30 miles, on the fabulous Usk Valley Trail, with bike hire in sight and trails starting a 100yrds away. Farm animals to pet&brush. 6 miles from Brecon.
village with 4 pubs and a shop/cafe/postoffice is a 10 minute walk down through 2 fields.
there is a large wetroom & laundry/kitchen room
The space
The camper tent is totally soaked in nature in the middle of a field so there is no electric in the tent. There is a kettle, toaster and electric points in the laundry room for charging phones etc. Flasks to borrow for that warm cuppa.
---
---
Check in is anytime after 12PM (noon)
---
Tent had another family in it on arrival! Contacted host who was out all evening to sort but took a while. Field gate expected to be shut but tied up with endless string so impossible to use, walk through field to tent was dangerous as place littered with abandoned farm rubbish, barb wire etc Tent leaked. Only good thing was cute baby goat.
The person who came was not Clare who's account it was booked thRough. I was not out for the evening I was home from the yearly afternoon performance of 8year old daughters end of year show by 8pm. The guests that did come on this booking were in the pub until after midnight, I waited tried to contact both numbers I had but no answers so I left airb&b and 2xtexts. YES, your tent had been taken by other guests but within a hour of my return it was sorted. these guests undid the tied gate into my garden and put there belongings in my childrens play tent. I had no problem with this and explained on the phone this to them. but the part they walked through was our next project that was being fenced and not suitable for walking through. these people returned in the early hours of the morning DID NOT go to the tent they had booked and was ready for them but my childrens, i would like to add play tent with bean bags none of which were wet! I DO NOT EXPECT GUESTS to wonder round inside my private house and sleep where they choose!! and lastly arrive back very worse for wear which were their words , leaving gates to my new area open where my animals can get in trouble with wire etc this is why there was string all round the gate to stop anyone opening it. my animals had escaped down onto the road and onto my patio this is what woke me at 6,30am after 3 hrs sleep, I then had to round them up and went back to bed at 7.30am exhausted. I WHICH TO STATE THESE CANNOT BE CLARE'S WORDS AS SHE HAS NEVER BEEN TO MY HOME, IT IS VERY WORRYING WHEN PEOPLE CAN BOOK ON OTHERS ACCOUNT.
---
Explore other options in and around Brecon
More places to stay in Brecon: