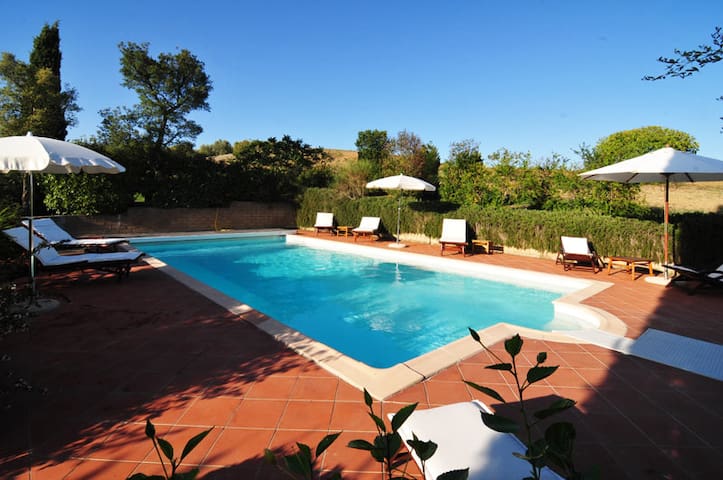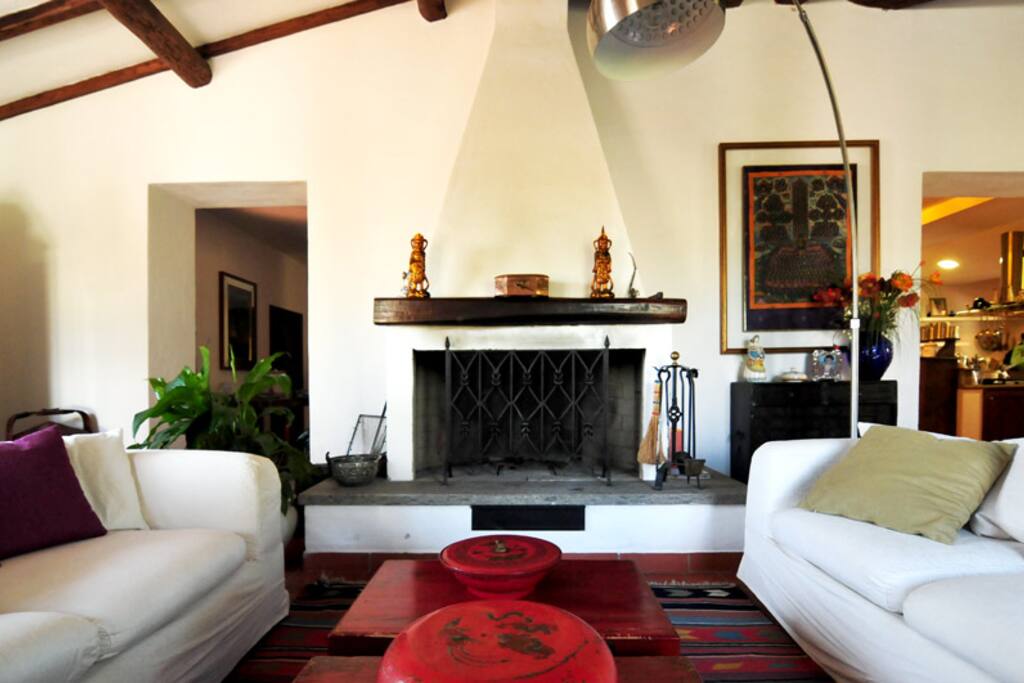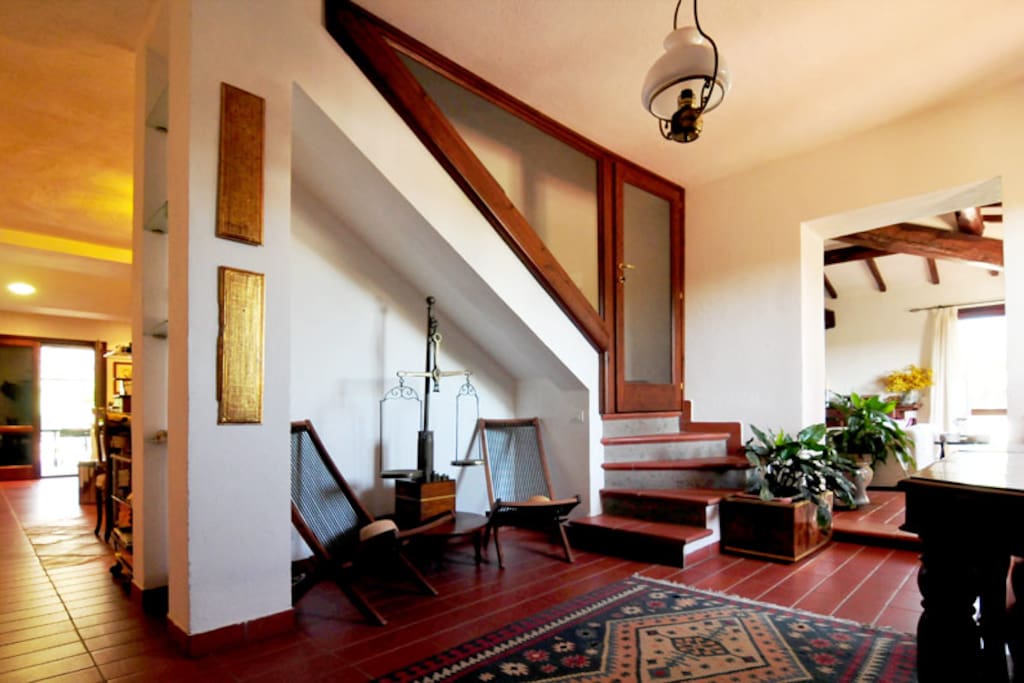 The perfect getaway from the busyness of city life.
Our Villa offers the peace, simplicity and landscapes of the tuscan countryside.
The space
Our beautiful Villa is your perfect getaway from the busyness of city life.
Nested in in the old property of the counts of Cavallini, the original landowners of the entire area, our Villa offers the peace, simplicity and landscapes of the tuscan countryside while being just about 30-40 minutes from the beaches that the well-to-do romans escape to during their holidays.
The equisite location of our Villa is certain to satisfy all sorts of travellers.
For the wine enthusiast, the Villa is located on "La Strada del Vino e dei Sapori Colli di Maremma" (The Wine and Tastes of Maremma' Road). This region is positioned on the NE area of Grosseto and represent the essence of Maremma itself. It is comprised of 13 localities an it extends from the coast to the mountains of Monte Amiata. It is a territory dense with history and very typical away fom the tourist masses.
The region boastes 1 DOCG, the well renowned "Il Morellino di Scansano" and 4 DOC wines: "Bianco di Pitigliano", "Parrina", "Sovana", and "Ansonica Costa dell'Argentario".
Along with its wines the region is well known for the quality of its extravirgin olive oil that when paired with the local gastronomy offers a perfect match.
For those interested in a gastronomic vacation the area offers plenty of restaurants for all palates and pockets. A culinary school is available on site or in a professional kitchen.
For those wanting to focus on relax and re-energizing the famous Saturnia's hotsprings are just 20 minutes drive away. These terms are known since the roman times for their healing properties and are home of one the most well renowned Spa in Italy.
The area also host a golf course that is very well respected. Tuscany Maremma's mild climate and nearby hot springs make this course an ideal all-year-round destination for a game. The project is the brainchild of architect Ronald Fream of Golfplan, the studio responsible for some of the most prestigious courses in the world.
The 18-hole, par 72 and 6,316m course is gently undulating and full of hazards and bunkers defending wide and long greens.
The Villa can also serve as a great base for those who want to explore Tuscany. Siena and its hills are about 90 minutes away, and wonderful medieval towns such as Pitigliano, Sovana, etc. are within1 hour distance from the Villa through the wonderful back-roads of Tuscany.
Links:
Wine Region:: (URL HIDDEN)
Spa and Golf Resort: (URL HIDDEN)
Guest access
The villa and its property are available in their entirety.
Interaction with guests
I can be reached at any time for any support necessary and somebody can be onsite within minutes to resolve any pressing issue.
Other things to note
This might be the province in Tuscany least familiar to you, but don't be fooled into thinking that it's not worth visiting. Au contraire, many folks consider Grosseto to be the most beautiful of all of Tuscany's provinces, and if we're basing that purely on natural beauty and geography, I'm inclined to agree with them!
Located at the southern tip of Tuscany, the Province of Grosseto is easily visited from either Rome or Florence – or even better, on your way from Florence (or Siena) to Rome or vice versa! Grosseto is often referred to as the heart of The Maremma, a geographically spectacular, coastal region that includes part of Lazio (Rome's province) and Tuscany. Its beauty is famed throughout Italy.
The area is home to impressively picturesque towns, natural parks, magnificent beaches – and excellent, award-winning wines. It is also rich with culinary traditions akin to the Slow Food Movement, which although prevalent all over the world today, was actually born in Italy; so I promise, you'll eat well while visiting Grosseto!
As a tourist, one advantage of including Grosseto on your trip to Tuscany is the fact that this area truly represents that occasionally-hackneyed phrase "off the beaten path." With the exception of a few Romans in the summertime, locals here aren't accustomed to hordes of tourists, sightseeing buses and souvenir stores. So by including Grosseto on your itinerary, you're in for a refreshing slice of an authentic, quotidian Italy!
Let's begin with the province's eastern interior, an area renowned for its dramatic hill towns constructed high amongst a type of volcanic rock called tuff or "tufa" that is characteristic of this area. Three of the area's most remarkable towns to visit include Pitigliano, Sorano and Sovana, and paying a visit to any of them would likely be a highlight of your trip to Italy. All three are utterly beautiful, unique to this area of Italy, and home to lovely, medieval architecture.
When traveling from Rome to Siena, it's ideal to visit Pitigliano, Sorano or Sovana en route.
A half-hour drive west of Pitigliano lies the historic, hilltop village of Montemerano. As this village doesn't receive visitors to the degree that others nearer to Florence do, enjoy Montemerano's pleasantly ordinary, humble and timeless ambience. If you come, be sure to check out the village's gorgeous square: Piazza del Castello.
After your visit of Montemerano, head north and in fifteen minutes you will arrive to another fantastic offering in the Province of Grosseto. It's time for a little R&R – again, it's a must on any vacation! Your destination is the town of Saturnia. Since ancient times, the weary, sick (or those in need of pampering), have traveled to this area's geothermal thermal springs. The temperature of the water averages 99.5 degrees Fahrenheit, so after a day of sightseeing, consider a soak in Saturnia's sulfurous springs' waterfalls. It's relaxing as well as good for your health!
And should we let the unwinding stop here – when we're so very near wine country? We shan't! While the vintages of nearby Montalcino and Montepulciano tend to garner more enological praise and attention, the wines of Morellino di Scansano are excellent and rather interesting! People have been making wine in this area for thousands of years, and Scansano's volcanic soil, altitude and geothermal springs have all contributed to the interesting (and tasty) quality of its wines.
Continuing with our sightseeing, the Province of Grosseto is rife with fascinating historical sights to include on your itinerary to Tuscany. One such sight certainly worth a mention is the Rocca Aldobrandesca located inside the town of Arcidosso.
Over 1000 years old, this historic fortress was constructed by the Aldobrandeschi, a Tuscan noble family (partial to feuding!) from the Middle Ages.
For those willing to climb, the fortress' tower offers incredible views of the lovely town of Arcidosso, the encompassing valleys and the beautiful Monte Amiata, whose beautiful, fertile landscape will leave you in awe.
Another historic town to consider visiting while touring the tip of Tuscany includes the ancient, walled town of Capalbio whose beauty has been recognized throughout Italy for over a millennium. Having preserved its medieval appearance, Capalbio offers visitors great medieval architecture and spectacular views of the nearby Mediterranean Sea.
A visit to the Province of Grosseto would be incomplete without paying a visit to the province's gorgeous capital city, which is also called Grosseto. Despite the fact that Grosseto is the largest, most-populated city in the area, it too has masterfully preserved its historic heritage. In the era of medieval family feuding and warring, the city was strategically very important and its defenses were constructed accordingly. As a result today – you can still see its superb medieval walls and bastions as well as its gorgeous palaces and churches.
And for history fans who want to travel even further back in time, the Province of Grosseto is home to some interesting ruins from the ancient Etruscan civilization. If you want to dig deeper (no pun intended) into this area's past, check out the archeological site of the Etruscan city of Vetulonia where you can still see ancient Etruscan walls, tombs and cemeteries.
Now if you've had your fill of sightseeing and just want some nice downtime in a drop-dead beautiful place, you're just in time! Along this spectacular section of the Mediterranean Coast you'll find out-of-this-world beaches (we're talking crystal-clear water), golf courses overlooking the sea, beautiful national parks and amazing islands.
For those wanting to disconnect and enjoy some fresh air, consider spending a day in the Parco della Maremma. Visitors to the park can hike along trails, bicycle to many a scenic spot, or check out the historical attractions found within the nature park.
Afterwards, I would suggest that the remainder of your time in the Province of Grosseto be spent along its magical, Mediterranean coastline – and in particular out on the promontory of Monte Argentario. If you've been hoping for postcard-panoramic views, here you go!
As you drive out to Monte Argentario from the mainland, along the lagoon you'll go through a town called Orbetello, which definitely merits a stop. Like the rest of the area, it has a dazzling history painted with interesting strokes from the Etruscans, Romans, medieval noble families, maritime republics and even the Spanish who controlled the area at one point. Its city walls date back to the 5th century BC. Even if you just stop here for a meal, a stroll through town and some shopping – you'll be glad you did.
Afterwards continue out onto Monte Argentario itself. The two port towns you will visit are Porto Ercole ("Port of Hercules") and Porto Santo Stefano. Both being smallish, it's easy to visit both at a relaxing pace. If you want to do specific historic sightseeing, there are several interesting medieval churches and Spanish fortresses in the area (after all, from a strategic point of view, in both ancient and medieval times, holding this promontory was paramount to defend against sea invasions).
However, you also should budget some time simply to wander and have a look around! You'll notice that Porto Ercole feels a bit more upscale with its shops, boutiques and restaurants. Porto Santo Stefano on the other hand, feels more like a gorgeous, sleepy Italian fishing village.
The beaches of Monte Argentario are also exquisite. Try L'Acqua Dolce, Il Pozzarello or Cala Grande. (Truthfully though, you cannot err when selecting a beach here; they're numerous and amazing).

From Porto Santo Stefano, you can catch the ferry out to the paradisal, rugged Island of Giglio. Enjoy a day or a couple in this beatiful old village: find a room, get a boat to take you around the island and enjoy true relax in the magic of an island completely unplugged.
Do not miss the restaurants that offers unparalleled seafood (La Margherita, Il Doria, Da Meino).
Monte Argentario is also great for golfers. Play a round of golf in the morning with views of verdant Tuscan countryside and the Mediterranean, go for a swim in a turquoise sea and finish off the day with a delicious Italian seafood meal paired with fantastic local wines. Not a bad way to spend a day!
Security Deposit $3541 NZD
Always communicate through Airbnb
To protect your payment, never transfer money or communicate outside of the Airbnb website or app.
Check-in is anytime after 12PM (noon)
My name is Fabrizio. I am a native of Italy but reside in Los Angeles where I practice dentistry.
The house is my family house, recently renovated and beautifully landscaped.
I can be reached at or via (best)
Languages:
English, Italiano
Response rate:
100%
Response time:
within an hour
Explore other options in and around La Sgrilla
More places to stay in La Sgrilla: