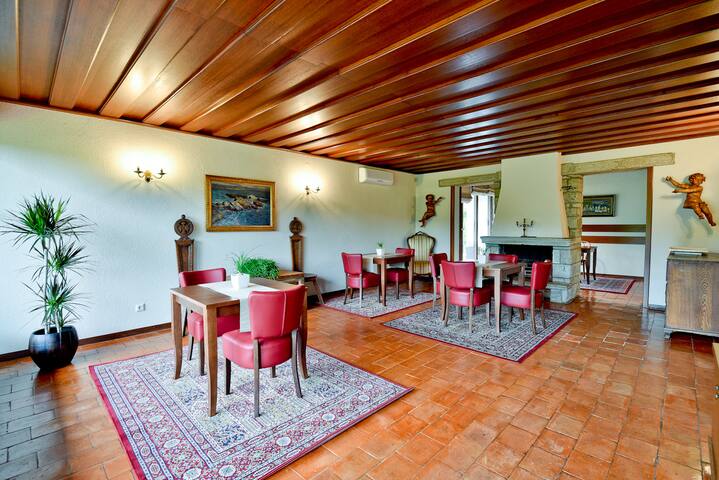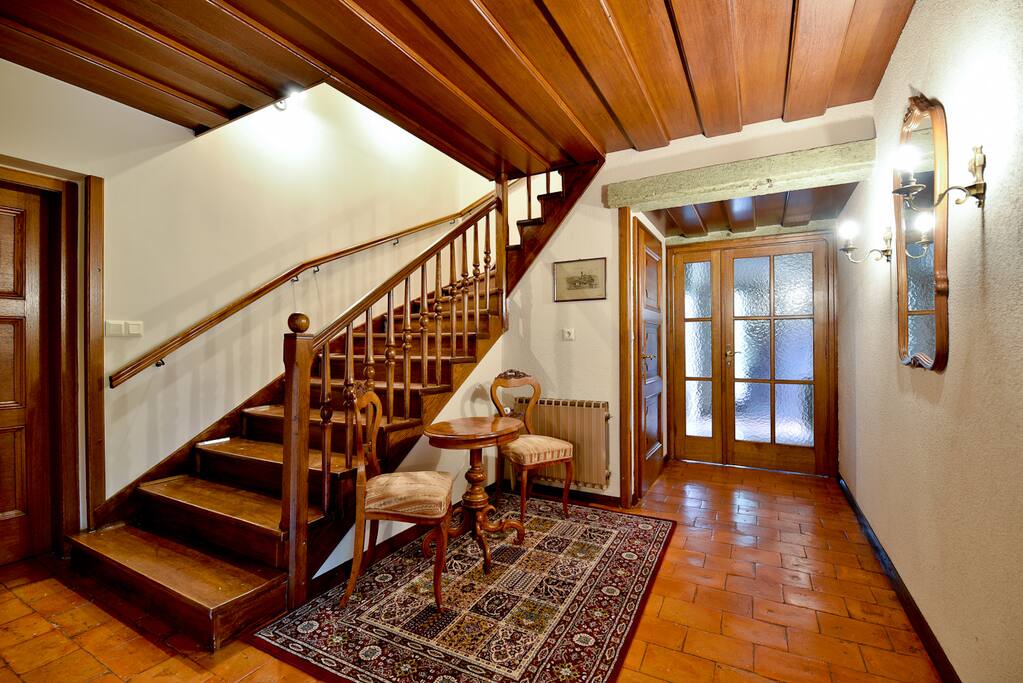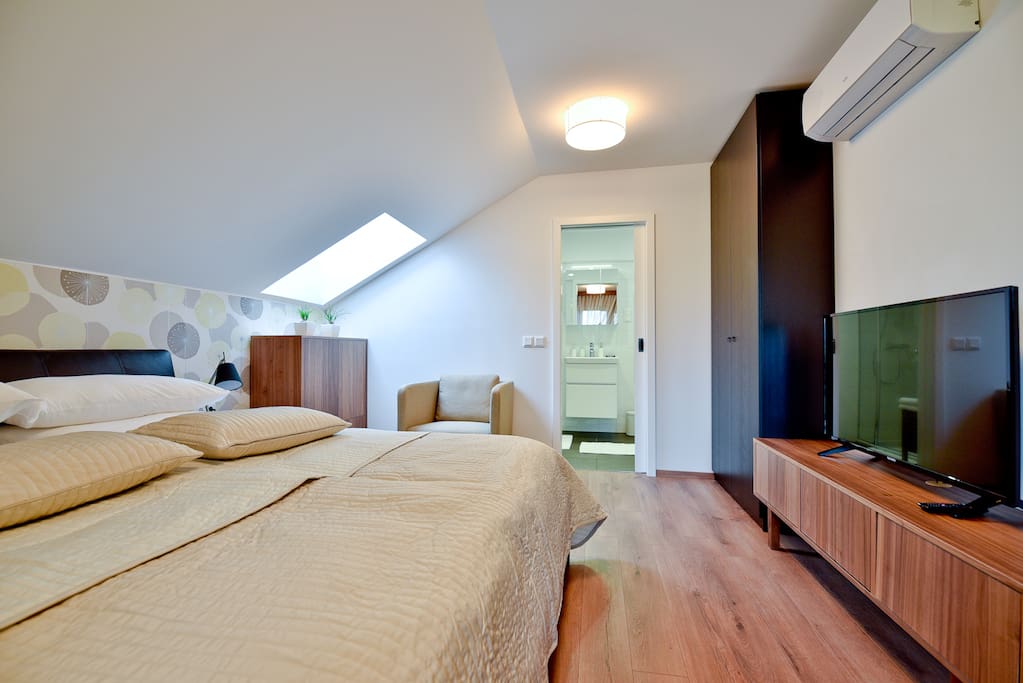 Villa Laura is a newly renovated holiday house in central Bled, a few minutes walk from Lake Bled.
The house with four bedrooms, located in a serene place, surrounded with beautiful garden can accommodate up to 12 persons.
It s is situated on it s own enclosed garden with outdoor lounge sets, covered terraces and barbecue corner, where you can enjoy quiet, green atmosphere.
A good choice to avoid noisy tourist hotels.
---
This listing has essential business travel amenities.
---
---
---
This is a fabulous spacious house, beautifully decorated and immaculately presented. Very close to the centre of Bled, yet quiet with a lovely view over to the mountains. Ziga is a fantastic host, his mother prepares incredible breakfasts and both us too much trouble. Highly recommended.
---
Ziga is the best host I came across with. the villa is spacious, well maintained, the up stairs bedrooms are fully renovated, luxury bathrooms attached to each room. minibar in the rooms full with local beer, juice and water. no extra charge. Ziga wellcom us with local cake and juice. Came in the morning with fresh breakfast. I wish we could stay there longer and we will defently come again.
---
Ziga was a fantastic host. The experience of staying at Villa Laura easily beat staying in a hotel and at a fraction of the cost. Ziga provided us breakfast every morning and even picked us fresh strawberries from the garden and provided us with some Slovenian wine. The stay was incredible and my review cannot do it justice. We rented the entire house with our group of 9 and would do it again in a heartbeat. Thank you Ziga for all of your hospitality!
---
Beautiful place to stay when in Lake Bled! Ziga is a great host, so welcoming and at the ready to book or give advice on restaurants and activities. Very prompt on communication! The place is great! just like the photos if not better! there is a lovely garden to sit in the sun and its a short walk to the lake! Also, the breakfast every morning was so delicious, everything you could ask for!! great holiday!! highly recommended staying with ziga!
---
We are a group of 4 family couples total 8 persons stayed with Ziga's Vila Laura for 2 nights. Everybody was so happy to stay here because it was far beyond our expectations. The vila is located at a beautiful and quiet area near Lake Bled with about 5 minutes walking distance to the lake. It has 4 big suit rooms and 1 toilet, small library, living room, dining room, kitchen and garden with terraces. The kitchen is well equipped with high quality appliances and utensils, very convenient for cooking. Ziga and his mother are very nice and friendly, he gave us very warm welcome and very helpful assistance including tour arrangements. The breakfast they prepared for us are very delicious. Although I am also Airbnb's super host same as Ziga, but I think his 5 stars are bigger and shinner than mines.
---
We were two families, 10 people in total (4 adults, six kids ages 6-12), staying at Villa Laura for a week. We had an amazing stay at Vila Laura! It's a perfect place to stay if you want to tour Slovenia. The house is newly renovated, sparkling clean and comfortable. There is a big dining room (which I estimate could comfortably hold 20 people) and reading room on the first floor, and four bedrooms on the 2nd floor. Two of the rooms are double, while the others can hold 4 people (in two double beds) each. Each of the rooms have an adjoined bathroom. All rooms are large and comfortable. The house has a large yard with lots of grass, sitting areas, and barbecue pit. Lots of parking is available (and parking in the center of Bled is an issue!). Location wise, the house is within 5 minutes walk (kid's pace) from the center of Bled, which is great as (as written) parking could be a problem in the center. The lake front, boat rentals, mountain sled, restaurants etc. are all within easy walking distance from the house. Ziga and his mother are the physical representation of warm hospitality, and did whatever they could to make our stay enjoyable. From the HUGE slices of creme schnitte that waited for us on our arrival (really, they were humongous!), through the hearty breakfast freshly cooked for us daily, to advice and help planning and ordering our activities throughout the week, they were the greatest hosts we could wish for. Highly recommended!
---
Žiga is a wonderful and exceptional host. From our arrival, with welcome refreshments and drinks, throughout our 8 days visit, he made sure that we have everything we need. He made delicious breakfasts with large variety. Žiga also assisted us a lot with information regarding recreation and events around the country and was always available for anything. The rooms are very nice, lighted, spacious and exactly as they appear on the images. You can tell that they were just renovated by a talented interior designer by the tasteful furniture and decorations. Some of the rooms have a roof window and a nice terrace. The rooms were very clean and our host made sure that we have plenty clean towels every day and clean bed sheets. The house is equipped with all the required appliances: big fridge, and a mini fridge in every room, stove, oven, dishwasher and a laundry machine. It even has an espresso machine, which our host made sure it won't run out of Coffee capsules :) . The house is children friendly considering safety and fun. The house has a very big backyard with a big lawn and apple trees, the kids loved it, and a BBQ stove which we used to prepare a BBQ fish and meat dinner. It resides on one of the quiet ends of the town of Bled with a 7 min. walking to the lake and the shopping and restaurants center. The place is very safe at nights and we walked there on late hours feeling very safe. We had a great vacation at Žiga's "Vila Laura" and we highly recommend it to all of our friends.
---
Explore other options in and around Bled
More places to stay in Bled: