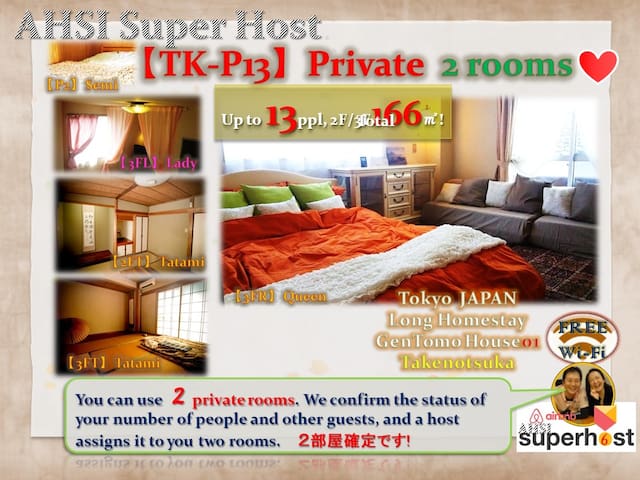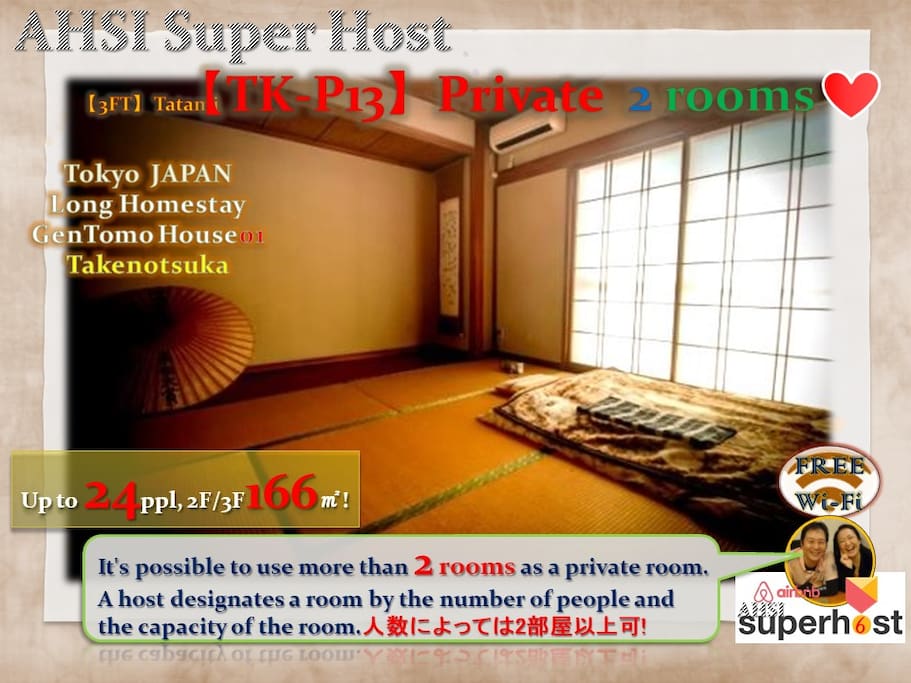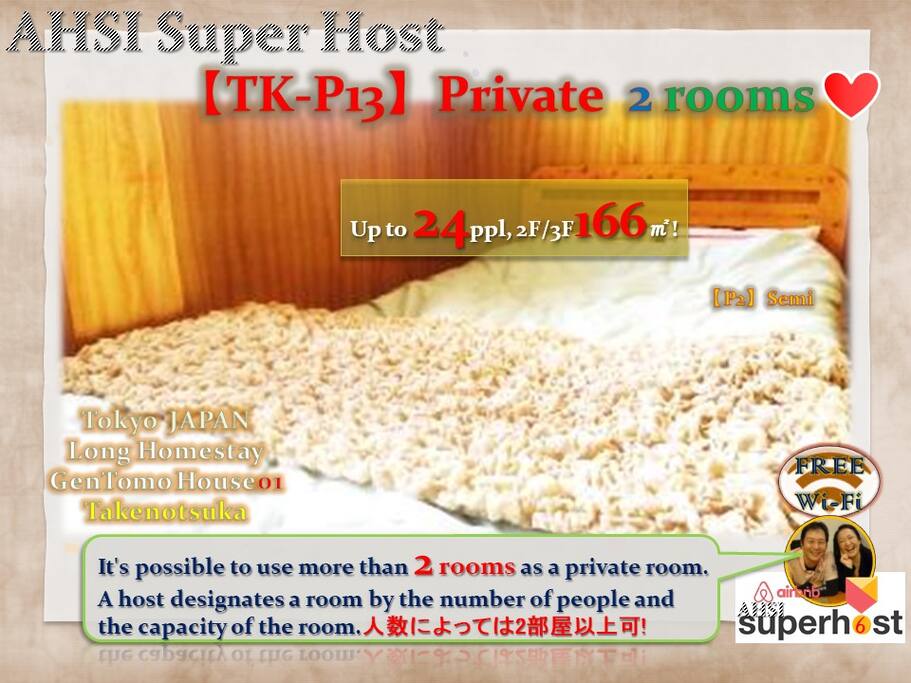 [Listing] 2 Private rooms
[Place] 8mins walk from takenotsuka station
[Access] Tokyo Skytree 20min / Ueno Zoo 19min / Anime Electricity Town 23min / Kabukiza 36min / Roppongi Hills 45min / Tokyo Tower 45min / Tsukiji Market 35min / Odaiba 68min / Tokyo Disney Land 52min
[GenTomo]
Our house is "Long Homestay GenTomo House" to live with families of the world in the house where a Japanese couple lives in.
Stay in our house for a long term and enjoy life looking like a family.
The space
★[Room]
★Main room ☆Sub room ※Irregular time correspondence
1.★(3rd floor, a 10-mat tatami room,futon)
2.★(Female-only, 3rd floor, 12㎡,futon )
3.★(3rd floor, 12㎡, Queen size bed ex)
4.★(3rd floor, 4㎡, one Semi-Double bed)
5.※(Balcony on the 3rd outside, a stone bed)
6.※(2nd floor, a 8-mat tatami room,futon ) Urgent correspondence.
Please use the room designated by the host.
We will try our best to meet your request as much as possible, so let us know if you have any requests at booking.
More than twice a day, a team of very cute housemaid does housework in the sharing place, hallway, stairs, kitchens, dining room, communication room, bathroom and restroom, etc. The room and the sheets are tidy and clean before your check-in. It's always kept beautiful thanks to the cleaning charge you bore. Please stay surely.
Guest access
★[Guest Access]
Free Space: hallway, stairs, kitchen, dining room, bathrooms, washing machine, the veranda and the rooftop.
Private Space: host's room, storage space and other family's private room.
Your room might be entered by the host or housecleaner. You have the responsibility tidying up the space that you use. Please keep your belongings neatly.
Please smoke on the rooftop.
Interaction with guests
★[Guest Communication]
Feel free to ask for help or questions anytime.
We enjoy talking to our guests when we're at home, so feel free to have a chat with us!
We usually invite all the guests to join our morning juice serving time to help you to make friends with other guests.
You are welcomed that you treat other families to the dish of your hometown.
As I establish " Ataeaibako; love-giving box " for exclusive use of the dinner, if you cook, please receive a material cost from there.
★[Free Equipment]
Bathtub / Shower / Shampoo / Soap / Towel / Washing machine / Washing powder / Hanger for the washing / Drinking water / Hot water for the drink / Cold press juicer rice cooker / Bake plane / Gas ring / Cassette cooker / Food processor tableware / Seasoning / Kitchen utensil / Water purifier / Barbecue set chair / Table / PC (a host and joint ownership) / Printer / Scanner / Shredder / WI-FI / Umbrella / Iron / Ironing board / Humidifier / Air cleaner / Dryer / Voltage up power supply / Outlet converter / Extension cord / Portable battery charger / Bathrobe / Yukata
Water Free
Alcohols 200Yen/can
Pocket Wi-Fi rental 1000Yen/day
Kimono dressing experience 2000Yen/once
Other things to note
★[Others]
1 24-hour enter free
2 Children under 6 & baby will be counted as 1 adult for 2, and free for 1 child & baby.
3 We welcome a big number of people with intentions of having parties. So please feel free to contact us for that sort of situation.
4 We provide a driving sight-seeing tour. The host family drives as a volunteer and you can travel by a comfortable car only paying the real cost. Tell us if you are interested in it and let's discuss about the tour!
We are looking forward to see you!
Extra people $13 NZD / night after 11 guests
Always communicate through Airbnb
To protect your payment, never transfer money or communicate outside of the Airbnb website or app.
Bedroom 1
1 queen bed, 2 double beds
Bedroom 2
1 single bed, 5 floor mattresses
Common spaces
5 floor mattresses
Check-in time is 5PM - 2AM (next day)
Self check-in with lockbox and doorman
★ハウスルール
Hello to all my new families!
私たちの家にホームステイを計画している皆様、こんにちは!
We are Genji & Tomo from "Long Homestay GenTomo house"
私たちは『ロングホームステイGenTomoハウス』のGenjiとTomoです。
Our family accepts you as a family as [landlord residence type homestay (※3)] named "GenTomo house".
私たちの家は『ロングホームステイGenTomoハウス』という名前の【家主居住型ホームステイ(※3)】として、あなたたちを、家族として受け入れます。
With a stay of "One month (※ 1), for half a year (※2) following", I wish it is an opportunity of the learning in Japan while I live a life looking like we GenTomo and a family(※1).
「原則的」に「1か月以上(※1)、半年以下(※2)」の滞在をし、私たちGenTomoと家族同然の生活をする(※1)中で、日本における学びの機会になることを望んでいます。
We look forward to the encounter with the families who are looking for homestay in Tokyo of the world.
私たちは、東京におけるホームステイ先を探している世界中の家族との出会いを楽しみにしています。
※:The permission from prefectural governors or the mayor or the head of a ward is necessary for an act to let a general tourist stay as the hotel business by the law called the hotel business method in Japan.
In we long homestay GenTomo house, foreigners coming to Japan as a family of the homestay provide a place and an opportunity to learn Japanese culture.
We report it to person in charge of Adachi, Tokyo public health center life board of health life hygiene Mr.Ugajin and, for it looks like a family, accepting foreigners as a homestay house on May 30, 2016, have authorization of the hotel business method exclusion by word of mouth.
※:日本では旅館業法という法律により、旅館業として一般的な観光客を宿泊させる行為に対して都道府県知事又は市長又は区長からの許可が必要です。
私たち「ロングホームステイGenTomoハウス」では、ホームステイの家として、日本に来る外国人等が、日本の文化等を学ぶ場所と機会を提供しています。
そのことを東京都足立保健所生活衛生課生活衛生係宇賀神様へ申告し、2016年5月30日、ホームステイハウスとして外国人等を家族同然に受け入れることに対し、口頭にて旅館業法除外の認定を頂いています。
※1:When it's a stay as "the landlord residence type home-stay", there are no minimums and legal regulations of the upper limit, but Mr. Ugajin in Adachi health center is doing the view to which he says the condition that a landlord and the family live in the same way is indispensable, and that a stay in more than 1 month is desirable.
In other words, please come to stay in our house to become our family, and you are.
※1:「家主居住型ホームステイ」としての滞在であれば、下限と上限の法律的な規定はありませんが、家主と家族同然の生活をするという条件が必須で、1か月以上の滞在が望ましいという見解を足立保健所の宇賀神様はしています。
つまり、あなたは私たちの家族になるために私たちの家に滞在しに来てくださいということです。
※2:It is the upper limit plan days of the law for the people stay「Minpaku」 in planned Japan established newly in the spring of 2017 "to be as follows for half a year".
※2:「半年以下」とは、2017年春に新しく設けられる予定の日本における民泊に対する法律の上限予定日数です。ホームステイという範囲の中には上限はありません。

-Required things to be noticed -必須事項【when you book予約時】
Please make sure to let us know the following details when you book.
次の項目は必ずお知らせください。
・All the members who homestay's ホームステイをする全員の
Real name 氏名(本名)
Nick name in English ニックネーム【ローマ字表記】
Age 年齢
Sex 性別
Address 住所
Occupation 職業
Nationality国籍【日本国籍の方は本籍都道府県】
Passport number パスポート番号【日本国籍以外の方のみ】
※We do the intelligence that followed the rule of the Japanese hotel business method.
I decline a stay beforehand when there is not reporting. The cancellation fee of that case follows an agreement.
※日本の旅館業法の規定に準じた情報収集をさせていただきます。事前に情報提供がない場合、滞在をお断りします。その場合のキャンセル料は、規約に準じます。
-Required things to be noticed -必須事項
【After a reservation in Japan during until arrival予約後~出発】
Please tell the next item as soon as a plan is fixed.
次の項目は、予定が決まり次第お知らせください。
Your flight number ( or the transportation you are going to use and route) and its estimated time of arrival
飛行機の便と到着時間(飛行機以外は、その手段とルート)。
Planned time to arrive at the GenTomo house. GenTomoハウスへの到着予定時間。
(It is an indication from Narita Airport or Haneda Airport landing approximately three hours later. 成田空港、羽田空港着陸から約3時間後が目安)。
GenTomoハウスを選んだ理由。
The purpose of your visit 今回の旅の目的。
The next destination after departure from GenTomo house.
GenTomoハウス出発後の次の行き先。
Scheduled returning home date. 帰国予定日。
-Required things to be noticed - 必須事項【At the time of arrival-到着時】
・A full name, an address, the occupation of all the members who arrived.
到着した全員の氏名、住所、職業。
・The confirmation of the passport and the copying of the passport.
日本国籍以外の方は、パスポートの確認及びパスポートのコピー。
(The operation that followed the rule of the hotel business method.
旅館業法の規定に準じた運用。)
・The reconfirmation of a house manual and the house rule.
ハウスマニュアルとハウスルールの再確認。
(Rule confirmation as the homestayホームステイとしてのルール確認)
・On the GenTomo house departure date. GenTomoハウス出発日時。
-Prohibited matter- 禁止事項
・The smoking in the house is prohibited. 建物内での喫煙は禁止。
【The smoking is possible on roof balcony 喫煙は屋上バルコニーで可能】。
・Entering the host's room ( on the 2nd floor, near front door) without our permission
ホストの部屋(2階玄関を入って正面の部屋)への無断立ち入りは禁止。
・The actions that forgot to be the member of the family of the GenTomo house are prohibited.
GenTomoハウスの家族の一員であることを忘れた行動等は禁止。
~~~~~
- Small rule-細かいルール
You take off the shoes in the entrance hall on the second floor, and please put it in the shoebox.
靴は2階の玄関で脱いで、靴箱に入れてください。
Please carry away the toilet paper to the restroom after use.
トイレットペーパーは使用後トイレに流してください。
You wash the tableware which you used and wipe it, and please put it back.
使った食器類は洗って拭いて元に戻してください。
Please inquire into the washing by oneself.
洗濯は自分で洗ってください。
The room always keeps it neatly, and please tidy.
部屋は常に綺麗に保ち、整理整頓をしてください。
Please always say hello well.
常に元気に挨拶をしてください。
You must also acknowledge
Must climb stairs - To the entrance of the second floor, there are 16 steps of linear stairs in two places to the room of the third floor each.
No parking on property - There is a coin parking of 700 yen a day in the 300m away place.
Some spaces are shared - There are a kitchen, dining, the living that guests can take the communication.
Amenity limitations - There are a bathtub and the shower in one place only one by one. So we share it in up to 25 people, you may wait a little depending on a timing.
We had a great time staying in gentomos house the couple are so lovable they always see to it that they check on us and they interact with us as well as on the other guests, this is really good for long stay in japan.
☆☆☆☆☆Thank you for staying at GenTomo House, Amie-san! Amie-san and her family are nice guests with good mannar. They use the room cleanly. They always smile and say hello to everyone. They make traditional philippines breakfast for us and we love it! We enjoy the fresh juice in the morning and have a good time together. Please come again! ☆☆☆☆☆GenTomoHouseに泊まってくれてありがとう、Amieさん! Amieさんとその家族はとても素敵なゲストです。 彼らはベットを綺麗に使ってました。 彼らはいつも笑顔で挨拶します。 彼らは私達にフィリピンの朝ご飯作りました。 とっても美味しかったです! 私達は朝で一緒にジュース飲み、とても楽しい時間を過ごしました。 是非また来てくたさいね。 ☆☆☆☆☆ Tokyo GenTomo house Sub-host :Asahi
---
Makoto-san! ☆☆☆☆☆ You are very wonderful guest. You enjoyed a stay very much in GenTomoHouse. Thank you for choosing our house. We look forward to a day to see again. Thank you very much! ☆☆☆☆☆ ☆☆☆☆☆ まことさんたちは、とても素敵なゲストでした。 GenTomoHouseでとても滞在を楽しんでくれました。 私たちの家を選んでくれてありがとうございます。 また会える日を楽しみにしています。 ありがとう。 ☆☆☆☆☆ TOKYO Long Homestay GenTomoHouse Host Genji ☆☆☆☆☆
---
Everyone, hello!
We are Long Homestay GenTomo house's GenTomo.

Hasband is Genji,Wife is Tomo.

I'm looking forward to being able to interchange with a AirBNB company of all the countries.

When going to Hong Kong, AirBNB was used, and was moved, so it was a host.

We like good fruit and vegetables.

I'd like to enjoy myself through AirBNB with the person who can enjoy an exchange.

みなさんこんにちは!
「ロングホームステイGenTomoハウス」のGenTomoです。

夫はGenji
妻はTomoです。

世界各国のAirBNB仲間と交流できることを楽しみにしています。

香港に行ったときAirBNBを利用し、感動したのでホストになりました。

美味しい果物と野菜が好きです。

交流を楽しめる人とAirBNBを通して楽しみたいと思っています。

あなたにお会いできるのを楽しみにしています。

~~~~~~~~~~~~~~~~~~~~~~~

Fast time Guest (Jan/2015)@HongKong
Started Host (Mar/2015)@Ariake Tokyo Japan
28% Host(Oct/2015)
Change Room (Nor/2015)@Takenotsuka Tokyo Japan
34% Host(Jan/2016)
79% Host(Apr/2016)
84% Super Host(Jul/2016)1st time
02 GenTomo House open(8/1/2016)@Ikebukuro Tokyo JAPAN
84% Super Host(Oct/2016)2nd time
82% Super Host(Jan/2017)3rd time
82% Super Host(Apr/2017)4th time
02 GenTomo House close(6/27/2017)@Ikebukuro Tokyo JAPAN
Get Assistance Hosting Special Invitation(29 June,2017)1st time【AHSI】
82% Super Host(June/2017)5th time
82% Super Host(Oct/2017)6th time

現在は、5箇所の家をGenTomoHouseとして運営しています。
01_TK 東京都足立区竹の塚@GenTomoの本拠地
03_HS 青森県八戸市白銀@Rurico先生の別荘
04_TU 茨城県土浦市大町@Mariさんの別荘
05_KW 千葉県柏市ひばりが丘@Mariさんの別荘
06_EG 東京都江戸川区北小岩@Kenさんのシェアハウス
GenTomoHouseめぐりは楽しいですよ~

☆☆☆☆☆GenTomo House☆☆☆☆☆
01【TK-x】Takenotsuka Tokyo JAPAN
https://www.airbnb.jp/wishlists/50402102

ALL LISTS
https://www.airbnb.jp/users/26386081/wishlists

~~~~~~~~~~~~~~
Languages:
Bahasa Indonesia, Bahasa Malaysia, Bengali, Dansk, Deutsch, English, Español, Français, Hindi, Italiano, Magyar, Nederlands, Norsk, Polski, Português, Punjabi, Sign Language, Suomi, Svenska, Tagalog, Türkçe, Čeština, Ελληνικά, Русский, українська, עברית, العربية, ภาษาไทย, 中文, 日本語, 한국어
Response rate:
100%
Response time:
within an hour
Explore other options in and around Adachi-ku
More places to stay in Adachi-ku: