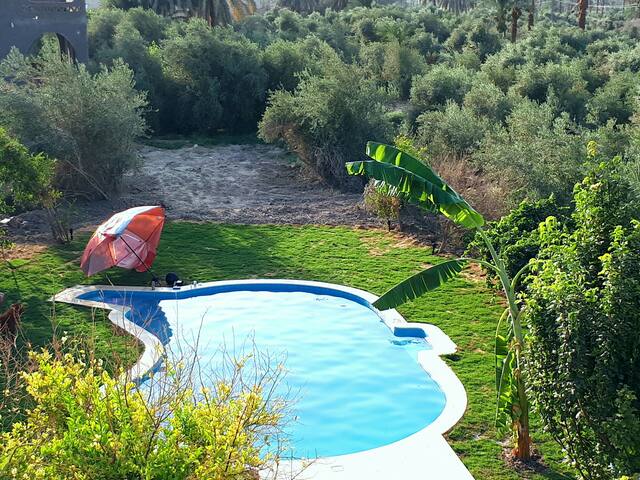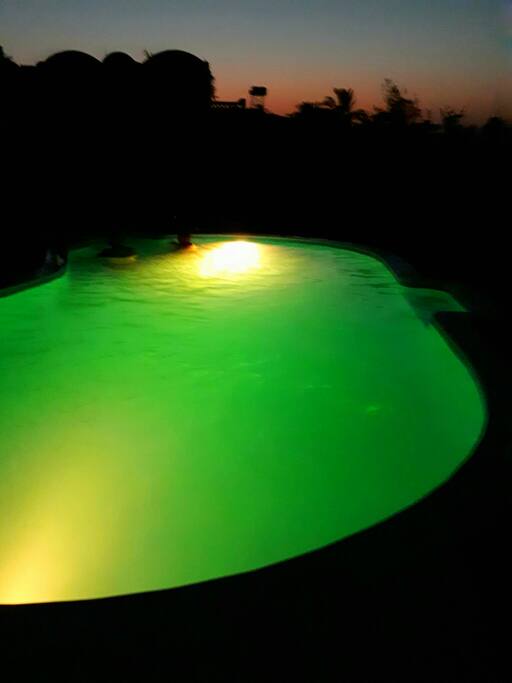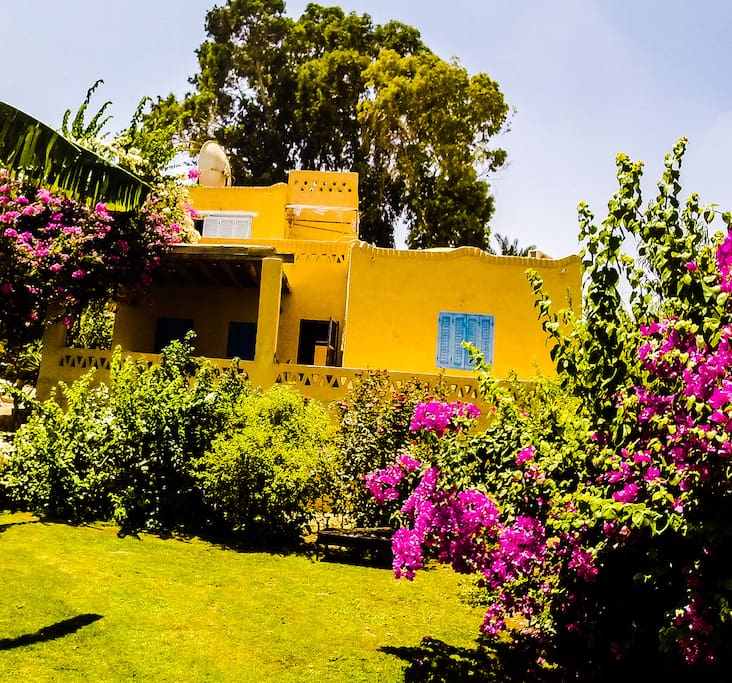 COCO VILLA Is the perfect place for you to spend a few days escaping city pollution and noise while chilling and relaxing by the pool with a fantastic lake view.
One of the best country houses located in Tunis Village surrounded by Huge amount of trees all that comes with spectacular view "Qarun Lake"
فيللا كوكو في قرية تونس الفيوم. مكان تقضي فيه كام يوم ينسيك
الضغط و التوتر والدوشة اللي في المدينة. شجر فاكهة حواليك و حمام سباحة مميز بيطل علي بحيرة قارون و أكل فلاحي يجيلك لحد عندك.
The space
U will enjoy all the amazing country food including ducks,pigeons,Molokhia,egyptian soggy,old cheese and all that while you are relaxing by your swiming pool or your private huge garden full of fruit trees,roses or in your special terrace beside your portable fire place..
if u are a desert fan or addict it will take you only 20 min to be inside the wonderful "Wady El Rayan" one of the best protected areas in Egypt and the whole world..
هتتمتع باحلى الاكل الفلاحي من بط و حمام و ملوخية وفطير مشلتت و جبنة قديمة و انت قاعد علي حمام سباحة يبطل علي بحيرة قارون أو في جنينتك الخاصة اللي مليانة شجر فاكهة وورد او في التراس قدام النار. ولو بتحب الصحرا هيبقى بينك و بينها 20 دقيقة و تكون جوة وادي الريان في احلى صحاري مصر.
Magnificent Lake Qaroun and the Wadi El Rayan waterfalls are quite a sight to behold. The village is utterly simplistic, with the local housing built along the road to-and-from Qaroun Lake, while the rest of the villas and houses are made with an artistic theme throughout.
Tunis Village is a great place to disconnect from the outside world and, if you're into that sort of thing, for bird watching. It also has a long history in the arts, with the Mohamed Abla Art Center offering courses on photography, writing and pottery among other things. Many artists travel here specifically to teach or learn.Home to several attractions from different eras from Pharaonic, Greco-Roman, Coptic and Islamic, to sand dunes, palm trees, lakes and valleys, wild animals, bird species. It's a land of unspoiled nature & rich history, a place worth discovering!
For bird watching: during winter time to witness the bird migration.
For hiking, trekking & sand-boarding: October through April as the weather can be very hot in the desert during summer time.
For chilling out near the lakes: All year round.
For fishing: September through July.

Wadi El-7itan (Valley of Whales) Protected Area :
UNESCO World Heritage site, a valley that was more than a million years ago a sea with a wide variety of marine life. It now contains fossils & skeletons of now extinct whales, along with rock formations that are best enjoyed at break of dawn. There is a Wadi El-7itan museum located near Garet Gohannam north-west of Wadi El-Rayan that has hundreds of skeletons of now extinct whales as well.
Maidum Pyramid :
is believed to be the first attempt to build a pyramid and the first Egyptian pyramid to have an above ground burial chamber beautifully decorated with arch-shaped walls, built by Snefru, father of Khufu. It was once an 8 levels structure, now only 3 levels have made it through the years.
Tunis Village :
In 1962 an Egyptian poet came to Tunis Village with his Swiss wife, they fell in love with it and decided to build a house and a pottery workshop to revive pottery industry in Fayoum and teach pottery making to generations after. Not only that but supporting eco-tourism in the area.
Gabal El-Medawara :
Another scenic hiking option overlooking the Magic Lake, and a great place to camp and to marvel at the stars.
Magic Lake :
One of the most beautiful lakes in Fayoum overlooking sand dunes. This is your chance to freshen up after a long day of hiking, and to witness one of the most eye-catching sunsets.
Wadi El-Rayan Protected Area :
is a natural depression 42km below sea level, only 2 hours drive from the Western Desert. It's basically two man-made lakes created by agricultural run-off water from Fayoum oasis, that were joint together by a channel and a waterfall. Home to beautiful landscape, a wide piece desert with multiple sand dunes, also to a diversity of bird species, and several rare, near extinction animals such as Dorcas Gazelles, Ruppell's Sand Fox, and Fennec Fox.
Qatrani Mountain :
One of the most interesting rich in fossils mountains in the Western Desert, which is a 350 meters high sandstone mountain and a major landmark for travelers and hikers in Fayoum.
The Petrified Forest of Fayoum :
Situated in the north of Lake Qaroun in Gabal Qatrani is the largest petrified forest in the world, home to 40 meters high trees that have survived in ossified form for thousands of years.
Qasr Qaroun :
During ancient times Qasr Qaroun was the point from which starts or ends the trek across the Western Desert to Bahareya Oasis using caravans. The main temple of Qasr Qaroun is usually very dark from inside, therefore on December 21st of each year, an astronomical pharaonic miracle known as "Wonder of the Sun" happens, this is when the sun lightens the inside of the temple.
Qasr El-Sagha Temple :
Is a temple that was never completed, dating back to the Middle Kingdom, offering nice views over Qaroun Lake & Qatrani Mountain.
Lake Qaroun :
20 Km from Fayoum lies Lake Qaroun one of the most important ancient natural lakes, where fishing, water sports, and bird watching are commonly practiced. Home to several bird species, mammals, & reptiles, and not far from Qasr Qaroun & Qasr El-Sagha.
Karanis (Kom Oshim) :
Once one of the largest Greco-Roman cites in Fayoum built by the Ptolemies in the third century B.C .What remains today of the city is two temples dedicated to the crocodile gods (Sobek) and a Roman bath. It also has an interesting museum displaying a wide range of glassware, jewelry and pottery discovered on site.
Dimet El-Sebaa:
Situated 3 kilometers from Lake Qaroun. It was once used as a station for trade caravans heading to towards the Western Desert. It has some remains of Greek constructions such as the ruins of a small temple built from stone. Traces of walls and roads of the ancient city are still existent. In 2012, two lion heads sculptures were found, which shows how much treasures in Egypt are still unexplored.
El-Nazla :
This is the place to watch Pottery-Making live and is a landmark.
Activities
1- Hiking
2- Wadi El-Hitan.
3- Wadi El-Rayan.
4- Petrified Forest.
5- Gabal El-Medawara.
6- Dimet El-Sebaa.
7-Bird Watching (specially during winter time)
8- Lake Qaroun
9- Wadi El-Rayan
10-Sand-boarding
It's an oasis, so sand dunes are all over the place, pick your spot and get some adrenaline rushing out of you. The most famous sand boarding spot is "Qoussour El-Arab".
11-Camping
Wadi El-Hitan, you can take your own tent or rent from there (with toilets facility).
Gabal El-Medawara, you have to take care of your sleeping arrangements (no toilets facility).
12-Camel Trekking & Horse back-riding
13-Fishing: Mainly in Lake Qaroun
Suggested Itineraries :
Qatrany Mountain, Qasr El-Sagha, Dimet El-Sebaa and the Petrified Forest.
Barbecuing, gazing at the stars, camping at the Whales Valley, and hiking at break of dawn.
Qosor El-Arab sand-boarding, hiking Gabal El-Medawara, spending sunset by the Magic Lake & camping.
Not to miss :
December 21st of each year: to witness the Pharaonic phenomena as mentioned above.
Handicrafts
Pottery
Glazed Pottery
Palm Products
Embroidery
Boaters
Carpets & Kilims
Silk Carpets
Interaction with guests
By phone, message or email
(PHONE NUMBER HIDDEN)
---
---
Always communicate through Airbnb
To protect your payment, never transfer money or communicate outside of the Airbnb website or app.
---
Check-in is anytime after 1PM
You must also acknowledge
Dog(s), cat(s), and other pet(s) live in the house
---
We enjoyed our stay, the house was clean and the terrace and garden lovely to sit in. A toaster and a microwave would be very useful in the kitchen. You are really in the middle of the village, the potteries are great, my granddaughter loved making a pot and we bought some things to take home. On the whole, a lovely quiet place to stay!
---
Languages:
English, العربية
Response rate:
100%
Response time:
within an hour
Explore other options in and around Faiyum Oasis
More places to stay in Faiyum Oasis: