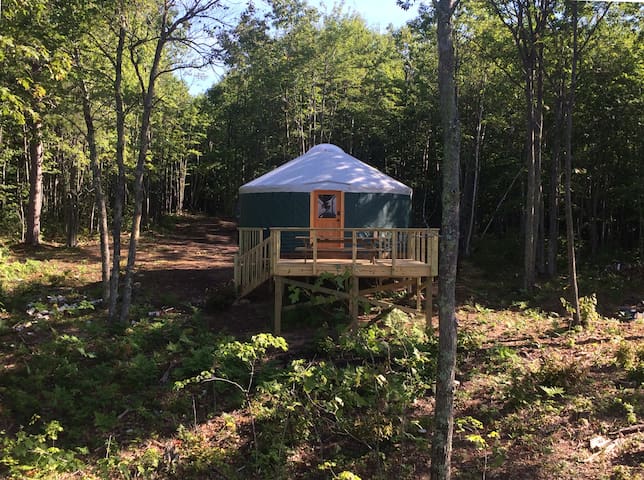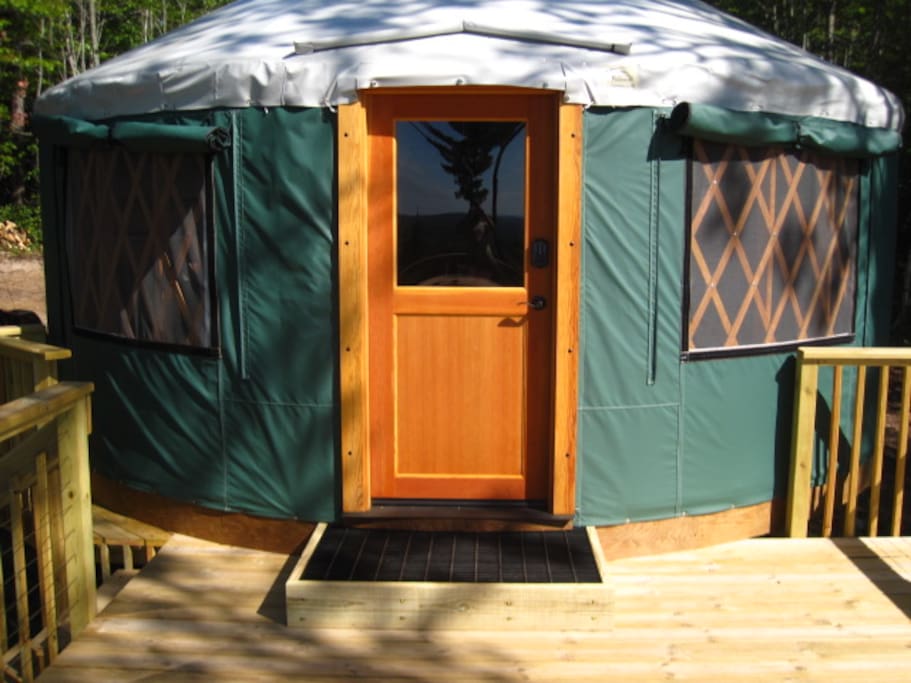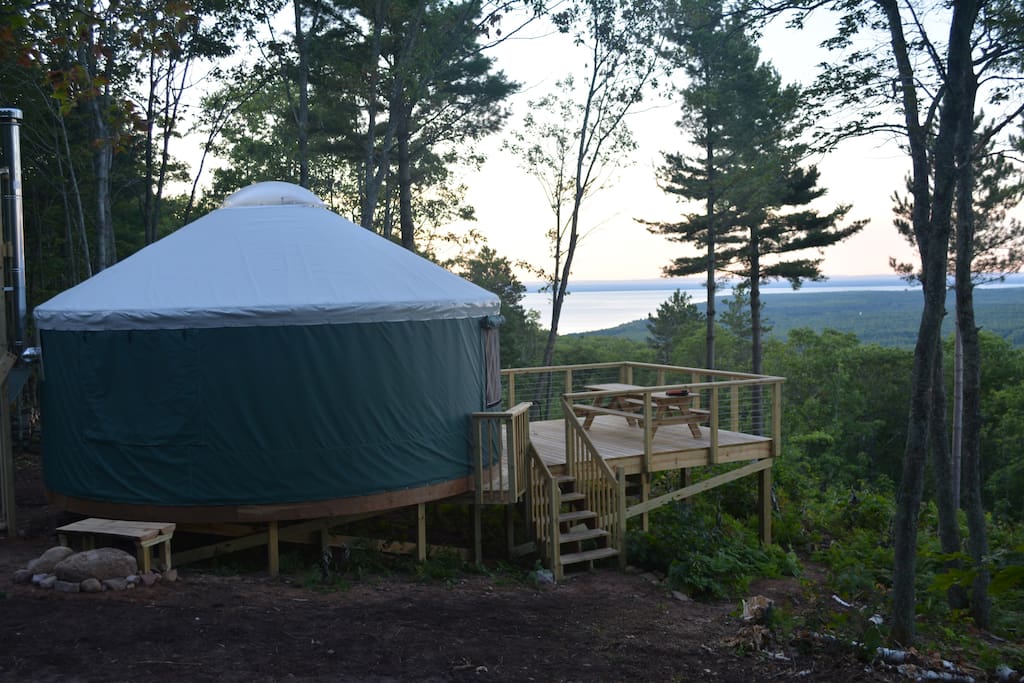 Explore thousands of acres of the Bayfield County Forest and enjoy endless miles of exceptionally maintained non-motorized recreational trails. The yurt has direct access to CAMBA mountain bike trails and Mt. Ashwabay ski trails. The landscape is also spectacular. Take in the panoramic views of Lake Superior and the Onion River valley. This is a rustic, minimally maintained yurt set in the middle of the county forest, so come prepared to relax, unwind and explore the wonders of the north woods.
The space
This yurt is nestled in the Bayfield County Forest and is only accessible by foot, snowshoe, ski, or bike. Our yurts are 20 feet in diameter and insulated for year round use, complete with woodstove. Fire wood is provided only for heating with the woodstove. The yurt comes equipped with 2 bunk beds; a full mattress on the bottom and a twin mattress on top and sleeps up to 6 people. No linens or pillows are provided, so be sure to pack your sleeping bag. A picnic table is also located inside the yurt.
Outside the yurt we have a bear proof box to store all your food, along with a deck, picnic table, fire ring, and outhouse. This is bear country and the yurts are made out of fabric. Please use the box to store all food and never leave food inside the yurt.
A rundown of the basics:
Bathrooms: the yurt does not have indoor plumbing, nor access to water, but is located near a pit toilet/outhouse, which is available year-round.
Capacity: Can sleep up to 6 people. Additional overnight guests are not allowed.
Accessibility: Only accessible by foot, snowshoe, ski, or bike. No motorized vehicles, of any kind, are allowed. The hike in is about 2/3 of a mile, up hill nearly the entire way. There are steep stretches, so please take your time and plan accordingly.
Cooking: All yurts have a picnic table and fire ring with grill grate for outdoor cooking, and a bear proof locker for secure outdoor food storage. No candles, or other open flames are allowed inside the yurt. Cooking is permitted in the yurt only during the winter (on top of the metal hot plate). Extra caution must be used when cooking inside the yurt.
Electricity: no access to power.
Water: no running water or direct/immediate access to water. Prepare accordingly. Closest water sources would be the ski chalet at Mt. Ashwabay, Lake Superior (must be filtered), or the cities of Washburn or Bayfield.
Heat: Yurts have a wood stove for heat. Split firewood is provided for use in the woodstove only. Matches, lighters or other ignition sources are not provided, so please plan accordingly.
Firewood: Wood will be provided for the wood stove which heats the yurt. Dead and down wood can be collected from the surrounding forest for use in the fire ring. A bow saw and axe are also provided.
Pets: no pets allowed within the yurt or on the premises. No exceptions.
Smoking: no smoking within the yurt. If you do smoke outside, please discard butts in the fire ring.
Guest access
Parking will be at the designated lot off Whiting Road, approximately 2.3 miles miles west of Highway 13.
The yurt is located approximately 2/3 of a mile north of the parking area. Access to the yurt is uphill nearly the entire way, including fairly steep stretches. Please plan accordingly and follow the signs to the yurt.
There is no motorized access to the yurt, so there will be no immediate access to your vehicle. Please plan accordingly.
During the non-snow season, you can hike or bike to the yurt. The yurt provides direct access to miles of hiking and CAMBA mountain bike trails.
During the snow covered season, access to the yurt will be via snowshoes or cross country skis only. Please, in the winter, no hiking to the yurt without the aid of snowshoes or skis, as it may damage or destroy the groomed trails.
The path/trail to the yurt will be designated with signs. Please follow the designated path to the yurt and avoid traveling directly on the groomed ski trails. If using snowshoes, please walk on the extreme edge when traveling on portions of groomed ski trail.
The yurt provides direct access to miles of groomed skate and classic cross country ski trails, as well as designated snowshoe trails. Access to all of these trails is included as part of your stay. Please bring your confirmation email, as that will serve as your trail pass.
There may be winter fat biking opportunities. Please inquire if looking to access the yurt with fat bikes.
Trail maps and information regarding other local attractions will be located in the yurt. You can also pick up maps at the local Chambers or by calling our office.
Be prepared for whatever Mother Nature throws at you. In the summer, that's heat, rain, bugs, etc. Even the occasional really cold summer night. In the winter, that's heavy snow, wind and extreme cold (fortunately no bugs). Please review the weather reports before you come and plan/pack accordingly.
Other things to note
Leave No Trace camping principles are strictly implied. You must pack out what you pack in.
This is bear country. All cooking must be done outside whenever possible and all food must be stored outside in the bear proof metal box.
It's also the north woods and the yurt is located right in the middle of the forest. Mice might also find the yurt nice and cozy. If you find a mouse in the yurt, please send it packing. Also, please let us know. The yurt is pretty tight, but, inevitably, mice will get in. The sooner we know about it, the sooner we can address it.
Cell phone coverage is decent at the yurt site, but not totally reliable. Please plan accordingly.
Always communicate through Airbnb
To protect your payment, never transfer money or communicate outside of the Airbnb website or app.
Check-in time is 2PM - 12AM (midnight)
SPECIFIC DETAILS ON HOW TO ACCESS THE YURT ARE LOCATED IN THE HOUSE MANUAL (VIEWABLE ONLY AFTER MAKING A RESERVATION). AFTER YOUR RESERVATION HAS BEEN CONFIRMED, IT IS CRITICAL THAT YOU REVIEW THE HOUSE MANUAL. THE KEY CODE AND OTHER SENSITIVE INFORMATION WILL BE LISTED IN THE HOUSE MANUAL. WITHOUT THIS VITAL INFORMATION, YOU ARE NOT GUARANTEED ACCESS TO THE YURT.
The yurt is nestled in the middle of the Bayfield County Forest, is rustic and minimally maintained. There is no power, no garbage bins and no access to water. Bathrooms consist of one outhouse/pit toilet.
The yurt is located approximately 2/3 of a mile from the designated parking area. There is no motorized access to the yurt (meaning no direct, immediate access to your vehicle). No highway vehicles, ATV's, UTV's, dirtbikes or other similar motorized vehicles are permitted. Just you, the yurt and Mother Nature!
Guests will be required to clean up after themselves, including removing all garbage (again, no garbage bins on site), cleaning off all tables and sweeping dirt from inside the yurt (broom and dustpan provided). During the snow season, guests will also need to shovel off the deck (shovel provided), if necessary (that is, only if you want to use it).
During non-snow covered conditions, hiking and biking are the only ways to get there. No horses are allowed.
During snow covered conditions, snowshoeing or cross-country skiing are the only approved means of access. Fat tire mountain biking may be an option, but please inquire before making a reservation.
Direct access to all of the maintained recreational trails are included as part of your stay.
Camping on the grounds outside of the yurt is permitted, but not if it would increase the total number of occupants allowed as part of the rental (currently 6).
Firearms or fireworks of any kind are prohibited within the yurt and premises, unless the firearm is unloaded and enclosed within a carrying case. Discharging a firearm within the yurt or premises is strictly prohibited. In addition to firearms, this includes, but is not limited to, BB guns, pellet guns, air guns, paintball guns, slingshots, bows and crossbows.
Cleaning of game or fish within the yurt or premises is prohibited.
The yurt is a smoke-free facility. No smoking allowed within the yurt.
No pets, of any kind, allowed within the yurt or on the surrounding grounds.
Cooking in the yurt is only allowed during the winter months. Extra care must be used when cooking while inside the yurt.
There is no power at the yurt. Candles or other open flames are prohibited (other than those needed to light the woodstove). For internal illumination, please rely on battery powered headlamps or lanterns.
As previously stated, the yurt is minimally maintained and guests are expected to clean up before checking out. In addition to what's mentioned above, please remove ashes from the woodstove (if used) and dispose of in the designated location. Also, please replenish with wood for the next users.
Our time at the yurt was fantastic! I took my two young daughter (ages 12 and 4) on a girls weekend, and we had a great time. To get to the yurt parking, it is at the far end of a long gravely, sandy road. Just when you think you've gone too far, keep going until you see the sign which has the address for the yurt. The hike up the hill to the yurt is exactly 2/3 mile. My 4-yr old handled it well. We used an utility wagon to help haul some of our gear, plus we used hiking packs. No need to bring firewood for the indoor wood stove, there is plenty as long as you restock from the woodshed. The outhouse is a bit of a distance from the yurt, bring a flashlight or four. There is a fire ring that can be used for outdoor cooking, warming up to, or making s'mores. The yurt has two bunk beds, the twin sized beds are on top, full-sized beds on the bottom with a large picnic table in the middle. The table has a metal plate to set your hot pans on. The stove inside the yurt is easy to use and kept us plenty warm on the cold, late October nights. I did have to get up in the middle of the night to add wood, even when using the stove with the flute closed. We swept and removed the hot ashes, and I wiped up the floors. The yurt is basic, no frills, but was very accommodating- we had a wonderful time and cannot wait to return. The views alone are amazing! And if you need to run into town, there are a few near by that can easily be accessed.
---
This place exceeded any expectations we had. Dry firewood, split firewood and newspaper waiting for us inside when we arrived helped tremendously because it started to rain right after we arrived. The views were phenomenal and the yurt was well equipped. Please don't be like us and forget to bring newspaper, it was so nice to have it available since we forgot it but felt terrible that we were not able to return the favor, we did minimize use though so there was some left. Note you do not need to bring your own ax or saw, they were provided in the bear box, also keep in mind that the fireplace inside will heat up the yurt quite a bit so be cautious of how much wood you have in there. You are able to remove the window coverings to let in some air but if it is very cold out that may not be ideal. We were lucky enough to have a view without fog although fog/overcast can be common in the area as well as rain. When it does rain it is very loud inside the yurt but you stay warm and dry! We missed peak by about a week or so but it was still beautiful. There were several areas of trees with yellow leaves that were in full color. I was in Bayfield area in mid Sept for a different reason and it was still green with hardly any color. Weather this year has been unusually warm in some parts so that may have had a bit to do with it too. (just a side note for those of you who chase the fall colors)
---
The yurt is rustic and minimally maintained. As such, there will be no direct assistance provided or interaction with staff. Check-in is on your own, as is check-out.
An access/key code will be provided to you and will be located in the HOUSE MANUAL (which you can view only after making a reservation). Information contained in the HOUSE MANUAL will facilitate entry into the yurt. Either print off or jot down this information. Failure to do so may jeopardize your ability to access the yurt.
You are expected to pack out what you pack in (no garbage bins on site) and clean up after yourselves.
Response rate:
100%
Response time:
within an hour
Explore other options in and around Bayfield
More places to stay in Bayfield: