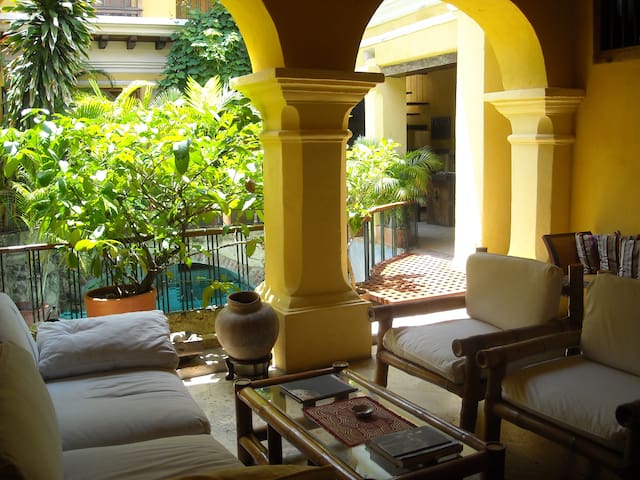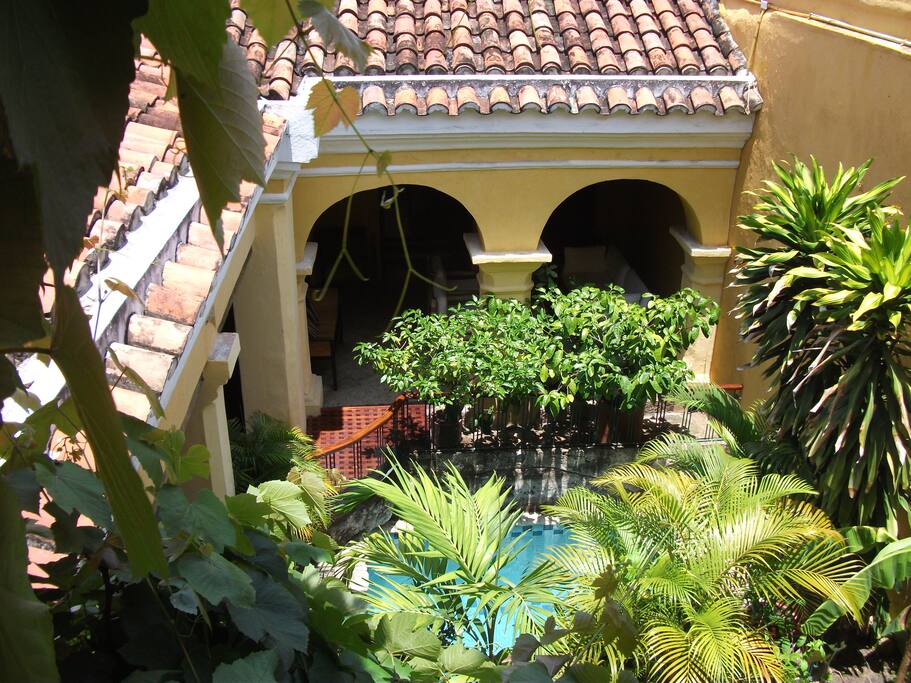 Beautiful colonial house within the famed walled city of Cartagena in the Barrios San Diego, very safe and secure zone, all walkable. The house has been restored respecting Cartagena arquitecture restoration rules, which gives a unique atmosphere.
The space
Perfectly restored colonial house is located in the friendly and safe San Diego area, within the walled old city of Cartagena, minutes walking distance from every iconic site and Plaza Fernandez Madrid and plaza San Diego, with its numerous restaurants, cafes, and clubs. The house is on a quiet street, you enter a beautiful space that includes three bedrooms, each with its bathroom and air-conditioning. Off the large, welcoming living room is an even larger common space, which contains a refreshing swimming pool nestled off the fully-equipped kitchen and dining area. This area is partially open to the sky, creating a unusual sense of harmony magically blending the distinction between indoor and outdoor living. Relax luxuriously by the pool or on the third floor terrace on a hammock, looking at the sun set over Cartagena, as the town transitions from the bustle of day to the quiet of early evening. Renting this unique property comes with the services of a caretaker who has been managing the home for over 23 years, who will be available for your convenience and to assist in making your stay entirely worry-free. Rental also comes with housecleaning included.
Guest access
3 rooms, patio, swiming pool, 2 livings, dining zone, kitchen and top roof terace. The whole house is for the guests.
Interaction with guests
Alberto, who is the person who works with us for 23 years, will receive you and assesor you for every thing you need in the house and help for outside aswell (like where to by groceries etc...). He comes every day,(he has the key) he is discret and silent. If guests don't want him to come every day, fix with him at the checkin or with me before, the best moment that he can come. The maid comes before and after each guests but if you need her more, please tell me.(on my chrage and for stays more than 3 days).
Other things to note
It's a colonial house, 270 m2 or 3229 square feet. Totaly respectful of Cartagena arquitecture rules of restoration, which gives a unique atmospere and beauty. Harmoniquely decoretd by howner, very comfortable.
Comment from a guest: "Nathalie's house was perfect for our group, in town for a week for a friend's wedding. The pictures are a very accurate depiction of what you'll find there. Three bedrooms surround a central courtyard, with much of the living spaces open to the air. Ample ceiling fans were more than enough to keep cool even in the heat of the day. If that fails, the pool is plenty good for cooling off, if not for swimming laps. There was a lovely steady breeze all evening throughout our stay. As long as that's the case, don't miss out on the rooftop to enjoy sights and sounds of the city as the day winds down. If we get back to Cartagena at some point, we'd all stay here again in a heartbeat"
---
---
Not safe or suitable for infants (Under 2 years)
Check in time is 9AM - 11PM
Smoking is not permitted in the bedrooms, but there are numerous open-air areas where smoking is allowed. No pets please. Since there is a swimming pool in the interior space and an elevated terrace care should taken to monitor small children and infants. Entertaining is fine and the property is an ideal location to enjoy the company of others. However, please respect the neighbors and show consideration if you choose to entertain.
You must also acknowledge
No parking on property
---
Beautiful house , accurate description great host! Caretaker was very helpful . Nice pool to relax at night , air-conditioning works very well , you have everything you need in the house was very well located too.
---
Perfect home away from home! This is a beautiful colonial home in the heart of the walled city in Cartagena. Great, safe neighborhood. It's just down the street from great restaurants like La Mulata, and a stone's throw away from beautiful colonial plazas (Plaza San Diego, etc). The home itself is gorgeous and spacious. Beautiful courtyard with a good size pool, and tons of lush flowers/plants. The kitchen is open concept. Bedrooms open onto the courtyard on the first and second floor. The third floor has a nice terrace with a hammock. The bedrooms are comfortable and all have air conditioning (AC). The other rooms -- most of which open directly to the courtyard -- do not have AC (they have ceiling fans). Keep this in mind because Cartagena can be hot/humid. But the pool in the courtyard is welcoming and refreshing! It helped keep us nice and cool. You also have supermarkets near the home so you can stock up on snacks/food/drinks. Really appreciated that Nathalie left a huge jug of filtered cold water (it was perfect for drinking, making filtered ice cubes, teeth-brushing, etc). She also left a basket full of tropical fruits. These were very nice touches. You are also a block away from a tour guide company called Backpackers that can help you organize tours/excursions. Everything was basically right outside your door.
---
This charming house sits on a beautiful street in the historic walled city. The location is so central that just outside your door you can find restaurants, shops, bars and taxis/ubers. Yet the house is quiet enough at night to sleep comfortably. The layout is open, with two bedrooms on the ground floor (each with a private bathroom) that open out to the main living space, part of which is open air with a plunge pool, perfect for cooling off after walking in the bustling hot streets. The third bedroom is up a flight of steep stairs, and has it's own bathroom and a Juliette balcony. All rooms have good working A/C which is definitely needed. The house must be at least a couple centuries old, but was restored about 20 years ago. It is in general good shape, but with some improvements it could be very luxurious and comfortable, at the moment it is in need of better mattresses, linens, pillows, towels, and some painting and deep cleaning where there is mold. There is someone who takes care of the house and checks you in. He was nice and gave us a few recommendations on the first day. However, during our stay he showed up every morning at 8am unannounced and was inside the house (kitchen, living room, dinning room), which was uncomfortable for us as it took from our privacy. I think this can easily be solved by coordinating a time with him or Nathalie when he can come to clean the pool, etc. while you are out exploring the city. Nathalie was quick to reply to messages and kindly left us some fresh fruit upon arrival. Overall I would recommend this place!
Thank you Angelica for your nice coments. I just want to precise, that in the anouncement I say clearly that a person, which is Alberto, will come every day for the maintenance of the house, which is important in a house like this. Alberto works for us since 23 years. He helps the guests, and he is available for anything they need. He comes everyday in silence and discretly to clean the pool, the terrace, make sure everything works well. If you tell him not to come he wouln'd come. The day you arrive you locked the door from inside, so he couldn't come in the next morning as he always do. He has been waiting untill 8 or 8:30 to ring the bell. (he was there since 6:30), you didn't let him in and tell him to come back later, so he waits an other time. It was just question of telling him the night before to fix an hour for him to come in the house or not to come that day. Alberto is a very responsable and helpfull person, and again, discret. I want the future guests to know that if they don't want Alberto to come every day, they just have to tell me before they check in or to Alberto. This house was restaured in order to keep the historic colonial atmosphere, and not reformed new like the other houses where every colonial wall is removed and reconstruct all modern. And it's against the law of the cultural patrimonio of Catagena. So, in my house the atmosphere is kept, but it's more difficult to mantain, and even if the painting of the house is done every 6 monthes, because of the "salina" and moisture it doesn't stay long. The matresses of two rooms are new, and in the other one it has 2 years. The linens are new and the matresses protectors too. And the towels too. I will make sure that these are the one given to the guests. The house is deep cleaned after and before the guests comes. And also when they are in when they stay longer than 4 days, unless they want the maid everyday. Again, the house is old, but not dirty! Any way I will insist on that to the maid and Alberto. I asked when you arrive, if everything was ok. But you didn't answer. It's a pity because we could have resolved many things at the begining of your stay. Sorry for my English, I do what I can. All the best. Nathalie.
---
Nathalie is absolutely amazing to communicate with, she is very responsive and very nice to work with. The house was in the citied wall and we felt very safe at all times, everything within the wall (nightlife and restaurants) were walkable, we never took a car anywhere. The dipping pool was great for those hot days, and the house was very open with most everything (outside of the bedrooms) being open air. Great house in the center of Cartagena.
---
This gem in the old city of Cartagena provided me and my family an exceptional experience. It was not possible for us to determine the age of the property, but it felt that it has been there for centuries. Cartagena is equatorial, and the house, on an interesting street, is secure, atmospheric, colonially sophisticated. It has several bedrooms, each with a well-functioning package air-conditioner that did the desired job of keeping us cool at night. On the first floor there is a large area which is open-air and has a swimming pool which we used every day to cool ourselves off. The place is open, spacious, gracious and has a colonial charm that can't be artificially reproduced. The kitchen is complete and contained a full cooler of cold water. The bathrooms were spacious and there was oe in each bedroom. The roof deck looks out over the city and has a hammock to rest on. Nathalie, our host, while we didn't meet her in person, was only a text away and was timely in her responses to our questions about where to go and where to eat. She was concerned about our comfort and is gracious, generous and interested. Alberto, the caretaker of the property, was helpful at all times. There were five of us, with three being 23-25 years old. They loved it as much as my wife and I did. Location is convenient. Accomodations were unique, special and met our needs in every way. We felt fortunate to stay there. Thanks, Nathalie.
---
I'm a Swiss musician, living in Bogotá for 23 years with my children. Colombia has been my inspiration for my composition.
Languages:
English, Español, Français, Italiano
Response rate:
100%
Response time:
within an hour
Explore other options in and around Cartagena De Indias
More places to stay in Cartagena De Indias :