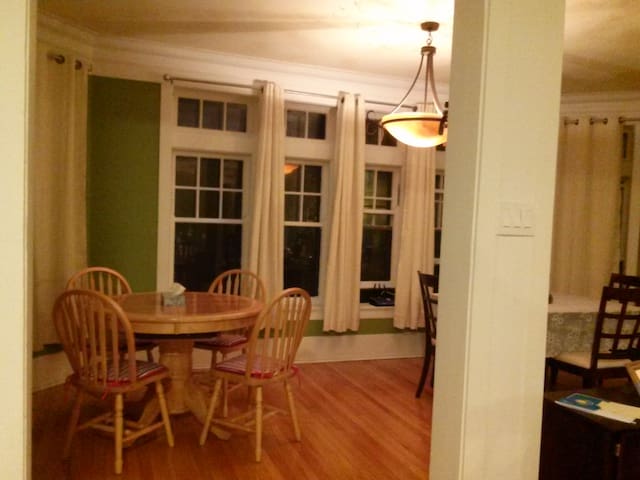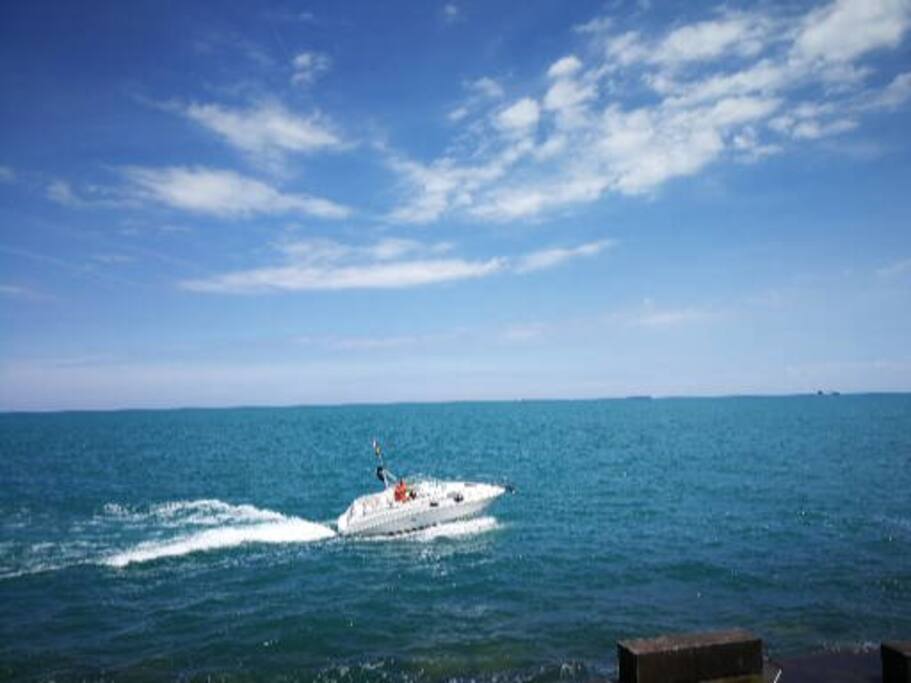 5-star Private Room 4 in Safe upscale Hyde Park
This is a very large 4 bedroom apartment in a private community. It's very close to the University of Chicago, Obama's house, and the public transportation. The indoor and outdoor space are always clean, quiet & peaceful. The apt is located in a forest like setting. The neighborhood is very safe and has lots of free street parking minutes away. Our place is good for anyone open to sharing with other travelers from around the world.
Call before you arrive and please do not ring the
The space
We welcome you to Chicago and want your check-in to be as smooth as possible, so please follow these check-in procedures.
Because we often work late into the evening, our Check-in times are by appointment only. Therefore, to arrange your check-in time, please call us at least one day before you arrive. On arrival day, please call us again at least 45 minutes before you arrive to re-confirm your scheduled check-in time.
We live just seconds inside the entrance to East Madison Park private estates, which is at the intersection of Woodlawn Ave. and E Madison Park.
So, when you arrive there, call us and we will direct you to the entrance to our apt.
Especially note: If you arrive at our apt before we do, never ring the buzzer, as it is very, very loud and will disturb all our neighbors.
Guest access
When you book with us, you will have access to all public areas of the house. These include the kitchen, living room, dining room, bathroom, and laundry.
We have a fully equipped kitchen for those who enjoy cooking.
Other things to note
Though our Check-In time is from 5 to 8 pm, It does not mean we are always home during these hours. Therefore, we have found that coordinating a more specific check-In time with our guests is very important to ensure someone will be home to greet you when you arrive. Therefore, at least one day in advance, please tell us the approximate time you plan to check-In. Then on the day you are scheduled to arrive, When you are about 45 minutes away, call, not text, to tell us the more specific time you will arrive. This will help unsure someone will be home by the time you arrive there.
Because we are usaully at work until 4:30 pm daily, it is not likely we can be
there to greet you if you need to check in earlier. However, it may be possible to arrange a self check-In apon request.
If it turns out that you are unable to check-In before 10 pm, we can arrange for a self-check-In. That means we will leave the keys in a secret place that's easy for you to find. Then you can get the keys which unlocks the two security doors on the ground floor. Then go up the stairs and our apartment is the first door you see on the first floor. When you enter the apartment, remove your shoes and turn left and your name will be on the door. On rare occasions, your room will be to your right across from the front door and next to the refrigerator. Your name will also be on the bed assigned to you.
Once you turn left and walk down the hallway, the bathroom will be the second door on your right. It will be labeled, "Bathroom"
---
---
Bedroom 1
1 double bed, 1 single bed
---
Not safe or suitable for children (0-12 years)
Check in time is 5PM - 9PM
Check-in is by appointment only. Call a day in advance to schedule a check-in time that works for both of us.
Please do not ring the buzzer to the apt at any time as it is very loud and will disturb all our neighbors. Call us to buz you in.
Please do not stand outside the apt at any time for any reason, not even on arrival day.
No Smoking, Drugs or Alcohol. If you need to do any of these, then please book with another host. Thank you for understanding.
No Loitering
No litering
No Loud music
Please cleand the kitchen and bathroom after each use.
Please remove your shoes upon entering the space.
After showering, please wipe and clean the bathroom tub, sink, and floors after every use. If you wash your hair in the sink, clean the sink immediately.
After brushing teeth, make sure there is no toothpaste spatter on the mirror.
Honor Quiet Time Hours are from 9:30 pm to 7:30 am to help maintain the silence.
3. Please whisper if you need to talk.
4. Use ear phones if you need to watch movies or listen to music.
5. Avoid slamming or closing doors loudly
6. Walk quietly. Some floors make a cracking noise
Please do not invite additional guests, who are not in your check in group, without permission.
In summary, Our intent for these rules is that you and all our guests have a pleasant, quiet and peaceful stay.
You must also acknowledge
Must climb stairs
No parking on property - No Parking on E Madison Park, but free parking on Woodlawn Ave just seconds way.
---
Hosts entered our room without our permission while we were out of the house, and rearranged our personal belongings including our underwear (I found my underwear in my friend`s luggage), purses, and jewelery. Their excuse to enter our room without obtaining our permission was that they had to put the dresser back in the room - like that was an emergency and could not wait until we got back to the apartment. We felt violated and unsafe, and left the apartment right away and requested a refund. I had my laptop and other personal documents on my bed, too, so I am worried about the extent of personal damage these people can cause me. One of the hosts, Shujaa said that they had entered another guest`s private room before, and they had to refund that other guest as well, so it seems like these people have a pattern of entering the guests`s private rooms and violating people`s privacy. This place is actually run like a HOSTEL. They have multiple rooms with multiple beds in them, like a hostel. Do yourself a favor and go stay at a hostel. You will get better service and you will feel safer. Also, the male host greeted me in his bathrobe. Very indecent behavior, especially considering that he and I were the only people in the apartment at that time. I felt uneasy about finding a man greeting me in his bathrobe trying to read me their "special instructions and rules" for the apartment. An adult, grown up man should know better and not greet a guest in his bathrobe. Very inappropriate, and offending. No lock on the private room door. Adds to the concern about privacy and security. Windows in the private room do not open because of the cheap painting job - so to get some fresh air in the room, you have to leave the door open or suffocate in the tiny room with no air! Zero privacy in the "private" room.
It is my fault that I, Jessie, did not get her permission to move the dresser into her room, I apologize and apologized for not informing and getting Arzu's permission before I moved into the dresser( I was in hurry to use my male friends' muscle to move that heavy dresser when they dropped by). We have hosted 336 people across more than 60 countries in a year so far . Based on Airbnb statistics,83% of our guests left us a 5-star reviews. Most of them told us that they enjoyed, appreciated and valued our service and many of them left us a very personal thanks notes. it is very understandable we crossed very few 'bad apples' who disrespected the house rules regularly. We open our heart and our home to host our guests, so it might be challenge to satisfy every guest, but we commit to do so and will continue to make our guests feel at home. We wish Arzu learn her lesson too, so that she should and could clean up her mess, never leave the spilled food and let it become Carbonized food residue,all over the stove , be aware to clean up the dirty footprints in the bathroom, living-room, kitchen and any common area, moreover, it would be the best to ask the host and other guests' permission before eating their food... Good luck with you, Arzu.
---
Stayed at this place during a friend visit and the experience has been great! Jessie is very friendly and experienced in creating a quiet and respectful environment. The place was clean and conveniently located (5 min walk to CVS store). I arrived pretty late at night and was worried nobody was up to check me in but thanks to Jessie that didn't happen. The room is minimally furnished so it could look a little empty if you're used to having lots of belongings around, but that's definitely not a deal breaker if you're looking for short term stays!
---
My wife and I, Jessie, are Teachers of Transcendental Meditation, TM. We have been teaching TM in urban schools around the country for 10 years. I enjoy travel, meeting new and interesting people and taking on new and challenging situations. I am a problem solver by instinct. …
Languages:
English
Response rate:
100%
Response time:
within an hour
Explore other options in and around Chicago
More places to stay in Chicago: