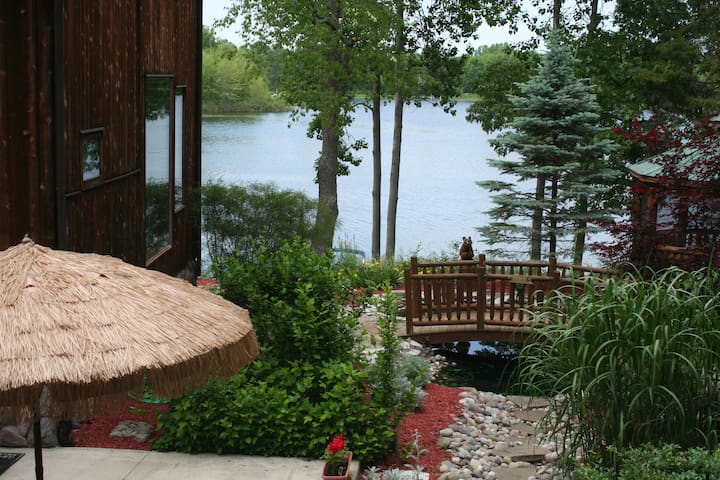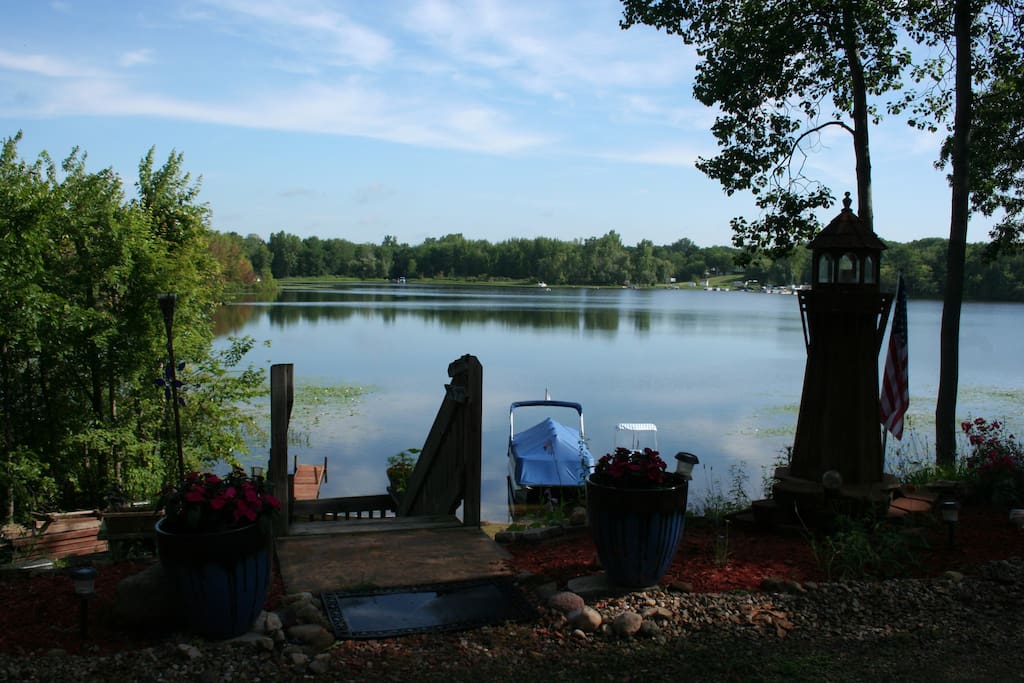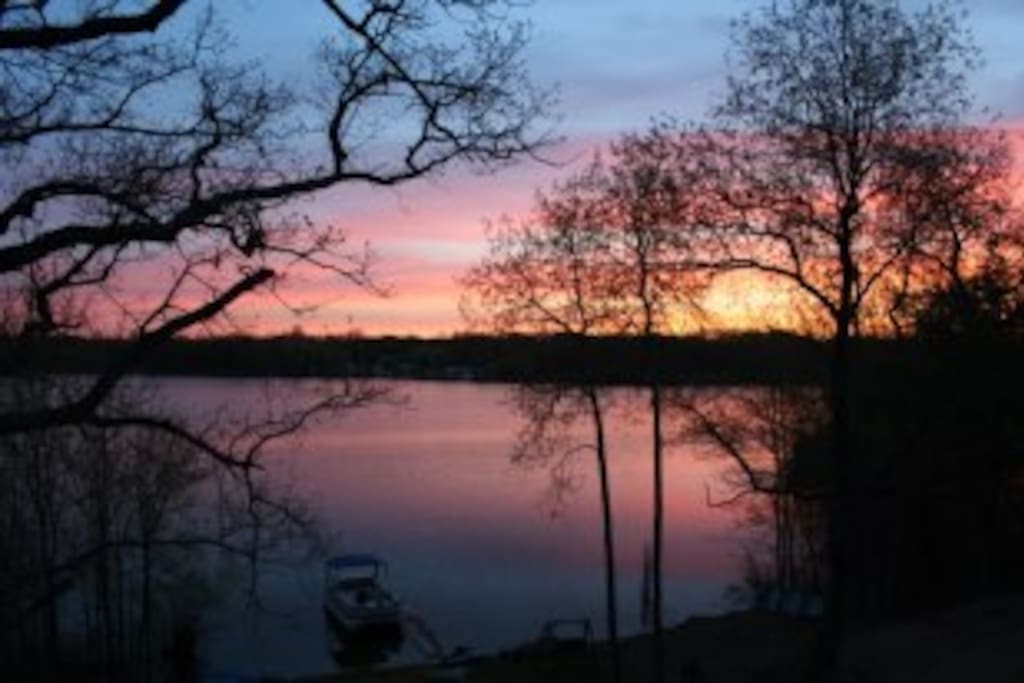 WOW! Q LAKE FR CRUZ BREAKF HOTTUB PED B NO CL FEE
Wow! Unique Escape! Owner HandBuilt Exclusive home! Romantic setting! Amish garden gazebo =103 hot tub; Comfyupscale spa robes, Queen log bed priv deck, priv bath,beautiful views,fun pedal boat! FREE pontoon day & sunset cruises! (retail value $30) Swim/noodle off pont spring fed lake !r boat,fishing: Kcoffee, frig,quality C break:yogurt, fresh fruit, healthy add in- blueberries, nuts,hot oatm muffins, etc. Campf wineries,serene, MIS 6 miles NO CLEANING FEES! A2 Mi Stadium only 30 miles!
The space
AWESOME GETAWAY!, WOW! Fantastic views from all rooms of our home with expansive windows highlighting a contemporary open concept living room, kitchen, dining and loft with a 19' prow window front.
Relax in a truly hot - hot tub! We keep it at around 103.-104. We offer 24 hr. self serve Keurig coffees & teas. Likewise, we offer a refrigerator for our Airbnb guests and use of our kitchen microwave.
QUEEN ROOM
Your room offers a top of the line queen size authentic log bed. The room combines a perfect marriage of feminine and masculine elements, featuring wispy teal, long flowing drapery, lovely bedding accentuated by a uniquely carved deer engraved log bench, a Cabela's moose statuary bedside lamp and signed art work of an eagle in flight. Directly across from your bed are patio doors leading to your own private deck with an outdoor spiral staircase for accessing the hot tub, lake and your vehicle.
SETTING
Our home is nestled on 10 wooded acres on a hill overlooking our lakefront bay. Nature surrounds us with playful chipmunks, scampering squirrels, shy red fox and loudly croaking bull frogs.
On a pontoon trip on our small but lovely lake, you may catch a glimpse of a deer and her fawn sipping at the water's edge, a host of turtles sunning themselves on an island log, sand hill cranes, blue herons, resident swans and their little ones, and even an occasional eagle.
DOGS
We will accept one small lap dog who is well behaved. We cannot accept large dogs as they frighten our little dogs, although we love all dogs. You MUST, however, clear bringing your small dog ahead of time. Your dog cannot be left in the house alone. Your dog is welcome on our pontoon boat with you; our dogs love the boat.
PET SITTING. If you want to explore the area, we will pet sit for you for $25 per day, interacting with your dog as if he were our own.
HOT TUB
The Amish bridge leads to the garden gazebo, situated next to our house, which houses our awesome hot tub and is surrounded by flowers and plantings. Suits must be rinsed before use. Please ask if you want us to run your suits through a quick rinse cycle in our washer. Lines r above your shower or bath tub to hang your suits up.
OVERVIEW OF HOME
Our walkout first level is an all wood basement, our second or main level has the queen log bed guest room with a full refrigerator, freezer access within steps and a prep area for all AirBnB guests, along with Kuerig coffee machine, teas

AMENITIES
You will have a private bathroom with shower, refrigerator space if needed, cooking access if needed, a small row boat for fishing a pedal boat for pleasure cruising, and our offer to take you out on our pontoon for a daytime cruise or swim and sunset cruises... just be sure to request ahead of time. You may also BYO kayaks.
MUST LOVE DOGS
Also, in our home: You must love dogs!! as we have two feisty, but loving lap dogs.( non shedding hypo allergenic).
CHILDREN
We can open our home only to children who are *well - behaved 13 years +. Please note our hot tub is available to parent accompanied 13+ ONLY. Due to the very high temperatures, it imperative to not be in the hot tub beyond 15 min. There are log chairs where you can get out and rest for a minimum of 10 minutes to cool down before going in the hot tub again
13 + may use the paddle boat and row boat unaccompanied, but MUST have our life preservers with them at all times. *Running in our home, yelling and horseplay is not acceptable as we maintain a calm, serene home.
We are sorry we cannot accommodate younger children in our home as our rescue dogs came from homes where children mistreated them. Likewise, they are still learning to socialize with little ones. Likewise, we cannot accept babies as if our dogs hear crying, they immediately become agitated, believing they need to rescue someone, which creates issues for us.

THEATRE ROOM
You can kick back in our big overstuffed lazy boys to watch a dvd in our theater room. ( We have quite a few to choose from) There is also a Redbox in Brooklyn.

STAIRWAYS
Please be advised there are multiple stairways in our home and to the lake, so only for those able to access.
INTERACTION
One or both of us will be home at all times as we live here. We can interact as much or as little as guests prefer. Please let us know. Please don't worry about hurting our feelings if you want mostly private time. But, if you want to interact a lot, Gary is quite gregarious
TWO GUEST BEDROOMS AVAILABLE
We also have another bedroom (full log bunk bed bottom; single on top )with balcony seating overlooking the lake. It likewise includes a private bath if another couple or single is accompanying you, they may book the extra room by searching our other listing. NO visitors or guests. Our home is for registered Airbnb guests only.
GAMES
We have quite a variety of board games available. If you want more competition, you may ask us to join you if it isn't too
RESTAURANTS.
See our Neighborhood Overview for restaurant suggestions we have put together for you, as well as additional things to do in the area. Car needed.

CHECK IN
Check in time is 2 p.m. or later. IF an earlier check in is needed, please request. We may or may not be able to accommodate, depending on the day/s.
CHECK OUT
NOON
STRICT CANCELLATION POLICY
We maintain a strict cancellation policy; however, if you truly have an extenuating circumstance, such as a verifiable death in the family, doctor ordered stay at home illness in the family, please contact us asap.
When you book with us, it blocks our calendar from other guests. In addition, we make your stay our focus, turning down invitations and potential plans to go out of town ourselves, or spend time with family members a couple of hours away, as well as purchasing a lot of fresh breakfast items.
Please be honest with us. We are both former high school teachers, which unfortunately fine tunes our antenna for fabricated "dog ate my homework excuses."
Guest access
CHECK IN
2 pm or later. If an earlier check in is needed, please request. We may or may not be able to accommodate, depending on the day and if other guests have just checked out.
CHECK OUT
Noon
HOT TUB
Available to you: wonderful romantic gazebo housed hot tub! You will find spa quality robes for your comfort for going to and coming from the hot tub.
PEDAL BOAT
You may use the pedal boat, which is fun for exploring, looking for fish , turtles, Blue herons and u may even catch a glimpse of a resident eagle.Only two people should be on the pedal boat at a time.
ROW BOAT
A row boat is available for fishing if you have brought fishing gear/ supplies. No license is needed as this is a private lake.
PONTOON CRUISES
We will offer day and/or sunset cruises on the pontoon boat, which has been thoroughly enjoyed by our guests. Your pet is welcome, too.
SWIMMING
Be sure to ask ahead of time if u may want to swim, play in the middle of the lake... the deeper water, using our noodles.
AIRBNB KEURIG STATION & REFRIGERATOR
You may utilize the Keurig kitchen, which has clearly marked refrigerator space for each room. Please ask before your arrival if you will want to use the refrigerator. If, however, you will only have leftovers from a restaurant meal, you or we can house these in our own refrigerator in our kitchen. Paper plates r available in the cupboard of the Keurig station, silverware, additional glasses. If you don't see something you need, please ask. You're welcome to use our kitchen microwave and ice maker.
GARDEN SEATING SWING. CAMPFIRE
You may sit out in the garden area on double log seating or under the tiki umbrella. There is a log swing by the campfire area for your enjoyment. If you would like a campfire, we would be happy to start one for you, provided the weather allows. Wind is always a consideration. Be sure to ask early enough.
Interaction with guests
One or both of us will be home at all times. We can interact as much or as little as guests prefer. Please don't think you will hurt our feelings if you want very little interaction and more privacy. However, we are gregarious and enjoy interaction if you do. We also have another bedroom available with a private bath if another couple or single is accompanying you.
We are retired high school/ college educators who look at life as a gift and enjoy it thoroughly. We also consider ourselves spiritual adventurers.
Other things to note
.LOCATION.
Our house is not very easy to locate, which offers you and us wonderful seclusion. Hence, the road is typical Michigan back roads rural: gravel and dirt and washboard. But, hey, this lends itself to the privacy not available in many places. You will not hear cars and traffic from our decks...only boats skimming the lake.
Don't hesitate to call if you're having any trouble finding us. We have a reflective A on our set of mailboxes if you're coming from Wampler's Lake Highway to Lawrence, as well as an A on the opposite side to note if you're coming from the opposite direction. Turn into the gravel drive when u see the A and farther down, u will see another A on a deer picture, indicating that you're on the correct driveway.
OUR DRIVEWAY
The driveway seems a bit foreboding when you first enter it, but you will soon realize it leads to a lovely area and very private, beautiful home. Do drive slowly as another car can approach. There r seldom two cars at the same time, but it is best to b very cautious, regardless.
PARKING
Parking signs are located in the front for the Queen room parking. Queen room guests may enter from the front, but be aware there will be a spiral stair case to climb. You may avoid the spiral by coming in through our double patio doors located just beyond the spiral. There will still be a regular staircase. If you need help with luggage, please let us know.
LOG BUNK BBED ROOM The log bunk bed bedroom has a set of log bunk beds with a FULL on the bottom and Single on top. The beds will accommodate up to THREE guests, ONLY. We love children, but sadly our Sophie is a rescue, who was abused by children, so she is very wary of children, even those who simply want to gently pet her. Too avoid a concern for your child and possible nipping, we can only allow ages 13 and up. We are very sorry we cannot accommodate younger children.
The stairway to the bunk bed room is an open concept, i.e no risers, just steps. So, if you have a small dog, you may want to carry him/ her, although our own dogs have no problems since we keep their pads fur free. Please use hand rails at all times, and avoid wearing any slippery socks. We r fine if you want to go barefooted.
BOATS
You may take out our fun pedal boat... be sure to ask for life jackets to take along. You may also take out our raw boat for fun, exercise or fishing. We would prefer that you only fish from the dick or the row boat. No fishing please from pedal boat nor pontoon boat. If interested in day time cruising and/ or swimming, noodling Gary - your host will take you out. He is also available to take you out for sunset cruises. Be sure to ask well ahead if time if interested in doing so.
IMPORTANT:
4Th OF JULY & SEPTEMBER OCTOBER
Around the 4th of July, sometimes before... sometimes after, our lake residents enjoy celebrating the season, so our normally quiet evenings filled only with the sounds of croaking frogs will experience the noise of occasional fireworks.
As of Sept 1st, we need to let u know that goose hunters may be active on a portion of our lake on Sat mornings and possibly Sun. This is not a given, but rather a possibility. If they do so, they may begin as the fog lifts, ending in a couple of hours. We have not heard them ever during the week, but - of course- we can't guarantee their schedule. Please be all right with this possibility if you book with us in Sept- Oct. Although fall brings the goose hunters in the morning, fall likewise means beautiful color, a cozy, lovely campfire on the beach in the evening with the cool night breeze. It is the perfect way to distress and unwind with your fav beverage. In addition, the vista of fall color during the day supersedes this possibility. If you would like a campfire, (weather permitting), please let us know asap. If you would also like to have complimentary marshmellows, please tell us prior to arrival.
---
---
Not safe or suitable for children (0-12 years)
Check in is anytime after 2PM
We love pets, but because we have two small dogs, who are afraid of larger dogs, we can only welcome one small sized lap dog.. So, if your pet is well-behaved, under 20 lbs., we will consider it, but you MUST clear this with us prior to booking. If your dog sheds, please have them sleep in a dog bed you've brought or ask us to provide one for you. Please keep them off the beds, otherwise. Our furniture, however, is leather, so your pet is welcome on our furniture. If you want us to pet sit as if they were our own for you while you go to dinner, wineries, etc., we are available to do so for $20 per day.
Please absolutely no smoking inside as the resident is allergic to any smoke odors. If you smoke outside, please do so by walking down the drive. Do not smoke on balconies nor decks. Please ask for a container to house any cig butts. Alcohol consumption is fine, but nothing excessive. Absolutely, No visitors, please. Our home and offerings are reserved ONLY for our registered Airbnb guests
HOTTUB
DETERGENT FREE SUITS
To keep our hot tub free of detergents for you, we ask you to please run your bathing suit through a separate or additional rinse cycle prior to packing to come to our home. You're welcome to rinse them out here, but who wants to step into a soppy, wet bathing suit. Yuk! But if you forget to do so, and have enough time for them to dry, u may ask us to run them through a rinse cycle for you and either air or dryer-dry.
TEMPERATURES
Please be aware of the intensity of the heat in the hot tub. Anyone pregnant or with medical concerns should consult their doctor about entering a hot tub kept at 103-104. Everyone should limit their immersion in the tub to approximately 15 minutes. at a time.There r pub chairs available for taking a break and cooling off b4 re-entering the tub.
DRINKS
No glass in the tub area at all... please ...for your safety and ours. No excessive drinking, which means if a guest is slurring words or high, we will ask you to leave. However, excessive relaxation, excessive catching up with your significant other from a hectic schedule, excessive enjoyment of kicking back in an awesome setting r all permitted!
ON THE LAKE
We have life jackets available for you for the pedal boat and row boat. You must be sure to ask for them as they r stored to keep them dry. You may not get close to the swans via the paddle or row boat; rather, we suggest you observe their beauty from a safe distance. They do not understand English, Spanish, French, German, etc... so commanding them like we do dogs: " Go away nice Swan!" will not be heeded. We r also quite sure it will take the fastest paddling possible to outrun them.
We have noodles for swimming off the pontoon. We can take you out to the middle of the lake on our pontoon for as long as you would like to swim or relax in the water on noodles. There r extra towels in your closet for hot tub and lake use.
AIRBNB KEURIG STATION
We invite you to use the prep area to access Keurig coffee & tea. You may also have use of refrigerator and freezer for Airbnb usage.The bunk and queen rooms are labeled in the refrigerator to keep things separate whenever both rooms are rented. Be sure to let us know if you will want to use the refrg., so we are sure to plug it in for you. Please do not store extra supplies such as chips, cookies, drinks, etc on the Keurig counter.
If they r unopened or sealed, you may store them in your room. If opened and no clip, we suggest storing them on the top of the refrigerator. Both rooms have closet shelving.
Coasters
Please use coasters provided on ALL tables, night stands and countertops. The internet claims ( ha ha) any circle mark left on wood can b removed. We have not found this to be true.
Septic Tank
Please do not put anything except toilet tissue in our toilets, or you may experience the back lash of one very unhappy rural septic tank...something you do not want to experience.
Campfire
If you would like a campfire, please let us know asap. We would be happy to accommodate. There is a log swing and additional seating for sitting by a lovely campfire. Ask for a bucket to douse your campfire using lake water before you leave the area. Smokey the Bear says: "Only you can prevent...fires!"
Deck Firepit This romantic fire pit on the deck outside the dining area uses propane. Please ask for instructions before using. Please no roasting of marshmellows, hot dogs, etc. You may ask for a campfire to do so. If you're on this deck late, please bring cushions in and stack by the dining table, so they r dry for your morning use.
Couples
Upon booking, please send the full name of anyone accompanying the person who registered. We are sure you understand the need to know who will be hosting
Frog Croaking
Please don't ask us to shut off the frogs ( as our adult daughter jokingly asked) as we are the interlopers in their world. Our property is likewise home to racoon, squirrels, chipmunks, deer, red fox, blue heron, sand hill cranes, resident swans, owls, a variety of song birds,and occasionally an eagle.
Serenity
Our home is not a typical lake cottage; rather, we take pride in its serene setting and as an escape from the cares of the outside world. So, no excessive drinking or loudness, please. If you're watching a movie in the theatre room, please close the door to the upstairs. (The big cuddly faux fur blanket is for your use for watching t.v.)
Our Puppy Dogs
If our dogs would happen to follow you out a door, which is unlikely; but if they do so, all you will need to do is call their names: Sophie & Harley and tell them the words: "Cheese & Treat!" and they were return for this fib, but continue to look at you as though you're a campaigning politician.
Enjoyment
Please kick back and enjoy your stay. If there is anything you need to make your stay more comfortable, don't hesitate to ask. We will try our best to accommodate, if possible. We are a laid back, unassuming couple whose main goal in life is "to not sweat the small stuff" nor the big stuff, either. Attitude is everything.Love life; enjoy our space and be kind to our dogs.

The house is the perfect setting for an intimate, lovely wedding, shower or baby shower for up to 20 people. Please Inquire what we can design for you.
You must also acknowledge
Must climb stairs - We have lots of stairs to climb, so you must be able to do so. I am sorry, we r not handicap assessible.
Potential for noise - 4th of July, enthusiastic lake residents may extend the 4th well beyond or even prior to.SeptOct potential for morning only goose hunters
Pet(s) live on property - Non shedding, hypo allergenic lap dogs. Must love dogs... they will love u once they get past barking when you initially come into our home
Some spaces are shared - If yours is the only room booked, you will have total access by yourself. If both rooms r booked, sharing of frig, boats, hot tub, theatre room.
Amenity limitations - Wifi not the greatest; cell may b limited, depends on carrier. Escape it all, here! Amenities r for registered guests only... absolutely no visitors
---
---
On Fridays and Saturdays the minimum stay is 1 night.
---
Great getaway and property to relax at. You will love the hospitality provided. Hot tub and property are beautiful. Hosts go over and above to make you feel at home!! A wonderful fresh fruit and breakfast served in the morning. They go over and above to provide an amazing spread :) Gary and Joanie are loving caring people that anyone would get a long with!
---
A little slice of heaven, back in the woods, by the lake, listen to your heart beat, relax in the warm hot tube or the lake. Watch the fireflys dance across the woods, and warm your toes by the fire. This B & B is the perfect place to recharge your batteries, read, reconnect with nature, or each other. Gary and Joannie are the perfect hosts. Can't wait to return.
---
Second trip with with G & J! These two enjoy what they do and really make you feel like you are at home. They go above and beyond with a great breakfast spread, boat, and hot tub. If you are in the Brooklyn, MI area for a race, concert, or looking to get out of the city, I highly recommend this stop!
---
I would recommend this place to anybody. they went above and beyond for us to make our stay as amazing as possible. I enjoyed the beautiful view from the bedroom in the morning, the hot tub and bonfire at night and the pontoon ride they took us on around the lake. They were very personable and also gave you time to yourself when wanted. Breakfast spread was amazing as well! I recommend the home made muffins ! Will be back very soon that is for sure! And what a beautiful home!
---
What a fantastic stay we had in G's beautiful home! We were blown away by the scenic location of the spectacular home over looking a picturesque lake in a lush woods. It really was perfect. Our host were just fantastic, it's not everyday that you meet people so kind and generous and willing to accommodate to make our stay... magical. We enjoyed fun conversation with them, the sweet doggies, another couple, and even met a couple neighbors out on the lake... all great people. But, we were also given all the private time we wanted. (I seriously want to buy a place on this lake!) The house itself is just perfect, our room was so comfortable with a private balcony, bath, and refrigerator... everything we could have asked for and more. We also enjoyed the lake via pontoon boat, what a treat that was... so clean and refreshing! And, the hot tube as well... everything was just perfect for a romantic getaway. I highly recommend G's lake house... we are already planning a return trip!
---
This was our second time staying at this home during the Faster Horses Festival weekend and it did not disappoint! G&J are wonderful hosts and they really go out of their way to make sure we are comfortable and have everything that we need. Their neighbor on the lake even took us out on a pontoon ride one of the days which was a really fun and nice retreat from the hot and humid weather over at MIS. All of our friends were jealous of our pictures displaying the fun we were having. We were also so thankful and impressed that they went over and beyond to accommodate us, and they even went out and purchased juice for the mornings when they realized we weren't coffee drinkers. A giant kudos from me for those AMAZING blueberry muffins too! This home is truly a gem, and if we had more time we would've taken the time to just enjoy the serene setting, hot tub and walk-out basement area for TV/movies. Maybe we will find some extra time next year! We look forward to visiting again for the 2018 festival.
---
We are two very happily married Seniors, former educators. We live about 6 miles from the quaint town of Brooklyn Mi., which we enjoy as a pleasant escape from the bigger cities. Having built our home into a hill, fronting a lovely blue sparkling lake, nestled on ten wooded acres, we are able to enjoy the beauty and serenity of Michigan, daily. A favorite past time is to explore the United States seeing historical sites and museums. Likewise,as a couple, we have been to Rome, Venice and Florence, the World War II sites of France and London. In addition, Jj has spent time in Germany, Austria, Switzerland and Bulgaria.
Reading non-fiction is a favorite, as well as spending time on our pontoon in the warmer months, sipping a glass of wine, visiting with our lake neighbors and appreciating the beauty of our lake with its offerings of swans swimming with their
new brood each year, sneaking up on turtles sunning themselves on logs near a small island, watching beavers and muskrats building dens & seeing a mother deer with her fawn sipping at the water's edge. We feel very fortunate to live in such a peaceful environment. Our motto ( we have several) is what Lincoln said, "You're as happy as you make up your mind to be." We have recently traveled to San Francisco and South Lake Tahoe and booked through Airbnb. We thought it was a good alternative to the cookie cutter hotels and more value for our money. Most hotels are basically the same in the rooms. However, we do love bed and breakfasts, but due to the cost of operations and the luxury offered, we have seen the prices rising considerably and understandably; but,being retired and on a fixed budget does not give us the latitude we once had to stay at beautiful and historic B & Bs, so Airbnb has become a welcome site. Because of our positive experiences as guests, we decided we would join as hosts. We live by the motto: Each day is a gift to be appreciated.

Response rate:
100%
Response time:
within an hour
Explore other options in and around Brooklyn
More places to stay in Brooklyn: