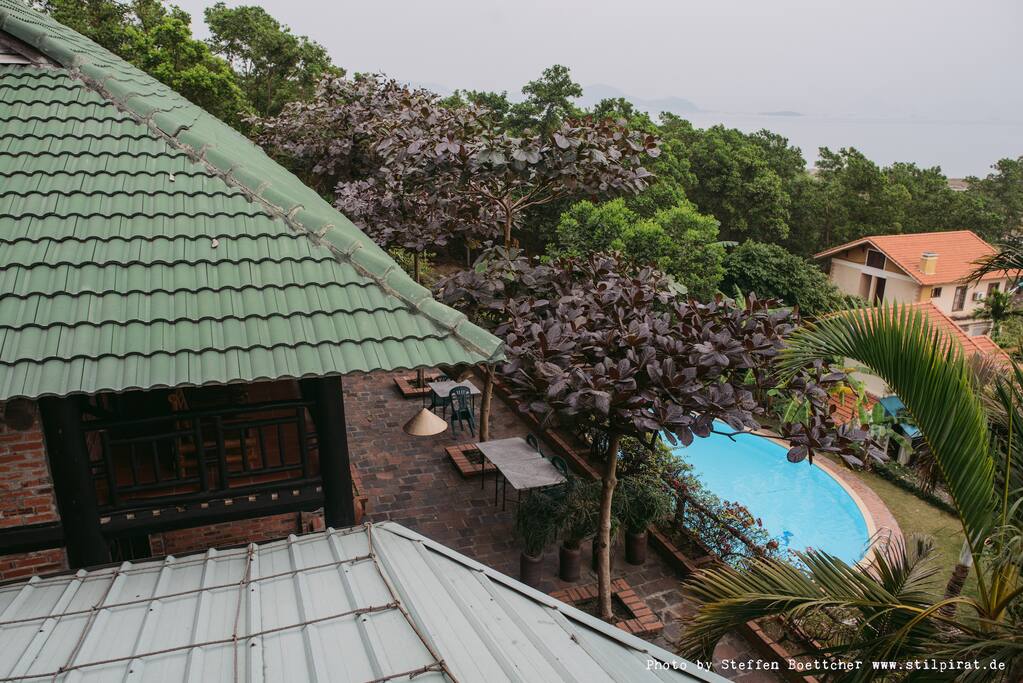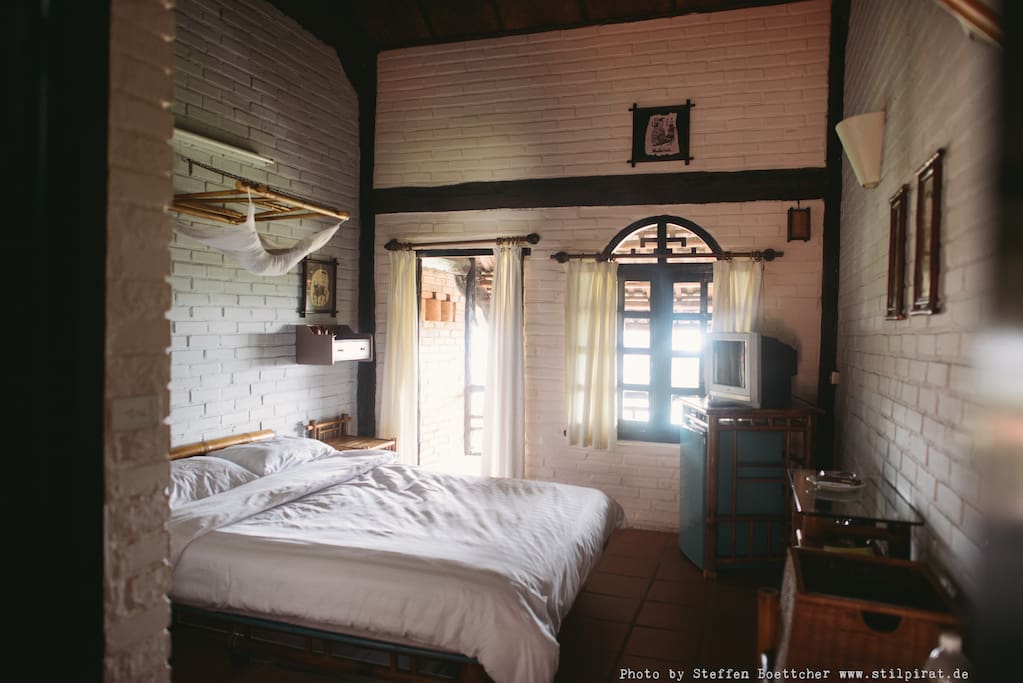 The space
Discover our beautifully calm garden estate nestled amidst the lush forests of Tuan Chau Island in Halong Bay:

The very heart of the Golf of Tonkin in Vietnam's northern parts.

Conveniently escape the well visited tourist area of Halong City and escape to our serene oasis, which is easily accessible via a bridge connection tot he mainland.

Relax in your tastefully decorated rooms and enjoy an undisturbed, picturesque scenery from your private balcony.

Your room is conveniently equipped with air conditioning, an en suite bathroom, television and can be set up with a double bed or twin beds. Free Wifi access is available in our living area in our adjacent 100 year old traditional farmhouse.

Your can furthermore spoil your senses with the many Vietnamese culinary delights our in-house chef has to offer and freshly prepares all meals for you whether it be breakfast, lunch or dinner.

And if the hunger persists, find a snack freshly picked from our many banana and papaya trees within our garden estate and around the pool.
---
We really enjoyed our short stay at Viethouse. Tuan Chau island proved a peaceful place to enjoy views of the bay, and a short taxi ride away ($5) from the port where we could catch a tour boat out to Ha Long Bay. Finding a day tour was the only slightly stressful part, but we were very happy with it in the end. Viethouse is lovely, with great food and a quiet atmosphere. Caroline was more than helpful in explaining all that we could do/see and even driving us to the ferry to cat ba island (which was a great first glimpse of Ha Long Bay!)
Hi Cameron, It's been a pleasure to have you, albeit briefly, as our guests! And yes, you are right, "battling" your way through the many, many options and hawk-like travel agents that will surround any Halong visitor as soon as they step out of a cab around the harbour, can be "adventurous". Sooo many cruises and itineraries to choose from, will send everybody's head into a spin! Thus, I am glad we had spent a bit of "prep-time" together before you went to Bai Chay to pick a cruise for the day ;) Best wishes, Caz
---
Although I didn't get to meet Caroline in person, she was very nice and helpful on the phone. I was a little lost because I arrived in the neighborhood after dark. After some help, I found her lodge and her employees were amazingly nice and showed us our room. My girlfriend and I were celebrating our 3rd anniversary and I wanted to splurge a little. Caroline's abode was fantastic. The room had a great view, bed was nice and comfy, and the location was secluded. Highly recommend staying here if you are traveling with a family and want to get away from the crowds and hustle of city life. Ha Long was only a short drive (or motorcycle ride for us) away and plenty of food or markets if you don't want to eat at the lodge. We will be staying here again when we come back to Ha Long.
---
We stayed at Caroline's Halong Bay property for 2 nights, and had such a fantastic experience! Right from the start, Caroline was extremely helpful in giving us tips on what to do in Hanoi and Halong Bay, including helping us to book a taxi between the two. When we arrived in Halong Bay, Caroline's parents looked after us very well, and could not have been more welcoming. As their beautiful lodge is located away from the hectic/more built up Halong Bay city, we were able to enjoy a relaxing weekend with gorgeous views. We could not recommend their property more highly - thank you for everything!
Hi Emma, Thank you very much for your kind words! It's been a pleasure to first meet you in Hanoi and then send you off to Ly and Heiko on Halong Bay! Your beautiful chocolate surprise was such a wonderful and thoughtful treat! Take care and all the best for 2015! L, H, C & C
---
A magical place!! Our Christmas there with our two adult children was completely perfect. The quiet location, the lodge, the rooms, the food and the hosts are outstanding! I cannot think of a single thing I would have wanted different. The location is private, about a $12 cab from 'town', which was just right. Very peaceful and quiet. The rooms were extremely charming and comfortable, well equipped, modern where necessary, rustic where desirable. Balconies and patios have excellent views and nice furniture. Bed was SO comfortable. The main lodge was warm and comfortable for us to gather and hang out on rainy days. A portion also serves as dining room. A perfect "extension" of our rooms. The food was world class!!!!! When you first see the menu ask questions, as many dishes are much more involved than meets the eye. And it is excellent value compared to many other "high end" Vietnamese restaurants we ate at in Hanoi. And our hosts were an absolute delight. We never met Caroline as she was away, though we wish we had. Her parents were so very helpful. We asked for assistance making various private bookings and had to rely entirely on their word as to what we were committing to. Everything more than met our expectations in every way! Outstanding people, and we would love to go back and do it all exactly the same again!
---
We had a great experience with our host & she was very helpful when we lost our bags contacting our host in Hanoi to organize delivery. She guided us toward spots to see since we were in Ha Long with no prior reservations. Everyone was very nice and helped make our trip fulfilling! The place we stayed was amazing & had a beautiful view from our room.
---
I could not say enough good things about Caroline and her parents! We booked 6 nights at the tranquil seaside abode. The plan was to fly into Hanoi, rent a motorbike and drive to Halong that evening. After some complications it was getting late and we hadn't left Hanoi yet. Not knowing what to do, I called Caroline and explained our situation. She encouraged us to wait until morning and stay at her other place in Hanoi! This was a God send as we were getting tired and at a loss of what to do. She sent me the address and we checked in. Her parents greeted us and took such great care of us, they even held on to one of our packs so we only had to take one on the motorbike. When we arrived at the actual Tranquil seaside abode we were quite pleased. It is easy to find on the charming Tuan Chau island in Halong. The view is amazing, there is a great kitchen and "main house" area for enjoying a cup of coffee and visiting with the other guests. The room itself was cozy, a mosquito net is provided, there is a tv but only a few Vietnamese channels. All the staff was friendly and Caroline herself is charming, extremely helpful in where to go and what to do. Both her and her parents were such a pleasure to be hosted by and absolutely accommodating and understanding, all qualities of a great host! I would recommend booking with them just to sit down and have coffee with them :) Overall a great experience!
---
Great place. Quite. Friendly staff. The family that owns the place are a special kind of people. If I were to recommend a place to stay in Vietnam for friends and family, this would be it.
What a beautiful compliment- Thank you, Seamus! And I already made space in the book shelve for Hemingway: "If you are lucky enough to have lived in Paris as a young man, then wherever you go for the rest of your life, it stays with you, for Paris is a moveable feast." Take care, C
---
Caroline is the German-Australian host of Viethouse Hanoi and Viethouse Lodge

Viethouse Hanoi is Viethouse Lodge's gorgeously new City pendant, which has recently opened right in the very heart of Hanoi- Hoan Kiem.

A mere 2 minute stroll away from the iconic Hoan Kiem Lake, will you find an amazing oasis of elegance, comfort, quiet and calm in the beautiful little Hang Hanh Alley. Once you take a step outside the house, you will be surrounded by a flair of al fresco cafes and comfortable bistros which have magnificently married Vietnam's culinary spirit with intercontinental flavours.

Our properties are often described as houses of warm and lovely welcomes where one feels like having been part of the family for years. Since we only have boutique accommodation on both premises, we can ensure your stay will be a personal and unique experience. We create a beautifully cosy and relaxed atmosphere right from the start of the day. Caroline at Viethouse Hanoi also is an excellent breakfast cook and finds her pleasure in a morning stroll over to the hanoian markets to buy fresh produce and create superb breakfast surprises each morning, if you want to spoil yourself with a "breakfast in bed"! Simply let her now prior to your arrival what your tastes are, so that she can come up with your very own tailored breakfast menu during your stay.

Both Viethouse Lodge's and Viethouse Hanoi's aim is to give you a home away from home where you are free to unwind and allow for relaxing times in amidst two of the most exotic places in this amazing country. Regard these charming houses as your sanctuary with all conveniences. Viethouse Hanoi also features the following in their newly opened establishment: real wooden floors, modern colonial style furnishings, marble en suite bathrooms, air conditioners, lots of day light through double glassed windows as high as your ceiling, providing you with an amazing view and state of the art entertainment amenities such as free high speed wifi and flat screen LCDs with international TV channel reception.

Moreover can we advise you on your travel plans, help you with their arrangements and are furthermore specialised in tailoring unique travel itineraries, which will lead you away from well travelled routes and allow you to explore Vietnam's hidden gems.

Our German-Vietnamese-Australian expat management team will be delighted to help you explore Vietnam safely and understand its charming and colourful culture with ease and pleasure.
Languages:
Deutsch, English, Français
Response rate:
100%
Response time:
within an hour
Explore other options in and around Ha Long
More places to stay in Ha Long: