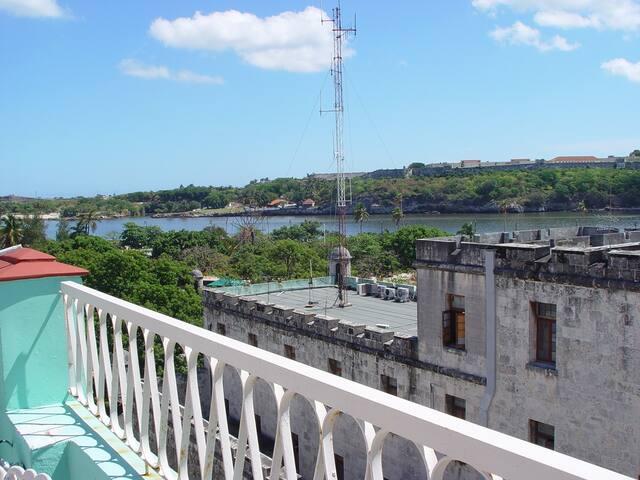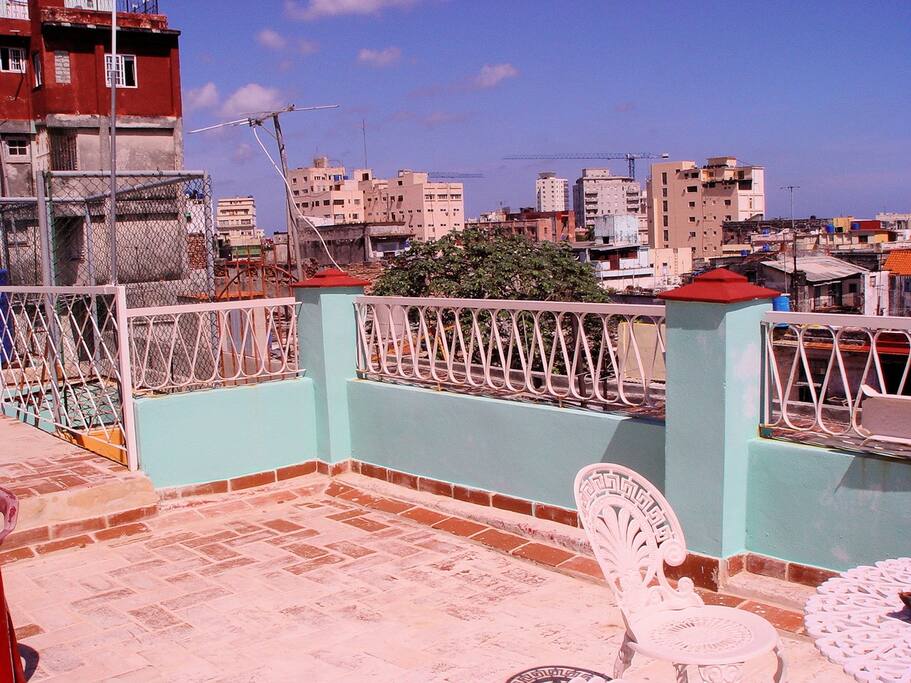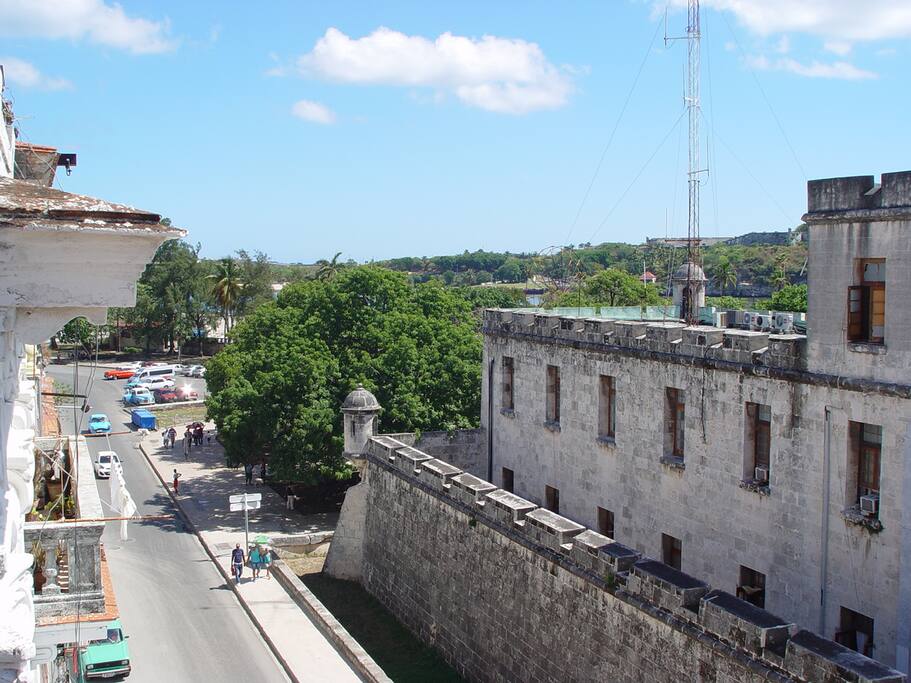 Rooms in Old Havana. Centric and Cozy. Room 1
Two private rooms in an apartment. The rooms are standard, with private bathrooms and air conditioning. They have access to a nice terrace with sea view. To see other rooms please check the link https://www.airbnb.com/rooms/20368227
The space
Beautiful terrace at the rooftop, from you can see the other side of the city. Also you can take breakfasts and dinners or enjoy with friends.
Related links https://www.airbnb.com/rooms/16183633 Private two rooms apartment in the same building.
https://www.airbnb.com/rooms/20646300 Private one room apartment in the same building
Guest access
To all common areas of the apartment
Interaction with guests
My services: I will provide you with all necessary information to find the accommodation. I will try to be as accurate as possible about what you will find in your accommodation. You can contact me at +(PHONE NUMBER HIDDEN) at your convenience. Any special requirement, Please let me know in advance.
The accommodation: A cleaning service is included to change towels and sheets when needed. The accommodation, when possible, will try to meet your special requests. Extra services like breakfast and meals are not included but, in most cases, can be provided for an extra cost.
Other things to note
If you are an Art lover we would like to invite you to our New Sponsored Experience "Visit the studio of a Cuban artist. Learn about Sandra Ramos and make a print of her art". Feel free to schedule a visit at https://www.airbnb.com/experiences/77310
Other Tips
- Even when is winter in Cuba you should be aware of sun burn. Bring Sun block.
- Cuban language is Spanish but a lot of people speak or at least understand English.
- Any kind of drugs is highly illegal in Cuba. Even when in some states/countries are legal for medical/recreational purposes Cuban laws wont allow it and it will be considered as trafficking.
- Internet Connection is located in public areas (WIFI Hotspots). No ADSL. The price starts at 1.50 CUC /Hour. You should buy Nauta cards (there are several points of sale near the hotspots), connect to the WIFI_ETECSA spot you find and, after trying to browse any page, a user and password will be asked. You will find it by scratching the card. At Hotels, rates can be higher.
- Tap water is not drinkable, buy bottled water or treat tap water with chlorine drops. Usually in the accomodations in Cuba the guests has acces to a fridge whit beverages, sodas, beer, water, and juice. Guests can consume all of this by an extra cost. The cost for each item is in a visible place of the house or in the fridge door.
- In Cuba regular voltage is 110V. Some rentals have 220V though. Outlet is type A or B (plane). If you have gadgets with round plugs try to bring Outlet converters.
- Cuban are friendly, so do not hesitate to ask away. In any case you will probably experience too much help!
- Download and install OsmAnd App in your phone. After installing, download Cuba-centralamerica Map to work offline. It works well with GPS and has lots POIs.
- Visa cards made in the USA doesn't work to retrieve money in Cuba, so the suggestions is bring other visa cards or money in cash. The only visa card that works in Cuba is Visa International and the places for retrieve money from it is National Hotel and Melia Cohiba with these cards. If you bring european, mexican or canadian cards you can retrieve it in any ATM.
---
---
Check in time is flexible
---
---
---
Giselle was very sweet and very easy to work with to help with the apartment directions and coordination. The apartment is in a great location with gorgeous balconies and rooftops that were such a nice respite from the busy streets of Habana Vieja. There are 4-5 flights of stairs up to the apartment but this is pretty standard for Cuba so pack light!
---
An amazing first step into Havana Vieja. We were greeted by the best hosts, and got to experience Havana in the heart of the city with peace of mind and some A/C. Lots of space, a small deck, and a roof to look out on the river at the north edge of Havana. We only stayed 2 nights but it was so nice and we couldn't say more nice things about this place and Giselle. There was an amazing roofdeck where we had a nice breakfast, and everything we asked for was available. There were several other coordination and plan adjustments that Giselle and her hosts were able to help us resolve. One of the best stays we had in Cuba! There are other guests staying on the floors, and it's near the top of the building. We felt very secure with all of the locks and had some nice times meetings the other guests from around the world.
---
Giselle was the coordinator from AirBnB in Cuba that handled all of our correspondence and concerns prior to arriving in Cuba. Whether we had questions about day trips, water supplies, taxis - Giselle was prompt to answer everything. We had booked rather last minute and our party grew in numbers, and Giselle was super helpful in providing us with options that would work for all the different rooms needed. We cannot thank her enough! Mirtha was our official host at the AirBnB casita, who welcomed all 7 of us into her home. We occupied 3 rooms in the main apartment and LOVED everything about Mirtha's home. The Bed and the Breakfast: Each room was clean, bright, and well ventilated. With 2 allergy sufferers in the group, this was a huge relief. Never once did we have an issue with any of the rooms. There were 2 bathrooms, so despite our group size, a bathroom wait was never an issue. We noted to Mirtha that she should update the photos on AirBnB as they appear dark and small online, but in person, the rooms are actually quite bright and airy. There is an upstairs terrace that is used for breakfast, and open to guests throughout the day and night. Bottles of water were always available for a cuc, and daily breakfast on the terrace for 5 cucs. The breakfast included a traditional spread of eggs, fruit, fresh juices, coffee, tea, breads, meats and cheeses. All for 5 cucs! Plus, Mirtha was super accommodating as some of us ate at 7 and others ate at 10. You also have the option to purchase sandwiches should you have a little one (such as we did) who is hungry at random times. Several people noted that there are a lot of steps, but to be honest, this was never really an issue for us, and just part of the Cuba experience of walking to and from almost everywhere. In terms of safety, there is a locked door to enter the premise, as well as gates on each of the individual apartments. All guests are provided with keys to each upon arrival. Not once did we feel that safety was an issue. Some reviews mentioned wi-fi, and to be honest, wi-fi in Cuba is a drag. However, our group (as much as we use it at home) was relieved to have a tech break from the world, and didn't feel the absence or need for any internet. If you are someone who must access technology, there is a street on the corner of Mirtha's block that was apparently a hot-spot, and can be seen filled with locals on their cell phones. A friend had given us 2 hours of wifi cards prior to the trip, and we never even used one. Trust me, you will not miss it. Location: The location of the casita is literally one block from the Malecon - a 2-3 minute walk and some of our party woke each morning to...
Nicole thank you so much for your review and your kind words. I am glad that you spent a nice time at la casita. Still sound funny and nice to me. It is a shame that we couldn't meet in person, but next time if you come back at this casita or another one it would be a pleasure to meet you. Thank you so much
---
The place is at the tip of Havana Vieja; a great location to reach a lot of the main sights while still being in a quiet area. The city itself is very walkable and there seemed to be a bus station at the top of our block, though we never used it. Giselle was very responsive to any questions we had. We ended up booking the whole apartment and shared it with the family who were nothing short of kind. The common space and rooftop terrace was shared but we had it mostly to ourselves to eat, drink and chat. The apartment as on the very top floor, so be aware that you'll have a workout every time you come home! Thank you so much Chicha Maria and Giovanni for taking care of us!
---
My name is Giselle and I will help you in finding the perfect place for you in Cuba.
I would be delighted to help planning your vacation. I represent several listings managed by qualified staff. At your arrival there will always be someone of my confidence to welcome you and show you around. Also I am ready to provide you with excursions, tours and other services.
Please do not hesitate to contact me any time and Welcome to Cuba.
Cheers!
Languages:
English, Español
Response rate:
100%
Response time:
within an hour
Explore other options in and around La Habana
More places to stay in La Habana: