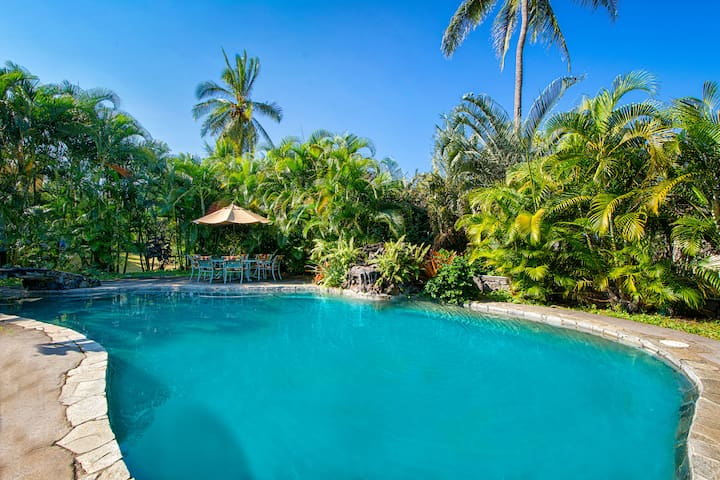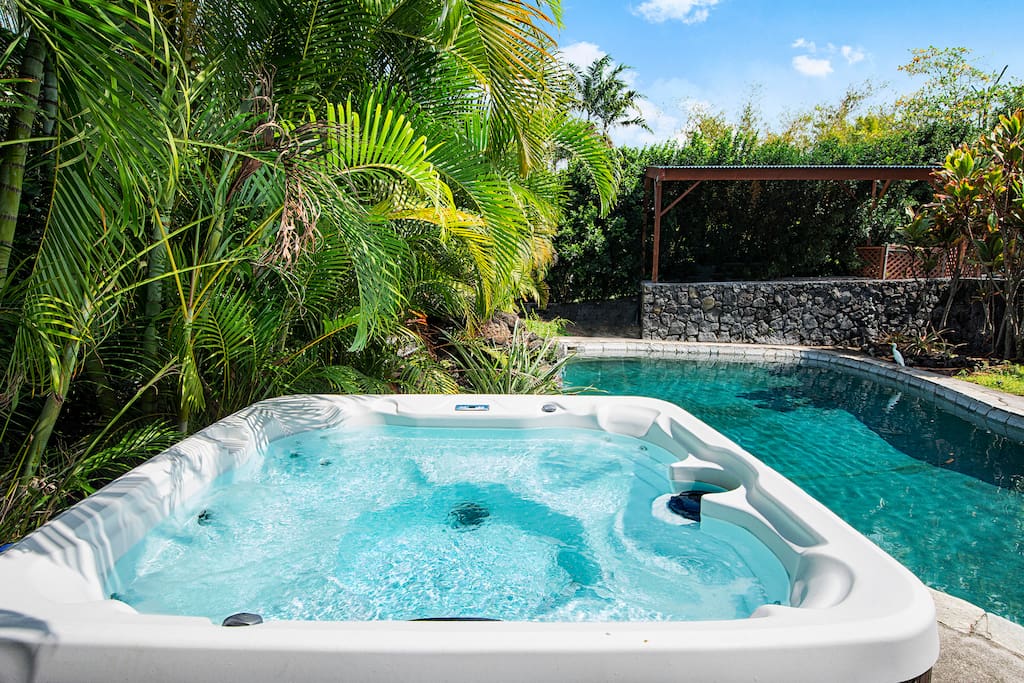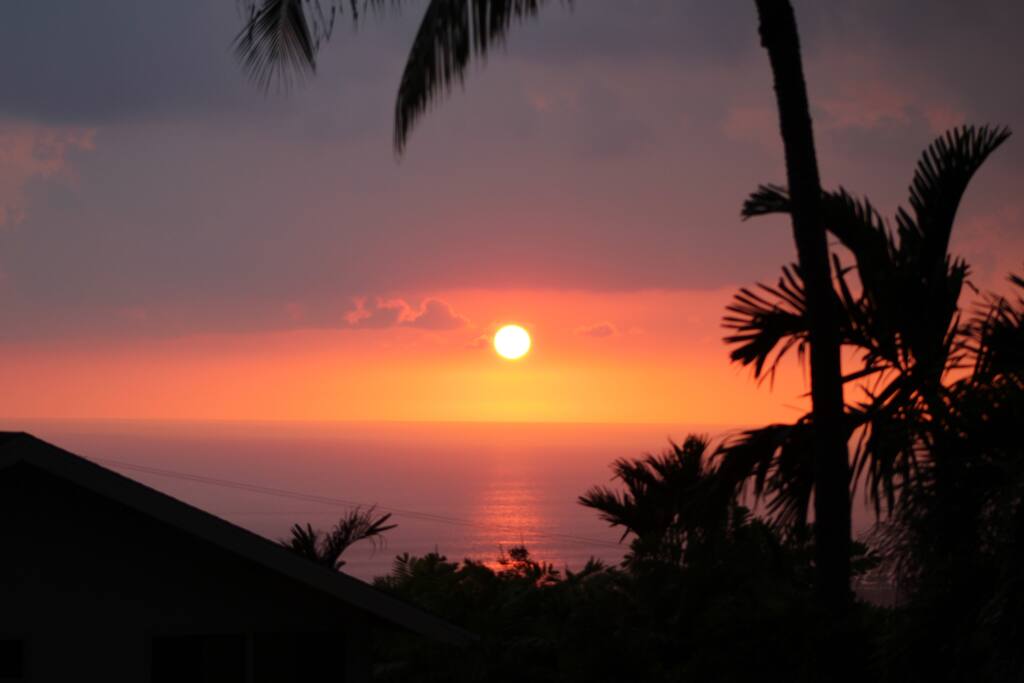 This house has it All! Bay View, Pool, Gourmet Kitchen, Custom design private Pool with Waterfall and lava rock bridge over the pool. 5 minutes drive to downtown Kona, White sand beach, Kahalu'u State park, shopping center, restaurants.
The house has 5 bedroom 4.5 bathroom with two kitchen, two separate living area and two laundry rooms.
The space
Aloha and welcome to Kilohana Hale. This beautiful house is located in an upscale peaceful neighborhood. Kilohana Hale is only minutes away from Magic Sand Beach, Kahaluu Beach Park, and downtown Kailua-Kona. This 5 bedroom, 5 bath, ocean view home can accommodate up to 16.
If you have 6 people or less, you rent the upstairs two master bedrooms plus downstairs two bedrooms Ohana.
If you have more than 6 people, you will rent the entire house with 5 bedrooms including the bunkroom.
This house overlooks the Pacific. You can see stunning view of the Kona Coast from the lanai, or you can enjoy a poolside BBQ by the custom design pool with a Waterfall and a lava rock bridge over the pool.
Kilohana has a fully equipped and spacious gourmet kitchen in the upstairs living area, with thick solid granite countertops, an induction stove, built-in Bosch Coffee Maker, double oven, and a large walk-in pantry. There is a separate smaller kitchen in the downstairs living area, with a gas stove.
Kilohana has free WiFi, cable TV and Netflix. Free long distance phone calls to the US mainland and Canada. The house is 100% solar, so you can enjoy all these amenities guilt free!
Three of the bedrooms have king sized beds. One has a queen sized bed. The bunk room has two twin-over-full bunkbeds, and can sleep up to six people.
There is also a baby crib available. The master bedroom has a jetted soaking tub and a large walk-in closet.
The upstairs living and dining room have vaulted cedar ceilings. There is a large lanai looking out to the pool and the ocean and bay. The lanai wraps around the house with custom hand crafted wood railings. The Main floor has 9, 10, and 15 foot ceilings and the downstairs of the house has 9 foot ceilings throughout.
The home is conveniently located close to many amenities which include a plethora of dining options (including the famous Sam Choy), a movie theater and shopping center, all within a five minute drive. Numerous resort amenities are available just to the South. The Keauhou Bay area offers great ocean access, scuba diving, and sailing, catamaran, fishing charters, sea kayaking and outrigger canoeing.
Just a few miles down the shoreline you will find Kahalu'u Beach State Park, famous for its encounters with the graceful green Hawaiian Sea Turtles.
Magic Sands Beach and Kahalu'u Beach Park are both within 2 miles...These two beaches are our absolute favorites on Ali'i Drive and the most popular. This is a great location to visit the beaches and to enjoy access to the best shopping and restaurants in Kona. Keauahou, with the famed manta ray night dives, is also about 5 minutes away. You will be right in the middle of everything.
If you are seeking local markets and historical context, downtown Kailua-Kona is approximately a 10 minute drive for easy access to shopping, businesses, waterfront restaurants and hotels. Watch the people and the cruise ships come and go from the Kailua Pier. Visit the famous Farmer's Market. Enjoy a shaved ice or a cup of Kona coffee, have a light snack or a gourmet meal, buy an inexpensive souvenir or a piece of fine art, book an activity, go for a swim or hang out on the many beautiful beaches.
Up the coast is a busy marina with Hawaii's best scuba diving, big-game fishing, kayaking, dolphin and whale watching and other ocean activities. Kilohana Hale is conveniently located, a great home base to explore the many wonders of the Big Island including Volcano National Park, Mauna Kea Observatory, coffee and macadamia nut farms, artist communities, and more
This house has parking for up to three cars. There is additional parking on the street.
Guest access
If you have 6 people or less, you rent the upstairs two master bedrooms plus two bedroom Ohana in downstairs.
If you have more than 6 people, you will rent the entire house with 5 bedrooms including the bunkroom.
Interaction with guests
You will get the access code before your trip. If you'd like us to meet you when you arrive, please let us know your schedule and we would love to show you around the house when you arrive.
Other things to note
Please no shoes in the house
No smoking allowed at the property
No drugs
No Pets
Quiet hour is 9:00 pm - 9:00 am
---
This listing has essential business travel amenities.
---
---
Bedroom 5
1 sofa bed, 2 bunk beds
Common spaces
1 sofa bed, 1 couch
---
Check in time is 4PM - 12AM (midnight)
Self check-in with keypad
It is hereby agreed that (Owners & Managers) Emmy Chen and Robert Bruce, hereinafter called LANDLORD, let and lease to all parties listed hereinafter called TENANT, the premises to be used for private residential purposes only, to be occupied by not more than the maximum number of people in the reservation.

Cancellation policy: 50% refund up until 60 days prior to arrival.
This agreement consists of two parts, Part (1) one Guest reservation and part (2) two Lease agreement. TENANT has read all the above listed and represent that We/I are executing on behalf of all of the parties listed herein and agree to all of the terms and charges stated and warrant that the lease and release of liability agreements have been duly agreed to and properly executed by all guests. TENANT hereby agrees to abide by the terms and conditions stated herein.
Check-In: TENANT agrees that rent commences no earlier than 4pm on the day and date indicated on part one. Early check-in may be permitted if the house is ready, and must be pre-arranged with LANDLORD. The additional fees for early check-in are $50 for 2pm check-in, and $100 for 11am check-in.
Check-Out: TENANT agrees to vacate the premises no later than 11am on check out day. TENANT's security deposit shall be forfeited if you do not vacate the premises by 11am unless otherwise agreed to in writing. Late check-out may be permitted if there is no new tenant arriving the same day. Late check-out must be pre-arranged with LANDLORD. The additional fees for late check-out are $50 for 2pm check-out, $100 for 6pm check-out, and $200 for 10pm check-out.
Before departing, remove all trash, place it in plastic garbage bags in proper outside garbage cans, and leave the home tidy and orderly.
Maximum Occupancy: Only the individuals specifically registered at the end of this document shall occupy the premise at any time. Children are counted in the total of the occupancy. Over occupancy is a material violation of this vacation lease agreement. Weddings, receptions, and other events are not allowed unless authorized in writing, and require the payment of a $500 event fee.
Door code: Around 10 days before the arrival date, TENANT will receive a welcome letter. Included will be the street address of the house and the code to the door lock.
Household Supplies: Owners will provide only an initial supply of hand soap, dishwashing detergent, laundry detergent, paper towels, toilet paper, and garbage bags. Not included: daily maid service, household supplies, lei greetings, baggage handling, international long distance charges other than mainland U.S. and Canada calls, food, liquor, personal items, and laundry service, although there are laundry machines in the residence for your use.
Children: All children shall be supervised at all times. Severe injury and death can result
from failure to properly supervise children. TENANT alone is responsible for child safety.
House parties: There shall not be "house parties" on the premises. There shall never be more than the number of guests in the reservation on the premises at any time, nor shall TENANT's guests be alone on the premises at any time.
Disturbances: The premise shall not be used in such a manner as to generate noise (including loud music), which will disturb neighbors, nor will neighbors be harassed or bothered in any way. Absolute quiet begins at 9 pm through 8 am daily
No smoking: Smoking is strictly prohibited within the home, on the lanai, and in the pool area.
Pets: Pets of any kind are NOT allowed anywhere on the premises.
Vehicles: No more than (3) vehicles shall be parked on the premises at any time.
Alterations: No alterations shall be made to the premises, nor locks installed anywhere.
Wear & Tear: TENANT agrees to maintain the premises in the same condition as when received and will not allow any waste, misuse, or neglect. Should any waste, misuse or neglect occur on the leased premises, it will be the sole responsibility of the TENANT.
Cleanliness: That the premises shall be kept in a clean, healthy and safe condition, with no unsafe or unsanitary conditions. That no junk or garbage will be allowed to accumulate on or near the premises. Care share be taken not to damage the sofa seat cushions with wet or soiled clothing or swimsuits. Beach towels provided shall be placed on all cushions to prevent soiling from suntan oils.
Furnishings: TENANT agrees not to move or alter any of the furnishings and shall use them only for the purposes intended. TENANT shall be solely responsible for replacement value for any damage or destruction to furnishings on the leased premises.
Repairs: That should any repairs be necessary, the LANDLORD or the designated property manager will be notified as soon as possible.
Unavailability Of Premises/Duplicate Booking/Other: If for any reason the owner and agent is unable to provide the premises in a fit and habitable condition or make the premises available for this lease, the owner and agent shall either A) provide and TENANT shall accept a substitute reasonably comparable property and owner shall pay any additional charges that would be due in excess of the rate for the original booking OR (B) refund all rents and fees paid for the original booking together with a 5% (of base rental) override and cancel the lease with no further liability. It is hereby agreed that these are the only two alternatives and the sole remedy for any and all damages, liability, or inconvenience arising out of owner's failure to make the premises available.
Failure of A System, Appliance or Amenity: In the event the premises sustains a failure of a system, amenity or appliance – including but not limited to water, sewer, electrical, mechanical, or structure system, spa, electronic or entertainment equipment or service neither the LANDLORD, Owner, their employees, agents, or contractors, or property managers shall be liable to TENANT in damages and no refunds will be given for such failures. However, the LANDLORD, upon being notified of any malfunction will make a reasonable effort to promptly repair or replace the failed system or advertised equipment. The salt air from the ocean inflicts tremendous strain on systems, equipment, and appliances. This coupled with the difficulty of getting parts to this remote island can be time consuming and frustrating. TENANT understands and accepts the fact this property is leased for its tropical appeal and not its modern convenience, and therefore some systems, amenities and appliances and may not be fully functional at all times and it may be unreasonably difficult or impossible to get malfunctioning system, amenity, or appliance operating within the lease period.

TENANT's Personal Property: TENANT's personal property and effects are the TENANT'S sole responsibility thought the tenancy. LANDLORD's insurance will not cover TENANT's personal property and TENANT agrees to carry his/her own insurance on such property and personal effects. All personal property of the TENANT on said premises shall remain his sole responsibility and risk, and the owner and agent shall not be liable for any damages to, or loss of such personal property arising from any acts or negligence of any other person, nor from the leaking of the roof, or from bursting, leaking or overflowing of water, sewer, or from plumbing fixtures, or from the handling of electrical wires or fixtures. TENANT expressly agrees to hold the owner and agent harmless in all such cause and events.
Site Conditions and Noise: LANDLORD shall not be liable for events beyond their control which may interfere with TENANT's occupancy, such as acts of God, acts of governmental agencies, fire, strikes, war, inclement weather and construction noise from nearby sites.
Insurance: TENANT agrees that LANDLORD shall not be liable for travel disruptions, TENANTs personal property or illness or injury. TENANT is strongly encouraged to purchase a Vacation Insurance Policy.
Right of Property: The LANDLORD, his agents or representatives shall have the right to enter (after 24 hours notice) the premises during reasonable hours to inspect, make alterations and or repairs, or to provide maintenance, as LANDLORD may deem appropriate. TENANT acknowledges that routine care taking and grounds maintenance may occur periodically during the lease period.
Abandoned Personal Property: When the TENANT vacates or abandons the property any personal property left behind on the premises shall be deemed abandoned by the TENANT and LANDLORD shall not be held responsible. During TENANT's occupancy, TENANT is solely responsible for the security of all of TENANT's personal property, and the LANDLORD shall not be in any way liable for loss, theft or damage of the same. If you leave something behind we will make a reasonable effort to locate it and return it to you. Items unclaimed after thirty days will be donated to charity.
Security Deposit: may be applied to actual damages caused by TENANT, excess phone or cable charges, excessive cleaning charges, excess services required, moving furniture, fines imposed and/or costs of enforcing this lease. Within 30 days following the end of the tenancy the damage/security deposit will be applied, accounted for or refunded to the TENANT,. If the TENANT has provided a credit card, the TENANT hereby authorizes the LANDLORD to charge these charges to his/her account. TENANT shall report any damage noted upon arrival to avoid any Damage/Security Deposit losses.
Indemnification and Hold Harmless: TENANT agrees to indemnify and hold harmless owner landlords and their representatives from and against any liability for personal injury or property damage sustained by any person (including TENANT's guests) as a result of any cause, unless caused by the gross negligence or intentional willful act of the Owner/ Landlord.
Assignment: TENANT may not assign this lease to a third party.
Surrender of Premises: TENANT agrees to surrender the premises in as good and the same condition as the commencement of the rental period, reasonable wear and tear excepted; and to reimburse LANDLORD the amount, including reasonable attorney's fee, for all the damages. Soiling and/or discoloration of the seat cushions are not considered reasonable wear and tear and will be billed as additional cleaning or damage.
Expedited Eviction: If TENANT (I) holds over in possession after the TENANT's tenancy has expired; (ii) commits a material breach of any provision of this agreement (including any addendum hereto) that according to its terms would result in the terminations of TENANT's tenancy; (iii) fails to pay rents as required by this agreement; or (iv) has obtained possession of the premises by fraud or misrepresentation, the TENANT aggress to an expedited eviction as the law allows.
Laws: Statues or ordinances of a jurisdictional government agency will not be violated on the premises, nor will the premises be used for any unlawful purpose.
Enforcement of Lease: That should LANDLORD incur any expenses in enforcing the terms of this lease, TENANT shall promptly reimburse LANDLORD 100% for such expenses.
Disputes: This lease shall be governed by and interpreted in accordance with the laws of the State of Hawaii and County of Hawaii. Any action relating to this agreement shall only be instituted and persecuted in courts in Hawaii. TENANT specifically consents to such jurisdiction and to extraterritorial service of process.
Default by TENANT: TENANT agrees that every condition, covenant and provision of this lease is material. A breach of any of these will constitute a material breach giving the LANDLORD the right to terminate this lease, the right to immediate possession of the premises, and the right to all damages including but not limited to costs of enforcement and reasonable attorney's fees.
Sole Agreement: This document including any attachments incorporated by reference herein constitute the entire and sole agreement between the LANDLORD and TENANT respecting the leased premises, the leasing of the premises to TENANT, and the lease term created under this lease, and correctly sets forth the obligations of LANDLORD and TENANT to each other as of its date. Any agreements or representations respecting the leased premises or their leasing by the LANDLORD to TENANT not expressly set forth in this agreement are null and void.
Changes: The parties agree that any changes to this agreement are to be in writing to be enforceable or otherwise are null and void.
Signed Lease Agreement: Copies and signatures by email are considered valid. The parties shall retain the originals for verification. Electronic signatures are considered valid.
Definitions: Wherever "landlord" is used it is intended to mean owner. The use of the word "tenant" shall include both singular and plural.
Severability: If any part of this agreement is found by a court of competent jurisdiction to be unenforceable, then the remainder of the agreement shall still be in full force and effect.
---
Beautiful house on hill overlooking the water with a view of the sunset. Very comfortable beds and open concept living area which was great for our family of 13. The pool was out of order for the first few days but the pool man got it working and we were able to take a swim the last few days we were there. Easy drive to kona center and shopping. You are responsible for washing your sheets and towels before checking out at 11:00 so plan to start early. Would recommend staying here
---
My husband and I spent a week with two teenage sons and three grandparents--the house was perfect for us. Plenty of space for everyone. The house is very comfortable. Great location--short drive to downtown Kona, but in a regular neighborhood, which we prefer (rather than a touristy area). Emmy was great and went the extra mile for us when we accidentally left some things behind.
---
Kailua-Kona, Hawaii, United States
Joined in April 2014
Emmy and Bob are the owners of the house. We moved to Kona couple years ago and we manage all the vacation rentals ourself. We put a lot of personal attention into our houses. We are responsible and will reply quickly to your inquiry. We provide the better services and pr…
Languages:
English, 中文
Response rate:
100%
Response time:
within an hour
Explore other options in and around Kailua-Kona
More places to stay in Kailua-Kona: