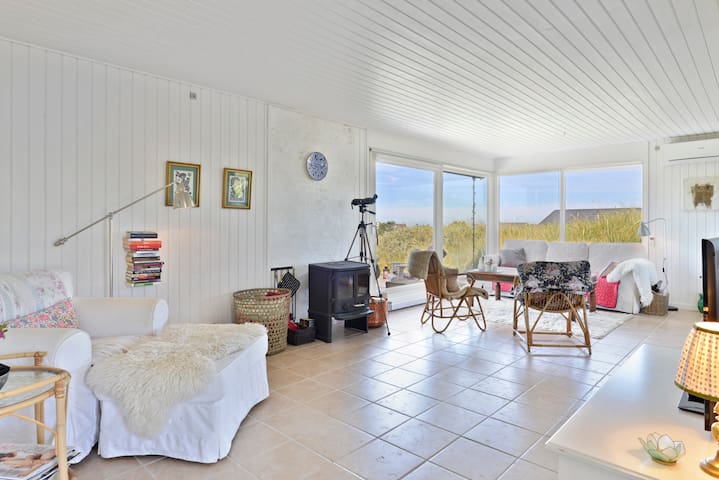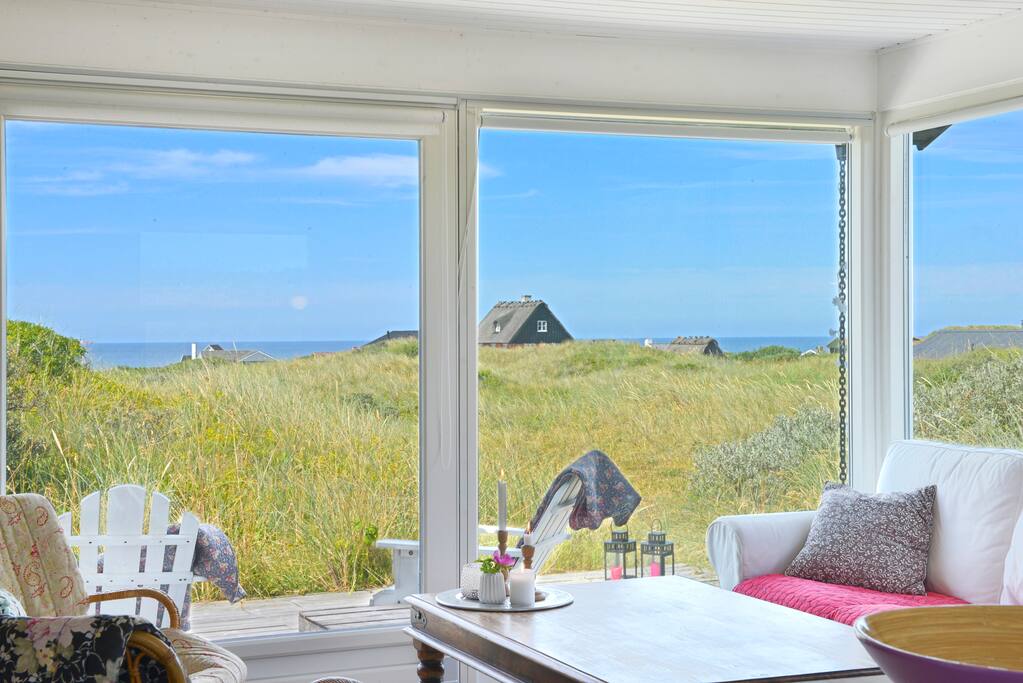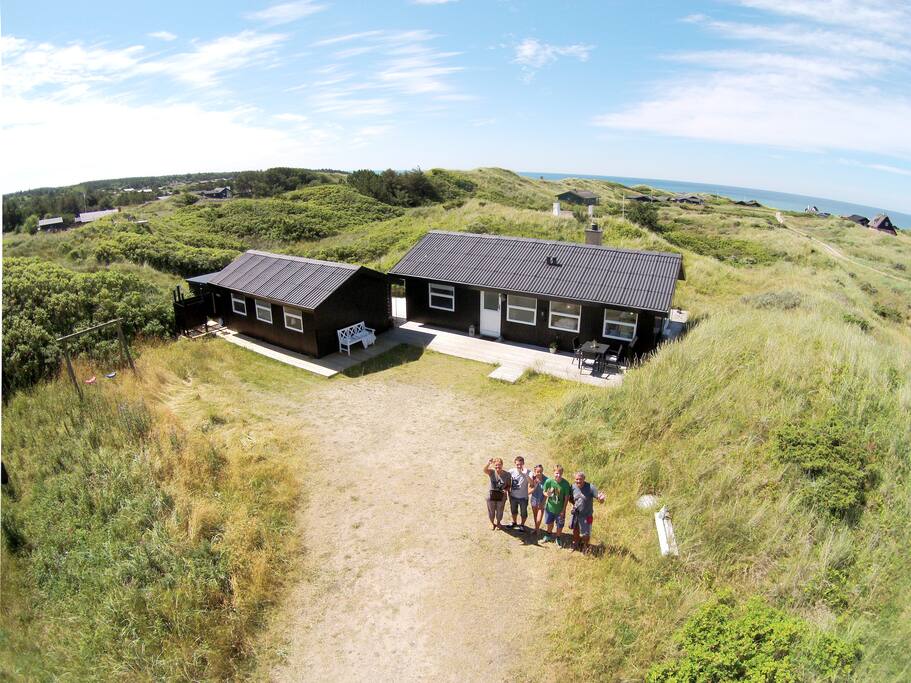 Lovely bright cottage with great sea view. Renovated (2011) wooden house of 68 sqm. 1 bedroom with double bed, 1 bedroom with 2x2 bunks. Living room and kitchen with nice dining area with sea view, freezer. Terraces on all sides of the house. Close to beautiful beach. Changeover day primarily Saturdays - especially during and around high season. Minimum 4 rental days.
Dejligt lyst sommerhus med FLOT HAVUDSIGT.
Renoveret (2011) træhus på 68 kvm.
1 soverum m. dobbeltseng, 1 soverum m 2x2 køjer.
Stue og køkken med dejlig spiseplads med havudsigt,fryser.
Terrasser på alle sider af huset. Nær flot strand.
Skiftedag primært lørdage - især i og omkring højsæsonen.
Minimum 4 udlejningsdage.
The space
The cottage has a very nice location. Located high on a very hilly grounds. Beautiful natural plot with wild vegetation. Lovely house with terraces all around the house - always a shelter.
Sommerhuset har en meget flot beliggenhed.
Ligger højt på en meget kuperet grund.
Flot naturgrund med vild bevoksning.
Skønt lyst hus med terrasser hele vejen rundt om huset - altid mulighed for læ.

Interaction with guests
Contact to the landlord is made by mail and possibly. SMS.
Kontakt til udlejer foregår vi mail og evt. SMS.
Other things to note
Location Experiences in the area Experiences in the area The area around Tornby Strand Camping offers many possibilities for experiences. Just outside the square lies the beautiful North Jutland nature, with the North Sea and the beach at the end of the road. There are many possibilities for entertainments, specialties, nice towns, and many arrangements in this part of Denmark's top. We have gathered some of the area's possibilities here: images_1_.jpg North Sea Oceanarium The North Sea Oceanarium is always a great experience. Only 6 km from the campsite is Northern Europe's largest aquarium. Here you can experience impressive aquariums and learn about the North Sea. 5 large and more than 40 smaller aquariums, 70 fish species and lots of interactive experiences are what you can experience. The North Sea Oceanarium is not only an aquarium but also an adventure center. Buy tickets with discounts on information at the campsite (URL HIDDEN) I_20Hirtshals_20Fun_20Park_207_1_.jpg Fun Park Hirtshals Do you like animals? ......... Within walking distance approx. 1.5 km from the campsite is an eldorado for animal lovers. Fun Park is a 33-hectare country visitor farm, located in versatile North Jutland nature with, among other things, Forest and dune. Here you can experience 425 animals in 65 different animals and birds under free conditions, as well as plenty of play activities, free minigolf, archery, air rafting, and the park are worth a visit. (URL HIDDEN) Livredderne_Tornby_strand (1) .JPG The beach Tornby Strand is at the end of the road. The beach is among the best beaches along the North Sea. Here is a lifeguard in the summer season. Throw yourself in the waves and sunbathe on the beach or in the dunes. It is allowed to drive on the beach. There are car-free areas. 05_Boerglum_KLoster_1_.jpg Børglum Monastery Visit the place where the Christmas calendar of Stupid Crump is taken. There are changing exhibits and it is always exciting to visit the monastery with the church and the prison cellar. (URL HIDDEN) yxenskovens_hemmelighed.jpg Role playing in Tornby Klitplantage Yxenskoven's secret is a so-called "low magic" fantasy live role-playing game. The game takes place in the small village of Yxengaard, located in Yxenskoven. The city is populated by Nordboer and Sidianer. The northern peoples can be compared to Vikings, and the Sidians lean heavily on the Christian crusaders. Ie That the game takes place at a time of confusion similar to the breakdown time between the astrological ... More: (URL HIDDEN) hirtshals_fyr.jpg Hirtshals Lighthouse There are changing exhibits in the lighthouse. You can come up to the lighthouse and experience the unique view from the top. Standing at the top of the lighthouse, you are 62 meters above sea level, from which you have magnificent views of the sea, the coast and the country. The lighthouse is still in operation, and with the eyes of today it is an impressive building. There is the possibility to use the "lunch package" on the lighthouse to temporarily hit the head if the weather is teasing. It is open during the bright hours. Opening hours are available at (URL HIDDEN) bunkermuseum.jpg Bunkermuseum 10. battery DK's only excavated complete German defense system from WWII, open to the public. The area that has been exempted since 1994 has, inter alia, 3.5 km runways connecting 70 sites, such as Crew bunkers, gun posts, ammunition bunkers and exhibition in an officer bunker. (URL HIDDEN) kaffestue.jpg Tornby Gl. Købmandsgård Tornby Old Købmandsgaard is a self-governing institution as a collaboration between 10 Tornby associations and approx. 70 volunteer assistants. The farm - a 200-year old grower's farm near Tornby Strand is being renovated and furnished for visiting residents and holidaymakers. (URL HIDDEN) NaturkanonSamlet.jpg Tornby Klitplantage Tornby Plantage (548 ha) is a high-rise, windowed west coast plantation 4 km south of Hirtshals. The perimeter boundary to the sea follows a 15-25 m high, previously sea-green, which is pierced by numerous deep cuttings. Downstream of the slope, you will find the tall stone-seabed, which in a 300m wide belt is covered with lush greenery with a front of white sea lakes. (URL HIDDEN) odden.jpg The Manor Odden The manor house is known from archives already around 1370, and the plant probably received its present design with two large stone houses in the mid 1400s. They were protected by mounds on three sides and a lake to the north, of which the name Odden. (URL HIDDEN) eagle_orld_020.jpg Ørnereservatat SUPPLY THE KINGDOM OF THE HUMAN ROOM You can shout over the bare-haired and proud majors of Ørnereservatet®, where their fascinating hunting techniques are presented to the public ... (URL HIDDEN) campingferie_i_vendsyssel_f_rup.jpg fårup sommerland There is only 45 km to Fårup summerland. All in the woods lies Denmark's great amusement park. Once the entrance is paid, most rides are free. (URL HIDDEN) Hirtshals_Museum_1x.jpg Hirtshals museum Vendsyssel The historic museums department in Hirtshals is decorated in a fishing house built by the campstones in 1880. The house, reconstructed as an interior in 1915, shows how a family of fish lived at that time. (URL HIDDEN) borglum2012 (1) .jpg Churches and Monasteries (URL HIDDEN) Gaagade.jpg Hirtshals Færgebyen Hirtshals offers many cultural and tourist tarifs. There is a fishing festival, music under the stairs and many art exhibitions. There are good shopping opportunities and many shops are open every day throughout the year. ulriks_ure_Hirtshals.jpg Ulrik's watches Come see 1786 hours in the Old Mission House in Hirtshals. The oldest watch is from (PHONE NUMBER HIDDEN).jpg JF Vilumsen Collection At the Manor Odden, they host a large exhibition of sketches, drawings, paintings and ceramic items by the artist JF Willumsen, who was a student at the Academy of Art, and frequented The Free Malerskole, where he was taught by, among other things, Skagen painter PS Krøyer, Zahrtmann and Tuxen .... kano_uggerby.jpg Uggerby to There are canoe trips from Uggerby and Sindal if you want to experience the river from the waterside. In Uggerby you can also fish. Local fishing signs for this can be purchased at the tourist office in Hirtshals (URL HIDDEN) tornby_bjerg.jpg Tornby Mountain Tornby mountain is one of Denmark's largest hills. The "mountain" starts immediately east of the railway at Old Road and rises to the east. Close to the top there are 480 meters with 30 altitude meters and an average climb of 6.3% (Bottom: 32 Moh Top: 83 Moh) Bjergvej, 9850 Hirtshals Helligkilde_asdal.jpg Asdal Holy Source In Lilleheden Klitplantage not far from Hirtshals you will find one of the many holy sources in the country. It is located immediately south of the paved forest road, where Kjul crosses the road. It is located about 4 meters above the level of the river. helleh_j2.jpg Hellehøj Hellehøj (89 meters above sea level) is a burial mound from the Bronze Age. It's about 3,500 years old and is landscaped on a moraine hill from the Ice Age. hellekisten_Horne.jpg Hellekisten in Horne In 1939, a stone-built grave was found on Horne Cemetery, a so-called full list. Belong to the simple burial period from the ages (PHONE NUMBER HIDDEN) BC. tornby_dyssen.jpg Tornby Dyssen Stendyssen is from the younger Stone Age. It's about 4,000 years old. The soil above the dike is excavated, and back there are four berries with a large covering stone over. Dyssen is located at Tornby Gl. Købmandsgård. kongestenen.jpg The congress at the tornby mountain It was found by fieldwork in 1992 on a land that slopes down from the mountain. It measures (PHONE NUMBER HIDDEN) m and probably weighs approx. 20 tons. According to old information, previously, a rock had to be on Tornby Mountain with the same goal. This was called the Congo. asdal_volde.jpg Asdal refugees Asdal Voldanlæg (1300s) unites the site with its own mystery. Asdal Voldanlæg has been created by digging a nose, Asbjerg, which stretched out in Ådalen. At the bottom of the river valley, Kjul Å runs. There are 3 dams that can still be seen. Asdal Voldanlæg unites the site with its own mystery. With its volumes and graves it tells about chivalry in the Middle Ages. cykelrute.jpg Bicyclerute Vestkystruten passes by Tornby Camping. The route extends from Tønder to Skagen. There is a nice day trip to Blokhus approx. 50 km. The Tornby to Skagen line is 55 km. The cycling route goes through an unusually beautiful west coast in Tornby Klitplantage in a landscape characterized by large water cliffs interrupted by intermediate plains and with a distinctive and luxuriant plant world. More: (URL HIDDEN) Hiking Trails borglum2012.jpg Ugly crumb Børglum Monastery and Ugly Crumbs belong together in Nordjylland Hirsorie. Only 20 minutes from the campsite is the monastery where the Christmas calendar of Stygge Krumpen is taken. Experience in the many exhibits there
Beliggenhed
Oplevelser i området
Oplevelser i området
Området omkring Tornby Strand Camping byder på mange muligheder for oplevelser. Lige uden for pladsen ligger den dejlige nordjyske natur, med vesterhavet og stranden for enden af vejen. Der er mange muligheder for forlystelser, særværdigheder, hyggelige byer, og mange arrengementer i denne del af toppen af Danmark.
Vi har samlet nogle af områdets muligheder her:
images_1_.jpg
Nordsøen Oceanarium
Nordsøen Oceanarium er altid en stor oplevelse. Kun 6 km fra campingpladsen ligger Nordeuropas største akvarium. Her kan du opleve imponerende akvarier og lære om Nordsøen. 5 store og mere end 40 mindre akvarier, 70 fiskearter og masser af interaktive oplevelser er, hvad du kan opleve. Nordsøen Oceanarium er nemlig ikke blot et akvarium men også et oplevelsescenter. Køb billetter med rabat på i informationen på campingpladsen
(URL HIDDEN)
I_20Hirtshals_20Fun_20Park_207_1_.jpg
Fun Park Hirtshals
Er du vild med dyr ? ......... I gåafstand ca. 1,5 km fra campingpladsen ligger et eldorado for dyreelskere. Fun Parken er et 33 tønder land besøgslandbrug, beliggende i alsidig nordjysk natur, med bl.a. skov og klit. Her kan opleves 425 dyr fordelt på 65 forskellige dyr arter og fugle under frie forhold, samt masser af legeaktiviteter, fri, minigolf, bueskydning, luftbøsseskydning, ja parken er et besøg værd. (URL HIDDEN)
Livredderne_Tornby_strand(1).JPG
Stranden
Tornby Strand ligger for enden af vejen. Stranden er blandt de bedste badestrande langs Vesterhavet. Her er livredder i sommerperioden. Kast dig i bølgerne og tag solbad på stranden eller i klitterne. Det er tilladt at køre på stranden. Der findes bilfri områder.
05_Boerglum_KLoster_1_.jpg
Børglum Kloster
Besøg stedet hvor julekalenderen om Stygge Krumpen er optaget. Der er skiftende udstillinger og det er altid spændende at besøge klosteret med kirken og fangekælder. (URL HIDDEN)
yxenskovens_hemmelighed.jpg
Rollespil i Tornby Klitplantage
Yxenskovens hemmelighed er et såkaldt "low magic" fantasy live rollespil. Spillet foregår i den lille landsby Yxengaard der ligger i Yxenskoven. Byen er befolket af Nordboer og Sidianere. Nordboerne kan sammenlignes med vikinger og Sidianerne læner sig meget op af de kristne korsriddere. Dvs. at spillet foregår i en tid der til forveksling ligner brydningstiden imellem asetro...
mere: (URL HIDDEN)

hirtshals_fyr.jpg
Hirtshals Fyr
Der er skiftende udstillinger i fyret. Du kan komme op i fyret og opleve den enestående udsigt fra toppen. Når man står på Fyrets top, er man 62 meter over havet, hvorfra man har en storslået udsigt over havet, kysten og landet.
Fyret er stadig i drift, og set med nutidens øjne et imponerende bygningsværk.
Der er mulighed for at bruge "madpakkerummet" på Fyret for at få midlertidigt tag over hovedet, såfremt vejret driller. Der er åbent i de lyse timer.
Åbningstider ses på (URL HIDDEN)
bunkermuseum.jpg
Bunkermuseum 10. batteri
DK's eneste udgravede komplette tyske forsvarsanlæg fra 2. Verdenskrig, der er åben for publikum.
Området der siden 1994 er blevet fritlagt, har bl.a. 3.5 km løbegrave der forbinder 70 lokaliteter som f.eks. mandskabsbunkere, kanonstillinger, ammunitionsbunkere og udstilling i en officersbunker.
(URL HIDDEN)
kaffestue.jpg
Tornby Gl. Købmandsgård
Tornby gamle Købmandsgaard er en selvejende institution som et samarbejde mellem 10 Tornby-foreninger og ca. 70 frivillige medhjælpere. Gården - en 200 år gammel skudehandlergård nær Tornby Strand er ved at blive renoveret og indrettet til besøgssted for egnens beboere og feriefolk.
(URL HIDDEN)
NaturkanonSamlet.jpg
Tornby Klitplantage
Tornby Plantage (548 ha) er en højtbeliggende, vindudsat vestkystplantage 4 km syd for Hirtshals. Bevoksnings grænsen mod havet følger en 15-25 m høj, tidligere havskrænt, der er gennembrudt af talrige dybt nedskårne ådale. Neden for skrænten befinder man sig på hævet stenalder-havbund, som i et 300 m bredt bælte er dækket af frodig grønsværklit med en front af hvide havklitter.
(URL HIDDEN)
odden.jpg
Herregården Odden
Herregården kendes fra arkivalier allerede omkring 1370, og anlægget fik antagelig sin nuværende udformning med to store huse af sten i midten af 1400-tallet. De var beskyttet af voldgrave på tre sider og en sø mod nord, heraf navnet Odden.
(URL HIDDEN)
eagle_orld_020.jpg
Ørnereservatat
OPLEV HIMMELRUMMETS KONGER
Du kan gyse over de benhårde og stolte majestæter på Ørnereservatet®, hvor deres fascinerende jagtteknikker præsenteres for publikum...
(URL HIDDEN)
campingferie_i_vendsyssel_f_rup.jpg
Fårup Sommerland
Der er kun 45 km til Fårup sommerland. Helt ude i skoven ligger Danmarks store forlystelsespark. Når indgangen er betalt er de fleste forlystelser gratis.
(URL HIDDEN)
Hirtshals_Museum_1x.jpg
Hirtshals museum
Vendsyssel Historiske Museums afdeling i Hirtshals er indrettet i et fiskerhjem bygget af kampesten i 1880. Stuehuset, rekonstrueret som interiør anno 1915, viser hvordan en fiskerfamilie levede på den tid.
(URL HIDDEN)
borglum2012(1).jpg
Kirker og Klostre
(URL HIDDEN)
Gaagade.jpg
Hirtshals
Færgebyen Hirtshals byder på mange kultur og turist tarrengementer. Der er fiskefestival, musik under trappen og mange kunstudstillnger.
Der er gode indkøbsmuligheder og mange butikker holder åbent hver dag hele året.
ulriks_ure_Hirtshals.jpg
Ulriks ure
Kom og se ca. 1786 ure i Det Gamle Missions Hus i Hirtshals. Det ældste ur er fra (PHONE NUMBER HIDDEN).jpg
J.F. Vilumsen samlingen
på Herregården Odden huser de en stor udstilling af skitser, tegninger, malerier og keramiske ting udført af kunstneren J. F. Willumsen, der var elev på Kunstakademiet samt frekventerede Den Frie Malerskole, hvor han undervistes af bl.a. skagensmaleren P. S. Krøyer, Zahrtmann og Tuxen....
kano_uggerby.jpg
Uggerby å
Der er kanofart fra Uggerby og Sindal hvis du vil opleve åen fra vandsiden. I Uggerby å kan du også fiske. Der skal lokalt fisketegn til dette kan købes hos på turistkontoret i Hirtshals
(URL HIDDEN)
tornby_bjerg.jpg
Tornby Bjerg
Tornby bjerg er en af Danmarks største bakker. "Bjerget" starter umiddelbart øst for jernbanen ved Gamle Landevej og stiger mod øst. Tæt på toppen er der 480 meter med 30 højdemeter og en gns.stigning på 6,3% (Bund: 32 m.o.h. Top: 83 m.o.h.)
Bjergvej, 9850 Hirtshals
Helligkilde_asdal.jpg
Asdal hellige kilde
I Lilleheden Klitplantage ikke langt fra Hirtshals finder man en af landets mange hellige kilder. Den findes umiddelbart syd for den asfalterede skovvej, hvor Kjul å krydser vejen. Den ligger cirka 4 meter over åens niveau.
helleh_j2.jpg
Hellehøj
Hellehøj (89 meter o. havet) er en gravhøj fra bronzealderen. Den er ca. 3.500 år gammel og er anlagt på en morænebakke fra istiden.
hellekisten_Horne.jpg
Hellekisten i Horne
I 1939 stødte man på en stenbygget grav på Horne Kirkegård, en såkaldt hellekiste.
Tilhører enkelgravtiden fra bondestenalderen (PHONE NUMBER HIDDEN) f. Kr.
tornby_dyssen.jpg
Tornby Dyssen
Stendyssen er fra yngre stenalder. Den er ca. 4.000 år gammel. Jordhøjen over dyssen er bortgravet, og tilbage står fire bæresten med en stor dæksten over. Dyssen ligger ved Tornby Gl. Købmandsgård.
kongestenen.jpg
Kongestenen ved tornby bjerg
Den blev fundet ved markarbejde i 1992 på en mark, der skråner ned fra bjerget. Den måler (PHONE NUMBER HIDDEN) m og vejer formodentlig ca. 20 tons. Ifølge gamle oplysninger skulle tidligere have stået en sten på Tornby Bjerg med de samme mål. Denne kaldtes Kongestenen.
asdal_volde.jpg
Asdal voldanlæg
Asdal Voldanlæg (1300-tallet) forener stedet med en egen mystik. Asdal Voldanlæg er opstået ved, at man har gennemgravet et næs, Asbjerg, der strakte sig ud i Ådalen. I bunden af ådalen løber Kjul Å. Der er 3 dæmninger, som endnu kan ses. Asdal Voldanlæg forener stedet med en egen mystik. Med sine volde og grave fortæller den om ridderliv i middelalderen.
cykelrute.jpg
Cykelruter
Vestkystruten går forbi Tornby Camping. ruten strækker sig fra Tønder til Skagen. Der er en fin dagsrejse til Blokhus ca. 50 km. Strækningen Tornby til Skagen er 55 km.
Cykleruten går gennem en usædvanlig dejlig vestkystnatur i Tornby Klitplantage i et landskab præget af store vandreklitter afbrudt af mellemliggende sletter og med en både særpræget og frodig planteverden.
Mere: (URL HIDDEN)
Vandrestier
borglum2012.jpg
Stygge Krumpen
Børglum kloster og Stygge Krumpen hører sammen i den Nordjyske Hirsorie. Kun 20 minutter fra campingpladsen ligger Klosteret hvor julekalenderen om Stygge Krumpen er optaget. Tag på oplevelse i de mange udstillinger der er på klosteret og særudstillingen om julekalenderen.
(URL HIDDEN)
MGuardian.jpg

rubjerg_knude.jpg
Rubjerg knude fyr
Der er et besøg værd hver gang man besøger Nordjylland at se Rubjerg knude fyr. Fyret står på skrænten til Nordsøen og klitten der rejser sig op bag fyret. Natuen ændre på kysten hvert år og næste gang er der nye sandbanker og mindre kyst. Campingferie ved vestkysten er rig på naturoplevelser.
(URL HIDDEN)
skagen(1).jpg
Skagen
Kun 40 min. kørsel til Skagen. Besøg Danmarks nordligste punkt med alt hvad der hører med. Ankers Museum og de andre Skagenmalere, Grenen, Sandormen, Skagen havn, Skagenfestival.
m_rup_kirke.jpg
Mårup Kirke
Mårup kirke ligger på skrænten til Vesterhavets kræfter. Kirken er fjernet og i dag står kun sokkel og noget af kirkegården tilbage. Besøg stedet og se hvordan havet tager stykke for stykke af landet.
tilsandet_kirke_Skagen_oplevelser.jpg
Den tilsandede kirke
Lige før du når Skagen ligger den tilsandede kirke. Der er kun tårnet tilbage af kirken oplev hvordan sandflugten dækker landet.
Hj_rring_ferie_i_nordjylland.jpg
Hjørring
Vendsyssels store handelsby. Masser af indkøbs muligheder, Indkøbscenter metropolen, hyggelig gågade, mange spisesteder, Historisk museum, kunstmuseum og andre kulturoplevelser og begivenheder.
golf_Hirtshals_golfklub.jpg
Golfbaner
Der er aldrig langt til en ny golfbane i Nordjylland. Golfbaner i den enestående Nordjyske natur. Se golfbaner i Nordjylland: (URL HIDDEN)

indk_b_i_Hirtshals.jpg
Indkøb
I Hirtshals findes de fleste special butikker og supermarkeder, Netto, Fakta, Superbrugsen, Aldi, Rema 1000, Kiwi, Eurospar. og den store slagterforretning Winther. Der er en hyggelig gågade og mange spisesteder. Vil du til større by er der kun 12 km til Hjørring og 40 minutter ti Aalborg.
På campingpladsen har vi en lille butik med morgenbrød og det du lige mangler.
Geocaching(2).jpg
Geocaching
Tag på skattejagt i den Nordjyske natur og byer. Når du tager på geocatching oplever du altid nye steder og spændende nye steder og viden. (URL HIDDEN)
Beliggenhed
Beliggenhed
Skøn grund.
---
---
Always communicate through Airbnb
To protect your payment, never transfer money or communicate outside of the Airbnb website or app.
Learn More
---
Check in is anytime after 2PM
I skal huske at medbringe sengelinned og håndklæder etc.
Der betales kontant for el (2.50 dkr pr kw) og 75 dkr. for vand.
Der må ikke ryges i huset.
En enkelt hund er tilladt.
---
---
Everything was perfect and uncomplicated. Very nice house near the beach. We will rent the flat again. Very clean and cozy.
---
I stayed in Peter's cottage with 4 friends for 4 nights. It was just beautiful! The cottage was exactly (or maybe even better) than we expected - very cozy, with a view of the sea, clean, a lovely garden/terrace area (that unfortunately you can't see on the pictures, but it's great with deck chairs and two hammocks) and lots of space to just hang out, read, cook and play cards. The beach is just a short walking distance through the dunes and very serene. Peter was a great host! Quick to respond, the check-in went smoothly and when we had a problem with one of the windows (unfortunately we cracked it), he was very kind and accommodating! Thank you for everything Peter, we will definitely be back next summer when there's some sun around. :)
---
We had a wonderful week in Peter's & Tina's summerhouse at Tornby. The communication with them was so easy going and we felt very welcome... even we didn't met at the place. The sommerhouse is furnished so charmfully and you will find everything you will need. Thanks to the well working oven, we had some cozy nights in October. It's perfect, if you want to have some relaxing days in midden of the quiet dunes and the windy seaside of Denmark.
---
Languages:
Dansk, English
Response rate:
100%
Response time:
within a few hours
Explore other options in and around Hirtshals
More places to stay in Hirtshals: