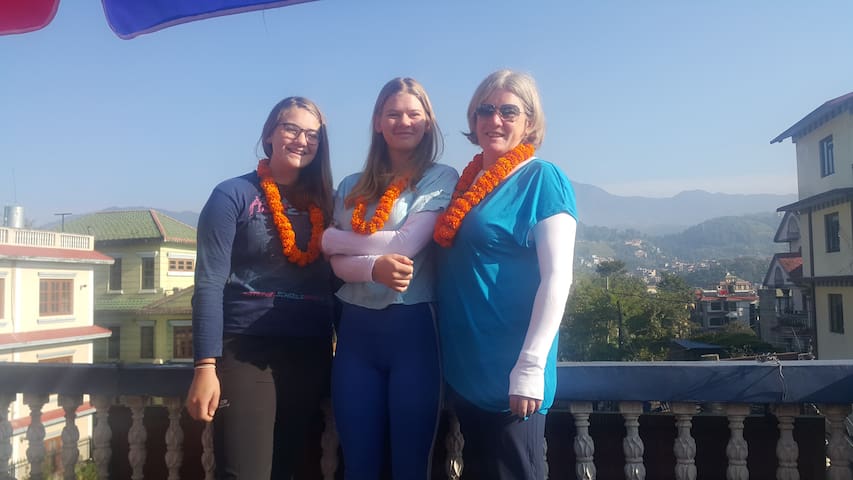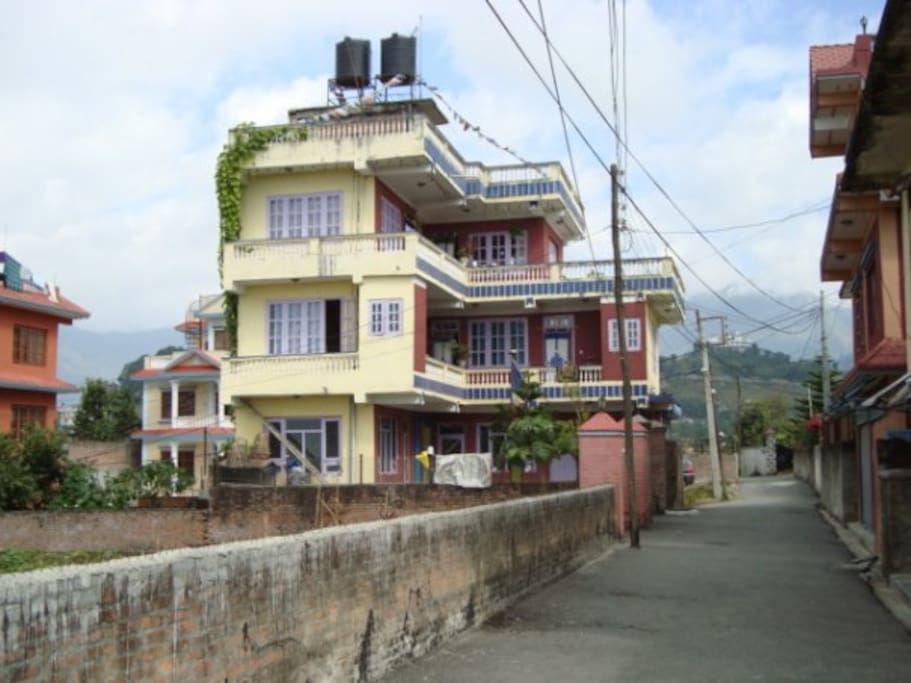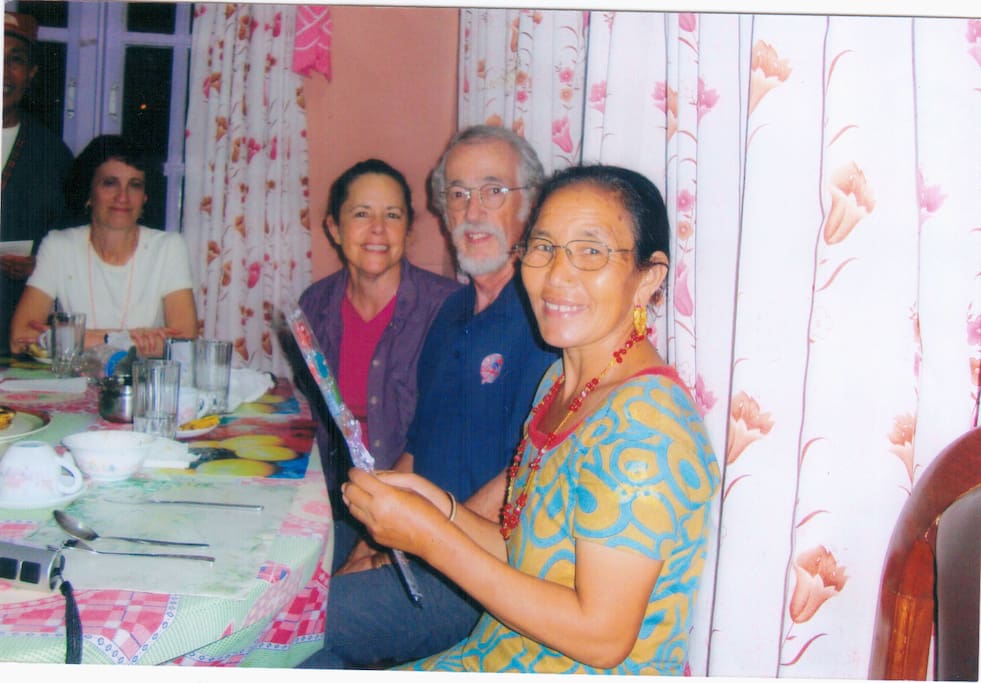 Family Home Stay in Nepal ( Friendship Home Stay)
Friendship Home Stay has established for foreign visitors who are looking for a less conventional but deeper cultural experience.There will be a small charge of US $ 10 .00 per day Per Person with Refilling System of Breakfast.
Tea or Coffee will be provided every time. Join with us and Experience the Home Stay life in Nepal.
---
Bedroom 1
1 double bed, 1 single bed
Bedroom 3
1 double bed, 1 single bed
Common spaces
1 double bed
---
---
Extra people $14 NZD / night after the first guest
Always communicate through Airbnb
To protect your payment, never transfer money or communicate outside of the Airbnb website or app.
Learn more
---
No house rules are different than your own house but still some of the things that you need to consider:
1. As the rooms is on the Second floor and Top Floor with a terrace, if you smoke outside the room on the top floor will be highly appreciable. We family's members no one smoke at home.
2. Please do inform us in advance if you would like to have dinner/meals at home as it takes time for preparation.
3. As Nepal has loads of power cuts and we run on backup inverter batteries, charging or using heavy duty electrical appliances cannot be supported by the inverter so, please bear in mind that charging mobiles and laptops are only way to keep happy. During day time when there is no electricity, the Inverter is always shut down. Please ask if you need some work to be finished by day time. When there is no electricity a torch in your list would be worthwhile.
4. If you have any laundry to be done, please inform anyone in my house so that we can help you to bring water for you to wash your clothes by hand. As we don't use the washing machine at our home. If you want to have laundry services we will help you to take it near our home where the laundry services are available.
5. If you are coming home late, it would be appreciated if you inform earlier so that necessary arrangements in locking the gates can be managed.
6. Outside Shoes and Sandals are not allowed inside the room and staircase. We have to take off our shoes before entering in to the house. There are shoes racks to store the shoes.
7. Since I am not taking any cleaning fees, please bear in mind that cleaning your room and cleaning bathroom is up to you. Vacuum cleaner and brushes are available-pls ask.
Hi! My name is Nima Dorjee Tamang and you can call me "Nima" and I am associated with a Trekking Agency and community NGO since 2002 in Nepal. Originally, I am from Eastern part of Nepal- Everest region where my ancestral belongs to. Currently I am leading a Trekking Agency named Friendship World Treks, worked as Trekking and Mountaineering Guide in Nepal, Tibet, Bhutan and India where as I am associated with a NGO called Friendship Society Nepal in Kathmandu and Friendship Home Stay in Kathmandu. I have almost traveled Asia, USA, South America and Europe during my work. My hobby is to travel. I have traveled almost 75 % of rural Nepal. I have been accommodating so many friends from Asian countries, American and European universities and assisting their thesis work as well. I have joined Airbnb to fund raise for my Association so that each earnings goes to the quality education of children from marginalized communities. I hope you guys will be a part of this good cause as well. I make time to talk to my guests and offer help / advice when needed.
Our guests can expect a clean, safe and homely environment while in Nepal. We provide home cooked meals and all the comforts of home .
---
Moderate
Cancel up to 5 days before your trip and get a full refund. Cancel within 5 days of your trip and the first night is non-refundable, but 50% of the cost for the remaining nights will be refunded.
---
---
---
Great place to stay. Good clean accommodation. Great meals and an awesome chance to communicate with a lovely Nepalese family. To learn the culture and customs of Nepal.
---
Thank you to Nima, Lakpa, Kalpana and Sunda for all their kindness, generosity and helping out wherever they could and making sure I'd have a memorable and comfortable trip. This beautiful Tamang family will make sure you are included and feel welcome in their home. Very trustworthy family, would highly recommend to anyone! Until next time!
Response from Nepal Trekking-Friendship Home Stay:
Namaste and Greetings from Friendship Home stay, Thank you for your great review. It was great meeting with you. hope I can see you again at our home. Thank you for joining to us. Hope you had enjoyed a great time in Nepal. best regards Nima.
---
What a lovely welcoming family, I felt very comfortable and at ease. The location is a short walk to the beautiful Boudhanath Stupta. I was well fed with yummy food and generous servings. Sundra the son was happy to show me around and keep me company on my sight seeing, and what a fantastic price!
---
Kathmandu, Nepal
Joined in October 2012
"Live a complete immersive family experience in Nepal. Share your holidays with a typical Nepali family who will host you and guide you in discovery of their rites, culture and believes''

Namaste from Top of the World!!!

Friendship Home Stay has established for foreign visitors who are looking for a less conventional but deeper cultural experience Friendship Home Stay provides ample opportunity to immerse oneself in an authentic joint family system - the Nepalese way. The Home is located on the North side of Kathmandu Valley only 5 Km from Tribhuwan International Airport.


What is Home Stay???

Home stay is one of the most popular kinds of Bed & Breakfast. Guests are invited in a private house to live with family members. Living with local people is the best way to learn about Nepali culture, religion in an ethic and eco responsibility.

The Home stay program allows visitors to Nepal to stay with Nepalese family. The Home stay participant lives with the family -- sleeping in a Nepali home, taking their meals with the family, and maybe even touring the city or celebrating a holiday or birthday with them. The program provides a unique opportunity to learn about Nepali culture, make new friends and extended family, and provide direct assistance to the Nepali people, many of whom are saving for their children and future education.

We are specialized in organizing placements in excellent families as paying guests and we have a multi-lingual team highly experienced in this field. Host families are carefully screened and offer comfortable accommodation in single or double rooms. It is possible to choose bed and breakfast, half board or self-catering and there is simple category of accommodation available. It is possible to choose central areas or less central areas. Considering the host families request we are bound to take booking only for a month but possible to renew

Nepali home stay in Kathmandu
The village life is the most attractive to enjoy. Agriculture life and the lifestyle of Nepali people to experience. Visitors will get to share the real experience of Nepal and Nepalese people through staying with Friendship Nepal Home stay.

Our village Kopan (Solu-dada) has natural beauty, surrounded by typical Nepalese houses, agriculture farm, natural forest (Gokarna), beautiful water sources etc.
The people living in Kapan (Solu-Dada) are from Tamang, Sherpa, Newar and Brahmin community. Our home stay is located in the capital Kathmandu of Nepal, ideal for holidays in Nepal or for some days of rest before expeditions, Trekking, Tours sightseeing in Kathmandu valley). The Home is located on the North side of Kathmandu Valley only 5 Km from Tribhuwan International Airport.
You will find rich cultures and vibrant traditions, exquisite temples and monuments as well as fast flowing rivers and tropical jungles teeming with wildlife, making your trip an unforgettable experience.

Home stay environment
Regarding Friendship home stay, there is one house in one compound. Where there some more home stay houses around Friendship Home stay. The area of the Friendship Home stay is very clean. We will be provided to our guest at the maximum for Nepali dinner. All guests are treated as family members, and are invited to live as family members, common guest room with TV can be shared with family members.


VOLUNTEER PROGRAM:
We would like to introduce you to 'FRIENDSHIP SOCIETY NEPAL' a non-profit organization we encourage you to spend time volunteering at the home and their local school.

Showing interest and showing up is everything!

Friendship Home Stay or Friendship World Trek will help you design a program to suit your time and talents.
Home stay and cultural exchange programmes can be arranged in most areas of Nepal with our 35 Host families. Participants will be placed with a Nepali family in a small rural village for the duration of their stay.

This provides the volunteers with an excellent opportunity to learn about all aspects of Nepali culture, lifestyle, language, food and people. Volunteers should remember that this is a cultural exchange and that an effort to offer some knowledge of their own home culture and customs to the family with whom they stay is appreciated.

During their stay, volunteers will attend 2 hours of language lessons in the morning and in the afternoon.

They will also have the opportunity to visit and help out at the local school. Home stay programmes are best organised from August to December which is the time when most large local festivals take place. This makes for an overall more exciting experience for the volunteer. Nepali culture is distinctively friendly and open and participants are made to feel as though they are part of the family.

Stay with Nepali family in Kathmandu
A typical Nepali day begins with cleaning the house by the elders such as grand mother/mother or elder sisters now lost in many homes in western society. Age is revered in Nepal Imagine going to local market with a big bag to shop vegetables and other groceries of the day with a 70 year old grandmother or a 10 year old son of the family. or attending a typical Nepalese wedding ceremony which is very different to other cultures. Most Nepalese families allow and appreciate a helping hand in the kitchen, so be careful you may end up a good Nepali cook. This is not a business for us, we simply enjoy sharing life's experiences with others where we can all learn from each other. There will be a small charge of US $ 10 .00 To $20.00 per person per day which includes breakfast ( i.e. Bread , Eggs , Rice pudding , Tea, Coffee etc ) and a Nepali dinner ( Veg. curry, Boiled rice, Pickle, Dal soup, Chicken curry etc ) You can stay as long as you want. The lunch and Dinner will be cost extra.

We use 3 rooms & 1 bath rooms sharing with double & single beds are available, the resident family uses another 5 rooms. Kathmandu city map.
Also available
•Tea and coffee making facilities.
•Cleaning Service.
•Incoming phone.
•Information & Arrangements for Trekking, Rafting, Safari.
•Bus & Air tickets
•Internet facility free
•One computer in the room.
•One TV in the room.

« In our guest house, live in the rhythm of our family, enjoy meals and share our activities, discover all the beauty of our country in a unforgettable and enriching experience, simplicity and pleasure of nepali lifestyle »

Guest House in Kathmandu, Nepal

The village of Kopan is very near from the town. It is only about five kilometer away from Thamel. KOPAN HOME STAY VILALGE (Tourist Area in Kathmandu) is about 15 minutes drive and about 30 minute drive from the International Airport.

You can ask for a taxi to come and drop you (between 500Npr and 700Npr) to go to city, walk during 15 to 25 minutes to arrive to a bigger town, use local transportation for less then 30Npr or use the bicycle provided by Friendship Home Stay.

Our Nepali Guest house (Homestay) facilities
Friendship Homestay will be charging small amount of US$ 10 to $20 (ask for rates for young and children) per person per day with homely environment which includes bed and breakfast, Nepali Dinner, pick up and drop facilities at the Airport for international flight, tours, and also Bicycle for hanging around Kathmandu.

The bathrooms (western style) of our guest house are not attached but very two rooms get to share one bathroom and you have facilities of hot water running in the bathroom with soap/towel and toilet paper. Ecology is one of our priorities, we have compost since several years and the hot water is provided by solar panels.

You can also use our phone, fax or internet connection for 24 hours available if needed.

Please contact us by using this form for more
information about our rates, availability of
rooms or any other question regarding
our Home stay in Nepal.

TARIFF (Rate)
The large joint-family house offers 2 double rooms bathrooms and one Triple room. The well equipped dining room and kitchen are available for all to share.

City guide, Laundress and Internet connection available:

Transportation:
1. Bus or Taxi facilities.
2. Private car and other vehicle facilities.
3. Airport pick-up and departure facilities.

If any one interested in Mani Rimdu festival. Mr. Nima can arrange for the trip.
Charges: Negoatiable

Single room (1 person)
$15 per night including breakfast and dinner.

Double room (2 persons)
$25 per night including breakfast and dinner.

Student single rate $15 per night including breakfast and dinner.

Long-term rates are negotiable.

Extras:-
laundress: Rs. 100/- per hour.
Internet connection: Free for 24 hours

Mr. Nima Dorjee Tamang is a Managing Director, Trekking Instructor and Guide of 'Friendship World Trek' Trekking and Expeditions (P). Ltd. He was born in a traditional mountain village in the Solukhumbu district of Nepal, close to the Mount Everest region and home to the Sherpa and Tamang people.
He always thinks to give good Knowledge about the trekking, mountains and good service and service.
He'll do it for $25 per day.

Professional city guide: $50 per Day.

Help for your Expeditions in Nepal
Successful activities thanks to our tips and tricks
Nepal is a country rich in activities and expeditions. Whether you seek for adventure or interior philosophy, our family will feel happy to organize your activities during your stay in Nepal.
Take benefits of our trust and our excellent knowledge of Nepal, to arrange, from now on your activities on the spot. You have concrete plans? You are seeking for excursions the most adapted to your profile and your desires? Do not hesitate to contact us so that we can help you and guide in your choices.
Nepal Sightseeing
Discover Nepali culture by sightseeing in Nepal
During your stay in Nepal, the family member of our homestay will be pleased to give you some advices about sightseeing in Nepal. There are many places for sightseeing, Patan and Bhaktapur for historical Nepal, Swayambunath and thamel in Kathmandu and Pokhara for mountain views. Visit Nepal.
Trekking in Nepal
Trekking expedition in Himalayas of Nepal
Trekking in Nepal is obvious for those who come to visit Nepal. From high peaks mountains for experimented trekkers to small and easier trekking for beginners, we can help you in the choice of the trekking the most adapted to your physical capacity and your envy of discovering Nepal.


Jungle Safari
Enjoy jungle safari in the Nepali national parks
Jungle safari in Nepal is a way to rest a little and enjoy the wild nature of Nepal, climbing on elephant back or riding on a safari jeep, there are many ways to see the unique fauna and flora of Nepal, from the majestic Bengal tiger to the unique gangetic dophin of Nepal, birds and snake species to discover. Safari Nepal...

Rafting in Nepal
Experiment rafting and kayaking in silver water rivers
Rafting or kayaking in Nepal is a experiment to try, Nepal has numerous silver water river. From several day rafting for those who are seeking extreme adventure to easy and pleasant rafting experience of one of two days, there are huge possibilities to enjoy water in Nepal. Rafting Nepal...
Mountain Flight
Over four airlines offer regular flights into the snow-capped peaks of the Himalaya. Spectacular views of the mountains with a wonderful mountain flight experience will leave with you unforgettable memories.

Hot Air Ballooning in Nepal
Hot Air Balloon for Mountain views lasts for 1 to 2 hours and is one of the most thrilling and exciting adventures in Nepal.
Thank you

Friendship Home Stay
Kopan village
E-mail:


Languages:
English, Hindi, Italiano
Response rate:
100%
Response time:
within an hour
Explore other options in and around Kapan
More places to stay in Kapan: