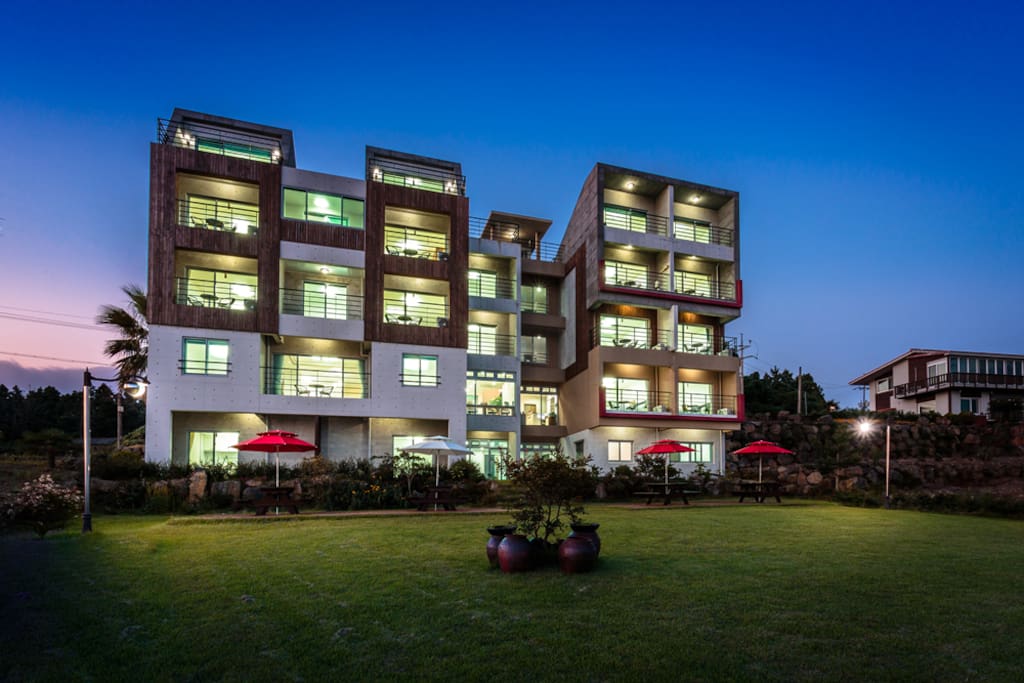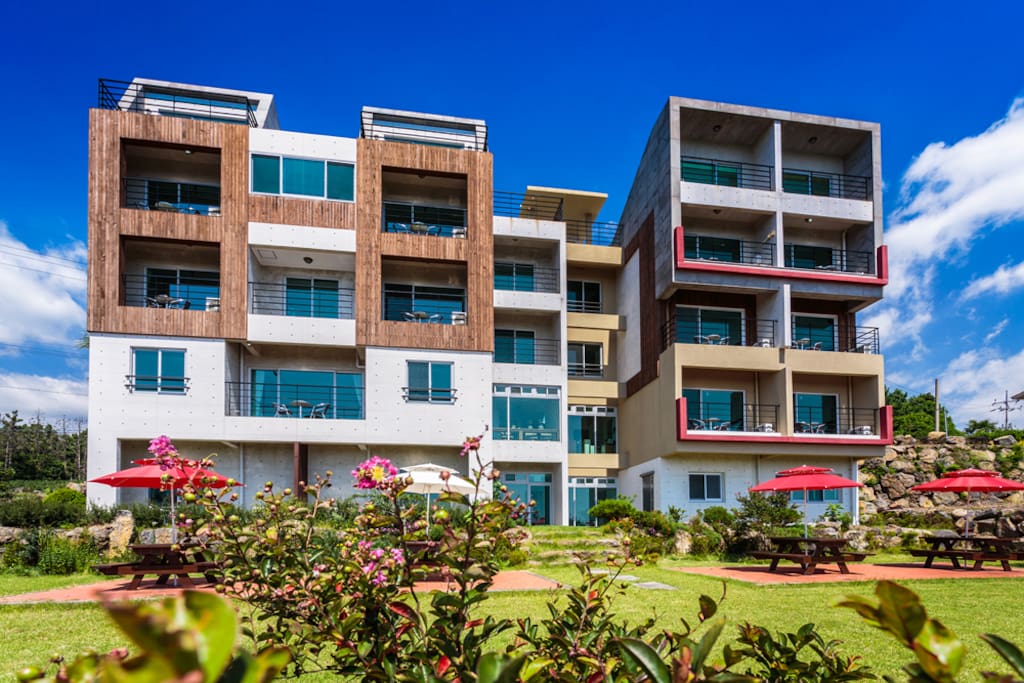 In the room you can see the east-long stretch of coastline In the guest room, you can see the southern island of Seomun island, and brightly lit up at night. The night view of fishing boats floating in the sea is very romantic and beautiful. The citrus fragrance of the citrus field in front of the guest room makes the feel of Jeju feel again I am proud of being a luxury pension where I want to stay with my family,
객실에서 동-서로 길게뻗은 바닷가 전망이 보이고
객실 내에서 섭섬, 문섬을 한 눈에 볼수있으며 밤에는 환하게 불을 밝흰 고기잡이 배들이 바다에 떠있는 야경은 아주 낭만적이고 아름답습니다
객실 앞에 감귤 밭의 귤향기는 제주의 정취를 다시한번 느끼게하고
머물면서 추억을 애기하고 싶은 명품펜션이며 여행자의 쉼터로서 손색이 없는 곳임을 자부합니다
The space
From the inside of the room, you can see the long-stretched beach view, tangerine fields and natural wild trees. The day and night scenery is truly beautiful and I am confident that it is no longer a shelter for travelers. The cleanliness and clean bedding inside the room, I think that you will love the atmosphere because you manage the name of the pension
객실내부에서 보면 동-서로 길게 뻗은 바닷가 전망과 감귤 밭, 자연 야생 나무들이 잘 어우러져있는 모습을 볼수 있고.
낮과 밤의 견경은 정말 아름답고, 여행자의 쉼터로 손색이 없음을 자부합니다.
방 내부의 청결 및 깨끗한 침구, 분위기는 펜션의 이름을 걸고 관리하고 있기 때문에 충분히 마음에 드실 것이라 생각합니다
Guest access
Air mattresses are one-bed duvets and one set for two. It is available for up to 6 people. The rooms are equipped with a microwave, refrigerator, rice cooker, hair dryer, coffee pot, tableware, etc. The bathrooms include shampoo, conditioner, body lotion and toothpaste.
에어 매트리스는 한실이불이며 1셋트에 2인용입니다.
기본 6인기준이며 10인까지 이용 가능합니다
객실에는 전자레인지, 냉장고, 밥솥, 헤어 드라이기, 커피 포트, 식기류등이 있고, 욕실에는 샴푸, 린스, 바디 로션, 수건 치약등이 있습니다.
Interaction with guests
We will help you to be clean and comfortable.
청결하고 편안하게 쉴 수 있수 있도록 도움 드리겠습니다.
Other things to note
Seogwipo City is the most visited place in Jeju Island and also has many festivals At night there is a beautiful night view of Chun Ji-Yeon and a new connection night, and it is a great place to enjoy a date course
서귀포시는 제주도에서 관광지가 제일 많이 모여있는 곳이며 또한 축제가 많은 곳입니다
밤에는 천지연 야경과 새연교 야경이 보기 좋고 , 데이트 코스로 즐기기에 아주 좋은 곳입니다
---
---
Bedroom 2
2 air mattresses
Common spaces
2 air mattresses
---
Check in time is 3PM - 8PM
1. 객실내에서 시끄럽게 소리를 내서는 안됩니다.
2. 구이 및 튀김류 조리는 불가합니다.
---
숙소에 도착하니까 사장님께서 친절하게 맞아주셨어요. :-) 부모님을 모시고 간 여행이라 신경 쓸 일이 많았는데 숙소는 완벽했습니다! 방도 충분하고 깨끗한데다 수건도 넉넉했고 주방기구들도 다 갖춰져 있어서 편하게 지내다 왔습니다. 다음에도 다시 가고싶은 숙소였어요! :-)
---
20년을 특급호텔에서 근무를 하다 2013년 7월 말에 신축 오픈하여 운영하고 있습니다. 깨끗한 객실과 뷰는 휴양지에 온 느낌 그대로 아름답고, 자연과 바다가 어우러진 조용한 곳에 위치하고있습니다
Response rate:
100%
Response time:
within an hour
Explore other options in and around Seogwipo-si
More places to stay in Seogwipo-si: