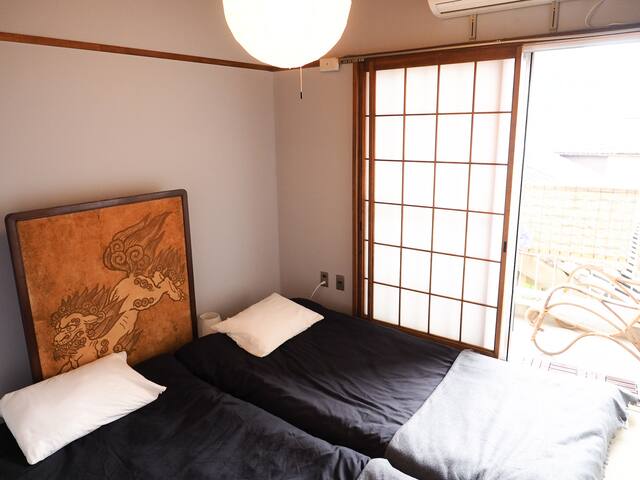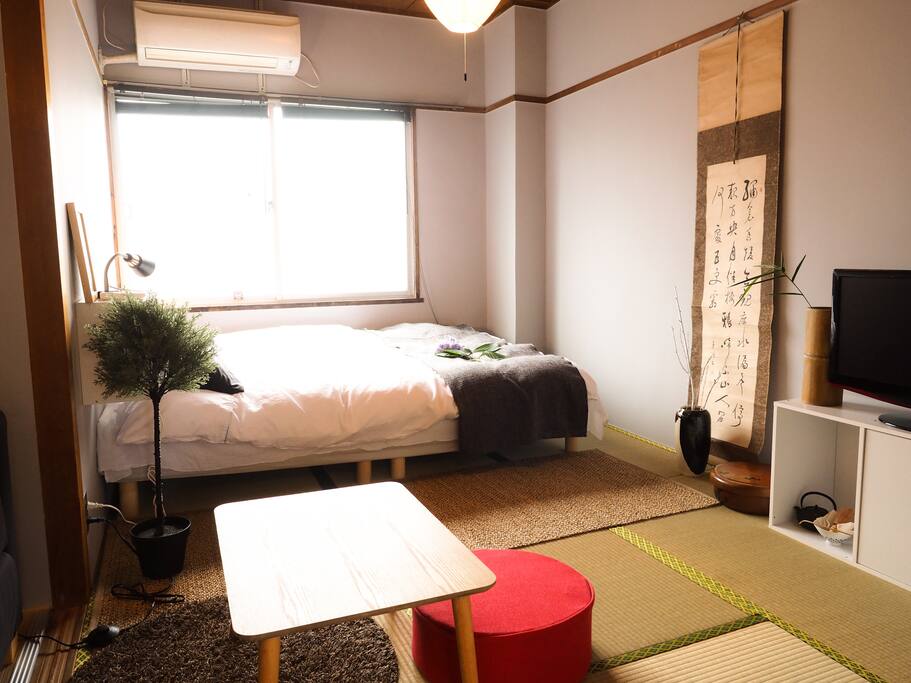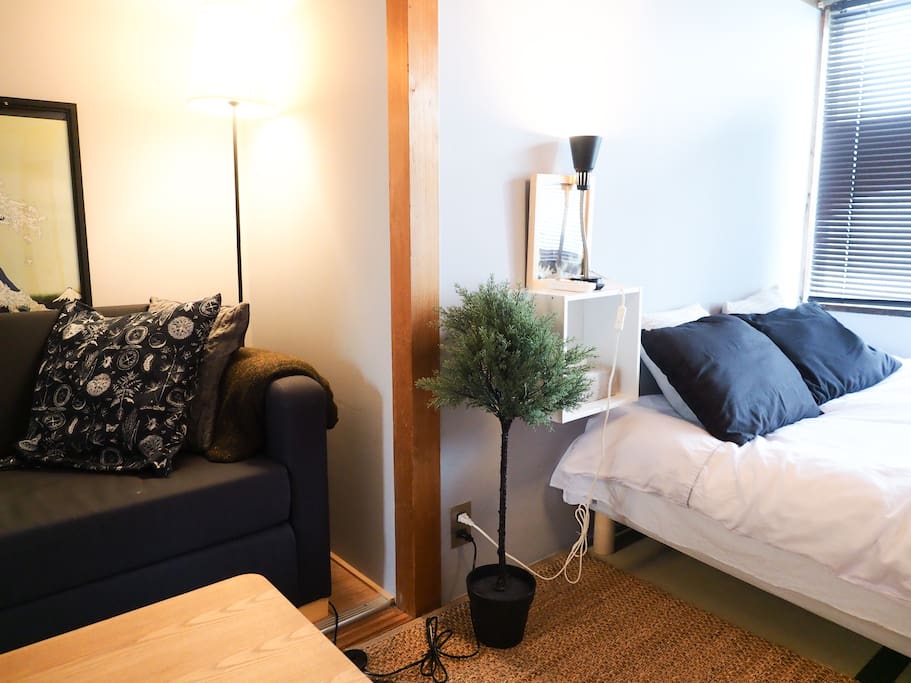 Our newly renovated 2 bedroom apartment mixes traditional Japanese touches like tatami mats and sliding shoji doors with modern design. Located just behind Sanjusangendo temple, and a few minutes walk from Shichijo station and the Kyoto National museum.
The space
This is Japanese-style two bedroom apartment was completely remodeled in March of 2016. Both of the bedrooms have traditional Japanese tatami flooring and wall mounted heating/air conditioning units. The larger room holds a western-style double bed, pull out sofa bed, as well as a 23 inch LCD TV with Amazon Prime video and Netflix access via Amazon Fire TV. The smaller bedroom has two single sized Japanese futon bedding sets.
The kitchen/dining area has a full sized refrigerator/freezer, induction heating hot plate, microwave oven, and electric kettle. The dining table seats 4.
The shower/bath area is spacious with excellent water pressure and on demand hot water (it never runs out). The tub is new and in the traditional Japanese style, meaning it's small and deep. The toilet is in a separate room and is a western style Japanese washlet, complete with heated seat and bidet.
周边景点
清水寺:步行至景点约24分钟,或者可以选择在今熊野车站乘坐202、207路巴士(230日元/人)在清水道下车,步行约850米到达景点。清水寺营业时间6:00-18:00(因季节而异)门票:大人300日元/人,中小学生200日元/人。
金阁寺:步行约100米到达今熊野车站,乘坐207(九条车库前行方向)坐10站在四条乌丸下车,在此站坐101路(北大路バスダーミナル行)巴士约27分钟在金阁寺道车站下车,步行约400米到达金阁寺。金阁寺营业时间:9:00-17:00.门票:大人400日元/人,中小学生300日元/人。
锦市场:步行约100米到达今熊野车站,乘坐207(九条车库前行方向)坐9站在四条高仓下车,步行5分钟到达。
岚山:步行至京都站或步行约100米到达今熊野车站,乘坐202乙(九条车库前行方向)做5站到达京都駅八条口アバンデイ前下车,步行至京都站。乘坐JR嵯峨线在嵯峨岚山站下车。(岚山小火车的售票处就在岚山站外)。
伏见稻荷大社:步行600米(约7分钟)到达塩小路橋,乘坐市营特南5(横大路车库前行),约四站到达稻荷大社前车站。或步行十分钟到达京阪本线七条车站,乘坐京阪本线约三站在伏见稻荷车站下车。院内自由参拜,贩售开运符守护符7:00-18:00。
银阁寺:步行约400米到达东山七条巴士车站,乘坐市营100(京都站前行)巴士,约11站在银阁寺前下车。营业时间;8:30-17:00,成年人500日元,中小学生300 日元,特别参观另收费。
衹园:步行约400米到达东山七条巴士车站,乘坐市营100(京都站前行)或206路(北大路バスダーミナル行)巴士,约5站在衹园车站下车。
东福寺:步行约20分钟到达东福寺,或者步行至今熊野车站乘坐(PHONE NUMBER HIDDEN)路巴士九条车库前行方向(230日元/人)在东福寺下车。营业时间:9:00-16:00
东寺:步行至今熊野车站乘坐(PHONE NUMBER HIDDEN)路巴士九条车库前行方向(230日元/人)在九条车库前下车。营业时间8:30-17:30
二条城:步行约400米到达东山七条巴士车站,乘坐市营100(京都站前行)或206路(北大路バスダーミナル行)或202(九条车库前行方向)巴士,约10分钟到达东山三条车站下车,之后乘坐地铁东西线(太秦天神川方向)约四站到达二条城前下车。营业时间:(PHONE NUMBER HIDDEN)月-次年一月每周二休息,逢节假日时次日休息,12月26日至次年1月4日休息。成人600日元,初高中生350日元,小学生200日元。
︎周边环境介绍
餐厅:
七条周围拥有好多餐厅,附近100米处有一家日式餐馆(沖よし),想品尝日本菜的您可以去尝一尝。在他对面还有一家明记大陆食堂(明記大陸食堂),里面有拉面和饺子等中华风的料理,味道也是不错的。还有一家得到很多好评的寿司店(すし丸)(sushimaru),从公寓步行约2分钟即可到达。
超市:
在餐厅周围是今熊野商店街,那里可以买到一些基本用的食品蔬菜及水果。如果需要买大型商品,可以选择步行15分钟至京都站附近购买。
巴士站:
离入住最近的就是今熊野巴士站。出了公寓大门后,左转(朝东)走到十字路口,右转走约50米即可到达车站。有很多景点都可以乘巴士车前往。价格是每次乘车230日元或500日元的巴士一日通,可以直接从司机购买。如果想去远的地方,可以选择步行15分钟到达京都站乘坐其他交通工具。
Guest access
Guests will have exclusive access to the entire apartment during their stay.
Interaction with guests
I think it's important to meet all of our guests face-to-face so our preferred method of check in is to have guest come to our business, SHIBA RAKU café. We're located a quick 5 minute walk from the central exit of Kyoto station. Once you arrive I'll provide you with a welcome drink (you're choice) and you can ask me any questions you might have about the house, Kyoto, or Japan in general. Also, in order to comply with Japanese law we request that all guests sign a rental agreement and allow us to take a copy of your passport. Afterwords we'll send you to your rental by taxi.
If you plan on arriving late in the evening or just prefer to go directly to the house let me know and we can arrange for that as well.
During your stay I'll be reachable by phone or through airbnb message should you need to contact me.
This listing has essential business travel amenities.
Bedroom 1
1 double bed, 1 sofa bed
Check-in time is flexible
Hi Welcome to Kyoto! We will do our best to help you during your visiting!
Languages:
English, 中文, 日本語
Response rate:
100%
Response time:
within a few hours
Explore other options in and around Higashiyama-ku, Kyōto-shi
More places to stay in Higashiyama-ku, Kyōto-shi: