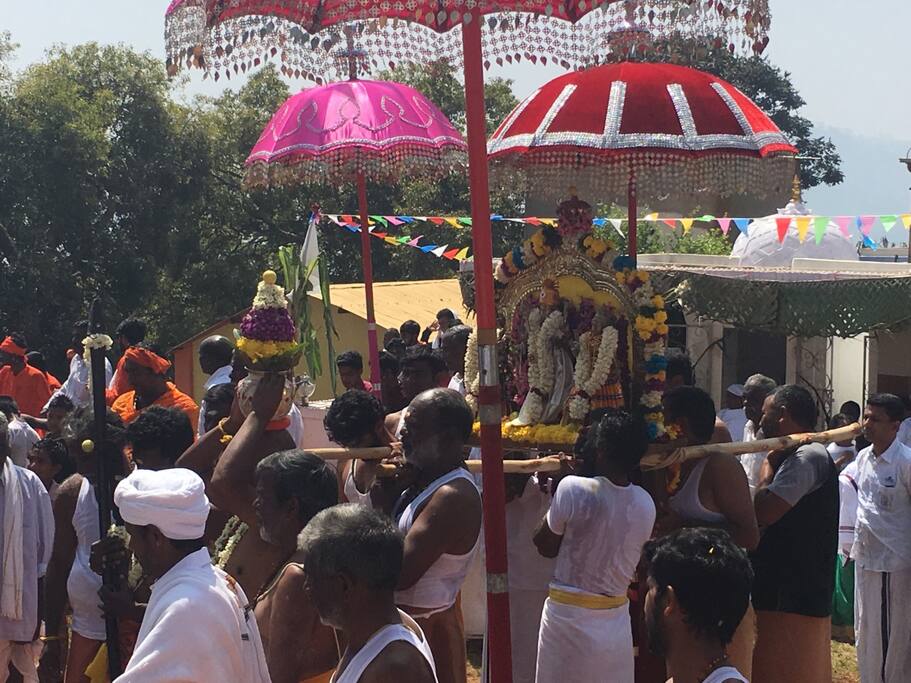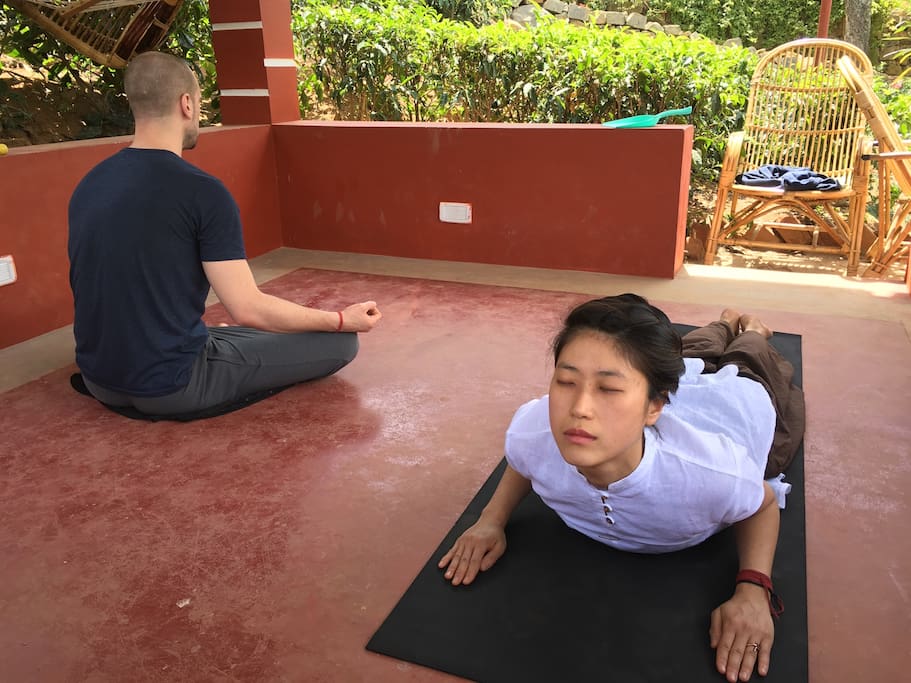 Fuschia, 260 Reviews and counting
For details check out " Fuschia, Kotagiri". If you need addition night for free please be my guest if your are willing to contribute cleaning up plastic and glass bottles littered at parking lot, I'll provide bags. We have devastated our eco system. Lake on fire in Banglore, what's next.
The space
We offer seven beautiful cabins with attached baths for nature lovers & health conscious travelers alike. Also its a paradise for bird watchers. If you have any health issue that prevents you from walking short distances apx 300 meters on walk way , this isn't the place for you. Each cabin is 1800 per night and provides accommodation for two people not three. At one point in time this entire area was internationally deemed as the second best climate in the world after Pasadena, California. Gone those days and it will get worst. This place 'Fuschia' (named after the beautiful non indigenous flower in a bell shape) happens also to have many of these flowers in a huge spectrum of colors. There is a Hindu temple which is right next to parking lot, over a period of time local farmers have planted tea on the road, this causes an inconvenience to walk, but at the same time it's a little historic reflecting it's original state. You have to walk 10 min from the parking lot on a nice scenic trail to reach the cabins (I love calling this an automatic tread mill). But once again if you have difficulty walking also if your are city person there is nothing here for you. You will be bored from surroundings and regret on your decision of coming here. By the same token if you love grandeur of nature and don't want to spend too much money then you will be in love at first sight. There are no shops and restaurants around but aren't you sick of them? Anyway these cabins are Large, Medium and small with attach very clean baths, each cabin got king size beds, one small cabin with smaller size bed but two can cuddle. Also this is not the place where you want to measure the size of the cabin but vastness of outside beauty. Also each bath got hot shower with low pressure, bucket bath is way to go with geyser heated water. This place is zero star, to me this star ranking system is good for cities. In old days there were no star system and people live quite nice lives in villages compare to artificial life we are pushing ourselves into in cities. This is back to basics concept and coming here you are going back in time. Jack London, Shakespeare and list goes on who lived in simple cabins or cottages, which probably helped sharpened there brains. Anyway bathrooms got color combination tiles, granite, high end plumbing fittings, very colorful wash basins which I picked up from Thailand. You can also enjoy Gazebo/Sun room just to kick back or do nothing all day and rest after that in the evening by the fire side. For wild life lovers watch heard of Bison's, lots of birds etc. Only animals I have seen are Wild boars, Deer, Porcupines, Rabbits, one time I counted heard of 33 Bison, Leopards and vast variety of birds. Just to be on record last sighting of pair of leopard was on evening of Feb 8th ,2015 by me and Gardner Sandhu for about 5 min with flash light across the creek. April 26th evening all guests saw pair of leopard at distance, Feb 2016 we saw three bears. September 18h our dog was taken by Leopard right in front of cook and gardener, they are size of golden reteriver or little bigger but never heard attacking cowns cows or animal, only active at night. I saw two with flash light and they walked away, made my evening and I consider my self lucky enough to sight them. Seeing animals and birds is healthy sight since they are loosing there homes to viscous human beings who are not hesitant to kill them, cut forest and burn. Personally me working hard for past few years won the battle but lost the war. When you come here you will see what I mean. As far this place goes you can go on mild to moderate hike to waterfall or if you are courage's enough then climb tall mountain right in front of you, you can also walk on a trail to village called Bibin, usually village people are very welcoming and will invite you for tea or coffee into there homes. Also to make you feel better all the money you give for these cabins eventually trickle down to poverty driven people who were born in poverty and after working hard all there lives still living in poverty. There lives are almost like modern day slavery, dark side of this paradise. Especially women who pluck tea leaves under hot sun or rain and get paid very little. Surprisingly they always have beautiful smile in spite of going through never ending hardships unlike people in big cities. Anyway you are not coming here to end world hunger but to enjoy your time so lets get to the point. This place is little bit off the beaten path and very few people live around this area. If you like inner cities person then again this is not the place for you. I don't want to discourage you not to come but same time bit concern if this is a good match for you. Since there are no shops all around here so you can do all the shopping in Kotagiri and stack up the refrigerator. Mostly its the caretakers who goes and do shopping for you to kotagiri market and pass on the bills to you of what ever price they paid plus small profit on top, but still your meals price is not that high. Since they really know what to buy and what goes into southern cooking. They charge you little money for auto charge also for there gas bill etc. Its quite a task to bringing groceries back down hill from kotagiri. I am personally hardly involved in doing anything around here other then to communicate with you and pass your phone number to Ishwar. Staying here is brilliant idea to contribute to poor, simultaneously you get your pleasure of staying in beautiful setting with awesome beauty around, you go to bed with noise of waterfall and wake up to the sound of birds. When you leave you can be proud of contributing towards not so privileged everyday life people in Nilgiris. Staying here American novelist John Muir's saying applies " A day spent in a nature is a day added to your life". If you have more then a back pack or carry on's then guys will be courteous enough to give you helping hand. I am sure they will appreciate tips too. People around are very humble and down to earth. Do not arrive when its dark. Can't buy beer or hard liquor around. Please bring Flash lights, books you always wanted to read. Please do not littler, have respect for next visitors and environment around. Some lady I never met tossed dirty diaper in the tea estate during there stay, I hope she never comes back again. Since it is such a small place no guarantee you will get cabin. Oh by the way water fall doesn't look as nice due to deforestation. Some people especially coming from cities buying land have no respect for nature and they are not hesitant to cut trees which took years to grow in 5 min. Land without trees look bare and horrible. Forest around here with old matured trees is diminishing very quickly, wild animals loosing there home. Criminal actives in cutting Shola trees ( Indigenous trees) is quite common here especially by outsider not the locals. This is crying shame, we talk about vanishing Amazon forest but this is happening right here in Nilgiris. Unfortunately none of the rich tea planters all around raises voice or concern over deforestation. But if labor working in fields demand bit more money in wages that is four letter word to them. Anyway morning and evenings are very pleasant. Do not wonder off during afternoon. Over here UV rays are very strong and you can get heat stroke. If you are not is good shape don't attempt to go on hike especially heavy smokers. Most of the time I am not here but just in case if I am here and I happen to be driving to Kotagiri then I would love to give you ride from Ooty to Kotagiri. Also if you need help with pick up and drop off there is a real nice guy who got small Maurti Van and he can take you around sight seeing etc for fair price also pick you up from Coimbatore train station or airport and drop you back. Same applies to hikers, we got pro who know Nilgiris like back of his had and all the ikes in this region, his name Anil.
---
---
Always communicate through Airbnb
To protect your payment, never transfer money or communicate outside of the Airbnb website or app.
Learn more
---
Check in is anytime after 10AM
Guests cannot cook in the kitchen or do dishes.
---
---
I am not gonna differ much from what others said. This place is indeed a paradise. The caretaker called us a day before our check in to confirm our arrival time and our food preferences. The people there were absolutely friendly and welcoming. A calm and serene place surrounded by lush green tea plantations. Everything about this place was amazing be it the food or the waterfall nearby. I cant wait to get to this place again. Highly recommended and huge respect to Sharan Deep for what he is doing to the community over there !!
---
We stayed in Fuscia for our short honeymoon trip. I can say that it would be the best place for nature lovers and hikers. If you fear to walk, then it is not the place for you. If you love to hike a lot, then you would definitely love it. Baby akka cooked some delicious food for us. And we had some nice chat with Sharan. Overall we enjoyed our stay at Fuscia.
---
Sharan is a great host. The place is secluded from city type environment, in the middle of tea Plantation. Baby takes absolute care for timely food, breakfast thru dinner. A waterfall near the place is fun. Please visit only if you need to spend quality time with your loved ones n want to have conversations. I will definitely visit again.
---
I have had a super great stay in such a beautiful place - in the middle of the tea plantation - and flowers - several km out of Kotagiri. It was a relaxing moment and good break from the vibrant Indian cities.... Sharan who is the owner although not here made sure everything's fine during my stay and I am really thankful for this. Baby, Ischwar, Santa Kumar have been such a good interesting and fun company! I had really good times (walks in the tea plantation, rami etc etc ;) ) I know that several guests keep coming back and I can understand why... so see you maybe next time !
---
Archives Subscriptions RSS Feeds Site Map ePaper Mobile Social
SEARCH

Home News Opinion Sport Business Arts Life & Style S & T Education Health Jobs Classifieds Today's Paper Topics
TODAY'S PAPER » IN SCHOOL
UDHAGAMANDALAM, November 9, 2012
A sparrow garden springs up in Ooty

D. RADHAKRISHNAN
SHARE · PRINT · T+
'Sparrow is a very important part of the eco system'

Bird loverSharan Deep Singh placing nests for sparrows at the Five Lanterns junction in Udhagamandalam.Photo:M Sathyamoorthy
The Five Lanterns Junction, one of the most crowded parts of this hill station which has for long been associated with chaotic and noisy scenes witnessed a heartening development on Wednesday.

Encouraged by autorickshaw drivers in the area, a bird lover Sharan Deep Singh climbed a tree inside a small traffic garden and placed a few mud pots with holes for sparrows to nest.

Later speaking to The Hindu , Mr. Singh, a resident of Kotagiri, said that it was part of his initiative to conserve sparrows.

Pointing out that the sparrow is a very important part of the eco system, he regretted that over the last three decades they have been more or less wiped out in Punjab, Haryana and some parts of North India. Sparrows have become an extremely rare sight in Punjab due to the indiscriminate use of pesticides, insecticides and fertilizers, pollution caused by automobiles and factories and mushrooming constructions.

Lamenting that not only in the North but also in other parts of the country use of toxins is on the rise, he said that certain species of birds, honeybees and fireflies have vanished.

Expressing the hope that those at the helm of affairs and the people would view the development as a 'red flag warning', Mr. Singh cautioned that the 'air we breathe and food we eat is no longer safe'.

Efforts to protect the environment, the degradation of which is leading to the extinction of birds like sparrows are conspicuous by their absence.

To a query, he said that the population of sparrows in the municipal market and its surroundings like the Five Lanterns Junction here is healthy.

However, they can do with some help. It is a fine example of co-existence.

One of the reasons for the high number of sparrows in the market is that the use of harmful chemicals is less when compared to the vegetable fields in various parts of the Nilgiris.

Research has shown that consumption of contaminated water leads to maladies like cancer and also birth defects. Groundwater has been affected.

Suggesting that the traffic garden should be named, "Sparrow Garden", Mr. Singh acknowledged the help being extended by traders in the area in maintaining it and hoped that the nests will not be vandalized. They should be treated in the same manner as, "we treat our houses". Lauding the gesture, P.J. Vasanthan, a noted bird watcher, said that such values are hard to come by.
Languages:
English, Hindi
Response rate:
100%
Response time:
within an hour
Explore other options in and around Ooty
More places to stay in Ooty: