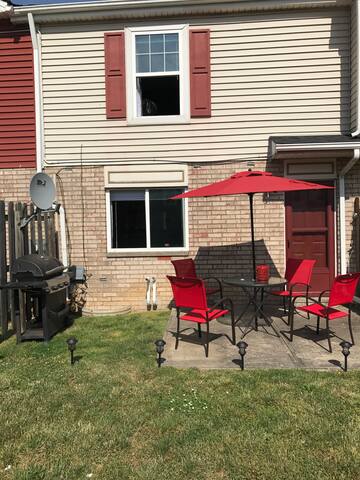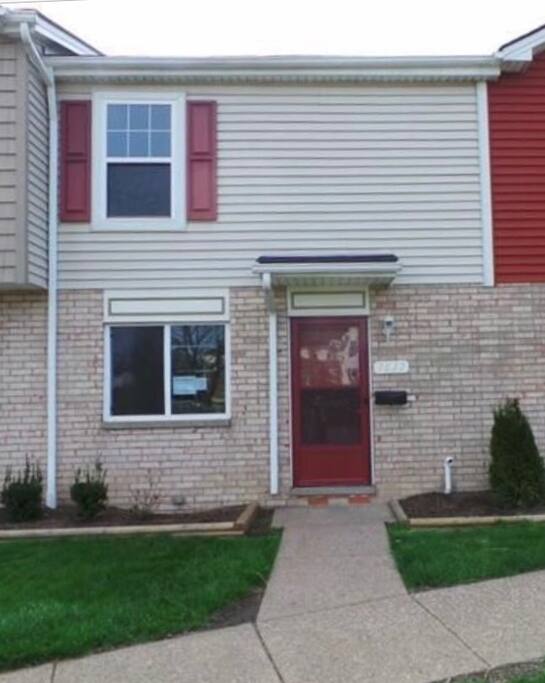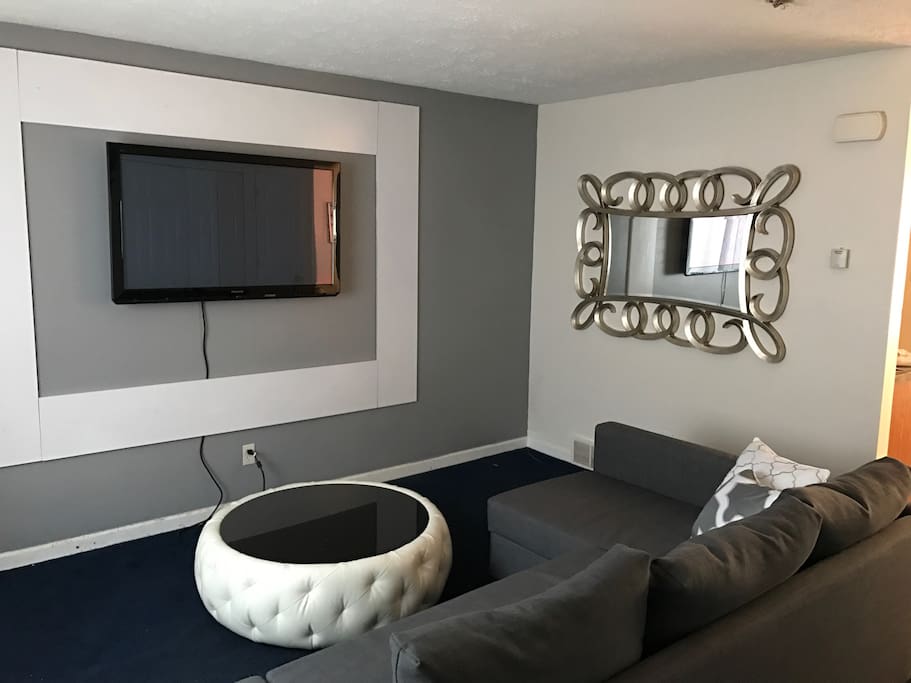 Beautiful Multi level town home
This home is centrally located in close to everything Cleveland has to offer. 2 miles from downtown , walking distance to public transportation, minutes from case western university and Cleveland Clinic . Dont forget the basement can be arcade or converted into a 3rd bedroom complete with 4 roll away twin size bed or game room complete with air hockey, pool, ping pong , foose ball, and darts :) The living area has large flat screen television or your entertainment and fold out bed in the couch for extra sleeping room .
The space
This piece is unique because it offers a game room in the basement with ping-pong table, pool table, and air hockey. It also has a convertible three bedroom with for rollaway twin size bed in the basement, two full-size beds in the master bedroom and one queen size bed in the second bedroom. This home has plenty of space and an outdoor patio, this home is a great bang for your buck for large groups especially.
Guest access
Entire home all 3 levels and outdoor area
Other things to note
This is a magical space and I'm sure you will make wonderful memories in my home while visiting Cleveland.
---
---
Extra people $7 NZD / night after 2 guests
Always communicate through Airbnb
To protect your payment, never transfer money or communicate outside of the Airbnb website or app.
Learn more
---
Not safe or suitable for children (0-12 years)
Check in is anytime after 2PM
No parties or smoking in the home . Please notify me of any damages immediately and enjoy my home respectfully.
---
---
---
---
When we got to the place, it was disgusting. The carpets and floors where full of white paint, there was a huge pile of white dust under the sink, the kitchen was full of grease, the top of the refrigerator was full of garbage. The basement was a disaster, lots of beds, dust and trash stacked one over another. One of the worst things was the bathroom floor, it's literally the dirtiest I've ever seen. We didn't have any silverware to eat, anyway there were some plastic forks and knifes. THE ODOR OF THE PLACE IS AWFUL. We called him in order to let him know what was happening and neither him or the co host showed up at the place. We had to wait outside the house for 15 minutes because the host didn't know where were the keys. He told me to call someone that was in California and did not know either. I had to wait for him to call me again, give me a code and that's how we entered the house. The area shown in the map where the house is, is not the correct one. It says it is in Euclid Avenue, and it's not like that. For you to get there you have to walk at least 30 minutes. One of the most dangerous neighborhoods in Cleveland. No deliveries to the place. If you worry about your well -being, I DON'T RECOMMEND TO STAY HERE
---
What an absolutely disgusting, horrible, awful experience!!!! RENTER BEWARE!!! I text James a day prior to see if it was possible to check in 2 hrs (URL HIDDEN) RESPONSE.Check the place out,noticeably not a clean place w/ white paint on the dark blue floors in all the carpeted rooms,half the tiles missing on the front of the vanity (w/ glue exposed so don't touch it or you'll stick!, had to change my shirt once), 3 old water bottles under bed,etc. Seemed like an extremely unexperienced/ lazy painter and cleaning service. Then we go to checkout the back patio, but wait…the door is deadbolted from the inside, so we try the front door keys. Nope. We check the house and the 3 drawers all of them appear to be junk drawers (random paper, a tool here & there, used paper towel) but behold-two sets of keys! Nope. Didnt work. I text James again asking where are the keys. Think I got a response this time? Then we realize the grill and patio furniture are all downstairs in the basement (but no use if we can't get the backdoor open, right?!) I would like to note that this group of friends are made up of Chef/Server/Bartender & 1 thing we always do is cook a meal together on our annual meetup, it's just our thing, we had planned on staying in that night and had bought steaks and such prior to arriving. Then we all start attempting to connect to the internet with the password I was sent in my confirmation. Nothing. Text james again. Guess who didn't respond? I was sent the wrong password but was able to find another on the website that did work for the wifi, guess we paid to be our own detectives. Well with no response and no direction as to how to get out back it starts getting late (8:30PM) so we decide we have to scratch cooking and order pizza. Well GOOD LUCK with that! We called the 12 nearest pizza places (no joke, 12, we counted) and no one would deliver or could give us a place that (URL HIDDEN) definitely is a bad part of town, the " homes are fairly new construction" as it states on Airbnb is not true, like at all.Not even a little bit. Maybe in the next neighborhood but what was surrounding was old and run down. My boyfriend ran into the neighbor outside and asked if he knew of any place that delivers food here…the neighbor started laughing, and said uh no. So I decide to try emailing James through Airbnbs website. Finally, I get a return email a little after 10PM- James email read:" hello, please text **** she is local and there to help you. To get to the back yard you can walk around from the front door". WWWWHHHHHHAAAAATTTTTTTT??? Arent you the host, you don't know where you keep keys, or the internet password?? We didn't need someone local to stop by and show us...just...
---
The home was in an okay location. When we first walked in the home that had an awful odor, dirt on all the floors, and dust on the stove. We knew it was a smaller home that was not the big deal. The problem was it was filthy dirty there is paint all over the carpets with other stains that look like something burnt through the floor. The girl was located downstairs in the basement what you had to carry up a flight of stairs to get outside again not a big deal. However, the girl downstairs had charcoal in it all rusted up place next to three rollaway beds. I told the gentleman this information he told me it still worked. When we told him we were leaving and not staying one night within 15 minutes he had had his cleaning lady there to check on the home. But we had to come out the first time to clean the house cuz it was filthy dirty it took them over an hour to get there. He told me that she went right down stairs to check on the grill and it worked for her. I asked him you had her start the grill downstairs in the basement next to the three rollaway beds his answer was, yes. That I would think would have caused the fire. There is dust on the stove I can wipe with my fingers. A bar of soap left from the last person that stayed. My daughter had sat on the piece of glass in the living room on the floor. However, we knew there was no AC we was okay with that. It was a smaller look house or apartment again okay with that. The pictures he has online does not the full view of the backyard basically the backyard is that patio porch and that's all not fenced in like it appears it would be. He says he's really close to the neighbors and they watch the home and everything for him however I saw both sides of the neighbors not one of them blinked an eye at me. One of us was allergic to animals really bad to the point where you break out in hives and swell up. We mention this to him and he lives in California but he said he has never had an animal in the home. As soon as we have left the home the person who is allergic to animals quickly lost all reactions. There was mold downstairs in the basement and the ceiling area. If you would get this place fixed up it would be a nice home to rent for the weekend but not until that happens. The furniture was new very nice looking beds are very nice. I probably will not go back to the home just because of my first experience with this home. The game room though however it's just as he described. Thanks for taking the time to read this.
Hello potential bookers :) I just wanted to address the rest of the community about this malicious review. This guest as she stated only stayed 15 minutes in my home however she also states that he had a severe allergic reaction . This would not be possible in such a short period of time. I say this because I want the public to understand this guest is leaving irrational remarks in attempt to hurt my business . She states the home was "filthy" then states I had a house keeper there with in 15 minutes to address her concerns. There are a few paint stains on the carpet . Although its minor from when my painters put on fresh paint :) She states that I know my neighbors very well and that they did not bother her or her guests. She made this seem to be a negative thing however this is a positive that there is a sense of community & safety. The grill is in the basement . If you choose to use it feel free to use it outside and return the grill and patio furniture to the basement for storage once you check out. The grill is 5 years old and functions normally if you would like to use my grill feel free and if not I have a fully functioning kitchen for you and your guests . She claims the home is small however its a 2 bedroom 1 bath room with a basement and that is how its listed. She states its not fenced in how it appears however the patio in the back does have a fence thats in the photos she states a guest sat on broken glass however no broken glass was found anywhere before or after her arrival and no report was made to airbnb the only report of sitting on broken glass is on her review. I hope the community can see this guests review is lacking integrity . This is a home that does not allow pets . Her travel needs changed and when she asked my for a full refund because she had a emergency and could not stay I told her it would not be possible for full refund due to no notice given and I was unable to re-book all of the dates. Since she was upset with the refund policy she agreed to , she wrote the longest review I have received despite only being in my home as she stated for 15 min prior to her travel needs changing . THIS IS THE ONLY REASON SHE IS LEAVING A MALICiOUS REVIEW.
---
So the place is what it is, somewhere cheap where a lot of people can stay. It's in a rough neighborhood, was hot (though it never said it had AC so that's my fault), had cockroaches in the main rooms, and was beaten up to some extent. It is was it is like I said but I would be hesitant about going back.
---
You get what you pay for. This townhouse is in a bad neighborhood. THERE IS NO AIR CONDITIONING! THERE ARE NO SCREENS ON THE WINDOWS. We were left no fans or no toilet paper. There are roaches in the bathroom. There are no utensils. James was nice, but this place is a dump. We left 2 days early. Could not stand the heat and the noise. Stereo was thumping loud during the day and kids were screaming outside late at night.
---
Response rate:
98%
Response time:
within an hour
Explore other options in and around Cleveland
More places to stay in Cleveland: