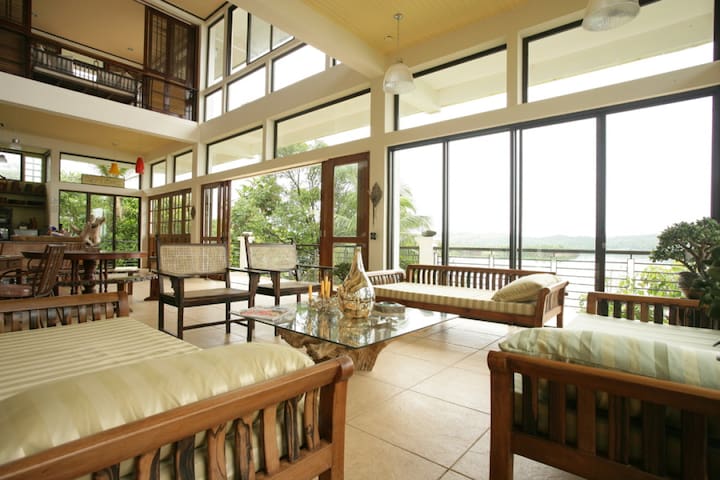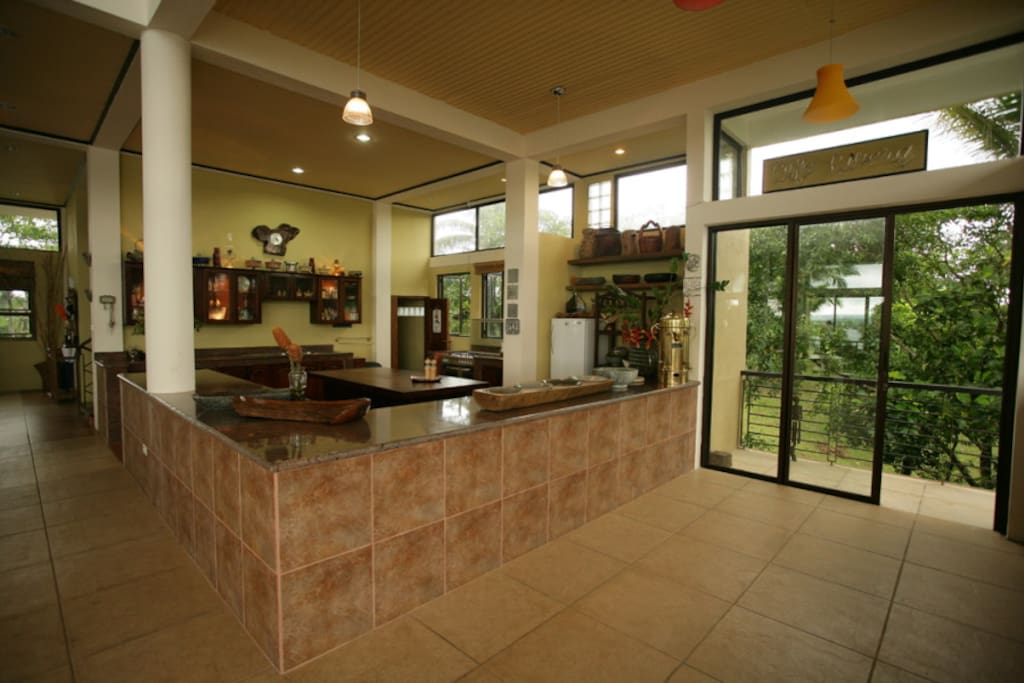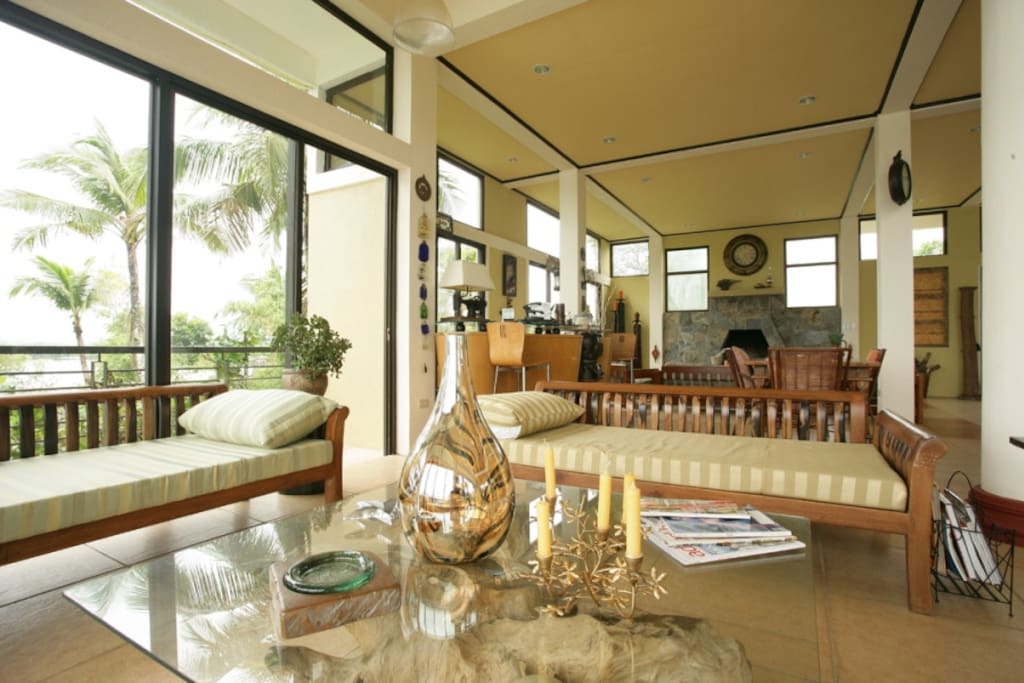 Casa Amore, also known as the Glass House by the Lake is a private rest house located at the center of Caliraya Lake which is nestled at the top of the Sierra Madre mountain range.
Our house sits on a hill at the tip of a peninsula thereby giving the guests a 300 degree view of the pristine fresh water lake with a comfortable cool and windy weather.
It is the ideal place to safely enjoy water sport activities, recharge or simply spend quality time with your family and friends.
The space
Casa Amore is conveniently accessible by car.
Being a functional home, guests can use the owners' kitchen, gas stove with oven, freezer, refrigerators, microwave oven, charcoal grill, hot and cold water dispenser with free mineral water, bread toaster, coffee maker, basic kitchen and dining ware.
Guests can also use the following water sports facilities for free: life vests, 4 kayaks, 2 pedal boats and two paddle boards that can be launched from the private pier. Guests can rent its 4 man fishing boat and three fishing rods.
Our house has a game room with various indoor games like chess, billiards, mahjong and poker table, darts, foosball, jenga, twister and word games.
Our house is an ideal place for pre nups and nature photography lovers.
Enjoy nature at its best with our panoramic windows, high ceiling and open veranda.
Guest access
Our cozy fireplace will keep you warm from the Amihan wind that blows over the Pacific Ocean during the months of November to March. The house has two verandas, The upper veranda has sun parasols, tables and chairs for a breezy lunch or romantic candle light dinner.
Our house is also a gallery of unique wooden items, tables, and old items like slot machine, ship accessories, old altars, camera etc.
Bike lovers, can bring their bikes or borrow our two bikes and ride thru the less traveled and scenic roads to Cavinti, Pagsanjan and up Caliraya zigzag road via Lumban
Interaction with guests
A caretaker/ life guard will be on standby to brief the guests on how to operate the water sport equipment, weather and the lake conditions throughout your stay.
One or two household help will be available to help you in the kitchen, set the dinner table, wash the plates , tidy up the dining table and kitchen. They can clean your rooms and bathrooms upon request.
Other things to note
Casa Amore is inside the Sierra Lakes Subdivision. It is 4 kilometers from the Cavint-Caliraya Highway. There are no nearby restaurants or supermarkets.
Guests are advised to bring or buy all the food and drinks they need at convenience stores or supermarkets along the way. You need to bring coolers with ice if you plan to buy fresh fish, vegetables or meat in the the wet market of Pagansjan or Lumban.
Bedroom 1
3 single beds, 1 sofa bed
Bedroom 2
2 double beds, 2 single beds
Bedroom 3
4 single beds, 1 sofa bed
Check-in is anytime after 2PM
CASA AMORE
HOUSE RULES
A) CHECK IN/CHECK OUT TIME
1) Check in time : 2 pm onwards
2) Check out time : 1 pm
3) Request for early check-in and late check-out are subject to availability of Casa Amore and we can only confirm it a day before actual rental date.
B) NUMBER OF GUESTS
Casa Amore can comfortably accommodate 14 persons.
Additional guests staying for the day will be charged P400 each/day. Those who will sleep overnight will pay 800/pax per night.
Our 3 air-conditioned bedrooms have the following bed configuration.
Room 1 4 single beds 4
Room 2 3 single bed(URL HIDDEN) 1 sofa bed 1
Room 3 2 queen size beds(URL HIDDEN) 2 single beds 2____(URL HIDDEN)Tota(URL HIDDEN) 14 pax
In excess of 14 pax, we have a suite (with a ceiling fan) on the upper floor with a king size bed and day bed. Our sofa in Room 1 is convertible to a bed. We have four floor mattresses that can be set up in any of the rooms. This brings our sleeping capacity to 22 pax.
Infants below 3 years old are free.
Drivers, household helpers, nannies and caregivers are included in the head count. A separate room with toilet and bath (good for three) is available for their use.

C) FACILITIES
1. Furniture
a) Care for our furniture and fixtures will be highly appreciated.
b) The owner's collections of artifacts are for viewing only.
2. Kitchen
a) SELECTED kitchen utensils, stove, microwave oven, toaster, water dispenser with mineral water, cookware and utensils are provided for the guests' use.
b) Please do not open kitchen cabinets without permission and assistance.
c) Diner ware, plates, and glass will be available for 14 to 22 guests only.
d) Guests are requested to bring their own condiments for cooking.
e) Guests are requested to bring pre cooked food for heating. Complicated cooking that requires extensive LPG use is discouraged.
f) Always ask for assistance in operating the stove/oven and other appliances.
3. Water Sport Facilities
a) All guests must be out of the water in cases of lightning, thunderstorms, strong wind and before sunset.
b) The caretaker will brief everyone on the proper use of the equipment and characteristics of the lake.
c) Only guests who know how to swim and who have been briefed on how to operate the equipment are allowed to use the water sport equipment. Night swimming is not allowed.
d) Always inform the caretaker before bringing the equipment into the lake.
e) Maximum weight for the pedal boat is 250lbs for the front seats and 100lbs for the rear seats.
f) We will not allow intoxicated, rowdy guest, and those who don't want to wear life vest from entering in the water.
g) Never leave children unsupervised.
h) Avoid horse playing or ramming of kayaks and boats in the lake.
i) When operating any water equipment, give priority to swimmers, kite boarders and windsurfers.
j) Do not ram the equipment on the pier or cemented stairs.
k) In case of emergency, wave your arms over your head and shoulders to attract the attention of the caretaker. Stay with the craft (if floating) at all times. Don't remove your PDF.
l) We have three fishing rods. Guests are required to bring their own lures (k4 type from trawling and Worm type from stationary fishing) Black Bass can be caught in Caliraya.
m) WE SHALL NOT BE LIABLE FOR ACCIDENTS IN THE WATER.
4. Indoor Games
a) Guests may request from the caretaker, the following indoor games they want to use; Billiard balls and cues, Mahjong set with chips, Chess, Dominos, Darts, Foosball, Poker cards, Jenga and Backgammon. Upon checking out, guest must surrender all items in good condition. Lost or damaged items will be paid by the guest.
5. Toilet Facilities
a) Please do not throw and flush tissue, napkin or diapers into the toilet bowl.
b) We provide pails in the comfort room as emergency water in case of power interruption.
6. Parking Slots
a) Please park in designated parking slots with paved bricks. Grass becomes slippery when wet.
7) Aircon Use
a) Enjoy the outdoors, fresh air and natural wind, turn on air-condition units only when someone is staying inside the room. Always close the doors and windows of rooms when aircon unit is on.
b) In case of a brownout, we will request the guest to turn off aircon units before we turn on the generator set.
8) Damages
a) Damage to property to our furnitures, kitchen ware, dining ware, indoor and outdoor games will be charged to the guest incase of negligence, carelessness, abuse, unruly behavior and failure to follow instructions.
D) LOUD MUSIC
a) Please tone down outdoor music after 9pm.
E) HOUSEHOLD HELPERS
a) We expect the guests to treat our household helpers and caretaker with respect. Profane language and rudeness will not be tolerated.
b) Helpers can be requested to stay in the maid's room on an "on-call basis" if the guests prefer not to have them on standby in the kitchen area.
F) SMOKING/DRINKING
a) SMOKING IS STRICTLY limited to the outdoors and verandas. Ashtrays will be provided at the veranda upon request. Please do not throw your cigarette butts in the garden or flower pots.
b) Drink moderately. If intoxicated, avoid vomiting on beddings, stay away from the veranda, do not swim or play with dangerous indoor games (darts and billiards).
c) Casa Amore is a drug free home.
G) CLEANLINESS
a) Please leave your slippers or shoes outside the entrance door if they are muddy or wet.
b) Please bring extra slippers for use inside the house to keep the house clean.
c) Please bring extra towels if you plan to do water sports so you can dry yourself in the pier area before going up to the house.
H) SECURITY
a) Guest may request for the keys to the rooms (replacement cost of the keys
lost by the guests will be 500 pesos each).
b) House helpers are not allowed to enter the room or comfort rooms unless requested by the guest to clean the room.
I) PETS
a) Guests are requested to seek prior approval from the owner to bring pets to Casa Amore.
b) Pre approved pets are allowed inside the house but the guest will be responsible for cleaning the urine and pooh inside the house and/ or the furniture's.
c) Pets are not allowed inside the rooms and on the sofa beds and chairs.
d) Guest will pay for damages done by pets on the furnitures, rug, fixtures and garden.
Should you have any question regarding the rules or complaints regarding our household helper and caretaker please get in touch with Mr. Francis Rivera at (PHONE NUMBER HIDDEN).
Explore other options in and around Cavinti
More places to stay in Cavinti: