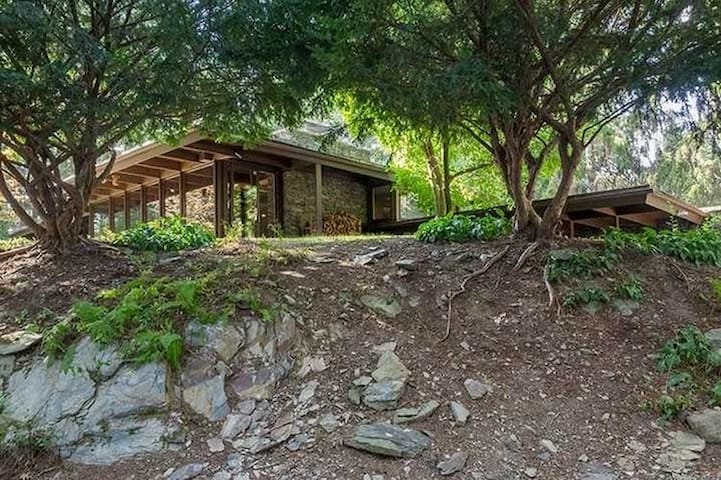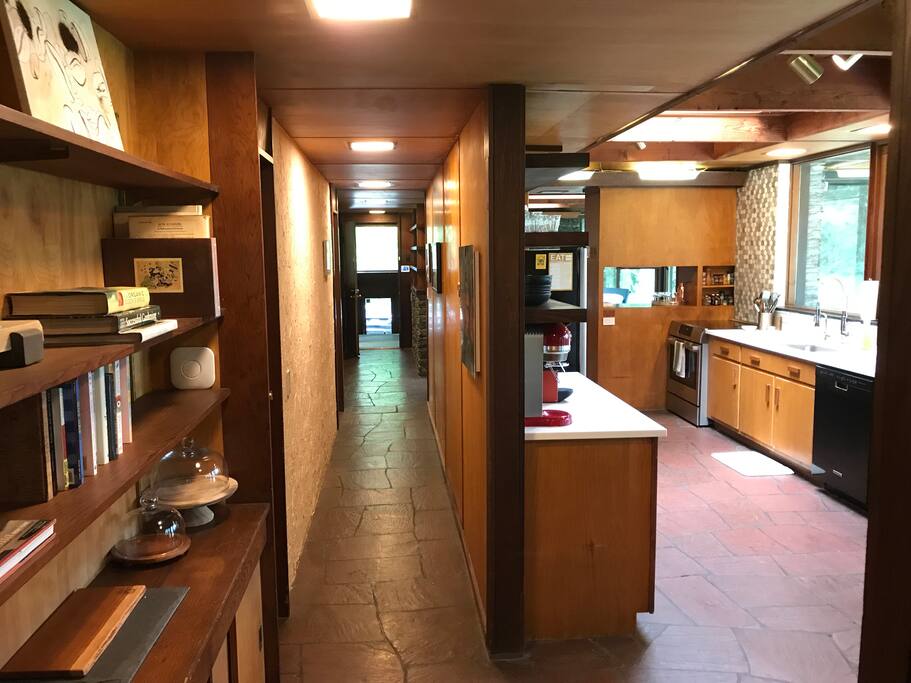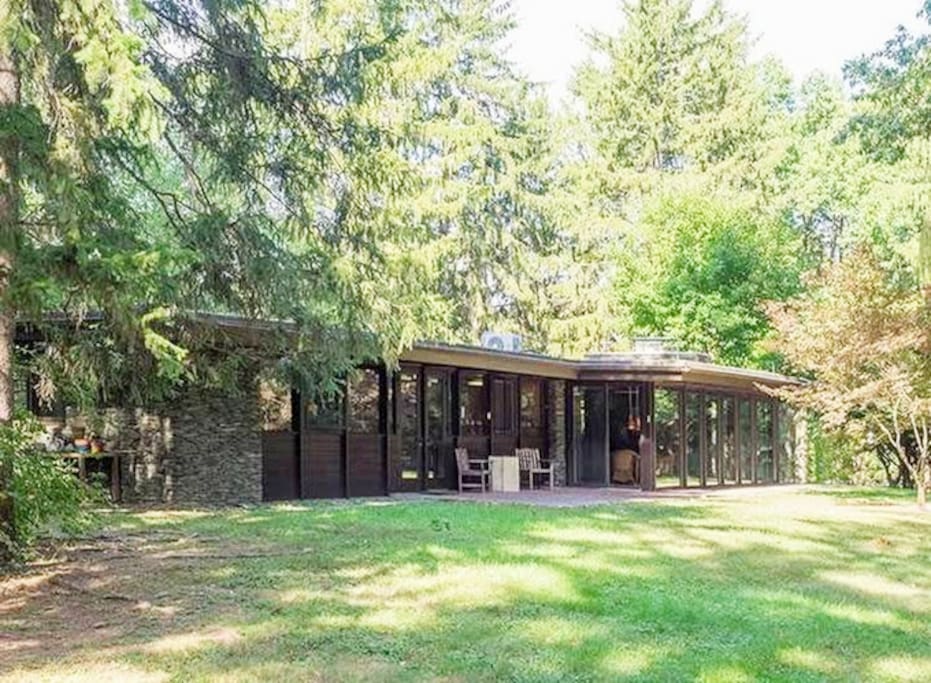 Secluded on a knoll of Norway Spruce, atop eight acres, Frank Lloyd Wright associate Aaron Resnick's Mid-Century Modern (MCM) design is a classic example of organic Usonian architecture. This Usonian home features a completely private setting with a pool. This home is ideal for one couple or a maximum of two adult couples.
The home is located in the heart of the Hudson Valley, minutes from Bard College, DIA Beacon, Millbrook Winery, Rhinebeck and Walkway over the Hudson.
The space
The Calabi-Picker residence was designed and built in 1954. It enjoys 360-degree seasonal views of the Hudson River Valley. The home is nestled into its setting with minimal changes in elevation. The 2000 s.f. residence integrates its interior and exterior living areas with the use of open space, glass, stone and wood. The design creates a consonant harmony with nature. The formal entrance is the side of a carport (another well-known MCM design element). A short flight of stairs up a stone-walled hallway quickly leads to the main living area with walls of glass; an open wall with minimal built-in, redwood shelving; vibrant red stone floors and a layered blue-stone fireplace. Lighting, both direct and indirect, is discretely hidden in the cedar ceiling. Glass doors in the living room lead to a red stone patio and gardens, the red stone carrying through from inside to outside. The kitchen retains its original birch cabinetry, decorative tile work and built-ins. It opens to a study and hallway that leads to the master bedroom and bath, two bedrooms, bath with laundry and den. The bathrooms still have their original tile work and birch cabinets.
Guest access
Guest will have access to master bedroom, guest bedroom, bathrooms, living room, dining room, pool, and carport.
Interaction with guests
I will be available via phone and will coordinate check-in and check-out.
Other things to note
The last renovation designed by Resnick in 1986 for the late Henriette Simon Parker, a celebrated painter and fashion designer, was the conversion of an outside veranda into an art studio.
There are three security cameras on the exterior of the property only. They are clearly visible and monitor the driveway, front door, and the pool area, as part of the security system for the residence.
---
This listing has essential business travel amenities.
---
---
Not safe or suitable for children (0-12 years)
Check in time is 3PM - 5PM
USE OF PREMISES. The Premises shall be used and occupied by Lessee, exclusively, as a private single family dwelling, and no part of the Premises shall be used at any time during the term of this Lease Agreement by Lessee for the purpose of carrying on any business, profession, or trade of any kind, or for any purpose other than as a private single family dwelling. This includes still and motion photography for editorial or commercial purposes. Lessee shall not allow any other person, other than Lessee's immediate family or transient relatives and friends who are guests of Lessee, to use or occupy the Premises without first obtaining Lessor's written consent to such use. Lessee shall comply with any and all laws, ordinances, rules and orders of any and all governmental or quasi-governmental authorities affecting the cleanliness, use, occupancy and preservation of the Premises. Lessee shall not allow smoking on the Premises.
ASSIGNMENT AND SUB-LETTING. Lessee shall not assign this Agreement, or sub-let or grant any license to use the Premises or any part thereof.
ALTERATIONS AND IMPROVEMENTS. Lessee shall make no alterations to the buildings or improvements on the Premises or construct any building or make any other improvements on the Premises without the prior written consent of Lessor. (By way of example and not limitation, Lessee shall not install or affix satellite television or any other appliance to the Premises without the prior written consent of Lessor.) Any and all alterations, changes, and/or improvements built, constructed or placed on the Premises by Lessee shall, unless otherwise provided by written agreement between Lessor and Lessee, be and become the property of Lessor and remain on the Premises at the expiration or earlier termination of this Agreement.
HAZARDOUS MATERIALS. Lessee shall not keep on the Premises any item of a dangerous, flammable or explosive character that might unreasonably increase the danger of fire or explosion on the Premises or that might be considered hazardous or extra hazardous by any responsible insurance company.
MAINTENANCE AND REPAIR; RULES. Lessee will, at its sole expense, keep and maintain the Premises and appurtenances in good and sanitary condition and repair during the term of this Agreement. Without limiting the generality of the foregoing, Lessee shall:
Not obstruct the driveways, which shall be used for the purposes of ingress and egress only;
Not obstruct or cover the windows or doors;
Not leave windows or doors in an open position during any inclement weather;
Not hang any laundry, clothing, sheets, etc. from any window, rail, porch or balcony nor air or dry any of same within any yard area or space;
Not cause or permit any locks or hooks to be placed upon any door or window without the prior written consent of Lessor;
Keep all lavatories, sinks, toilets, and all other water and plumbing apparatus in good order and repair and shall use same only for the purposes for which they were constructed.
Lessee shall not over-stuff toilets nor allow any sweepings, rubbish, sand, rags, ashes or other substances to be thrown or deposited therein. Any damage to any such apparatus and the cost of clearing stopped plumbing resulting from misuse shall be borne by Lessee;
Lessee's family and guests shall at all times maintain order in the Premises and at all places on the Premises, and shall not make or permit any loud or improper noises, or otherwise disturb other residents;
Keep all radios, television sets, stereos, phonographs, etc., turned down to a level of sound that does not annoy or interfere with other residents;
Deposit all trash, garbage, rubbish or refuse in closed garbage cans at the side of house and shall not allow any trash, garbage, rubbish or refuse to be left in the open or permitted to stand on the exterior of any building or within the common elements.
Lessee is expected to provide a reasonable amount of cleaning of the kitchen area including loading dishwasher, wiping down counters, and depositing trash with food waste in designated containers. Failure to do so will result in extra cleaning fees.
Usually, late check outs often cannot be accommodated due to the cleaning schedule. Later check out will be charged $100 from the security deposit if the cleaners arrive and cannot start working.
INSPECTION OF PREMISES. Lessor and Lessor's agents shall have the right at all reasonable times during the term of this Lease Agreement to enter the Premises for the purpose of inspecting the Premises and all buildings and improvements thereon and for the purposes of making any repairs, additions or alterations as may be deemed appropriate by Lessor for the preservation of the Premises or the building. Lessor and its agents shall further have the right to exhibit the Premises.
SURRENDER OF PREMISES. Upon the expiration of the term hereof, Lessee shall surrender the Premises in as good a state and condition as they were at the commencement of this Agreement.
INDEMNIFICATION. Lessor shall not be liable for any damage or injury of or to the Lessee, Lessee's family, guests, invitees, agents or employees or to any person entering the Premises or the building of which the Premises are a part or to goods or equipment, or in the structure or equipment of the structure of which the Premises are a part, and Lessee hereby agrees to indemnify, defend and hold Lessor harmless from any and all claims or assertions of every kind and nature.
ATTORNEYS' FEES. Should it become necessary for Lessor to employ an attorney to enforce any of the conditions or covenants hereof, including the collection of rentals or gaining possession of the Premises, Lessee agrees to pay all expenses so incurred, including a reasonable attorneys' fee.
GOVERNING LAW. This Agreement shall be governed, construed and interpreted by, through and under the Laws of the State of New York and the parties hereto consent to the personal jurisdiction of the courts of the State of New York.
SEVERABILITY. If any provision of this Agreement or the application thereof shall, for any reason and to any extent, be invalid or unenforceable, neither the remainder of this Agreement nor the application of the provision to other persons, entities or circumstances shall be affected thereby, but instead shall be enforced to the maximum extent permitted by law.
BINDING EFFECT. The covenants, obligations and conditions herein contained shall be binding on and inure to the benefit of the heirs, legal representatives, and assigns of the parties hereto.
MITIGATION. In the event of a breach by Lessee of this Agreement, Lessor shall use all reasonable efforts to re-rent the Premises in order to mitigate the damages resulting from Lessee's breach.
DESCRIPTIVE HEADINGS. The descriptive headings used herein are for convenience of reference only and they are not intended to have any effect whatsoever in determining the rights or obligations of the Lessor or Lessee.
NON-WAIVER. No indulgence, waiver, election or non-election by Lessor under this Agreement shall affect Lessee's duties and liabilities hereunder.
MODIFICATION. The parties hereby agree that this document contains the entire agreement between the parties and this Agreement shall not be modified, changed, altered or amended in any way except through a written amendment signed by all of the parties hereto.
WEATHER. The house is in a remote location. No refunds will be issued due to so called "acts of God", weather, or power outages of less than 6 hours. A four wheel drive vehicle is required to access the property whenever there is snow.
---
Recently moved from Manhattan to the Hudson Valley. Admirer of architecture, design, and independent films.
Languages:
English, Español
Explore other options in and around Lagrangeville
More places to stay in Lagrangeville: