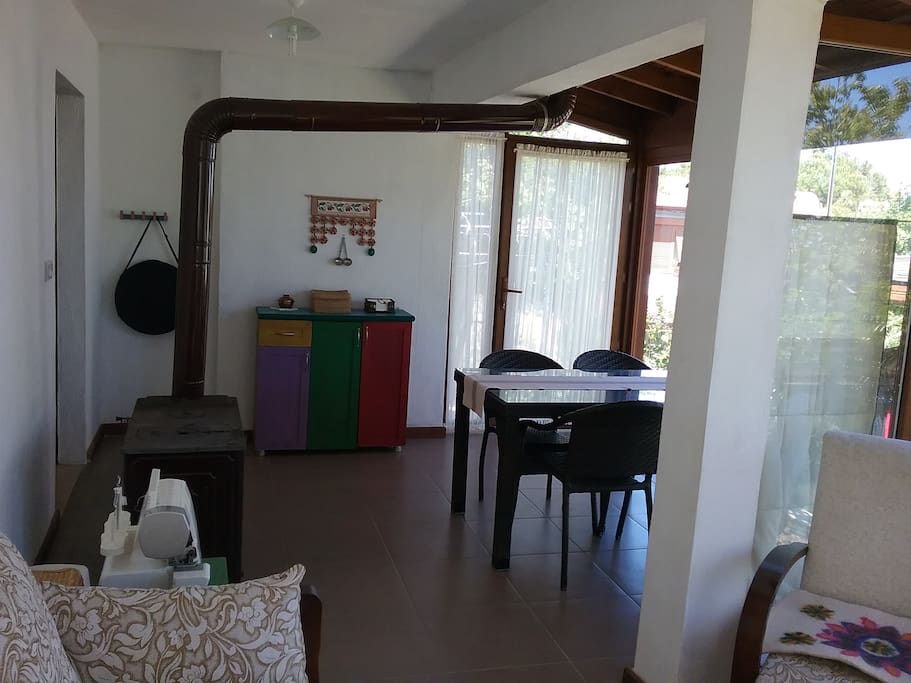 * 300 m to the sea * 100 m to Migros Jet * 200 m to Şok Market * 300 m to the Market (Wednesdays) * 200 m to the oven 800 m to the bazaar With its natural micro air conditioning feature, it is a paradise with almost no winter season, with no humidity, clean air with plenty of oxygen and you can make holiday without sweating. It is one of the 100 earthquake points that need to be urgently protected by the World Environment Conservation Foundation in 1999. From the port of Datca, you can visit the roundabouts on the morning of the day and the surrounding villages and bikes. In short day tours, we go back to the center of Mesudiye Hayıtbükü. The longest destination is Knidos. In the course of going and turning, there is a swimming and eating area. Among the important coves and bends that you are attracted to are the Kargı Bay, Aquarium, Pig Pukuru, Dilek Cave, Hayıtbükü, Kızılbük and Palamutbükü. You can see the Selimiye, Dirsek Burnu, Aktur, Dimitri Bay, Bencik and Dişlice islands on day tours organized by Hisarönü side. There is no regular ferry service to the island of Simi, Greece, 6 nautical miles from Datça. However, daily tours are organized with small capacity commercial yachts serving the port. Visa is required, visa is not applied at the door. All kinds of water sports can be done in Datça. It is an ideal place for surfing and sailing enthusiasts. Conditions are not so profound for surfing but there is no wave of shallow water, and appropriate winds are required from the sea to land or from land to sea, not parallel to the land. It's all in Datça. When you go to Gebekum and Periliköşk, you can study in the surfing and sailing centers that operate in the district. For those who are interested in underwater diving, the bottom of the Datça coils is worth seeing. You can dive a clean dive in clean, clean glass, and watch untouched creatures in their natural surroundings. Datça has many endemic species underwater as it is on the water. Datça has some culinary culture, a little bit of the sea. The sea does not give flock fish, but they have very delicious fish. Among the traditional dishes of Datça, İKOK is at the front. The wrapping of leaves is absolutely the place to take place in vicious traditional wedding tables. Among the tea made with Datça herbs with interesting names are Elmasçık, Narpiz, Garagan, Sepsuyu, Karabaş, Nettag. The sine qua non of the Sofras is made with the famous Datça almond.
* Denize 300 m
* Migros Jet'e 100 m
* Şok Market'e 200 m
* Semt Pazar'ına 300 m (Çarşamba Günleri)
* Fırın'a 200 m
* Çarşı'ya 800 m
Doğal mikro klima özelliği ile nemsiz, bol oksijenli tertemiz havası ile terlemeden tatil yapabileceğiniz, kış mevsiminin hemen hemen hiç yaşanmadığı cennet bir yarımadadır. 1999'da Dünya Çevreyi Koruma Vakfı tarafından belirlenen acil olarak korunması gereken 100 yeryüzü noktasından bir tanesidir.
Datça limanından sabah kalkan günü birlik gezi tekneleri ile çevredeki koyları ve bükleri gezebilirsiniz. Kısa günlük turlarda merkezden Mesudiye Hayıtbükü koyuna kadar gidilip dönülüyor. Uzun turlarda hedef noktası ise Knidos. Gidiş ve dönüşte koylarda yüzme ve yemek molası veriliyor. Uğranılan önemli koy ve bükler arasında Kargı Koyu, Akvaryum, Domuz Çukuru , Dilek Mağarası, Hayıtbükü, Kızılbük ve Palamutbükü yer alıyor. Hisarönü tarafına düzenlenen günü birlik turlarda ise Selimiye, Dirsek Burnu, Aktur, Dimitri Koyu, Bencik ve Dişlice adasını görebilirsiniz.
Datça'dan 6 deniz mili uzaklıktaki Yunanistan–Simi adasına düzenli bir feribot seferi bulunmamaktadır. Ancak limanda hizmet veren küçük kapasiteli ticari yatlarla günübirlik turlar düzenleniyor. Vize alınması gerekiyor,kapıda vize uygulaması yapılmıyor.
Datça'da her türlü su sporu yapılabilir. Sörf ve yelken meraklıları için oldukça ideal bir yerdir. Sörf için çok derin olmayan ama sığlık yerlerin dalgasının da olmadığı, uygun kuvvette rüzgarın denizden karaya veya karadan denize değil de karaya paralel esmesi gibi şartlar gerekiyor. Datça'da bunların hepsi bir arada. Gebekum'a ve Periliköşk'e gittiğinizde ilçede faaliyet gösteren sörf ve yelken merkezlerinde eğitim alabilirsiniz.
Sualtı dalış sporuna meraklı olanlar için Datça Koylarının dip zenginliği görülmeye değer. Kirlenmemiş, tertemiz cam gibi sularda dingin bir dalış yapabilir, ürkmemiş canlıları doğal ortamlarında izleyebilirsiniz. Datça su üstünde olduğu gibi sualtında bir çok endemik türü barındırmaktadır.
Datça'nın biraz toprağa biraz denize bağlı bir mutfak kültürü var .Sofraların olmazsa olmazı badem. Denizi, sürü balıkları vermiyor ama çok lezzetli balıkları var.
Datça'nın geleneksel sayılabilecek yemekleri arasında keşkek ön sıradadır. Yaprak sarma, kısır geleneksel düğün sofralarında yerini alır mutlaka. İlginç adlarıyla Datça otlarıyla yapılan çaylar arasına Elmasçık, Narpız, Garağan, Sepsuyu, Karabaş, Isırgan sayılabilir. Sofraların olmazsa olmazı ise ünlü Datça bademiyle yapılan bademli incirdir.
---
---
Always communicate through Airbnb
To protect your payment, never transfer money or communicate outside of the Airbnb website or app.
Learn more
---
Common spaces
1 double bed, 1 single bed, 2 sofas
---
Check in time is 2PM - 4PM
- Komşularla ve çevreyle iyi geçinme
- Evin ve içindeki eşyaların düzgün ve temiz kullanımı
---
---
TC Basbakanlik'tan 2006 yılında müfettiş olarak emekli oldum. Emekli matematik öğretmeni olan 42 yillik eşim ile birlikte 10 senedir Datca'da yaşıyorum. Arasıra oğlumu ve gelinimi, akrabalarımı veya arkadaşlarımı ziyarete giderken sürekli yaşadığım Datca'daki evimi kısa sureligine deniz kenarinda tatil yapmak isteyen ailelere kiraya verip ekonomi yapabilmek istiyorum.
Explore other options in and around Datça
More places to stay in Datça: