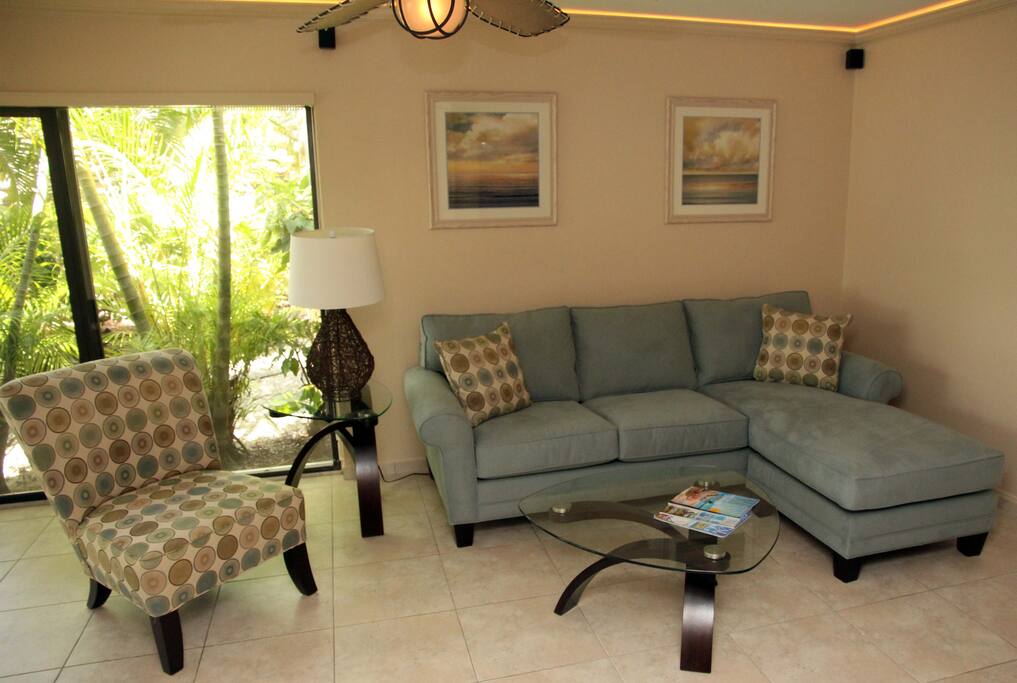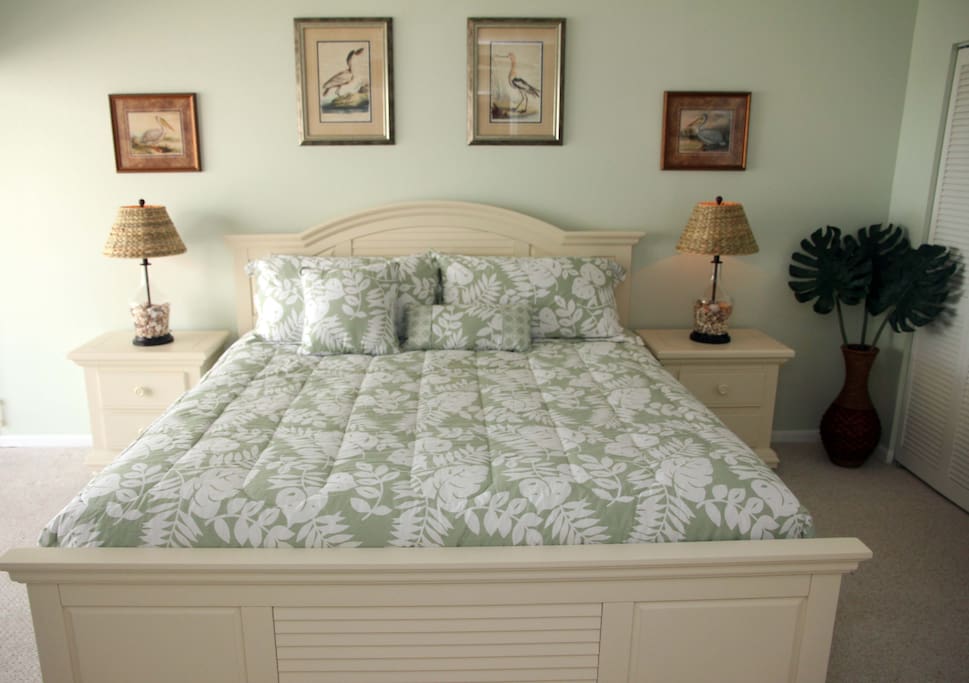 Sunset Oasis is the townhouse with the perfect location within the popular community of Moon Bay. Just steps to the marina and pool. From the luxury and comfort of the living room or master bedroom you will enjoy a beautiful marina and bay view. Step out onto the first floor floor screened porch and get an even better view. These porch areas are where you will probably spend a lot of time relaxing, reading, doing things on your computer, eating and enjoying the company of friends and family.
The space
September 25nd 2017
I am happy to report that Moon Bay was not affected much. We had power throughout the storm!!! Our cable and internet came back on the 16th. Our beautiful pool has been up and running since two days after the storm. We lost some trees (better views), the front fence which was being replaced soon anyway, and the fish cleaning station which will be replaced soon. Both of my places at Moon Bay were not damaged.
In Key Largo, most bars and restaurants have re-open. All of the restaurants and bars that you can easily walk to are open! I saw on TV last night that all of the Florida Keys now has power. Only small pockets don't have power for safety reasons. Even two of the hard hit restaurants, The Hideout and Snappers are open. The Hideout has the full menu. Snappers is doing a happy hour thing with a special menu while they rebuild at an amazing pace.
Hurricane Irma impacted most of the Florida Keys. The lower middle Keys (remember the Florida Keys is an island chain of over 100 miles) were affected the most. Key West is coming back really quickly and many restaurants and bars are open as well. We are going to Key West on Friday.
Diving and fishing will probably better than ever! The Keys locals don't look for a hand out, just a hand up, so please come and I assure you that you will be inspired!
Remember, Sunset Oasis is a premium townhouse not an apartment style condo. It is located at one of the best locations within Moon Bay
Guest access
You can use all of the awesome Moon Bay amenities during your stay. Boat slip is available for a fee of $15.00 per day.
Other things to note
Included in the daily rate is the 5% Monroe County tourist development tax which we pay to the county

SUMMER/FALL SPECIALS-enjoy the lowest rates of the year for stays now through November! If your dates aren't showing as available, call or email us, we own three other five guest rated properties for your Stay In Key Largo that might have availability!
---
---
Security Deposit $443 NZD
Always communicate through Airbnb
To protect your payment, never transfer money or communicate outside of the Airbnb website or app.
Learn more
---
Common spaces
1 sofa bed, 1 floor mattress
---
Check in time is 4PM - 2AM (next day)
Prior to booking Sunset Oasis, read the rental agreement. When you submit payment (partial or full) at time of booking you agree to all of the terms and conditions of the rental agreement. Please filling your home address, cell home number(s), and sign prior to returning the agreement within 48 hours after reserving.
This Short Term Rental Agreement ("Rental") is entered by and between Stay In Key Largo, LLC., 5379 Lyons Road #184, Coconut Creek, FL. 33073 hereinafter referred to as: "Landlord" and Your Name, (and spouse's if married) and Address: ___________________________________________________________________________________________________________________________________________________("Vacation Rental Tenant") cell phone number: ___________________________________ hereinafter referred to as "Tenant" on above date. Landlord and Tenant may collectively be referred to as the "Parties". This Rental creates joint and several liabilities in the case of multiple Tenants. The Parties agree as follows:
PREMISES: Landlord hereby Rents the Premises and Household Items located at: 104350 Overseas Highway, Key Largo, FL 33037 to Tenant.
RENTAL TERM: RENTAL TERM: The AirBnB rental will start on (your AirBnB arrival date) at 4:00 p.m. and will end on (your AirBnB departure date) at 11:00 a.m.
RENTAL PAYMENTS: Rental terms and payments are made according to the terms on our AirBnB account.
SECURITY DEPOSIT: Tenant is responsible for any damages caused by Tenant, Tenant's family, agents, and visitors to the Premises and Household Items during the term of this Rental. Landlord may use part or all of the security deposit (if any) to repair any damage to the Premises and Household Items caused by Tenant, Tenant's family, agents and visitors to the Premises and Household Items. However, Landlord is not just limited to the security deposit amount and Tenant remains liable for any balance. If Tenant breaches any terms or conditions of this Rental, Tenant shall forfeit any deposit, as permitted by law. The security deposit (less any deductions if applicable) will be refunded by landlord to the tenant within 14 days after departure.
SMOKING INSIDE: Smoking inside the house is prohibited. Smoking is allowed outside on the porch area. There is a cleaning fee of up to $250.00 if anyone, including your guests, smoke inside the house.
QUIET ENJOYMENT: Tenant shall be entitled to quiet enjoyment of the premises, and Landlord will not interfere with that right, as long as Tenant pays the rent in a timely manner and performs all other obligations under this Rental.
POSSESSION AND SURRENDER OF PREMISES: Tenant shall be entitled to possession of the Premises on the first day and time of the Rental Term. At the expiration of the Rental, Tenant shall peaceably surrender the Premises to Landlord or Landlord's agent in good condition, as it was at the commencement of the Rental.
USE OF PREMISES: Tenant shall only use the Premises as a vacation residence. The Premises shall not be used to carry on any type of business or trade, without prior written consent of the Landlord. Tenant will comply with all laws, rules, ordinances, statutes and orders regarding the use of the Premises
OCCUPANTS: Tenant agrees that no more than 6 persons may reside on the Premises, without prior written consent of the Landlord.
ASSIGNMENT AND SUBRENTAL: Tenant shall not assign or sub-rental any interest in this Rental without prior written consent of the Landlord, which consent shall not be unreasonably withheld. Any assignment or sub-rental without Landlord's written prior consent shall, at Landlord's option, terminate this Rental.
HOMEOWNERS ASSOCIATION RULES AND REGULATIONS: Tenant will be provided and guide with the rules and regulations of the Moon Bay Condo Association and agrees to comply with said rules and regulations.
DANGEROUS MATERIALS: Tenant shall not keep or have on or around the Premises any item of a dangerous, flammable or explosive character that might unreasonably increase the risk of fire or explosion on or around the Premises or that might be considered hazardous by any responsible insurance company.
PETS: Tenant shall not keep any Pets on the Premises (Moon Bay policy for renters)
ALTERATIONS AND IMPROVEMENTS: Tenant agrees not to make any improvements or alterations to the Premises without prior written consent of the Landlord.
RIGHT OF INSPECTION: Tenant agrees to make the premises available to Landlord or Landlord's agents for the purposes of inspection, making repairs or improvements, or to supply agreed services or show the premises to prospective buyers or tenants, or in case of emergency. Except in case of emergency, Landlord shall give Tenant reasonable notice of intent to enter. For these purposes, twenty-four (24) hour notice shall be deemed reasonable. Tenant shall not, without Landlord's prior written consent, add, alter or re-key any locks to the premises. At all times Landlord shall be provided with a key or keys capable of unlocking all such locks and gaining entry.
SECURITY: Tenant understands that Landlord does not provide any security alarm system or other security for Tenant or the Premises. In the event any alarm system is provided, Tenant understands that such alarm system is not warranted to be complete in all respects or to be sufficient to protect Tenant or the Premises. Tenant releases Landlord from any loss, damage, claim or injury resulting from the failure of any alarm system, security or from the lack of any alarm system or security.
SEVERABILITY: If any part or parts of this Rental shall be held unenforceable for any reason, the remainder of this Agreement shall continue in full force and effect. If any provision of this Rental is deemed invalid or unenforceable by any court of competent jurisdiction, and if limiting such provision would make the provision valid, then such provision shall be deemed to be construed as so limited.
BINDING EFFECT: The covenants and conditions contained in the Rental shall apply to and bind the parties and the heirs, legal representatives, successors and permitted assigns of the parties.
GOVERNING LAW: This Rental shall be governed by and construed in accordance with the laws of the State of Florida.
ENTIRE AGREEMENT: This Rental constitutes the entire agreement between the parties and supersedes any prior understanding or representation of any kind preceding the date of this Agreement. There are no other promises, conditions, understandings or other agreements, whether oral or written, relating to the subject matter of this Rental. This Rental may be modified in writing and must be signed by both Landlord and Tenant.
CUMULATIVE RIGHTS: Landlord's and Tenant's rights under this Rental are cumulative, and shall not be construed as exclusive of each other unless otherwise required by law.
WAIVER: The failure of either party to enforce any provisions of this Rental shall not be deemed a waiver or limitation of that party's right to subsequently enforce and compel strict compliance with every provision of this Rental. The acceptance of rent by Landlord does not waive Landlord's right to enforce any provisions of this Rental.
INDEMNIFICATION: To the extent permitted by law, Tenant will indemnify and hold Landlord and Landlord's property, including the Premises, free and harmless from any liability for losses, claims, injury to or death of any person, including Tenant, or for damage to property arising from Tenant using and occupying the Premises or from the acts or omissions of any person or persons, including Tenant, in or about the premises with Tenant's express or implied consent except Landlord's act or negligence
LEGAL FEES: In the event of any legal action by the parties arising out of this Rental, the losing party shall pay the prevailing party reasonable attorneys' fees and costs in addition to all other relief.

IN WITNESS WHEREOF, the parties have caused this Rental to be executed the day and year first above written.
LANDLORD:
___________________________________________________
Stay In Key Largo, LLC. Dean S. Lichtenwalner
(Name & Date)

TENANT:
____________________________________________________
___________________________________
(Name & Date)

TENANT:
____________________________________________________
___________________________________
(Name & Date)
---
---
---
We live in Fort Lauderdale, Florida area and have other vacation rental properties in Key Largo (at Moon Bay and Ocean Pointe) and a house in Costa Rica. We love so many different things about the Keys, including boating, fishing, diving, dining out and the beautiful sunsets.
Response rate:
100%
Response time:
within an hour
Explore other options in and around Key Largo
More places to stay in Key Largo: