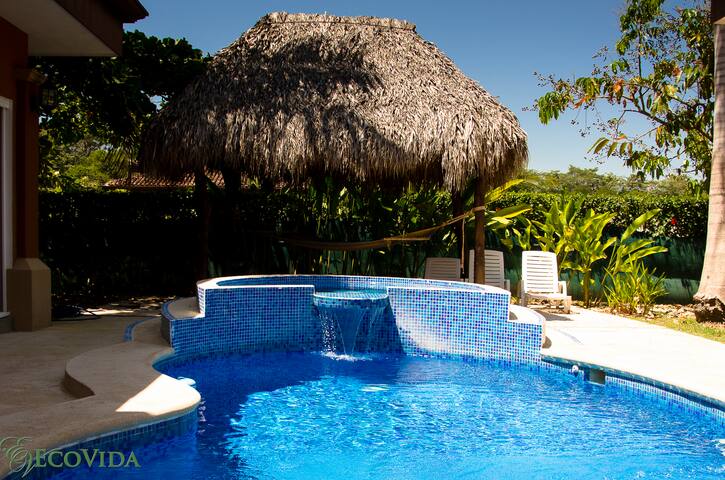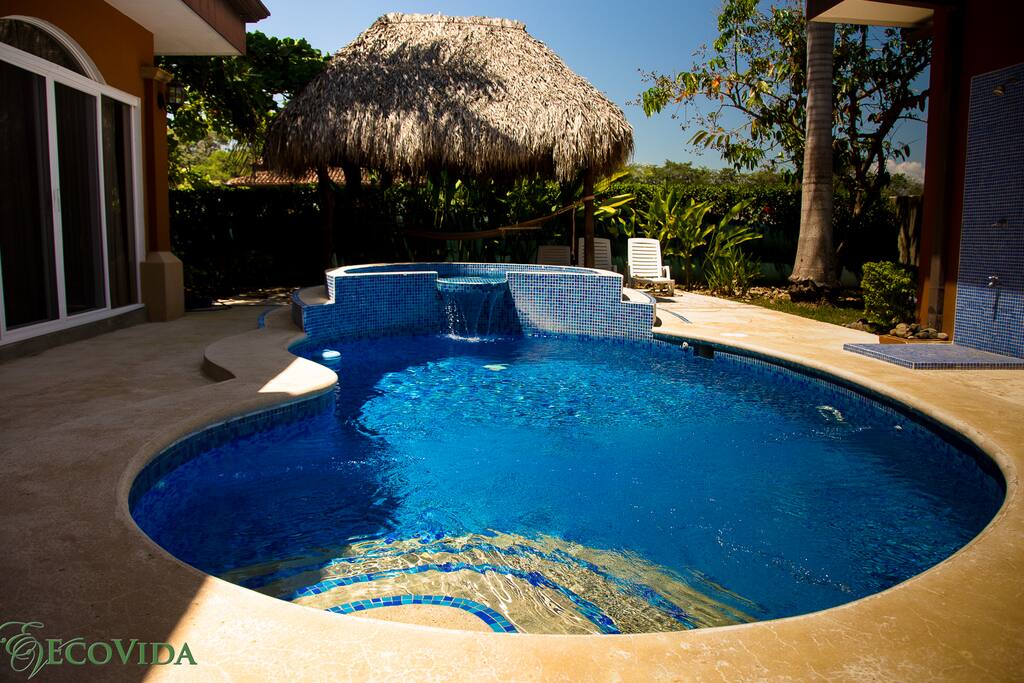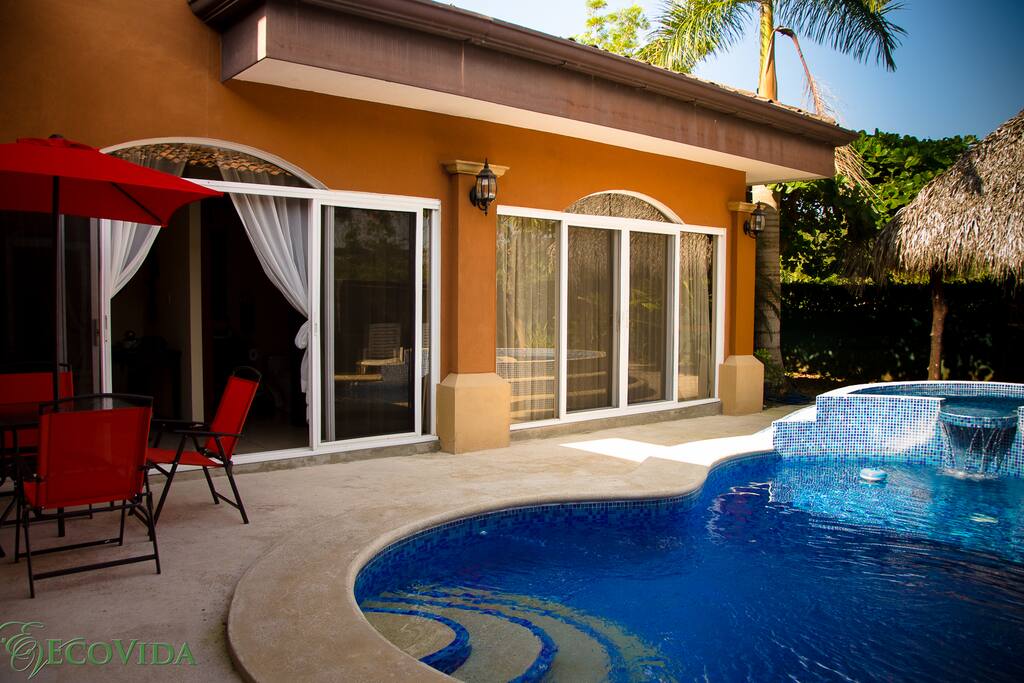 Super private home with Pool - Short walk to beach
Playa Bejuco is in the top 11 cleanest beaches in all of Costa Rica and has a 3 star Blue Flag designation. We are inside a secure, gated community with community pools and a tennis court. This is one of the most private homes we have due to U-shaped design, and we have previously only marketed this home through other big travel sites. As we put a few of our properties on Airbnb recently and love the concept, we are offering special pricing ONLY for Airbnb guests!!
The space
About 7 or 8 years ago, we started marketing our beach properties and those of our friends with the concept befitting our name, which separated electricity use from the cost of the rental – in order to reduce over-consumption. We started with our first investment in the San Jose suburb called Escazu and made it the number one rated vacation rental in the San Jose metro area almost 10 years ago on a major travel site (probably blocked by Airbnb, so we won't mention the name!), but there is no need for multiple air conditioners in that climate so the costs were easy to anticipate.
Unfortunately, at the beach it is a different story.
Our model at the beach has worked great for years, but is almost impossible to fit into the Airbnb business model since normally we collect a deposit and then deduct electricity usage from the security deposit after our guests depart and the home is verified and the meter readings are calculated. The cost of electricity is high in Costa Rica and because homes like this have 4-5 air conditioners, the variable cost of electricity can do serious harm to our environment when people abuse their use (like leaving windows open and running the A/C units all day – yes… this has happened!) The impact that local and foreign guests have on the electricity grid during high and peak season can be substantial and our model reduced the amount of electricity significantly, while allowing guests to stay at extremely affordable prices. Those that used A/C responsibly were often surprised at what a great value they received. Of course, every home not managed by us in the area copied our model with mixed results, not understanding how electricity is actually calculated on a tiered system.
Our advantage is that we not only own properties, but we own the company that manages them along with other people's properties! Our office is open 6 days a week and you are always welcome to come in and ask questions about local activities, tours, or simply send us an email if you have any problems at all. Things do break down at the beach, unfortunately, but our team has the resources behind them to solve problems as quickly as possible. Our office is just across the street from the community this house is located in.
In order to fit the Airbnb model and provide introductory pricing for our most private home, called EcoVida Casa de los Sueños, we have decided to offer special pricing and include up to $20 per day of electricity in the rental. The warning here is that you must agree to pay any excess electricity out of the security deposit through Airbnb. We have calculated that the large majority of our guests average well under this amount so unless you were to abuse the usage of electricity, just like abusing the contents of the house, there should be no problem! We will lean towards any guests that have previous reviews, but consider everyone, of course!
What EcoVida Casa de los Sueños includes:
•Air conditioning in all 3 bedrooms and living area (kitchen and living room)
•Equipped Kitchen - Stove/oven, fridge, blender, coffee maker
•Washer and dryer in home* Remember, the dryer consumes a lot of energy! Hang to dry to conserve when possible!
•Cable TV
•Wifi Internet
•Private Pool in beautiful backyard setting
•Rancho
•Hot Water throughout
•Maid/Cleaning Service Available – we have a staff but in busy times, cleaning has to be scheduled ahead of time, but guests in Airbnb properties will get priority. (Please inquire for cost)
•Up to 6 guests including adults and children
Although we recommend a car, there are great restaurants all around us within walking distance, yet we're still in a rural setting. We have the Town Center, a 5 minute walk in the opposite direction from the beach on the highway, which has a supermarket, gym, day spa and some great restaurants. Closer to the beach, we have our favourite restaurant, Sunsets, which hosts local and international fare at affordable prices. Of course, with the kitchen area and gas BBQ outside, it's always nice to cook and eat by the private pool!
Our beach is super tranquil and we are proud of our community's effort to keep our beach clean and meet the requirements of a Blue Flag beach in Costa Rica. We have worked hard with select community members to make our beach one of the most desirable in all of Costa Rica. Not everyone participates, but we are on the committee to help keep our beach one of the best in Costa Rica. Because we have a very gradual slope into the ocean, the beach is huge during low tide and you will find many people running and biking on the packed sand. The palm fringed, soft cinnamon sand beach is ideal for sun worshippers, surfers and beachcombers. You won't find anything bigger than a shell or a pebble in miles of walking our stretch of beach, so there are no nasty rock formations to beware of.
Don't be fooled by listings that show lots of beds and low prices. There is a reason for that! In some other communities, people are stacked next or literally on top of each other and it does not make for a tranquil getaway, despite what pictures may convey!
Also be aware of listings where the host claims to be the owner, while not disclosing that they are working as property managers (sometimes illegally and without any actual company with a support staff – hiring people under the table to clean and try to maintain the properties). You will generally spot them when there are maintenance issues mentioned in the reviews (which are certainly common in the tropics) yet the guest was asked to call "some guy". Some claim to be onsite property managers while they are neither legal to work in Costa Rica or allowed to run any business out of their home in this gated community. We are legal, permanent residents of Costa Rica and not only own multiple properties, but own the very company that maintains our properties and the very best properties in Bejuco. We are new to Airbnb – a little late to the game because our business and properties have done well through another major travel site -- although now that we have listed two of our cabinas and some of our houses AND booked other trips through Airbnb as guests, we've fallen in love with the platform. It does not integrate with our booking system, which is unfortunate, but we find the Airbnb community to be more in line with our own mindset, as opposed to the other big sites where we are rated as the number 1 rental company in the area. (Hopefully Airbnb integrates with other booking systems soon as everything else about the technology is wonderful!)
Guest access
The rental of EcoVida Casa de los Sueños includes access to the community pools, community rancho and BBQ, and our tennis court. We offer tennis racket rentals in our office just across the street if you need them. We also supply various other things for free in the office for kids.
If you need to rent boogie boards, surfboards or plan tours and activities, simply drop in our office!
Interaction with guests
Our office is open 6 days a week, but we are only a message away! We have a great deal invested in Bejuco so it is our desire to provide you the very best in a vacation to our wonderful area!
Other things to note
Possibly noted already, it is important to remember that the ocean can be a dangerous place. If you are not familiar with rip currents, please ask and we will be happy to tell you about how to exit a rip current if you are a strong swimmer or not.
Please be careful around the private or the community pools. It's easy to slip on wet tile. There is no lifeguard at the community pools.
Also, remember that we only include electricity up to $20/day, so please conserve to help not only our environment but the cost of electricity for those in Costa Rica that survive on very little.
---
---
Check in time is 2PM - 12AM (midnight)
- Smoking is permitted outside as long as the smoke does not drift inside the house in any way
- EcoVida Casa de los Sueños has a maximum occupancy of 6 people and may allow 1-2 extra children at an additional charge ($15/night) with prior approval. Day guests are not permitted inside the house or gated community, but if we make an exception the charge will be $10 per day per person. We recommend meeting guests at the beach or one of the restaurants.
- DO NOT leave AC units running if you are not in the house as this will be charged to you if over the $20/day electricity limit.
- Please wash off all sand before entering the pool
- Please do not use creams and oils while in the pool
- No diving into the pool
- Please no running. The tile walkways may be slippery when wet
- This is a residential community so no outside noise is permitted after 10pm. You must agree to respect our neighbours or forfeit the noted deposit and leave the home. Excessive noise is not allowed. Treat this as your own home with the thought that you are living next to a neighbour and you will get back what you put out, so to speak.
- We will require your passport numbers and full names for authorization at our security gate, and in addition as a requirement by Costa Rican immigration since we are a company operating according to the laws of our country.
- Just a caution: The entire pacific coast has rip currents and Playa Bejuco is no different. Although we are working on getting a full-time life guard program on our beach, you need to be aware of rip currents and how to swim out of them. If you are not familiar, we can certainly let you know more in our office or via message. We want you to be safe at our beach.
---
We (Dave and Shannon) fell in love with Costa Rica in 2007 and decided to make it our home. Through our company EcoVida, we manage various properties in beautiful Playa Bejuco offering only the best of the best for our guests. We own a number of properties, but also help our frie…
Languages:
English, Español
Response rate:
100%
Response time:
within an hour
Explore other options in and around Bejuco
More places to stay in Bejuco: