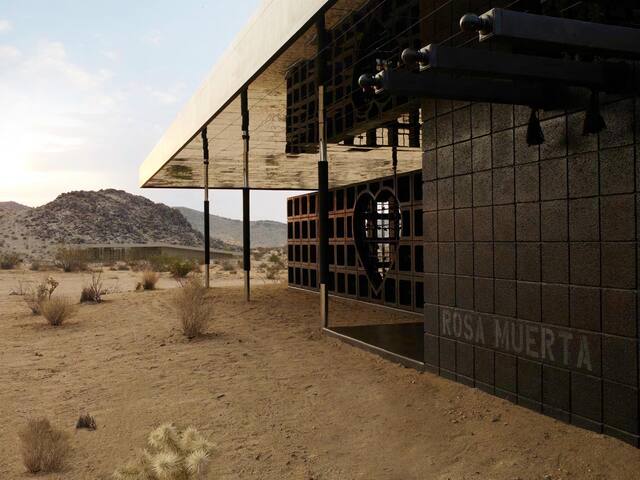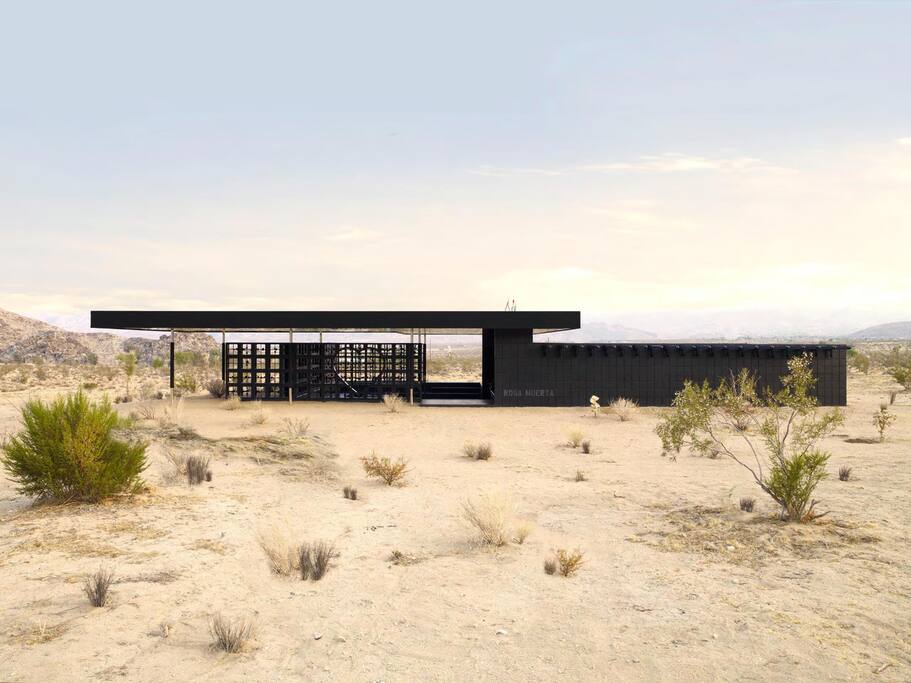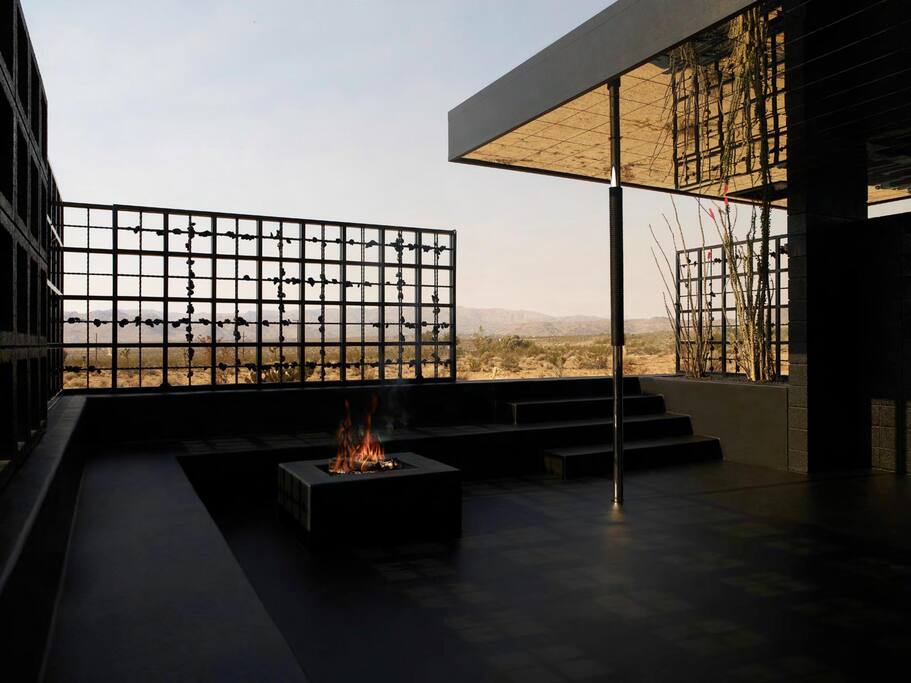 Rosa Muerta is an internationally known icon of new architecture that is also a very intimate and inspiring place to be . . . and it is made available for vacation rentals to share that experience with a few people each year.
The space
Rosa Muerta is a pavillion in the desert and takes advantage of the mild weather with an architecture of walls without roofs, and roofs without walls. It offers luxurious amenities while paradoxically remaining connected in a deep way to the elemental rawness of the desert. It is very black.
The house has a large suite style bedroom. The bed is sheltered by block walls and a black stained wood roof, but planters filled with blooming Occotillo on either side are open to the sky and bring desert breezes through at night. There is a glass roofed fully equiped kitchen where you can cook a gourmet meal, a black mirrored vanity with a black glass sink, and a huge shower with a built-in bench and open beams to the sky above.
This is adjoined by an outdoor living room that is cut down into the desert floor and surrounded by a custom formed block-screen wall and ornate wrought iron screens that completely slide open to the surrounding desert. It is equipped with a barbeque and sink for outdoor cooking and catering, an ipod/cd stereo, a huge heated and jetted spa, and a fire pit. All of this is under a mirrored canopy that reflects the fire light, the pool light, and the surrounding sand and sky.
The single most valuble thing we offer, that even the most deluxe hotels can only pretend to, is authentic architecture. Beyond modernism this place represents an ambitious new approach to design that connects rather than recedes from its cultural context. That new approach deliberately steps out of the shadow of modernism and formalism and has brought the houses international recognition and wide cultural impact. Something magic happens when you find yourself in a place that isn't an imitation of somewhere else. There is a great sense of focus, and the time and place are truly your own.
This house was constructed, and is managed and maintained by architect Robert Stone as an open gesture to share his handcrafted and conceptually layered architecture with people that have common interests. Guests are asked to please introduce themselves, their group and their plans. Our goal is to find a way to accommodate those who connect strongly with the place.
For more views of Rosa Muerta including architectural writing and photography, fashion photgraphy, and travel features from a guest's point of view please websearch PrettyVacantProperties, Rosa Muerta or Robert Stone Architect.

Other things to note
no pets
photography restrictions- no production
no visitors
---
---
Check in is anytime after 4PM
---
Rosa Muerta is truly a special place. The location was very easy to find and the check-in instructions were perfect. Upon arrival, the space was clean and as described. Even tho the architectural design is quite open, we still felt a great sense of peacefulness, privacy and security. The amenities were just what we needed for our short stay and the uniqueness as of this desert gem made our weekend one to remember.
---
Amazing experience! The house is a real masterpiece, located on a wonderful place. We spend 2 nights and we have not been cold despite of fresh weather. The Spa was awesome and the view inside it is a real luxe. Joshua Tree NP at around 20 minutes. Some really good café at 10 minutes. GREAT!
---
Staying at Rosa Muerta is a unique experience in every sense. The architecture is stunning, the secluded setting in the desert very inspiring, it's hard to describe in words or show on pictures. It's just an amazing place. Everything you need to know is explained in the manual very clearly for a good reason, I think it's every quests responsibility to keep the place as beautiful as it is. Read it before checking in - especially the animals section, they live there too and it's good to know what you might encounter. The house is open to the desert - also the bedroom, which allows you to see the stars and to feel the desert wind at night. Robert and his assistant were very helpful too and available at any time. Totally recommend it for a special experience!
---
Staying at Rosa Muerta was a truly unique experience. I can attest to the fact that it is great even in the middle of August. We stayed there during one of the hottest weekends of the year, but we stayed cool by hanging out in the pool. The stargazing was spectacular. Also, Robert and his assistant were incredibly helpful and always easy to get in touch with.
---
This house is incredible. The photos, as impressive as they are, doesn't capture what its like to be there. Loved everything about this place - the grid reflection on the sand from the mirrored ceilings and lights at night when all else is dark, lying in bed and looking up at the stars... each detail was carefully thought out and perfectly executed. Being there almost feels like it isn't real, not the world as I know it. Both my boyfriend and I are obsessed with this house, and miss it! The host was wonderful. He provided very specific and clear instructions for everything. There is a user manual with all the details and helpful info. He made himself available in case we ever need anything. Definitely felt welcomed. It was such a special treat and a completely unforgettable experience.
---
AMAZING EXPERIENCE! everything about the house is amazing! though it was a bit cold while we were there it did not distract us for appreciating the architecture and detail of art that went into this house. truly amazing and would def stay here again and tell friends about it! The jetted pool was for me the best part! there was nothing bad about this house! True work of art and great experience! LOVED IT!
---
Response rate:
100%
Response time:
within an hour
Explore other options in and around Joshua Tree
More places to stay in Joshua Tree: